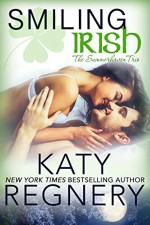 Smiling Irish by Katy Regnery is a book that lives up to its name. It's a sweet story that will make you smile and I loved how these Irish characters made me feel so good. It brought me happiness and joy to my romantic heart.
Tierney is a girl who loves to stay alone in her little cottage with the companion of her books. She likes her isolation and although she has the constant meddling of her brothers , she is content with her quiet life. When a stranger knocks on her door she doesn't expect his pushing down her walls too. She suddenly finds that the sexy, mysterious guy is everything she needs.
Burr has lived a dangerous life for the past three years and he couldn't know that he would find salvation by a shy girl. He has lost himself and Tierney will show him that he can hope again.
There are fireworks between them from the start but danger has followed Burr and can disturb the peaceful beginning of their new relationship.
I cannot tell you how much I loved these two characters. Tierney might appear as a timid, little mouse but she has the heart of a lioness. She is witty, sensible, strong and spirited. Burr surprised me with his kindness and his vulnerabilities. He is brave and hardworking but he has these doubts and the need to make a difference to the world. Also, did I tell you that this man speaks Irish? Be prepared to instantly melt with his words.
Their relationship is honest and passionate . Although their sexy times come later in the book, let me tell you that you won't miss them. There are my beloved little touches, the meaningful actions and glances that make you crave for more. I love how much they respect each other and how logical they are about the steps they take into their relationship. You can say that they fall in love quickly but it didn't bothered me at all because their connection seems so believable.
Katy Regnery is a go to me author when I want to read something that will make me forget everything. Smiling Irish is a book that will make you escape and after reading it, you will remember this fondly. A true romantic and adorable story…
Buy here: http://a.co/hmZ1K7K