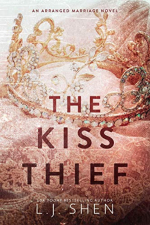 The Kiss Thief had a veil of mystery on it before its release, but the beautiful cover made me give it a chance. I am not fond of love triangles but L.J. Shen is an author I enjoy and I was not disappointed by this book. This story is captivating, exhilarating and full of angst. Reading it was the last thing I did before bed and the first when I woke up; I couldn't leave it down!
Once upon a time there was a young girl that wanted her freedom but was kept in a golden cage. She always dreamt of her Prince that would love and kiss her senseless but what she got was a villain.
Don't get me wrong… This is a contemporary romance but it has a historical vibe and a sense of a modern fairytale.
Francesca is the daughter of the Mafia King in Chicago and she always thought that she would marry her teenage crush but Wolfe Keaton, one of the most powerful Senators, had other plans. He stole her first kiss and then her heart. So she is torn between the man she has always wanted and the man she craves.
Wolfe is one of the most interesting heroes I have read. L.J. Shen knows how to write arrogant men but this one takes it out of the park. He is cold hearted, vindictive and closed off. Why did I love him then? Because of his transformation… This man changed throughout the book and you saw that behind his reactions, there was a hurt soul that needed a woman to love him. I admired that despite his first actions, he showed that he truly loved and cherished his wife and he treated her differently than anyone else.
Francesca is a young woman who is sheltered by her family and that made her even more innocent but not naïve. I loved her spirit, her resilient personality and that she spoke her mind.
Their relationship is sexy and explosive. I love books with arranged marriages because everything happens backwards and it's always exciting to see the point where the hate turns to love.
They both make mistakes and I forgave them everything except some things that happened towards the end that caused drama. I would have loved to see the angst coming from an external source than the errors they made. Maybe it's the fact that I truly avoid love triangles and I liked how well it was handled by the author until that point.
Nonetheless, The Kiss Thief is one of the best books this author has written! It's truly addictive and mesmerizing. A story that will have you at the edge of your sit until its very end!
Buy here: https://www.amazon.com/Kiss-Thief-LJ-Shen-ebook/dp/B07MLR5WY6/ref=sr_1_1?ie=UTF8&qid=1546958199&sr=8-1&keywords=the+kiss+thief