Meet Moti Ferreira—spectacularly jinxed from the day she's born.
Saddled with an eccentric mother, she stumbles upon the one man who holds the key to her freedom—the best man at her cousin's upcoming wedding.
All Moti has to do is overcome her fear of water, board a yacht to the Greek Isles, seduce the dreamy Nikos Manolas, and survive two weeks at sea with her oddball family.
The only obstacle Moti doesn't see coming is Alexandros Veronis, the onboard chef and star witness to her awkward mishaps. He transforms onions into chocolate and aroma into nostalgia. Day by day, his alchemy works its magic on Moti. But she's not the only one falling under his spell. Everyone has a secret, growing round and ripe at Chef Alex's table. When the masks fall off, they spill out one by one, and everything blows up in their faces.
Now Moti's truth is exposed, and worse, she's hooked on more than Alex's midnight snacks. But this time, screwing up could be the best thing she's ever done…
Buy here:
https://www.amazon.com/Moti-Water-Leylah-Attar-ebook/dp/B07W1HGZ5W/ref=sr_1_1?keywords=moti+on+the+water&qid=1581155692&s=digital-text&sr=1-1

Dear Alex,

Surprise! You're always leaving midnight snacks for me. About time I return the favor. Happy Valentine's Day! Go ahead. Lift the cover…
Surprise! Nothing here but another note.
Your midnight snack is waiting in the bedroom. Also under the cover.
PS: What did the French chef give his wife for Valentine's Day? A hug and a quiche.
You're welcome. Now hurry. Your midnight snack is missing one very important ingredient…

x😍x😍
Moti

About the Author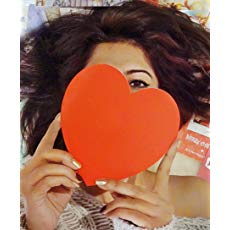 Leylah Attar is an award-winning author of women's fiction and contemporary romance. Her work has appeared on multiple bestselling lists, including the New York Times, USA Today, and Wall Street Journal. A recipient of the 2017 Indie Reader Discovery Awards, Leylah's books have been published around the world in multiple languages.
Website ➜ http://www.leylahattar.com/
Facebook ➜ https://www.facebook.com/leylah.attar
Instagram ➜ https://www.instagram.com/leylah.attar/
Twitter ➜ https://twitter.com/leylahattar