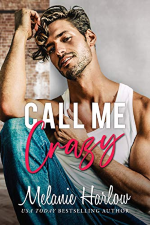 Call Me Crazy is a book that will make your day! Melanie Harlow knows how to bring smiles onto your face and make you feel this unexpected pleasure in your heart and this story does it all!
Bianca and Enzo know each other forever and they always fight like cat and dog. They enjoy annoying each other so it is best staying apart. Some things though need extreme measures and these two are in for a treat.
Enzo needs a wife to inherit his family business and Bianca wants a child, so why not agree to a fake marriage where everywhere gets what he/she wants. There are going to be rules so no problem, right? So wrong…
These two might aggravate each other but hate and love are so close. Although, they live for their banter, they soon realize that they work perfectly as a couple as there is passion, trust and communication.
The only thing they cannot express is their real feelings and this might destroy their new relationship.
I love how fuctional this couple is. They are loyal and true to each other. They are funny and sexy but also honest. Their problems are realistic especially when the couple stuggles for a baby.
I wish I could hug this book!I have hearts in my eyes after reading it. Do not forget to read the bonus epilogue in the end as it really made me emotional! You will be definitely be crazy if you miss this opportunity to read this amazing love story!
Buy here: https://www.amazon.com/Call-Me-Crazy-Melanie-Harlow-ebook/dp/B08VRVPCKF/ref=sr_1_1?dchild=1&keywords=melanie+harlow+call+me+crazy&qid=1613244861&sr=8-1