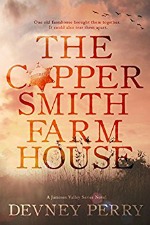 I think it is always a pleasure for a blogger to discover a new author and Devney Perry may have written her debut book but this story deserves all the recognition. I love indie romance books and this one is a fine example of a well worked story with amazing characters, a rich background and a touch of mystery!
Gigi is ready to have a new beginning in her life and an inherited farmhouse will give her the perfect chance to start over. Being firstly a mom to a little girl, she doesn't need an arrogant sheriff and his rude attitude but that is what she gets and more!
Jess dislikes opportunists and he definitely doesn't like a woman scheming to take over his favorite home. He dislikes her at first sight but as time passes, he realizes how wrong he is about the beautiful woman. When he understands his error, he will do anything in his power to set things right and convince her that they are perfect for each other.
Jess is a man protective, bossy with a kind heart but a quick temper. If you had a man like this in your life, you would probably run away quickly, but in this book you get giddy to see his alpha ways and his take no for an answer attitude. He might be a little bit overbearing sometimes, but the man is sexy, powerful and he is not afraid to apologize when he is wrong. If you love Kristen Ashley's heroes, then you will definitely like Jess.
Gigi is a woman kind, a great mom and very logical. She is sassy and her banter with Jess is funny. Sometimes, she gives up easily and she appears a little insecure but she has been hurt in her past and all her fears get in the way.Also, I really liked that she is supportive of Jess when he just needs her strength.
Their relationship develops throughout time and I loved how Jess is with Gigi's daughter. There is something so sweet when a strong man is caring towards a kid. The bossiness of Jess inside and outside of the bedroom makes their story hot and his need for their protection makes it more endearing.
I loved the suspense of this book, it kept me on my toes and the secondary characters of this small community are so amazing! When I read that the author is going to give us more from this world, I was just happy!
This story has everything I want from a book. An irresistible male hero, a strong heroine with the most adorable little girl, fantastic writing and a swoony epilogue! Devney Perry is a new author but she has just earned a huge fan! This book is now on my top favorites!!!
Buy here:https://www.amazon.com/Coppersmith-Farmhouse-Jamison-Valley-Book-ebook/dp/B01MU83579/ref=sr_1_1?ie=UTF8&qid=1489339462&sr=8-1&keywords=devney+perry