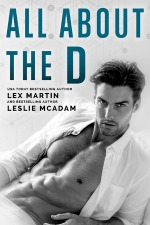 I love Lex Martin's books and even though, I haven't read anything by Leslie McAdam, when I saw the blurb and the title of this story, I was intrigued. I thought that this book would be a romantic comedy with hilarious scenes but I was wrong. Although, this has humor and lovely banter between the characters, this is a sweet, deep love story about a couple that has to overcome much for their happily ever after.
Evie is a girl committed to her work as a lawyer. When a possible client presents her with an unexpected proposal, she sees the challenge and goes for it. When, she meets this mysterious man, she stops sees him as a case and wants him wholeheartedly.
Josh is one of the most eligible bachelors. He is rich, he comes from one of the most respected families, he is successful. He has though a dirty, little secret that can ruin his and his family's reputation. When, he finds a law firm to represent him, so he can protect his identity, he is deeply attracted to his lawyer.
Josh shares his nefarious side business with Evie and slowly trust is built between them. Their friendship is not enough for them and their attraction push them into a passionate relationship. They have though many obstacles in their way. Is their bond strong enough to make them stay as one?
As I told you in the beginning, this story was different than I expected. Josh and Evie share a love affair that they both invest in. You can see their growing feelings and their love that is consuming. The book has a more serious vibe and it surpasses the lines of a comedy.
I loved the relationship between these two characters. They take it seriously and they both want to have a future together. Josh is thoughtful, kind and sweet. Evie is witty, bright and a little quirky. Their sexy times are scorching hot but the times they spend together are those who earned my admiration.
If I had to judge only their relationship and how these two fell in love, this would be a huge five star book for me. The only thing that took some of my pleasure was Josh's business itself. I thought it was funny at first but I didn't like some of his behavior later on. I didn't doubt his love for Evie but some of his moves regarding other people annoyed me a little.
If you like adorable, sexy love stories, then don't be afraid to read this! Although, there are some things, I would have wanted differently, this remains a story worth of reading. It has a couple that will steal your attention and their love makes it shine!

Buy here:https://www.amazon.com/All-About-D-Lex-Martin-ebook/dp/B071RMVWQF/ref=sr_1_1?ie=UTF8&qid=1494148127&sr=8-1&keywords=all+about+the+d+lex+martin