J.Daniels is without doubt one of my favorite authors and when she writes one my most beloved tropes, single parents romance, I am all in! This story is really sweet and heartwarming. The kids in the book makes it even more adorable and the emotional turmoil of the couple brings a depth into their love story.

Nathan has lost his wife in a tragic way and he drowns in his sorrow. He doesn't know how to behave to his little girl and he desperately needs help.

Jenna is a mom of twins and she is happy with her way her life goes. She would like to have a partner but the dating scene is getting worse. When she sees Nathan struggling , she gives her support wholeheartedly.

I love how naturally this story progresses. All comes in its time and nothing is rushed. They slowly become a family and it is so lovely to see. I adore how much these two small families unite and they form a bond.

Nathan is a serious man who is a little lost but with the help of Jenna and the kids , he opens up his heart. It is heartbreaking to see his struggles but he overcomes them. Jenna is a kind and caring woman. The scenes with the children make the whole story even better and more emotional. Sometimes, I wanted to yell at them for some of their decisions that hurt each other but you forgive them easily because they do not it on purpose.

Down Too Deep has become one of the best and my most beloved in the series and I am sad to see these characters go! If you like single parents books, this one is ideal for you!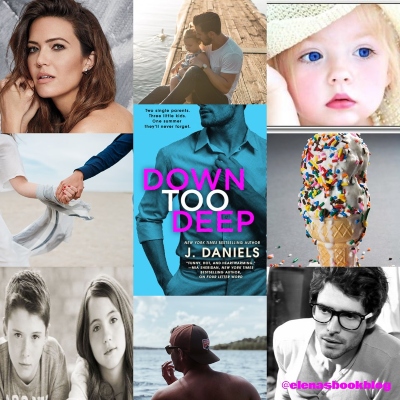 Buy here: https://www.amazon.com/Down-Deep-Dirty-Deeds-Book-ebook/dp/B07GDM6SQ2/ref=tmm_kin_swatch_0?_encoding=UTF8&qid=&sr=