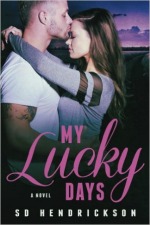 Sometimes you want exciting, quick stories that will increase your heart rate but sometimes you want stories that will capture your soul quietly and "My Lucky Days" did that.
After reading and loving Waiting for Wyatt, I was so excited to start this book and I really loved its pace. The story starts from the reunion of the couple after many years and then we slowly learn what happened to Katie and Lucky.
Katie and our hero meet on the worst time. She is trying to make roots and he is on his way of becoming a country star. They connect instantly and they share their love and their lives but fame and distance becomes their worst enemy. After a heartbreaking tragedy, they have to part ways, although their love is strong and they belong to each other. After many years, Lucky comes back with a surprise and to win back Katie's love. Can they forget their past mistakes and move forward?
Katie is a heroine lovely, so sweet and caring and she always thinks those around her. Lucky on the other hand is a man that gives himself wholeheartedly. He never stops loving Katie and he shows it. He is funny and charming and he has a sensitive soul. I loved his background and his life story.
I have to say I have no idea and have never listened to country music as I live across the world but the author made me love it. She wrote lyrics that added so much essence to the characters' love and she showed all their emotions through music.
I have found a new favorite author and those who love second chance love stories, just read it!

Buy here:https://www.amazon.com/My-Lucky-Days-SD-Hendrickson/dp/1537411187/ref=sr_1_1?s=books&ie=UTF8&qid=1476693592&sr=1-1&keywords=lucky+days