Brant's Return by Mia Sheridan 
A stunning, heartfelt new stand-alone by New York Times best-selling author Mia Sheridan.
Brant Talbot runs a glitzy network of high-end bars in New York City, enjoying all the benefits of the lavish lifestyle he's worked so hard to achieve. When he learns that his estranged father is dying, he must return to his family's Kentucky horse farm – and to a past he thought he left behind.
While facing long-buried truths, he collides with his father's secretary, Isabelle Farris. Despite his undeniable attraction to the beautiful, independent young woman, he sees secrets in her eyes and believes she has designs on Graystone Hill.
Now the one woman he can't afford to trust is about to become the one he can't let go.
THIS IS A STAND-ALONE SIGN OF LOVE NOVEL, INSPIRED BY CAPRICORN. Contemporary Romance: Due to strong language and sexual content, this book is not intended for readers under the age of 18.
The Kiss Thief by L.J. Shen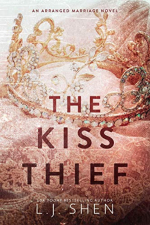 They say your first kiss should be earned.
Mine was stolen by a devil in a masquerade mask under the black Chicago sky.
They say the vows you take on your wedding day are sacred.
Mine were broken before we left church.
They say your heart only beats for one man.
Mine split and bled for two rivals who fought for it until the bitter end.
I was promised to Angelo Bandini, the heir to one of the most powerful families in the Chicago Outfit.
Then taken by Senator Wolfe Keaton, who held my father's sins over his head to force me into marriage.
They say that all great love stories have a happy ending.
I, Francesca Rossi, found myself erasing and rewriting mine until the very last chapter.
One kiss.
Two men.
Three lives.
Entwined together.
And somewhere between these two men, I had to find my forever.
Finding Alexei by Kendall Ryan 
He's bossy, moody, and overprotective.
He's also a pro athlete who needs to focus on winning games and staying out of the headlines.
I'm fiercely independent and need a man like I need a second period each month.
So when our worlds collide, I never expected him to be the one to jump in and save me. Especially not when my roommate disappears, leaving me with her baby.
I'm clueless about babies—and it shows. Good thing Alexei isn't. With six nieces and nephews and an apparent hero complex, the dude is both sexy and more than capable. It's a combination that makes it easy to forget we're just playing house.
Repeat by Kylie Scott (audio first)
From Audie Award winning, New York Times best-selling author Kylie Scott comes an irresistible new romance – available in audio first!
When a vicious attack leaves 25-year-old Clementine Johns with no memory, she's forced to start over. Now she has to figure out who she was and why she made the choices she did – which includes leaving the supposed love of her life, tattoo artist Ed Larsen, only a month before.
Ed can hardly believe it when his ex shows up at his tattoo parlor with no memory of their past, asking about the breakup that nearly destroyed him. The last thing he needs is more heartache, but he can't seem to let her go again.
Should they walk away for good, or does their love deserve a repeat performance?
Prisoner of Night by J.R. Ward 
When Ahmare's brother is abducted, there is nothing she won't do to get him back safely. She is unprepared, however, for the lengths she will have to go to save his life. Paired with a dangerous but enticing prisoner, she embarks on an odyssey into another world.
Duran, betrayed by his father, imprisoned in a dungeon for decades, has survived only because of his thirst for vengeance. He has been biding his time to escape and is shocked to find an unlikely and temporary freedom in the form of a determined young female.
Battling against deadly forces and facing unforeseen peril, the pair are in a race to save Ahmare's brother. As time runs out, and the unthinkable looms, even true love may not be enough to carry them through.
Damien by J.Kenner 
I am Damien Stark. From the outside, I have a perfect life. A billionaire with a beautiful family. But if you could see inside my head, you'd know I'm as f-ed up as a person can be. Now more than ever.
I'm driven, relentless, and successful, but all of that means nothing without my wife and daughters. They're my entire world, and I failed them. Now I can barely look at them without drowning in an abyss of self-recrimination.
Only one thing keeps me sane—losing myself in my wife's silken caresses where I can pour all my pain into the one thing I know I can give her. Pleasure.
But the threats against my family are real, and I won't let anything happen to them ever again. I'll do whatever it takes to keep them safe—pay any price, embrace any darkness. They are mine.
I am Damien Stark. Do you want to see inside my head? Careful what you wish for.
The Best of Us by Robyn Carr 
Dr. Leigh Culver loves practicing medicine in Timberlake, Colorado. It is a much-needed change of pace from her stressful life in Chicago. The only drawback is she misses her aunt Helen, the woman who raised her. But it's time that Leigh has her independence, and she hopes the beauty of the Colorado wilderness will entice her aunt to visit often.
Helen Culver is an independent woman who lovingly raised her sister's orphaned child. Now, with Leigh grown, it's time for her to live life for herself. The retired teacher has become a successful mystery writer who loves to travel and intends to never experience winter again.
When Helen visits Leigh, she is surprised to find her niece still needs her, especially when it comes to sorting out her love life. But the biggest surprise comes when Leigh takes Helen out to Sullivan's Crossing and Helen finds herself falling for the place and one special person. Helen and Leigh will each have to decide if they can open themselves up to love neither expected to find and seize the opportunity to live their best lives.
Turning Point by Danielle Steel 
Bill Browning heads the trauma unit at San Francisco's busiest emergency room, SF General. With his ex-wife and daughters in London, he immerses himself in his work and lives for rare visits with his children. A rising star at her teaching hospital, UCSF at Mission Bay, Stephanie Lawrence has two young sons, a frustrated stay-at-home husband, and not enough time for any of them. Harvard-educated Wendy Jones is a dedicated trauma doctor at Stanford, trapped in a dead-end relationship with a married cardiac surgeon. And Tom Wylie's popularity with women rivals the superb medical skills he employs at his Oakland medical center, but he refuses to let anyone get too close, determined to remain unattached forever.
These exceptional doctors are chosen for an honor and a unique project: to work with their counterparts in Paris in a mass-casualty training program. As professionals, they will gain invaluable knowledge from the program. As ordinary men and women, they will find that the City of Light opens up incredible new possibilities, exhilarating, enticing, and frightening.
When an unspeakable act of mass violence galvanizes them into action, their temporary life in Paris becomes a stark turning point: a time to face harder choices than they have ever made before—with consequences that will last a lifetime.
Forever Broken by Carrie Ann Ryan 
In the finale to the award-winning Talon Pack series from NYT bestselling author Carrie Ann Ryan sets, the final Brentwood must find his mate as the war with the Aspens comes to a close.
Cheyenne Liles has watched all of her friends mate into the Talon Pack and have their lives changed forever, one by one. She's stood back, helpless to assist in the war with a rival Pack. But just when she thinks her time with the Talons is over and believes she should move on with her human life, the Aspen Pack Alpha takes matters into his own hands, altering her fate far more than a single mate mark ever could.
Max Brentwood used to be the smiling one, the only Brentwood who was somehow able to save his soul during the last Alpha's reign. But his life was irrevocably changed one fateful day on the battlefield, and he was never the same again. Suddenly, Max is forced to face his future and make a choice when Cheyenne comes into danger: let fate decide, or watch his world crumble around him.
The shifters of this world have fought demons, humans, and themselves. Now, it's time to find out who they truly are as the war between the Packs ends, and the moon goddess finally takes a stand.
Faking It by K. Bromberg 
Zane Phillips mistook me for his dog walker. It shouldn't surprise me that the man with a suit more expensive than my rent would assume that I was there to serve him. The positive? I put him in his place. The negative? I missed my job interview because of it.
Now I find out he's a rich Australian entrepreneur, and he wants to make up for tanking my interview. Yes, he's impossibly hot – but he's also an arrogant jackass—so . . . no thanks.
But after a little white lie I tell spirals out of control, I'm somehow offered the chance to play Zane's girlfriend to help promote his new dating website – and the best part? He can't say no because he'll get caught in his lie too.
Little did I know this would entail sharing a tour bus with him for the next few months. The fact that the bus has just one bed isn't the most ideal of circumstances, but this spokesperson gig might be the kick in the pants my career needs, so why not take a chance?
Famous last words.
Now I'm crisscrossing the country–and sharing that bed—with the one guy I can't stand. And even worse, my traitorous body is wondering at every turn what it's like to be down under the gorgeous Australian. But as the miles unfurl, so does our passion…and if I'm not careful, I might end up believing that fairytales really do come true.
Rio by Audrey Carlan 
There's nothing I won't do to protect Skyler, the team, and my family. After the recent attempt on our lives, escaping to Rio to enjoy the hot sands of Copacabana Beach sounds like a little piece of heaven and a much-needed break from the nightmare back in Boston.
When my brother's Brazilian mate solicits my help to weed out a shadowy embezzler slowly bleeding his business dry, I can't say no. However, the more we dig into the issue, the more secrets come to the surface. Hidden agendas, grudges, and recriminations all seem par for the course in sunny Rio de Janeiro. The worst of it? The enemy we have at home appears to have come out of hiding and continues to threaten what I hold most dear.
Once again I'm in a killer's sights, but more than that, the people I love back home are left vulnerable.
Evidence of Desire by Lexi Blake 
Isla Shayne knows she's in over her head. As former all-star linebacker Trey Adams's personal lawyer, she's used to handling his business dealings and private financial matters, not murder charges. She needs to find an experienced criminal attorney who speaks her client's language. David Cormack of Garrison, Cormack and Lawless is exactly what she needs in the courtroom–and the only man she wants in the bedroom.
For David, taking on the Adams case means diving back into a world he thought he'd left behind and colliding head on with tragic possibilities he's in no mood to face. There's a reason professional football is in his past and no matter how close Isla gets to the truth he intends to leave it there.
But long days working on the case together lead to hot nights in each other's arms. As their feelings grow, the case takes a deadly twist that could change the game between the two lovers forever.
Reckless Love by Kelly Elliott 
The first time I kissed Scarlet, I knew I was in trouble.
The night I slept with her, my life changed forever.
The day I found out I was going to be a father, I ran from her.
Now that I've been given a second chance I won't be so reckless.
Will my love be enough to prove to her that even in the darkest times I won't repeat the past?
Reckless Love is the final book in the Cowboys and Angels series
Promises by Aleatha Roming 
The twisted and intriguing storytelling that you loved in Consequences and Infidelity continues with the epic conclusion of the all-new alpha anti-hero in the dark romance series Web of Sin, by New York Times bestselling author Aleatha Romig.
Have you been Aleatha'd?
Learn the truth behind the secrets and lies.
Promises is book three—the epic conclusion—of the acclaimed Web of Sin trilogy.
Third Strike by B.J. Harvey (Live 1.9) 
I have a long history of acting first and thinking it through later. In fact, I'm the definition of a screw up.
Case in point – I'm having a baby with a woman I can't stand, my ex is now my best friend's wife, and I'm in love with a woman I can never have.
My biggest secret is falling for my best friend's sister twelve years ago.
My biggest mistake is thinking I could live without her.
And now my biggest regret is the look on her face the moment I tell everyone I'm already married to the woman they hate most.
Thinking About You by Monica Murphy (Live 1.9) 
One minute I'm minding my own business at a party and the next I meet this woman who blows my mind. She's beautiful. Smart. Funny. A little shy. I'm immediately drawn to her. We make an instant connection.
The problem?
Lady Susanna Sumner lives in London.
I live in California
I play professional football.
She works part-time at an art gallery and lives off her family's money.
Her family is nobility. I come from a single mom who always scraped to get by.
Susanna and I should have nothing in common. But when we're together, it's…
Electric.
What are we supposed to do? Can we really make this work? I can't give up my career. And I can't ask her to move to California for me. All I know is, I want her in my life.
Desperately.
Trails of Love by Melissa Foster (Live 1.9) 
When Graham Braden travels to Oak Falls, Virginia to attend the wedding of his buddy Reed Cross to Grace Montgomery, he sticks around to help with renovations to Reed's new theater. The last thing he expects is to be asked to assess and possibly invest in Grace's sister Morgyn's business endeavor. Graham is a careful, keen businessman, and Morgyn is impulsive, disorganized, and more interested in the energy flow in her eclectic retail shop than in the accuracy of her records. While Graham isn't ready to open his pockets to the sassy, sexy business owner, he may be ready to open his heart.
Murder in the Mix by Addison Moore (Live 1.10)
My name is Lottie Lemon and I see dead pets. On occasion I see a once-upon a human too but mostly it's just cute little furry beasts who have come back from the other side to warn me of their previous owners impending doom.
My ex has landed in Honey Hollow all the way from New York where I last saw his sorry mug. As if that wasn't bad enough, he's brought along his girlfriend whom he has no problem disregarding as he does his best to woo me back. To make matters worse, a famous author has come to town to do a signing at the library and I have the unfortunate luck of stumbling upon yet another body. And this time, I have a couple of suspects from New York that I'd rather let off the hook than investigate. Someone just might get away with murder.
Lottie Lemon has a brand new bakery to tend to, a budding romance with perhaps one too many suitors, and she has the supernatural ability to see dead pets—which are always harbingers for ominous things to come. Throw in the occasional ghost of the human variety, a string of murders, and her insatiable thirst for justice, and you'll have more chaos than you know what to do with.
Living in the small town of Honey Hollow can be murder.
The Fallback by Mariah Dietz (Live 1.10) 
Breaking up is hard to do.
It's even harder when you're not expecting it.
Brooke Jensen is a planner. Not only in her personal life but also professionally as one of the most sought after event planners in Chicago.
But, when the ideal life she built for herself, complete with handsome, long-term boyfriend and perfect apartment crumbles, she realizes there are some things you just can't plan for.
While trying to start anew from her best friend's guest room and discovering the best doughnuts in the city, an idea sparks to life when she meets Levi. He's intriguing, funny, and shockingly good-looking, and what had been a few stray thoughts becomes a new passion for Brooke, a blog detailing learning how to be single. The project introduces Brooke to new people and experiences, and keeps returning her back to Levi.
But, Brooke learns kismet may have been wrong when she learns Levi is the last person she should be interested in.
Falling for the wrong guy once has Brooke hesitant to start a new relationship, but Levi is quickly proving that The Fallback might be even better.