All Your Perfects by Colleen Hoover 
The #1 New York Times bestselling author of It Ends with Us—whose writing is "emotionally wrenching and utterly original" (Sarah Shepard, New York Times bestselling author of the Pretty Little Liars series)—delivers a tour de force novel about a troubled marriage and the one old forgotten promise that might be able to save it.
Quinn and Graham's perfect love is threatened by their imperfect marriage. The memories, mistakes, and secrets that they have built up over the years are now tearing them apart. The one thing that could save them might also be the very thing that pushes their marriage beyond the point of repair.
All Your Perfects is a profound novel about a damaged couple whose potential future hinges on promises made in the past. This is a heartbreaking page-turner that asks: Can a resounding love with a perfect beginning survive a lifetime between two imperfect people?
Love Machine by Kendall Ryan 
She says she needs some help … in the bedroom.
Come again? No, really come again.
Sweet, nerdy, lovable Keaton.
She's my best friend and has been for years. Sure she likes numbers and math, and thinks doing other people's taxes is fun. And I like … none of that stuff. She's obsessed with her cat and reads novels I'll never understand, and yet we just click. There's no one I'd rather share breakfast burritos with or binge watch hours Netflix. She's my person. And so when she takes off her glasses and asks me to help her improve her skills in the bedroom, I barely have to think about it.
Of course I'll help her. There's no one better for the job.
I've been there for her through everything, why should this be any different?
But what happens when she's ready to take her new-found confidence and move on?
Heartless by W Winters 
From USA Today bestselling author W Winters comes an emotionally captivating and thrilling, romantic suspense.
At first, his words were harsh and his touch cold.
I knew he was a dangerous man and he could destroy me if only he wanted to.
That's not what he wanted though. It's not what he needed.
It's not what I desired either.
It's so easy to get lost in the touch of a man who's powerful and unattainable.
A man who wants for nothing … except me.
Soft touches and stolen glances made my blood heat and my heart beat in a way I never knew it could.
Yes, it's easy to fall into a haze of lust and desire.
But there's a reason his reputation is one of a heartless man.
And I should have known better.
Playing Hurt by Kelly Jamieson 
Chase: The last thing I'd ever want to do is let my team down. After overcoming my bad-boy reputation, I was dominating on the ice. But things aren't going so well this season, and even my parents think I'm partying again. Now I'm really worried about my career. The only bright spot in my life is the Twitter flirtation I've struck up with pop princess Jordyn Banks. Turns out she's a huge hockey fan—and she's willing to wager a date on her favorite team. . . .
Jordyn: Even though I'm an L.A. fan now, I've always had a soft spot for the Aces, since I grew up in Chicago. Then I lose a bet to Chase Hartman, and suddenly I'm up close and personal with a pro athlete who's anything but soft. Not only is Chase the hottest guy I've ever met, he's secretly super sweet. As if I had time for a relationship . . . yeah, right. But when I suddenly have nothing but time on my hands, he's the only one who understands. Now, with both of our careers at stake, Chase is tempting me to put my heart on the line too.
Strength Enduring by Carrie Ann Ryan 
In the penultimate novel of the Talon Pack series from NYT Bestselling Author Carrie Ann Ryan, an Enforcer must make the ultimate choice when it comes to a human woman with a secret she doesn't know she holds.
Kameron Brentwood has only one thing on his mind: defeating the enemy. He doesn't have time for a human woman who sets his teeth on edge and makes his wolf prowl. It shouldn't matter that she's his mate because he's always thought that mating is a distraction. Yet as soon as he gets to know the woman, he figures out that there's no hiding from the attraction he feels for her.
Dhanielle Coburn has always been on the outside looking in when it comes to the Talon Pack, but she's not about to let fate and the moon goddess decide her path for her. If and when she takes Kameron as a mate, it will be her choice. Yet when she suddenly finds herself in the Pack's inner sanctum, deeper than she ever thought possible, she has to fight not only her need for the man in front of her but also a hidden secret about her family she didn't even know she had.
When the choice is pulled from both of their hands, the two will need to learn who they are apart, and who they can be together. Because there's more to mating than a mark and a prophecy that has come back to haunt them. And even though they may be fated, the ultimate sacrifice just might take them both in the end.
The Red Legder Part 2 by Meredith Wild 
She's the only link to his past…
Six years ago, Tristan Stone was everything to me. My whole heart, my future. We were unshakeable, bound tighter by any force that tried to drive us apart. Then he disappeared from my life, leaving me in tatters, broken and running away to one of the most intense cities in the world. Somehow he found me, but now nothing is the same…
Tristan claims someone wants me dead. He's scarred and dangerous, but all of that seems to melt away when we touch. I might be the only one who can give him his memories, but I want more. The lover I could never forget is trapped inside the heartless man he's become. I won't stop until I reach him. I won't stop until I find the answers he's not giving me.
Saving Beck by Courtney Cole 
Reminiscent of the beloved novels by Mary Kubica and Jodi Picoult comes a chilling portrayal of a son's addiction and its harrowing effects on both him and his mother from New York Times bestselling author Courtney Cole.
There comes a time when offering your life for your child's doesn't work, when you realize that it'll never be enough. 
The cold needle in his warm vein was a welcome comfort to my son at first. But then it became the monster that kept us apart. 
Heroin lied, and my son believed. It took him to a world where the last year didn't happen, to a place where his father was still alive. What Beck didn't understand was that it couldn't bring his father back from the dead. It couldn't take away his pain, not permanently. 
You think it can't happen to you, that your kids, your family, will never be in this situation. 
I thought that too. But you're wrong. 
Step into our world, and see for yourself. 
Watch my golden boy become a slave to this raging epidemic. Watch me try and save him. 
Drug addiction comes with a price. 
Trust me, you're not equipped to pay it. 
Don't miss this heartwrenching, evocative, yet hopeful novel—it will leave you forever changed.
Simply Faith by Susan Fanetti 
Against his father's wishes, Trey Pagano made a choice to join the other side of his family and stand with Don Nick Pagano, head of the Pagano Brothers, the most powerful Family in New England. Now he strives to find the balance between these two sides of himself, between the father who raised him and the don who means to lift him up.
Seeking the brightest mind to keep his secrets, Don Pagano recruited Lara Dumas, a woman with a brilliant intellect bound up in a damaged mind and frail body. Lara has carefully constructed a small world for herself in a comfortable corner of Providence, building boundaries within her limits.
When Lara is hurt by Pagano Brothers' enemies, the safety of her world is destroyed. The don assigns Trey to take her away and protect her—and the things she knows.
Hundreds of miles from home, hidden from danger and cut off from everything they know and trust, Trey and Laura grow close. Against his better judgment, Trey falls for the woman whose strength shines through the cracks in her psyche. Despite her trauma, Lara comes to trust the man who's kept her safe.
Whether the bond they forge in safety can survive when they return to the world is a matter of faith—in themselves and in each other.
Note: Explicit sex and violence.
Baby Teeth by Zoje Stage 
Afflicted with a chronic debilitating condition, Suzette Jensen knew having children would wreak havoc on her already fragile body. Nevertheless, she brought Hanna into the world, pleased and proud to start a family with her husband Alex. Estranged from her own mother, Suzette is determined to raise her beautiful daughter with the love, care, and support she was denied.
But Hanna proves to be a difficult child. Now seven-years-old, she has yet to utter a word, despite being able to read and write. Defiant and anti-social, she refuses to behave in kindergarten classes, forcing Suzette to homeschool her. Resentful of her mother's rules and attentions, Hanna lashes out in anger, becoming more aggressive every day. The only time Hanna is truly happy is when she's with her father. To Alex, she's willful and precocious but otherwise the perfect little girl, doing what she's told.
Suzette knows her clever and manipulative daughter doesn't love her. She can see the hatred and jealousy in her eyes. And as Hanna's subtle acts of cruelty threaten to tear her and Alex apart, Suzette fears her very life may be in grave danger…
No Remorse by Skye Jordan 
Another electric romantic suspense from New York Times bestselling author, Skye Jordan.
Everly Shaw hasn't spent a decade working black ops for one of the most elite government contractors just to play nanny. But she also understands the devastation a broken family can leave behind. So when she learns a four-year-old girl was torn from her home in the dead of the night, she agrees to go undercover. Only once inside the father's Costa Rican fortress, she discovers that the intel doesn't line up with reality. Soon, she's caught between the people she's grown to care about and her team, the only family she's ever known.
Playing single dad while building a company could be the most difficult mission Austin Hix has ever undertaken. He's sacrificed everything to keep his daughter safe, including his career in the US special forces. The new nanny is supposed to bring Austin peace, but she's a distraction all her own. She's everything he wants, but none of what he needs. Just when Austin thinks he could have it all, Everly turns from friend to foe and threatens everything Austin loves.
All Manhunters can be read as stand-alone novels.
Every Time We Fall in Love by Bella Andre (Live 7.18)
Harry Sullivan has always put his family first, even when it meant losing Molly–his one true love. He's never been able to forget her, even after fifteen years. Now that his siblings are all blissfully happy, Harry hopes it's not too late for his own happily-ever-after. But then his doorbell rings…and one look at the teenage girl standing on his doorstep changes absolutely everything.
Molly never thought she'd see Harry Sullivan again, so she's beyond stunned when her fifteen-year-old daughter brings him back into her life. At eighteen, Harry was already strong, sexy, and honorable. And now that he's even more handsome, more brilliant, more loyal and caring? Molly can't stop herself from falling in love with him all over again. Especially when his kisses and the sizzling attraction between them are hotter than ever.
But with more at stake now than they ever thought possible, will they be able to move beyond the mistakes they both made in the past, and fall in love forever this time?
EVERY TIME WE FALL IN LOVE is part of Bella Andre's New York Times and USA Today #1 bestselling series about The Sullivans. While it can easily be read as a stand-alone story, you'll likely enjoy reading the other books, too.
Filthy Lies by Raine Miller (Live 7.20)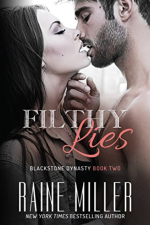 On the day I turned fifteen years old I knew I loved James Blakney. There was a look in his eye that told me he'd finally noticed I existed in a realm beyond best-friend's-much-younger-off-limits-don't-even-think-about-it-little-sister. Call it womanly intuition, despite the fact I was barely qualified for being an actual woman at just fifteen—and only in the biological sense—but still, I knew I loved him.
What I never expected from him was a proposal of marriage nearly eight years later. I know it's not supposed to be a real marriage, but James is certainly making it feel that way.
He's also hiding something from me.
But I've hidden the truth from him as well.
Lies.
So many filthy lies.
~Winter Blackstone
Two Weeks Notice by Whitney G. (Live 7.20- No Preorder) 
To Whom It May Concern:
I am writing this letter to formally announce my resignation from Parker International (& the arrogant, condescending CEO) effective two weeks from today.
This was a VERY EASY decision to make, as the past two years have been utterly miserable. I wish his next executive assistant all the luck in the world (she'll need it) and if my boss should need me to do anything over the next two weeks, kindly tell him that he can do it [his] goddamn self…
Sincerely (Not Really),
Tara Lauren
That's the version of my two weeks' notice I should've sent to my boss, because the more professional version—the one where I said I was "grateful for all the opportunities," and "honored by all the rewarding experiences" over the years?
That letter was rejected with his sexy, trademark smirk and an "I highly suggest you read the fine print of your contract…"
So, I did.
And now I've realized that unless I fake my death, poison him, or find a way to renegotiate my impossible contract, I'm stuck working under one of the cockiest and most ruthless bosses in New York.
Then again, I thought that was the case until he called me late last night with an emergency proposition…
Church by Stylo Fantome (Live 7.20- No Preorder) 
A broken girl.
An unusual boy.
A beautiful face that hides a dark secret and an ugly past.
Sealed lips which hide wicked words and dangerous thoughts.
She would kill for him to love her.
He just wants to kill.
Maybe, if Emma Hartley prays hard enough, Church Logan can make both their wishes come true.
Fuse, meet match.