Dear Aaron by Mariana Zapata
Ruby Santos knew exactly what she was getting herself into when she signed up to write a soldier overseas.
The guidelines were simple: one letter or email a week for the length of his or her deployment. Care packages were optional.
Been there, done that. She thought she knew what to expect.
What she didn't count on was falling in love with the guy.
Searching for Love by Christine Zolendz 
What's sexier than a man in uniform? A whole precinct full of them…
Searching for Love is the second book in the Behind Blue Lines Series by Christine Zolendz.
What you're looking for might be right in front of you…
BROOKE FURY
Betrayed. Destroyed. Shattered.
But, I'm used to it.
After all, I'm a cop, and I've seen the worst.
I just never thought it would happen to me.
But it did.
Now, I can't trust anyone.
Not him.
Not myself.
Nobody.
RYAN CAGE
Determined. Loyal. Honest.
But she won't trust me,
Won't let me in.
Even though I'm a detective,
I can't solve the mystery.
No matter how hard I try,
She pushes me away.
What she doesn't realize,
Is I'm the one thing she can count on,
Forever.
Amnesia by Cambria Hebert 
I washed ashore in a little lake town.
A place where everyone knows everyone, yet…
No one knows me.
I don't know me.
If a woman doesn't know her own name, does she really exist?
I don't know my natural hair color, my birthdate, or where I live.
I am invisible.
To everyone, to everything, even to myself.
Except to him.
I see the recognition deep in his stare, the way it lingers on my face as if I'm a puzzle he's desperate to put together.
I just want answers, the truth… knowledge.
His lips are sealed. Still, his eyes beguile me.
I can't trust anyone, not even myself. Someone wants me dead, the same someone who tried to bury me in a watery grave.
They'll come for me again… I won't know their face.
I don't even know mine.
I am amnesia.
All the Secrets we Keep by Megan Hart (Live Midnight)
In the riveting conclusion to Megan Hart's passionate new family drama, the secrets they keep are no match for the truths their hearts will never let go.
Still stuck in his small Central Pennsylvania hometown, Ilya Stern is used to feeling like a disappointment. After his high school girlfriend, Jennilynn, drowned, he married her sister, Alicia, only to divorce a decade later. The business they started together is threatened by a luxury development—and Alicia has already sold her stake. Now that Babulya, Ilya's gentle Russian grandmother, has died, there's no one left who believes in him. Or so he thinks.
Theresa Malone was Ilya's stepsister for only a year, until his mother threw her pill-popping father out of the house in the middle of the night, forcing teenage Theresa to follow. Now she's returned for Babulya's funeral—and to facilitate the quarry-development deal. As she tries to convince Ilya to sell, she realizes her feelings for him have ignited—from sisterly into something more.
Working together closely, Ilya and Theresa struggle to define their intense attraction. When the details of Jennilynn's death surface, will Ilya and Theresa's deep connection keep their hope for the future afloat—or submerge them once and forever in their tragic past?
Anarchy Chained by J.A. Huss 
Everyone wants revenge.
That's what I tell my new would-be partner in crime, Sadie Scott.
"You're crazy," she says. "Certifiably insane."
Just a little. But isn't everyone a little crazy?
"And I'm gonna get the hell away from you as fast as I can."
She's so cute when she's defiant.
"As soon as I get my memory back and figure out who I am."
Yeah. That little problem is definitely working in my favor.
"So stay away from me, Thomas Brooks. Or I will…"
She'll what? We're perfect for each other and she knows it. But if she needs a little more convincing… Well, there's a friend of mine she needs to meet.
He's very convincing.
Yes, Sadie Scott, you're mine now. We were made to be together.
Body, mind, and soul.
We were made to be together.
Just the three of us.
Together. Forever.
More than Need You by Shayla Black (Live Midnight)
Book Two in Shayla Black's sexy and emotional contemporary romance series More Than Words…
I'm Griffin Reed—cutthroat entrepreneur and competitive bastard. Trust is a four-letter word and everyone is disposable…except Britta Stone. Three years ago, she was my everything before I stupidly threw her away. I thought I'd paid for my sin in misery—until I learned we have a son. Finding out she's engaged to a bore who's rushing her to the altar pisses me off even more. I intend to win her back and raise our boy. I'll have to get ruthless, of course. Luckily, that's one of my most singular talents.
Sixty days. That's what I'm asking the gritty, independent single mother to give me—twenty-four/seven. Under my roof. And if I have my way, in my bed. Britta says she wants nothing to do with me. But her body language and passionate kisses make her a liar. Now all I have to do is coax her into surrendering to the old magic between us. Once I have her right where I want her, I'll do whatever it takes to prove I more than need her.
This book is the second in the More Than Words series. The books are companions, not serials, meaning that backstory, secondary characters, and other elements will be easier to relate to if you read the installments in order, but the main romance of each book is a stand-alone.
This book contains lines that may make you laugh, events that may make you cry, and scenes that will probably have you squirming in your seat. Don't worry about cliffhangers. HEA guaranteed! (Does not contain elements of BDSM or romantic suspense.)
Reading Order:
Book One – More Than Want You
Book Two – More Than Need You
Book Three – Coming Soon
Preservation by Kate Canterbary (Live Midnight)
Two lonely hearts.
Just once, she'd like to be someone's first choice.
She's strong-willed and spunky, but she's left picking up the pieces from her ex's lies and manipulations, and daydreaming about taking a scalpel to his scrotum.
Flying under the radar is what he does best.
He's laid-back and loyal, but he wants the most off-limits woman in his world, and nothing will ever make that a reality.
An arrangement of mutual benefit.
Two months, four dates.
Five, if things go well.
Five at the most.
But possibly six.
Definitely no more than six dates.
Only the appearance of a romantic relationship is required, and they expect nothing more from their time together. There will be none of those benefits involved.
One wild weekend.
After waking up in bed together–very naked and even more hungover–the terms and conditions of their arrangement no longer apply. Now they're faced with something riskier than exposing their fake relationship: letting go of the past and zipping up the future.
Some things have to fall apart before they can be put back together.
I Knew You Were Trouble by Lauren Layne (Live Midnight)
Taylor Carr has it all—a sleek job in advertising, a stunning Manhattan apartment, and the perfect man to share it with: Bradley Calloway. Even after Bradley dumps her for a co-worker on move-in day, Taylor isn't worried. She'll get her man eventually. In the meantime, she needs a new roommate. Enter Nick Ballantine, career bartender, freelance writer—and longtime pain in Taylor's ass. Sexy in a permanent five-o'clock-shadow kind of way, Nick knows how to push Taylor's buttons, as if he could see right through to the real her.
Nick's always trying to fix people, and nobody could use a good fixing more than Taylor. Sure, she's gorgeous, with mesmerizing silver eyes, but it's her vulnerability that kills him. Now that they're shacking up together, the chemistry is out of control. Soon they're putting every part of their two-bedroom apartment to good use. Then Taylor's ex comes crawling back to her, and Nick figures she'll jump at the chance to go back to her old life—unless he fights for the best thing that ever happened to him.
The Seven Husbands of Evelyn Hugo (Live Midnight)
From Taylor Jenkins Reid, "a genius when it comes to stories about life and love" (Redbook), comes an unforgettable and sweeping novel about one classic film actress's relentless rise to the top—the risks she took, the loves she lost, and the long-held secrets the public could never imagine.
Aging and reclusive Hollywood movie icon Evelyn Hugo is finally ready to tell the truth about her glamorous and scandalous life. But when she chooses unknown magazine reporter Monique Grant for the job, no one in the journalism community is more astounded than Monique herself. Why her? Why now?
Monique is not exactly on top of the world. Her husband, David, has left her, and her career has stagnated. Regardless of why Evelyn has chosen her to write her biography, Monique is determined to use this opportunity to jumpstart her career.
Summoned to Evelyn's Upper East Side apartment, Monique listens as Evelyn unfurls her story: from making her way to Los Angeles in the 1950s to her decision to leave show business in the late 80s, and, of course, the seven husbands along the way. As Evelyn's life unfolds—revealing a ruthless ambition, an unexpected friendship, and a great forbidden love—Monique begins to feel a very a real connection to the actress. But as Evelyn's story catches up with the present, it becomes clear that her life intersects with Monique's own in tragic and irreversible ways.
Written with Reid's signature talent for "creating complex, likable characters" (Real Simple), this is a fascinating journey through the splendor of Old Hollywood into the harsh realities of the present day as two women struggle with what it means—and what it takes—to face the truth.
Roar by Cora Carmack (Live Midnight)
Aurora Pavan comes from one of the oldest Stormling families in existence. Long ago, the ungifted pledged fealty and service to her family in exchange for safe haven, and a kingdom was carved out from the wildlands and sustained by magic capable of repelling the world's deadliest foes. As the sole heir of Pavan, Aurora's been groomed to be the perfect queen. She's intelligent and brave and honorable. But she's yet to show any trace of the magic she'll need to protect her people.
To keep her secret and save her crown, Aurora's mother arranges for her to marry a dark and brooding Stormling prince from another kingdom. At first, the prince seems like the perfect solution to all her problems. He'll guarantee her spot as the next queen and be the champion her people need to remain safe. But the more secrets Aurora uncovers about him, the more a future with him frightens her. When she dons a disguise and sneaks out of the palace one night to spy on him, she stumbles upon a black market dealing in the very thing she lacks—storm magic. And the people selling it? They're not Stormlings. They're storm hunters.
Legend says that her ancestors first gained their magic by facing a storm and stealing part of its essence. And when a handsome young storm hunter reveals he was born without magic, but possesses it now, Aurora realizes there's a third option for her future besides ruin or marriage.
She might not have magic now, but she can steal it if she's brave enough.
Challenge a tempest. Survive it. And you become its master.
Hard Stick by L.P. Dover (Live Midnight)
He carries a big stick. And he's not afraid to use it.
On the ice, I'm Kellan Carter, powerhouse enforcer for the Charlotte Strikers. Off the ice, I'm just a regular guy. The last thing I want is to get mobbed by a bunch of groupies who are only after me for my fame and money. My ideal woman knows how to enjoy a little good, clean fun—and maybe some not-so-clean fun too. That's the kind of girl I'd never let go.
When Kristen Robinson, the gorgeous, down-to-earth bartender I've been crushing on, agrees to let me take her out, I'm thrilled. We have an amazing night together, culminating in the most electrifying kiss of my life—and that's it. Kristen tells me we can't see each other again, but I know that kiss meant as much to her as it did to me. What I don't know is that Kristen has a dangerous secret. . . .
I've proved to Kristen that she can trust me with her body and her heart. But when her past comes back to haunt her, I need to prove that she can trust me with her life. And I might have to get my hands dirty after all.
Too Close to Call by Tessa Bailey (Live Midnight)
All-American wide receiver Kyler Tate's life is about to change. A fairytale college career skyrocketed him to the NFL draft. Adoration and opportunity are thrown in his direction wherever he goes, thanks to being chosen in the first round by the Los Angeles Rage.
None of the accolades mean anything, though, without his high school sweetheart, Bree Justice, by his side. Four years ago, she walked away from Kyler, choosing a quiet life over the flash and notoriety his career would someday bring.
Now he's back in their Indiana hometown, refusing to leave for Los Angeles without her. Demanding she give their life together a shot. Her heart never stopped bleeding for the love of her life, but Bree's decision was final. Too bad their wild attraction has only been amplified by their separation, and Kyler won't quit until Bree is wearing his ring.
Hot Cop by Laurelin Paige and Sierra Simone (Live Midnight)
You have the right to remain sexy.
Anything you say can and will be used to get you in my bed.
You have the right to use my body to give yourself a delirious, life-changing orgasm.
If you have trouble…don't worry, I'm a bit of an expert in that department.
There's nothing 'thin' about my blue line, if you catch my drift, and trust me, I know how to put those handcuffs to good use.
***
Livia Ward wants a baby before she's thirty.  And even though Officer Chase Kelly is exactly the kind of cocky jerk this librarian has sworn off, he is undeniably hot.  Both of them think they can give each other what they want–a few nights of fun for Officer Kelly, a no-strings baby for Livia–but this hot cop is about to learn that sex, babies, and love don't always play by the rules.
Sugar & Gold by Emma Scott (Live Midnight)
Nikolai Alexei Young was born with a special gift…one he'd do anything to lose. The heart and soul of every person he comes into contact with is an open book to his heightened senses. Colorful emotions, whispers of thoughts, the sour tastes of old memories…He feels them all. The sci-fi books would call him an empath. For Nikolai, his ability has made him an exile. He roams the U.S. alone, avoiding the glut of life in big cities, and using his innate talents to win money in underground poker games. Just enough to keep going, one town to the next. He has no hope that his life can be anything else, until he meets her…
At nineteen, Fiona Starling was trapped in an ugly, desperate situation until she freed herself the only way she knew how. Now three years later, living outside Savannah, Georgia, she is rebuilding her life on her own terms; seizing every moment and saving every penny so that she might fulfill her dream of moving to the raw wilderness of Costa Rica. But behind her carefree smile beats the heart of a lonely young woman haunted by her past, until a chance encounter with a tattooed stranger changes everything…
Fiona takes Nikolai under her roof for three sultry nights, waiting out the rain of a summer storm. She grows more and more fascinated by this brooding stranger with whom she shares an intense physical connection—a connection so strong, she wonders if there is something between them beyond lust and passion. Nikolai is shocked to discover that Fiona calms the raging turmoil in his heart. She alone silences the din of other people's lives, and envelops him in the sweet beauty of her inner self. Every moment he's with her—every touch of her skin—brings him closer to the peace that's been eluding him his entire life.
But Fiona harbors secrets that she is too terrified to reveal. After Nikolai confesses his unique ability, she is caught between wanting to believe him and fearing he'll eventually unearth her own dark past. When the unthinkable happens, Fiona's plans come crashing down, and Nikolai discovers his hated ability might be the only thing that can save the woman he loves.
Sugar & Gold is a STANDALONE new adult romance with shades of the paranormal. Intended for readers 18 and up.
Mr. Rook by Mimi Jean Pamfiloff (Live Midnight)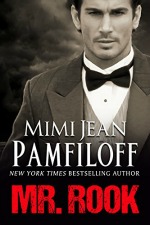 He's Enigmatic, Dangerously Handsome, and COMPLETELY OFF-LIMITS…
The women who vacation on Mr. Rook's exclusive island are looking for one thing and one thing only: to have their wildest romantic fantasies come to life. Pirates, cowboys, billionaires–there's nothing Rook's staff can't deliver.
But when Stephanie Fitzgerald's sister doesn't return after her week in paradise, Stephanie will have to pose as a guest in order to dig for answers. Unfortunately, this means she'll need to get close to the one thing on the island that's not on the menu: the devastatingly handsome and intimidating Mr. Rook. And he's not about to give the island's secrets away.
Dangerous Rush by S.C. Stephens (Live Midnight)
Feeling the rush comes with a price…
Mackenzie Cox has lost everything—except Hayden Hayes. With Kenzie's racing career over, and her family no longer speaking to her, Hayden has been her rock, as she tries to pick up the pieces of what was once her life.
But when Hayden's racing team hires his beautiful ex-girlfriend, Felicia, to be their new hotshot rider, Kenzie and Hayden's seemingly solid relationship begins to crack. Kenzie can only watch from the sidelines, as Felicia lives the life she was forced to leave behind, and as tension begins to build between Hayden and Kenzie, she wonders if Hayden isn't the man she once knew.
Silver Silence by Nalini Singh (6/15)
Control. Precision. Family. These are the principles that drive Silver Mercant. At a time when the fledgling Trinity Accord seeks to unite a divided world, with Silver playing a crucial role as director of a worldwide emergency response network, wildness and chaos are the last things she needs in her life. But that's exactly what Valentin Nikolaev, alpha of the StoneWater bears, brings with him.
Valentin has never met a more fascinating woman. Though Silver is ruled by Silence–her mind clear of all emotion–Valentin senses a whisper of fire around her. That's what keeps him climbing apartment buildings to be near her. But when a shadow assassin almost succeeds in poisoning Silver, the stakes become deadly serious…and Silver finds herself in the heart of a powerful bear clan.
Her would-be assassin has no idea what their poison has unleashed…
Take a Chance by Erika Wilde (6/15)
The son of a con-artist, Sean O'Brien learned the hard way that living by your own rules comes with a price. After a brief time behind bars, Sean is now ready to live an honest life, and pay for his past mistakes, and he's fortunate enough that a member of The Reliance Group sees Sean's potential for good and gives him a job at the Onyx Casino.
Zoe Russo has met all types of men on the Vegas strip. But when Sean pays a visit to her boutique, she's certain her luck has changed for the better. They share an immediate, irresistible attraction, and for the first time in her life she's found a man she thinks she can trust. But when Zoe stumbles onto the truth about Sean and his reasons for pursuing her, she can't help but question everything they'd shared. Are his feelings for her real, or has she been a fool once again? Until now, nothing has prepared her for the thrill and risk of taking a chance on love.
Originally published as NIGHT AFTER NIGHT by Janelle Denison, October 2011
His Stolen Secret by Terri Ann Browning (Live 6/18)
Everyone has secrets.
She was mine…
I wanted her from the instant I set eyes on her. I waited, bided my time, and when she was ripe for the taking, I stole a single weekend with her.
Then, in the blink of an eye, tragedy tore us apart.
He was mine…
From the first time I saw him, I knew he would be my downfall. I craved him, wanted him with a need that should have terrified me.
He didn't steal anything from me. I gave it—and my heart–to him freely.
But we weren't the only ones with a secret.
Secrets tore us part, and now, they would force us back to the scene of that infamous tragedy.
We will question everything we ever thought was truth, but even as everyone confesses their secrets, will they finally succeed in tearing us apart forever?
Will I always be HIS STOLEN SECRET?