He likes a challenge…
Here's the deal: I'm the best center fielder in the major leagues. I'm also the guy who cost his team the championship game and acted very unsportsmanlike. So, when the team hires a social media manager to repair the damage to my reputation, I don't argue. But then I meet Chloe Conrad, and I suddenly understand what people mean when they say they have an instant connection to someone. Which means I'm in serious trouble. Chloe's a smart, sexy distraction I can't afford, but one date can't hurt, right? Only she turns me down. And just like that, it's game on.
She's sworn off love…
Finn Auprince is the hottest player in the major leagues. Look up "It Factor" in the dictionary and there's his handsome face. He's also my biggest client and I don't care how easy it is to talk to him or how fun it is to manage his social media accounts, I will not give in to his charms. Then one drunken night, I tell him about my curse: all my previous boyfriends have found their soul mates while dating me. One more heartbreak, and I'll never recover. But Finn doesn't believe in curses—he believes in me. Professionally and personally. He sets out to prove the universe isn't against me, and that his one true love isn't waiting around the next corner.
The problem is…can we play the game of love and both come out on top?
Things We Never Said by Samantha Young
Local metalsmith and gift shop owner, Dahlia McGuire, likes her quiet life in Hartwell, Delaware. It's the perfect place to hide from her family and the tragic events that led to their estrangement. However, when her father, the person she loves most in the world, needs her Dahlia has no choice but to return to Boston to face her ghosts. One of those happens to be her ex-boyfriend's best friend, Michael Sullivan. The man she was never supposed to fall in love with.
Michael Sullivan has never forgotten Dahlia McGuire. Some might say he's never gotten over her. For years he lived with the anger of her desertion, and now, newly-divorced, he's finally ready to move on. That proves impossible when Dahlia returns to Boston and reawakens their explosive connection. Despite everything, Michael wants her back, but Dahlia can't seem to let go of the tangled emotions of the past. When she flees home to Hartwell, Michael follows, determined to do everything in his power to convince her they belong together.
However, when the unthinkable hits the quiet seaside town, Michael finds himself trying to unravel more than the mystery of Dahlia's broken heart. It's time for truths left unsaid to finally be spoken or Michael and Dahlia might find themselves torn apart forever…
Bad Saint by Monica James
I was kidnapped on my honeymoon by three masked men.
Blindfolded.
Bound.
Destination unknown.
I was told to stay silent and abide by their rules. But they didn't realize I wasn't a victim…not anymore.
The open sea was my backdrop for nine torturous days. During that time, glimmers of my fate were revealed by a man with the mysterious chartreuse-colored eyes. He should have scared me, but he didn't.
He intrigued me. And I intrigued him.
He punished me when I didn't listen, which was every single day. But beneath his cruelty, I sensed he was guarding a grave secret.
I was sold.
And in a game of poker, no less.
My buyer? A Russian mobster who likes to collect pretty things. Now that I know the truth, I only have one choice.
Sink or swim.
And when one fateful night presents me the opportunity, I take it. I just never anticipated my actions would leave me shipwrecked with my kidnapper.
He needs me alive. I want him dead.
But as days turn into weeks, one thing becomes clear—I should hate him…but I don't.
My name is Willow.
His name is Saint.
Ironic, isn't it? He bears a name that denotes nothing but holiness yet delivers nothing but hell. However, if this is hell on earth…God, save my soul.
**BAD SAINT is a DARK ROMANCE containing mature themes that might make some readers uncomfortable. It includes: kidnapping, captivity, strong violence, mild language, and some dark and disturbing scenes. 
This twisted tale is not intended for the fainthearted. So, if you're game…welcome to the madness. 
Hot to the Touch by Jaci Burton
Firefighter Jackson Donovan doesn't look back—as a rule. So when his past comes roaring back to life in the form of not-so-damsel-in-distress Becks Benning, the last thing he wants to do is relive old times. No matter how tempting she makes it seem…
Now thanks to his two interfering brothers, Becks is living with them while she looks for a new place and tries to pick up the pieces of her tattoo business that went up in flames. Which means a grown up, smokin' hot Becks is in his house, sharing meals, and digging up old wounds. And despite his better judgement, the more time he spends with this smart, artistic, incredible woman the more he wants her in his bed—and his future.
Becks always had it bad for Jackson. Unfortunately for her, not much has changed–he's still honorable, hard-working, sexy as sin—and closed off. But there's more than one way to get to a man's heart and if Jackson doesn't want to recall old memories, she'll just have to help him make new ones. Because now that she's found Jackson again, she's not letting him go.
Code Name: Genesis by Sawyer Bennett
Years ago, they were in love. She was an up-and-coming superstar and he was the devilishly handsome security professional hired to keep her safe. They fell hard and fast, no matter how they tried to resist one another. But not everyone around them was happy about their relationship, and a string of lies and deceit destroyed what they once had.
Having just taken the helm of a nationally renowned protective services company, Kynan McGrath is looking to rebrand and revamp his career. The newly crowned Jameson Force Security is moving from the glitz and glamour of Las Vegas to the mountainous steel town of Pittsburgh, and the last thing Kynan has time for is to deal with his past.
More than a decade has passed since their split, but even a bruised and battered heart remembers its first love. So when Joslyn Meyers comes to him for help, Kynan reluctantly agrees to keep her safe from a terrifying stalker who keeps threatening her life.
As the danger they face continues to intensify, Kynan realizes he'll stop at nothing to protect the woman who turned her back on him all those years ago. Because one thing is certain—no matter how hard he tries to convince himself otherwise, Joslyn still has his heart.
Beautiful Ever After by Georgia Cates
Everything in my life has changed.
This woman, my paid companion, has turned my world upside down
… while making it right for the first time ever.
We were brought together by need.
Hers was money.
Mine was companionship. And sex.
Caitriona Louden gave me the girlfriend experience.
All of it.
And now she's gone.
I'm not supposed to miss her.
I'm not supposed to love her.
But I do. Both.
Our contract expired, and she walked away.
Now my world is falling apart without her in it.
Because she is my everything.
A fairy-tale romance.
It's ours to have.
And this woman I've come to love so dearly is my beautiful ever after.
That Second Chance by Meghan Quinn
But it only took one rowdy night with my brothers to flip my world upside down. One unlucky encounter saddled us with a family curse and the promise of doomed relationships. I laughed it off immediately. "Yeah, right," I thought. "A love curse. Ha!"
Boy, was I wrong.
Word spreads quickly in a town like mine; rumors about that night soon made us the most eligible yet untouchable bachelors in Port Snow, Maine. As a subject of endless gossip and speculation, I could kiss my dating life goodbye.
It would have stayed that way if Ren Winters, the new girl in town, hadn't crashed into my life. Brave, beautiful, and smart—her vivacious thirst for a fresh start has given me hope that maybe, just maybe, I can have one too.
Everyone wishes for that second chance . . . but could this really be mine?
Ask Me Anything by Molly E. Lee
I should've kept my mouth shut.
But Wilmont Academy's been living in the Dark Ages when it comes to sex ed, and someone had to take matters into her own hands. Well, I'm a kick-ass coder, so I created a totally anonymous, totally untraceable blog where teens can come to get real, honest, nothing-is-off-limits sex advice.
And holy hell, the site went viral—and we're talking way beyond Wilmont—overnight. Who knew this town was so hard up?
Except now the school administration is trying to shut me down, and they've forced Dean—my coding crush, aka the hottest guy in school—to try to uncover who I am. If he discovers my secret, I'll lose him forever. And thousands of teens who need real advice won't have anyone to turn to.
Ask me anything…except how to make things right.
Better than Me by Kimberly Kinkaid
Remington's most notoriously single,
notoriously sexy surgeon
is about to fall for the one woman
he can't have…
Did I mention that she's
A) his best friend
B) immune to his panty-melting charm, and
C) sleeping on his couch for the next six weeks?
But Jonah's not made for commitment,
and a good man is the one thing Natalie deserves.
Not someone who can only offer up
a couple of sizzling hot, no-strings-attached nights
of pure pleasure.
Unless that's what she wants.
Because Jonah wants her. And with each
moment they spend working together–
living together–
the harder it is to resist temptation.
And even harder to resist the fall that
might break them both…
Dance with Me by Kristen Proby
Starla. Just Starla.
She doesn't have a last name, and she doesn't need one. Not with that many Grammys on her mantel. Everyone knows her kick-ass, no-holds-barred style of singing, dancing, and living.
No one knows that America's Sweetheart is still living with the wreckage of four years ago, when her world was torn apart. Losing her fiancé was devastating, but she's channeled all of that into her music. Closing off her heart opened a hundred new doors.
Officer Levi Crawford, Seattle PD.
For almost twenty years, Levi has been consumed by the law. He eats, sleeps, and breathes work. Not just because he's a workaholic, but because he loves it. Sure, he doesn't have time for a woman and barely sees the rest of his family, but it's a trade he's always been happy to make.
Until Starla.
Two lonely hearts could learn to beat again, if they're willing to dance together.
Eli's Triumph by Joanna Wylde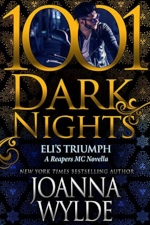 Peaches Taylor spent the last seven years slinging drinks and dodging drunks at the Starkwood Saloon. Some might call it a dead end job, but to her it was an investment—another six months, and she'd have enough money to buy the place.
Life would've been perfect if Eli hadn't come home.
Eli King is ready to settle down. He stood by his brothers when they needed him, paying the price for their freedom with his own. Now it's time to claim his reward—the Starkwood Saloon. He's got the cash to buy the bar, the skills to run it, and just one person standing between him and his dream: Peaches Taylor.
She's been driving him crazy since they were kids, and not in the good way. When she was six, she shoved a spider down his pants. When he was ten, he locked her in a closet overnight. Then she hot-wired his car at seventeen, and things got ugly…
They're adults now, and the Starkwood isn't a toy to fight over—it's the hill they'll die on. No prisoners. No compromises. No mercy.
Peaches Taylor and Eli King are going to war.
The Bride Test by Helen Hoang
Khai Diep has no feelings. Well, he feels irritation when people move his things or contentment when ledgers balance down to the penny, but not big, important emotions—like grief. And love. He thinks he's defective. His family knows better—that his autism means he just processes emotions differently. When he steadfastly avoids relationships, his mother takes matters into her own hands and returns to Vietnam to find him the perfect bride.
As a mixed-race girl living in the slums of Ho Chi Minh City, Esme Tran has always felt out of place. When the opportunity arises to come to America and meet a potential husband, she can't turn it down, thinking this could be the break her family needs. Seducing Khai, however, doesn't go as planned. Esme's lessons in love seem to be working…but only on herself. She's hopelessly smitten with a man who's convinced he can never return her affection.
With Esme's time in the United States dwindling, Khai is forced to understand he's been wrong all along. And there's more than one way to love.
Top Secret by Elle Kennedy and Sarina Bowen
Bestselling authors Sarina Bowen & Elle Kennedy return with their first Male / Male romance in 3 years.

LobsterShorts, 21. Jock. Secretly a science geek. Hot AF.
LobsterShorts: So. Here goes. For her birthday, my girlfriend wants…a threesome.
SinnerThree: Then you've come to the right hookup app.
LobsterShorts: Have you done this sort of thing before? With another guy?
SinnerThree: All the time. I'm an equal opportunity player. You?
LobsterShorts: [crickets!]
SinnerThree, 21. Finance major. Secretly a male dancer. Hot AF.
SinnerThree: Well, I'm down if you are. My life is kind of a mess right now. School, work, family stress. Oh, and I live next door to the most annoying dude in the world. I need the distraction. Are you sure you want this?
LobsterShorts: I might want it a little more than I'm willing to admit.
SinnerThree: Hey, nothing wrong with pushing your boundaries…
LobsterShorts: Tell that to my control-freak father. Anyway. What if this threesome is awkward?
SinnerThree: Then it's awkward. It's not like we'll ever have to see each other again. Right? Just promise you won't fall in love with me.
LobsterShorts: Now wouldn't that be life-changing…
Manhattan by Kristen Hope Mazzola (Live 5.9)
Cheers to the best group of friends a woman could ask for.
Cheers to small apartments and even smaller…paychecks.
Cheers to a broken heart and healing it one Manhattan at a time.
Cheers to Happy Hour!
Annabelle Daugherty thought her life was perfect until she finds herself a widow at the young age of thirty-two. 
Being a professor of equestrian studies and a stepmother keeps her busy and distracted for the most part. Everything in her life seems to getting back to normal. All except one, her love life. Dating is the farthest thing on her mind. But when a tall, dark and handsome, silver-tongued bartender starts working at The Happy Hour Club's regular watering hole, a curveball that Annabelle never thought would happen takes her by surprise. 
Can true love really strike twice?
The Lying Hours by Sara Ney (Live 5.9- No Preorder)
ABRAHAM DAVIS—Honest Abe to his friends—IS IN OVER HIS HEAD…
He's a fixer and a do good-er. The all-knowing, resident "grandfather" on the wrestling team who everyone relies on to fix their problems. His teammates go to him for everything; advice, homework, or when they need a sober driver at three in the morning–whether he likes it or not.
Abe's current mission is easy: mend his roommates broken heart by helping him find a girlfriend on the LoveU app–without getting caught in the lie…
SKYLAR GABRIEL. IS. OVER. IT.
Over her bad grades. Over her meddling older brother and his two best friends. And over dating douchebags. What she wants to know is: where have all the nice guys gone?
She longs for a handsome, sweet, and honest guy who can make her laugh. In one last ditch effort to prove that he exists—Skylar turns to LoveU.
On her worst day, Skylar has no filter (it's a miracle she hasn't been ditched mid-date).
On her best, she's as wholesome, and sweet, as pie.
On Thursday? She matches with Abraham Davis's roommate.
Skylar Gabriel is falling for the wrong guy—she just doesn't realize it yet.
Why?
BECAUSE ABE DAVIS IS A LIAR.
Marriage for One by Ella Maise (Live 5.9- No Preorder)
Jack and I, we did everything backward. The day he lured me into his office-which was also the first day we met-he proposed. You'd think a guy who looked like him-a bit cold maybe, but still striking and very unattainable-would only ask the love of his life to marry him, right? You'd think he must be madly in love.
Nope. It was me he asked. A complete stranger who had never even heard of him. A stranger who had been dumped by her fiancé only weeks before. You'd think I'd laugh in his face, call him insane-and a few other names-then walk away as quickly as possible. Well…I did all those things except the walking away part.
It took him only minutes to talk me into a business deal…erm, I mean marriage, and only days for us to officially tie the knot. Happiest day of my life. Magical. Pop the champagne… Not. It was the worst day. Jack Hawthorne was nothing like what I'd imagined for myself.
I blamed him for my lapse in judgment. I blamed his eyes, the ocean blue eyes that looked straight into mine unapologetically, and that frown on his face I had no idea I would become so fascinated with in time.
It wasn't long after he said I was the biggest mistake of his life that things started to change. No, he still didn't talk much, but anyone can string a few words together. His actions spoke the loudest to me. And day after day my heart started to get a mind of its own.
One second he was no one. The next he became everything.
One second he was unattainable. The next he seemed to be completely mine.
One second I thought we were in love. The next it was still nothing but a lie.
After all, I was Rose and he was Jack. We were doomed from the very beginning with those names. Did you expect anything else?