Fight or Flight by Samantha Young
The universe is conspiring against Ava Breevort. As if flying back to Phoenix to bury a childhood friend wasn't hell enough, a cloud of volcanic ash traveling from overseas delayed her flight back home to Boston. Her last ditch attempt to salvage the trip was thwarted by an arrogant Scotsman, Caleb Scott, who steals a first class seat out from under her. Then over the course of their journey home, their antagonism somehow lands them in bed for the steamiest layover Ava's ever had. And that's all it was–until Caleb shows up on her doorstep.
When pure chance pulls Ava back into Caleb's orbit, he proposes they enjoy their physical connection while he's stranded in Boston. Ava agrees, knowing her heart's in no danger since a) she barely likes Caleb and b) his existence in her life is temporary. Not long thereafter Ava realizes she's made a terrible error because as it turns out Caleb Scott isn't quite so unlikeable after all. When his stay in Boston becomes permanent, Ava must decide whether to fight her feelings for him or give into them. But even if she does decide to risk her heart on Caleb, there is no guarantee her stubborn Scot will want to risk his heart on her….
Love Sincerely Yours by Meghan Quinn and Sara Ney 
Dear Mister.. . . no, too formal.
Hey there sweet cheeks. . . no, too forward.
*Clears throat*
To whom it may concern,
Full disclosure; before we move forward with this email, I would like it to be known that I have consumed an adequate amount of alcoholic beverages to intoxicate myself tonight. Three margaritas, two shots, and one beer—because it was free.
I think it's important to be open and honest with your co-workers, don't you?
So here I am, being open and honest. Drunk but honest. Or just drunk with lust? You decide.
I have a hopeless, foolish, schoolgirl crush on you when you are the last person on earth I should be falling for. Did you know people around the office call you a sadist? An egomaniac. An insensitive, arrogant prick. But what they don't know is your bark is worse than your bite. And that bite doesn't scare me. The fact is, I'd love that bite of yours to nip at my bare skin while we're both wearing nothing but sheets.
For once I want you to look at me as more than one of your employees.
And as long as we're being honest, that navy blue suit you wear? With the crisp white shirt? It really makes me want to loosen your tie and show you exactly who's boss.
Love,
Sincerely,
Yours
What Lies Between by B.N. Toler 
At the core of it, life is a test—an opportunity to prove who we are; what we're really made of. Short as it was, I'd like to think I lived my life well, that when people remember Ike McDermott, they remember he was a good man. When I look back, I'm proud of who I was.
Leaving behind the woman I loved was the hardest thing I'd ever done, and finding peace with the knowledge she was building a life with my brother after I moved on took a strength I didn't know I had. But George and Charlotte were still alive. I wasn't. Together, they forged on, and I was okay with that because I knew, one day, Charlotte and I would be reunited.
One day she would be mine.
All I had to do was wait.
Time works differently in the afterlife. Without any ties to the living, it doesn't so much as slow, but stop altogether. There is no worrying about what is to come, there is only what is.
I didn't know if four days, or fifty years had passed when I found Charlotte by our tree in my corner of the other side. All I knew was she was here, and I would never have to let her go. I finally had my reward for the life I'd lived.
But I'd soon learn Fate had other plans, and everything I believed about who I was would be tested once again. Only this time, I wasn't so sure I could stay strong.
This time, I wasn't sure I could be a good man.
Misadventures with a Manny by Toni Aleo 
Vera Woods is at her wit's end.
Her husband has run off with the nanny, leaving Vera with a broken heart, three very angry sons, and even less time to juggle the demands of family and her career. After her boys scare away a sixth replacement nanny, Vera is out of time off from work and desperately out of options. Still nursing an aching heart, she turns to an unlikely source for help―a manny.
Lincoln Scott is no stranger to family chaos. But rather than grow jaded, he has thrown his natural talents into building his own business―providing live-in childcare for families as a manny. The money is great and the perks are a blast, but when his family of six years moves to Germany and their plans to bring him along fall through, Lincoln is suddenly unemployed and aware of how much of himself he's given to other people's families.
Brought together by circumstances, Lincoln and Vera's mutually beneficial business arrangement becomes complicated by the undeniable chemistry they share. Vera needs a manny and Lincoln needs a job, but they both may have found the very thing neither one had realized they needed―a whole lot more.
Five Years Gone by Marie Force 
I knew on the day of the attack that our lives were changed forever. What I didn't know then was that I'd never see John again after he deployed. One day he was living with me, sleeping next to me, making plans with me. The next day he was gone.
That was five years ago. The world has moved on from that awful day, but I'm stuck in my own personal hell, waiting for a man who may be dead for all I know. At my sister's wedding, I meet Eric, the brother of the groom, and my heart comes alive once again.
The world is riveted by the capture of the terrorist mastermind, brought down by U.S. Special Forces in a daring raid. Now I am trapped between hoping I'll hear from John and fearing what'll become of my new life with Eric if I do.
From a New York Times bestselling author, Five Years Gone, a standalone contemporary, is an epic story of love, honor, duty, unbearable choices and impossible dilemmas.
Chasing My Forever by Heidi McLaughlin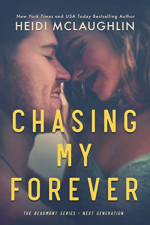 Music is his passion. It's in his blood. Yet, Quinn James isn't sure if stardom is right for him. His family wants him to join a band, and follow in his father's footsteps but fear holds him back. He can't explain it, and when he tries, no one understands what he's afraid of or why he's content playing coffee shop gigs where no one knows him.
Eleanora Boone wants to live her life, not the one her very southern parents planned for her, which is why she chose a college thousands of miles away. Now she's faced with returning home or doing something that would defy her family. When an opportunity to visit Los Angeles falls in her lap, she uses it to become someone different.
California is everything Eleanora thought it would be, and even more so when she meets Quinn, the shy, reserved and brooding musician who's the complete opposite of the guys she's used to back home.
For the first time, Quinn's smitten. The new, mysterious waitress has him wrapped around her finger, and he finds that he is finally able to open up and trust someone outside of his family circle.
But living a different life comes with its risks, and for Eleanora, that risk is a secret that has the power to destroy both of them.
The Royal Runaway by Lindsay Emory 
Princess Theodora Isabella Victoria of Drieden of the Royal House Laurent is so over this princess thing.
After her fiancé jilted her on their wedding day, she's finally back home after spending four months in exile—aka it's back to press conferences, public appearances, and putting on a show for the Driedish nation as the perfect princess they expect her to be. But Thea's sick of duty. After all, that's what got her into this mess in the first place.
So when she sneaks out of the palace and meets a sexy Scot named Nick in a local bar, she relishes the chance to be a normal woman for a change. But just as she thinks she's found her Prince Charming for the night, he reveals his intentions are less than honorable: he's the brother of her former fiancé, a British spy, and he's not above blackmail. As Thea reluctantly joins forces with Nick to find out what happened the day her fiancé disappeared, together they discover a secret that could destroy a centuries-old monarchy and change life as they know it.
Funny, fast-paced, and full of more twists and turns than the castle Thea lives in, The Royal Runaway is a fresh romantic comedy that will leave you cheering for the modern-day royal who chucks the rulebook aside to create her own happily-ever-after.
Dragon Nights by Donna Grant 
New York Times bestselling author Donna Grant brings you another sizzling Dark Kings novella.
Governed by honor and ruled by desire
There has never been a hunt that Dorian has lost. With his sights sent on a relic the Dragon Kings need to battle an ancient foe, he won't let anything stand in his way – especially not the beautiful owner. Alexandra is smart and cautious. Yet the attraction between them is impossible to deny – or ignore. But is it a road Dorian dares to travel down again?
With her vast family fortune, Alexandra Sheridan is never without suitors. No one is more surprised than she when the charming, devilish Scotsman snags her attention. But the secrets Dorian holds is like a wall between them until one fateful night when he shares everything. In his arms she finds passion like no other – and a love that will transcend time. But can she give her heart to a dragon??
Once Upon A Wild Fling by Lauren Blakely 
My brother's best friend has a proposition for me. Have I mentioned he's a sexy single dad? Tell me more…
There are a million reasons why Miles Hart isn't the man I should date but allow me to enumerate the top three. He's friends with my brother, he's a single dad, and he's a sexy, in-demand rock star. He might as well wear an off-limits, totally unavailable, and don't-even-attempt-to-ride-this-ride sign.
Then he asks me to be his plus-one when his band plays at his high school reunion, and the night unfolds in ways I never expect.
***
I have three good reasons to keep my hands off Roxy Sterling–her brother's my business manager and good buddy, my kid is the center of my world, and the last time I fell hard for a woman I was burned so badly that my interest in relationships has gone up in flames. But once I bring Roxy's body next to mine on the dance floor, I want all the not-safe-for-work things I can't have with her. So I make a proposition.
Then I learn exactly how risky we might be.
All My Life by Prescott Lane 
I've known Garrett Hollis since before I can remember, and I've loved him just as long. I loved him while he loved someone else. I loved him when he had a baby with her. I loved him when she left him.
The greatest of love stories is that between a dad and his daughter. I should know. I've had a front row seat. First steps, first words, all the big moments.
Garrett was just a teenager when Mia was born. I've watched him braid his daughter's hair, hold her hand crossing the street, seen her asleep on his chest. I'm the best friend, the one they can count on for everything from dance lessons to motherly advice, anything they need. I'm their go-to girl.
The best part of any love story is the happily ever after.
But what if the happily ever after doesn't include you?
All my life, that's how long I've loved him.
Of course, he's clueless.
Sweet Loving- Cowboy by Stacey Kennedy 
Harper McKinney finished culinary school with big dreams. Right now, she's a bartender at Kinky Spurs. While she's content with her life, her brother is determined that she make a name for herself, because he wants her far away from what he deems a trashy bar. But Harper refuses to go anywhere. She's in love with her brother's best friend, Chase Blackshaw, and that love is keeping her in River Rock.
After the death of Chase's father, he's the one responsible for running the construction of the Blackshaw Cattle Company's guest ranch. Back in the day, he had dreams of opening a construction company, but lack of finances kept him working for the family's cattle ranch. Now with the responsibility of his family's guest ranch on his shoulders those dreams seem far away. Though he has bigger problems. His build is failing the inspections.
Now Chase has more trouble on his hands. Harper, the woman he's forbidden to ever touch has decided to move to Las Vegas. She isn't so little anymore, and Chase is finding her all too tempting. She's also not shy about what she wants. Him. Naked. And giving her some sweet lovin' in all the kinky ways he craves. But neither Chase nor Harper can anticipate the fate that awaits them if they dare give in to their desires, as Chase soon learns there is something far worse than not being able to live out his dreams. It's being given the chance to live out his dreams but having to watch Harper lose hers.
This Love by Kelly Elliott 
I was a self-appointed bachelor and happy to have the title. Everyone thought it was time for me to settle down and find a nice girl. Well, no thank you. This cowboy wanted to stay clear of relationships. I wanted the freedom that came with no strings.
But what did I know? Nothing apparently.
Everything changed when I looked into her green eyes; my world tilted when she smiled at me.
What was this feeling?
Whatever was happening had me losing my damn mind. I fumbled with my words. My body wasn't my own. I wanted her … desperately.
Was I ready to give up my bachelor days, or was this Irish girl simply an itch I needed scratched?
Brothers by L.A. Casey 
Loyalty.
Respect.
Wit.
Aggression.
Heart.
Each word describes the Slater brothers and how they were moulded into the men they are today … but what did it take to get them where they are?
Pain.
Disregard.
Fear.
Anger.
Love.
Peeling back each layer to find the brothers' core means looking at their past to see how they got their future. From overcoming family feuds and breaking a warlord's hold on them to moving to another country and finding women who make their world spin.
The Slater brothers idolise their women, and what the Slater brothers idolise, the Slater brothers guard.
I Hate You, I Love You by Elizabeth Hayley 
Poetry professor Naomi Price is loved by her students, happily works around the clock, and has credentials no one could deny. Except, it seems, for her arch-nemesis at Hainamor University. The man never has anything polite to say, and now the two of them are competing for a prestigious honor that just so happens to come with a cash award. With every move Naomi makes to impress her colleagues, her rival is right there beside her, elbow to elbow, making it impossible to ignore how devastatingly hot he is—even if he is a total bastard.
Sebastian Blake knows what Naomi thinks of him, and he's trying hard not to care. Maybe he's been grouchy with her in the past, but she isn't making his life any easier with her crusade to win over the Personnel Committee and earn an honor that is rightfully his. Naomi just doesn't quit, and though he'd never admit it, there's something sexy about her. Something that has him tied up in knots. Something that makes him want to move beyond his painful past and take a chance—at least for as long as it takes to kiss her silly and see what happens next.
Absolution by Ava Harrison 
I was done with love.
When I opened my heart, it was for the men I couldn't have.
The unattainable ones.
The ones who would hurt me.
A vicious cycle I couldn't seem to stop.
But I had a new resolve.
Focus on my career.
Stay single.
And then I met him.
Jace Montgomery.
A wounded widower with two young kids.
He was exactly everything I was avoiding.
So I did my best to stay away.
But then he kissed me.
And I fell.
Hard.
Hard for a man who would never be mine…
A man who was broken beyond repair.
A man who would break me.
 Dirty Rich Cinderella Story: Ever After by Lisa Renee Jones (Live 10.10)
Continuing where Dirty Rich Cinderella Story left off…
Get ready for a steamy honeymoon, and a heart-stopping welcome home for Cole and Lori!
The unexpected is about to happen and while Lori has faced the demons of her past, she and Cole will face those of his past now.
Don't miss both of Lori & Cole's books:
DIRTY RICH CINDERELLA STORY
DIRTY RICH CINDERELLA STORY: EVER AFTER
Lovers At Heart, Reimagined by Melissa Foster (Live 10.10)
Treat Braden and Max Armstrong's love story is the beginning of my beloved Braden series and introduces you to some of my favorite characters, and to a family that has become so real to me, they're always by my side. If you are already a fan of the Love in Bloom big-family romance collection, you may have read Treat and Max's original story, Lovers at Heart. For the past several years, I have had the nagging feeling that there was more to Treat and Max's story than I had originally thought. One of the greatest things about being a writer is the ability to reimagine worlds and create new stories. I wanted to give Treat and Max a more mature story without losing the essence of who they are. This is Treat and Max's story, reimagined, and I hope you love it as much as I do.
In LOVERS AT HEART, REIMAGINED…
Treat Braden wasn't looking for love when Max Armstrong walked into his Nassau resort, but he saw right through the efficient and capable facade she wore like a shield to the sweet, sensual woman beneath. One magnificent evening together sparked an intense connection, and for the first time in his life Treat wanted more than a casual affair. But something caused Max to turn away, and now, after weeks of unanswered phone calls and longing for the one woman he cannot have, Treat is going back to his family's ranch to try to finally move on.
A chance encounter brings Treat and Max together again, and it turns into a night of intense passion and honesty. When Max reveals her secret, painful past, Treat vows to do everything within his power to win Max's heart forever–including helping her finally face her demons head-on.
Bobbing for Bodies by Addison Moore (Live 10.11)
My name is Lottie Lemon, and I see dead pets. Okay, so I see dead people on occasion, too, but it's mostly sweet, fuzzy, long-departed cuties that I see clinging by their previous owner's side. Trust me when I say this is not a good sign. So, when I spot an adorable, fuzzy, little squirrel skipping around at the grand opening for my new bakery, I about lose it, until I realize it's a perky little poltergeist only visible to yours truly. But there are so many people at the grand opening it's hard to discern who exactly might be in danger—that is, until I follow the little creature right out the back and straight into another homicide. It's horrible to see your friend lying there vacant of life. Honey Hollow will never be the same.
Lottie Lemon has a brand new bakery to tend to, a budding romance with perhaps one too many suitors, and she has the supernatural ability to see dead pets—which are always harbingers for ominous things to come. Throw in the occasional ghost of the human variety, a string of murders, and her insatiable thirst for justice, and you'll have more chaos than you know what to do with.
Living in the small town of Honey Hollow can be murder.
Player by Staci Hart (Live 10.11)
He's a player.
He plays the bass with expert fingers. He plays women with intoxicating charm. And he'll play me with the ease of a virtuoso.
Who better to teach me to play than the master himself?
I'm his model student, front row, pencil sharp. Pick up lines? I've got them. Free drinks? By the dozen. Kissing? Let me grab my chapstick.
But the most valuable lesson I've learned is that there's so much I don't know. Like why his touch sets off a chain reaction straight to my nethers. Or how I'm certain each kiss is the best I'll ever have, until the moment his lips take mine again.
There's so much I don't know.
Like the fact that I'm only a bet.
But we are what we are. He's a player, through and through.
And I'm the fool who fell in love with him.
The Gathering by L.A. Fiore (No Preorder- live 10.12)
From the very beginning, Ivy Blackwood was different. She was only a child when she was accused of setting the fire, one she passively watched engulf the small house she had called home. Her fingertips burned and her hair singed. Some who watched her crossed themselves, convinced she was soulless for she showed no emotion at all. Calm and dispassionate, even when the screaming started that quickly turned to bellows of agony before dying into nothing but the roaring of the fire.
She was locked away where she couldn't bring harm to herself or others. To all involved, they had protected the world from a monster, but sometimes things are not what they seem.