Dear Jane by Kendall Ryan 
I broke her heart ten years ago and left town.
She hates me, and rightly so. It doesn't matter that the rest of the country loves me, that I'm a starting quarterback with a multimillion-dollar contract. Because when I look in the mirror, all I see is a failure who was too young—and too afraid—to fight for what I wanted.
But I'm not that guy anymore, and all I need is one shot to convince her.
***
He has no idea what happened after he left. And now I'm supposed to work alongside him like we don't have this huge, messy history?
But I'm older now, wiser, and I won't let anything stand in my way of doing a good job for this league. Not even one overpaid, arrogant player who thinks we're going to kiss and make up.
News flash, buddy: I am over you.
Soulmate by Katie McCoy 
Five guys. One bar. And a whole heap of sexy trouble…
Sawyer Landry is sexy, rugged, charming… and did I mention sexy? Back in college, we were best of friends – which meant I secretly hid an epic unrequited crush, while he dated every other girl on campus… and then told me all about it the morning after.
Now I'm back in Chicago for the first time in years, and Sawyer is determined to rekindle our friendship. I swore, I wouldn't put my life (and heart) on hold for him again, but just one look at his handsome face and I know, he's still the only man for me.
But this time, things are going to be different. No more sitting around, waiting for him to realize his dream woman is right in front of him. No, I'm going to make him see, I'm not just one of the guys anymore.
But can I really go from sidekick to soulmate? And will this playboy bachelor realize, true love is waiting – if he'd only take a chance?
Neanderthal Seeks Extra Yarns by Penny Reid 
A comprehensive collection of all short stories, deleted scenes, and special features from the WALL STREET JOURNAL & USA TODAY BESTSELLING Knitting in the City series. Includes:
Neanderthal Seeks Honeymoon
Neanderthal Seeks Baby
Interview with a Neanderthal
Friends Most-Definitely-With Benefits
Hacking the Hacker
Christmas with the Winstons
Beauty and the Beard
Scenes from the Hallway
… and a heckvalot more!
Ensnared by J.S. Scott 
Wildlife conservationist Jade Sinclair isn't used to having money. But when she and her siblings learned they were part of the mega-rich Sinclair dynasty, they became billionaires overnight. Jade doesn't even know how to act rich, especially when she's dealing with an arrogant, privileged, unreasonably sexy snob like Eli Stone.
Unlike Jade, Eli grew up rich, and he just keeps getting richer. Eli is always looking for an adventure, and he's found an inviting one in Jade—as resistant as she is irresistible. His less-than-honorable plan? Get her alone in the wilderness by buying out all the spots in her survival class.
Calling a truce, they strike a bargain: Jade will teach Eli basic survival skills, and he'll teach her how to navigate the world of the wealthy elite. Jade has only one condition—she will not let herself be seduced by him. But some things are easier said than done…
Dream by Carly Phillips 
As a little girl, Andrea Harmon wanted to marry a prince, and Kyle Davenport hoped it would be him. But he never told her how he felt, and lost her as a result. Because sometimes the bad guy gets the girl. And Kyle left town to get over her.
Andi made the wrong choice years ago, choosing the bad boy over the best friend she trusted and she paid for it every day since.
Coming face to face with his former best friend was bound to happen once he moved back to Rosewood Bay, but for Kyle, becoming her son's new teacher is a painful reminder of what they never had. But this time around, Kyle is determined to change their ending. Prince Charming is determined to break down her walls.
Except that no happily-ever-after is won without a fight—and her ex-husband doesn't like to lose.
Mr. Nice Guy by Jennifer Miller & Jason Feifer 
Lucas Callahan, a man who gave up his law degree, fiancée and small-town future for a shot at making it in the Big Apple. He snags an entry-level job at Empire magazine, believing it's only a matter of time before he becomes a famous writer. And then late one night in a downtown bar he meets a gorgeous brunette who takes him home…
Carmen Kelly wanted to be a hard-hitting journalist, only to find herself cast in the role of Empire's sex columnist thanks to the boys' club mentality of Manhattan magazines. Her latest piece is about an unfortunate—and unsatisfying—encounter with an awkward and nerdy guy, who was nice enough to look at but horribly inexperienced in bed.
Lucas only discovers that he's slept with the infamous Carmen Kelly—that is, his own magazine's sex columnist!—when he reads her printed take-down. Humiliated and furious, he pens a rebuttal and signs it, "Nice Guy." Empire publishes it, and the pair of columns go viral. Readers demand more. So the magazine makes an arrangement: Each week, Carmen and Lucas will sleep together… and write dueling accounts of their sexual exploits.
It's the most provocative sexual relationship any couple has had, but the columnist-lovers are soon engaging in more than a war of words: They become seduced by the city's rich and powerful, tempted by fame, and more attracted to each other than they're willing to admit. In the end, they will have to choose between ambition, love, and the consequences of total honesty.
The Dauntless by Jillian Dodd 
From USA Today bestselling author Jillian Dodd comes the fifth book in a sizzling series filled with action and adventure. Fans of The Selection and The Hunger Games will discover a heart-pounding thrill ride of espionage and suspense set in glittering high society.
Huntley Von Allister's cover is firmly in place.
She's brilliantly completed her first four missions.
But she is done.
Done working for Black X.
Done trying to untangle the mystery of what got her mother killed.
And very, very done with love.
She's given herself a simple mission—to recover the precious memories of her final days with her mother by visiting the places in the photos left behind.
Well, that, and to discover who owns the emerald rings, like the one she found on Dupree.
And completely destroy their secret society.
Undeniable Rush by S.C. Stephens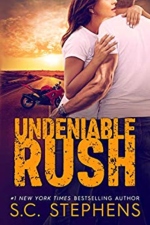 Mackenzie Cox and Hayden Hayes are finally on solid ground again. But giving herself and her heart entirely over to Hayden still overwhelms Kenzie. Why can't she shake her fears and move forward with the man of her dreams? And how long will he wait until she can completely trust him again?
And if the stress over her relationship isn't enough, Kenzie also bears the weight of the success—or failure—of Cox Racing. No longer only focused on racing, she has to run the business side of things, which isn't something she was prepared for, and she's finding that she's not even all that interested in it.
So when she hires Dex Covington to take over during her mechanic's maternity leave, and he arranges a meeting with his dad, a powerful businessman, capable of securing top sponsors for Cox Racing, it all seems too good to be true.
And it is.
With money running out, the future of Cox Racing is just as uncertain as when Kenzie's father was at the helm. Does Kenzie have what it takes to save the business and be a top racer?
Berlin by Audrey Carlan 
Berlin, Germany. A gorgeous new client is looking for a few good men.
It's time for me to get my head back in the game. I'd love nothing more than to enjoy the times with Skyler and the guys, but I've got a business to run and we've just landed our most high-octane case ever in Berlin. Besides, who better to come up with a cutting-edge advertising campaign than us? And since we're International Guy, you can expect nothing less than for us to go full throttle for our client.
International Guy is used to life in the fast lane and this should be an easy ride, but this case is more than any of us bargained for and if we're not careful, this job could rip us apart. If we're going to make it through this case, we're going to need to bring in reinforcements. Somewhere along the line, this team became my family and I won't let anything come between us.
Every Breath by Nicholas Sparks 
Hope Anderson is at a crossroads. After six years with her boyfriend, she is no longer sure what she wants, and when her father becomes ill she heads to her family's cottage at Sunset Beach in North Carolina to make some difficult decisions.
Tru Walls has been summoned across an ocean from where he was born and raised in Zimbabwe by a letter from a man claiming to be his father. In journeying to Sunset Beach, Tru hopes to unravel the mystery surrounding his mother's life, but the letter will lead him in an unexpected direction.
When these two strangers' paths cross, their chance encounter sets in motion a heart-breaking story – one that will transcend decades, continents and the workings of fate.
Off the Ice by L.P. Dover 
He's always made the scoring plays, both on and off the ice, but this time he has a new goal … the one for Meghan's heart.
I'm Justin Davis, all-star center for the Charlotte Strikers. For years, I chased the spotlight, not only with hockey, but through television as well. That's why I decided to play the bachelor on Rich and Single. Unfortunately, I was stuck with a fake fiancée from hell who I couldn't stand to be around. Now that our contract is up, I'm allowed to do whatever I want, with whoever I want. I plan to take full advantage of my newfound freedom.
After being on the show, people don't recognize me for hockey anymore, even with just winning the Stanley Cup for my team. That's why I'm spending the off season in a remote cabin in Wyoming where the chances of people knowing me are slim. Space is what I need, but when a down to earth beauty needs help on her ranch, I can't resist. Meghan Taylor is exactly what I've been looking for, even though I'm not the kind of man she wants.
Getting her to see the real me has its challenges, but the more time I spend with her, the easier it is for her to see that I'm not the same guy she knows from TV. Being away from the media is one thing, but as soon as I'm back in the spotlight, I'm afraid it'll change what we have. I don't want to lose her, but I also can't hide away in Wyoming forever. It's a choice I'm not ready to make.
After Burn by Autumn Jones Lake 
One spilled secret shines a light on the throne of lies I've been sitting on for years.
A revelation with the power to test the bonds of brotherhood like never before.
Promises I've made to my brothers I burn to keep. Vows made to my wife I swear to honor.
Through the web of tangled loyalties, one thing remains clear.
Hope is embedded in my soul.
A love so rare I've spilled blood to protect it.
Each painful piece of our pasts brought us to this moment.
Together, we've built something beautiful, significant, and ours.
And one uncovered truth could burn it all to the ground.
Defiance of the Heart by Monica James (Live 10.17)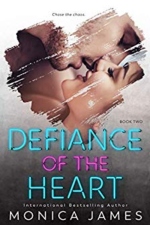 For never was there a story of more woe than that of Holland Brooks and her Romeo…
For as long as I can remember, London Sinclair was the boy who was forbidden. It didn't matter that he made my heart skip a beat. Our surnames fated us to be sworn enemies. But when the truth was finally revealed, my life changed forever.
Lies have shaped our past, leaving London and me to pick up the pieces. But through the chaos, one thing is certain—I love London, and he loves me, and we won't allow anyone to tear us apart again.
However, life has a funny way of proving us wrong.
As we attempt to make amends for the past ten years, we soon discover that the ghosts of our past will do anything to drive us apart. We are once again surrounded by deceit and betrayal, testing us in ways we never imagined.
When I'm faced with a proposition to end this heartache once and for all, I blindly agree. That decision changes everything, and I soon learn that those who act in haste create their own destruction.
Pumpkin Spice Sacrifice by Addison Moore (Live 10.18)
My name is Lottie Lemon, and I see dead pets. Okay, so on occasion I see a dearly departed human, too. And, unfortunately for me, that horrible scenario is playing out right this minute. Worse yet, that good-looking ghost just so happens to look just like my friend, Everett, and it refuses to leave his side. I'm petrified of losing Everett, so much so that I too refuse to leave his side, which of course doesn't exactly bode well with my newly minted boyfriend, Noah Fox, who is just as comely as his surname suggests. After two horrific murders just took place in our small town of Honey Hollow, I'm ready to put the last few months behind me, but when I come across another gruesome discovery, my entire world comes crashing down on me once again.
Lottie Lemon has a brand new bakery to tend to, a budding romance with perhaps one too many suitors, and she has the supernatural ability to see dead pets—which are always harbingers for ominous things to come. Throw in the occasional ghost of the human variety, a string of murders, and her insatiable thirst for justice, and you'll have more chaos than you know what to do with.
Living in the small town of Honey Hollow can be murder.
Long Live the Beautiful Hearts by Emma Scott (Live early)
Never again would I allow my heart to become the plaything of someone else.
Never again would I let a man (or men) come between me and my goals.
Never again would I love without feeling the fullness of that love in return.
Not until I knew it was real. And if that took me a lifetime to find, so be it.
Those were my vows, and after all that had happened with Connor and Weston, I was determined to keep them. To protect my heart.
And then he came home, and my vows became his promises.
He held my heart in his hands with reverence and care.
He helped me find my soul's greatest purpose in life.
He loved me with a love so pure and vibrant, I knew I'd never feel anything like it in a hundred lifetimes.
It was real.
Until it wasn't.
Until it all came crashing down when I discovered the deep love I thought I'd found was nestled in a web of lies—so soft and silken I hadn't noticed it was there.
Until it was too late.
The Wrong Game by Kandi Steiner (Live 10.18- No Preorder) 
Two season tickets.
One genius idea.
Zero interest in a relationship.
The plan is simple: a brand new, hot, preferably funny, definitely single male will fill one of those seats for every Bears game at Soldier Field. And I'll fill the other.
I can't think of a better way to use the season passes I'd bought for my ex-husband. I am a woman of plans, and this one's foolproof.
Until Zach Bowen offers to be my practice round.
He's infuriating. Presumptuous and overbearing. And absolutely, undeniably gorgeous. Any woman with a heartbeat would be attracted to him, and mine picks up speed every time he speaks.
But as I said, I'm a woman of plans — and I'm not backing down on this one.
One night. One game. And then, his time's up.
He can try to change the rules, but here's the truth: he can't win if he's playing the wrong game.
The Simple Life by Tara Sivec (Live 10.19- No Preorder) 
Brooklyn Manning thought her life was perfect in every way, until it crumbled down around her and turned into a dumpster fire. With her pride wounded and her tail tucked between her legs, she leaves New York and goes back to her tiny hometown of White Timber, Montana.
No more twenty-four-hour taco trucks, no more shopping at the best designer stores within walking distance, no more giving taxi drivers the finger when they angrily honk at her. She didn't think it could get any worse. But then Clint Hastings walked into the room and insulted her.
Her arch nemesis from high school is no longer a nerdy computer whiz, masturbating to pictures in PC World magazine in his free time (allegedly). He's grown up to be a hot-as-hell cowboy, and she has no other choice but to be a smart ass right back to him. After all, it's what they do. It's what they've always done, and twelve years apart hasn't changed anything.
Only this time, getting under each other's skin is a hell of a lot more fun than it used to be.
Saint by JB Salsbury (Live 10.21)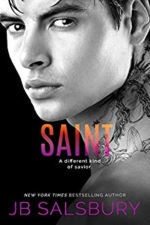 Milo sold his soul to the devil to save an angel.
Now he's after revenge.
There are worse prisons than the lush estate of a notorious drug smuggler in Mexico. Mercy lives out her days alone and hidden from the world, but her sleep is riddled with nightmares of the muti and all the boys and girls just like her who weren't lucky enough to get away.
If the people who kept her as a child are in Mexico, is it possible she could find them?
What starts as vigilante justice unravels a web of human trafficking deeper and darker than Milo and Mercy could've imagined. When she comes face-to-face with the people she once considered family, she proves she is far from the Angel they raised her to be.