Fight for Me:The Complete Collection by A.L. Jackson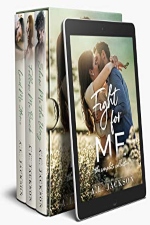 Three unforgettable full-length novels by NYT Bestselling Author, A.L. Jackson . . .
Show Me the Way: Rex Gunner. A sexy single-dad with a huge chip on his shoulder. Can Rynna show him he deserves to be loved?
Follow Me Back: Dr. Kale Bryant is gorgeous, compelling, and married to his job. The only thing he has time for are one-night stands and short-lived flings. Until the day he meets Hope and his entire foundation is rocked.
Lead Me Home: Bar owner, Oliver Preston, knew better than to get close to Nikki. He's always wanted her, but she was the one thing he couldn't allow himself to have. But when she moves into his apartment after she's threatened, she might become the one thing he cannot resist.
Fall in love with the Men of Gingham Lakes and the women who change everything . . .
Sinful Like Us by Krista & Becca Ritchie
HOW CAN IT BE WRONG
IF IT FEELS SO GOOD
Dating an American princess comes with a massive amount of baggage–all of which I'm willing to carry strapped on my back in quicksand and through seven hells. But Jane Cobalt's baggage, I'm unprepared for. It comes in the form of her five equally famous and notoriously hard-to-please brothers.

I want Jane.
Completely.
Unconditionally.
But when there's a trip scheduled that I can't be a part of, I only have one option. It's immoral.
Something I'd never consider until now.
But, hell, there's got to be some perks to being a twin. So I'm doing it. I'm switching places with my brother.
Done and done.
It should have been easy.
There were little consequences.
Until the storm hit.
The Like Us series is a true series, one continuous timeline, that follows a family of wealthy celebrities and the people that protect them.
Fighting Absolution by Kate McCarthy
At fifteen, Jamie Murphy finds herself broken and alone, convinced she doesn't need anyone.
Until she does.
Bear is the boy behind the fence, the one who was there for her when no one else was.
Until he's not.
Left with nothing, Jamie joins the army hoping it will give her purpose. The last thing she expects is the best friend from her past to reappear in the dusty plains of a war-torn country. No longer the boy she once knew, Bear is now a man: big, bearded, and SAS–one of the army's elite.
Soon Jamie finds herself not only fighting against her enemies, but her feelings for a man who left her once before. Can she risk losing him all over again?
Fighting Absolution is a 135k best friends to lovers romance. It's a standalone title, not a series, and you don't need to read Fighting Redemption in order to read this book.
If It's Only Love by Lexi Ryan
From New York Times bestseller Lexi Ryan comes a sexy new standalone romance in the bestselling Boys of Jackson Harbor series. Meet single dad Easton Connor as he leaves the NFL and returns to Jackson Harbor to fight for another chance with the love of his life.
***
I don't regret much.
Not my decision to enter the NFL draft before finishing college.
Not fighting for custody of my daughter—even if, biologically speaking, it turns out she's not mine.
And certainly not seducing my buddy's little sister ten years ago.
But when it comes to Shayleigh Jackson, my no-regrets attitude stops there. I screwed up royally where she's concerned. Then I made another mistake when I let her shut me out of her life.
Now after more than a decade living in different time zones, I'm coming home to Jackson Harbor. My first priority is keeping my daughter away from the media circus in Los Angeles, but the moment I see Shay, I know something else brought me back here. Now I'll stop at nothing to win her back.
So what if she won't speak to me? So what if she's changed? So what if she's fallen for some douchebag professor? I've never gotten over her, and I know she feels the same about me.
I've let her go twice. I won't make that mistake again.
If It's Only Love and all other books in this series can be read as standalones, but you'll enjoy reading them together.
Chasing Fireflies by Claudia Burgoa
The first time I met Oliver Tanner he was five years old.
I was four.
That day he was entrusted to my keep.
He was as large and loud as a church mouse.
That day I taught him how fireflies were magic with the persistence of a person.
That's what I loved about them.
No matter how far they strayed,
they remembered where they came from and who their family was.
After high school, he joined the army and left Knox Ridge.
Years later, the town had changed.
My dreams were shattered.
We had nothing left.
I had forgotten all about the magic of the fireflies.
Until he came back to town.
Everything about him was comforting.
He brought some light to my darkness,
But I knew the light could only last for so long.
Fireflies only stay for the summer.
He had outgrown our small town.
It was time for me to stop chasing fireflies.
The Open Door by Laurelin Paige
From New York Times and USA Today bestselling author Laurelin Paige comes a new story in her Found Duet series…
I knew JC was trouble the minute I laid eyes on him.
Breaking every rule in my club. I never forget how he made me feel that night. With all the women in that room, all those bodies on display, but his eyes were only on me.
Of course I married him. Now years have passed. Kids have been born. We're still in love as always, and the sex is still fantastic…
And yet, it's also not. Like many who've been married for a while, I long for the high intensity of those days of the past.
I've heard rumors for years about the Open Door. An ultra-exclusive voyeur's paradise. A place to participate in—or watch—any kind of display you can imagine.
My husband's eyes would still be on me. And maybe other eyes too. If that's what we want.
So when an invitation to come play arrives, how could we turn it down?
Claiming Sarah by Susan Stoker
Sarah Butler isn't flattered. She's angry and unnerved. She's been getting intimate gifts from a man she barely knows. Nothing threatening yet, but there's just a weird vibe she can't ignore. Her recourse is Ace Security. Their solution: self-defense lessons at Rock Hard Gym with a personal, hands-on instructor. One look at the bearded, tattooed, green-eyed alpha is enough to take Sarah's breath away.
Cole Johnson is definitely the man for the job. He's eager to train her. Eager to get closer. And when it comes to Sarah's instincts, Cole knows she's not imagining things. He's also not imagining the intense attraction between them—and his desire to protect her is growing. But so are Sarah's fears, the worst of which come true when she disappears.
Enlisting the help of Ace Security, Cole will stop at nothing to find the love of his life…before she vanishes forever.
Truly Yours by Kennedy Fox
I knew within moments of meeting Mason Holt that he would change my life forever.
I just didn't realize how much.
As my world spirals out of control, he continues to stay by my side, protecting and taking care of me. Being just friends is all he's been able to offer, that is until both of our lives are threatened. Now that our relationship is blossoming into something more, I can't be what he needs even if I wished I could.
Bad timing strikes again.
When I think we can finally be together, someone threatens to tear us apart. I'm not the same girl Mason met three years ago, but I'm determined to fight for what I've always wanted—him.
**This is book 2 in the Mason & Sophie duet and must be read after Truly Mine. Recommended for ages 18+**
Wrapped in Ink by Carrie Ann Ryan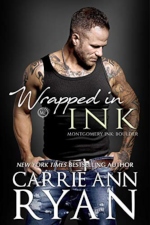 The Montgomery Ink saga continues with a new series set in Boulder, where a family secret might just change everything.
One mistake at a friend's wedding rocks Liam Montgomery's entire world, and everything he thought was true turns out to be a lie. But when an accident lands him in the ER, Liam meets someone that might just be the distraction he needs.
Arden Brady has spent her life in and out of hospitals. But according to the world, she doesn't look sick. She's lost jobs and friends because they don't see beneath the surface, but she's learned to rely on her family and herself to keep going. And then she meets Liam.
With two sets of overprotective siblings and a puppy that can't help but get into everything, Liam and Arden might just fall harder than either one ever expected.
Code Name: Sentinel by Sawyer Bennett
As a former member of the United States Secret Service, I'm no stranger to putting my life on the line in the name of duty. Having left the nation's capital to re-settle in Pittsburgh, the skills I acquired during my tenure in Washington have made me a valued member of the team at Jameson Force Security. But when the President comes seeking a favor to protect his niece, I find myself on the fast track back to the Oval Office.
Simply put… she's beyond brilliant. A nationally renowned energy scientist, Barrett Alexander is on the verge of a breakthrough that will change the world. Unfortunately, that has also made her the target of a suspected terrorist cell. And while Barrett doesn't believe she's in any real danger, the President isn't willing to take chances with her life.
As the threats against Barrett become more calculated, I decide taking her on the run is her best chance of survival. Danger, isolation, and attraction ensure we grow closer than I'd ever thought possible. When I realize I want to keep her safe for reasons that have nothing to do with my job and everything to do with the woman I've fallen in love with, no one is safe from the hell I'll rain down on those that threaten her.
The Testaments by Margaret Atwood
More than fifteen years after the events of The Handmaid's Tale, the theocratic regime of the Republic of Gilead maintains its grip on power, but there are signs it is beginning to rot from within. At this crucial moment, the lives of three radically different women converge, with potentially explosive results.
Two have grown up as part of the first generation to come of age in the new order. The testimonies of these two young women are joined by a third voice: a woman who wields power through the ruthless accumulation and deployment of secrets.
As Atwood unfolds The Testaments, she opens up the innermost workings of Gilead as each woman is forced to come to terms with who she is, and how far she will go for what she believes.
Dark Memento by Katie Reus
Welcome to Verona Bay, a small coastal town where the secrets just won't stay buried—and people aren't always who they seem.
She was the one that got away…
Eight years ago Serenity Washington watched as her twin sister was murdered. She was lucky to escape the same grisly fate. With her sister's killer in jail, she relocated and tried to move on with her life. She married a man in the Air Force and started a family, but when her husband dies unexpectedly she moves back to the last place she remembers being happy—Verona Bay, FL.
Now that she's come home, it's all starting again…
Within months of Serenity's homecoming, she receives a 'gift'—a bracelet from her sister that was never recovered after her death—and a taunting note. Terrified for herself and her young daughter, she turns to the local sheriff for help. But there's only so much they can do without proof that the gifts aren't more than sick pranks. There's been no DNA, no fingerprints left behind—nothing to indicate who's leaving them. As the horrifying gifts arrive with increasing frequency, Serenity has no doubt that she's the ultimate target. But with her sister's murderer—a confessed serial killer—still behind bars, she has no idea who's stalking her.
She turns to the one man she's been trying to keep her distance from…
Former Marine Lucas Jordan has been hung up on single mom Serenity since she moved back to Verona Bay, but she's made it clear she's not looking for a relationship. When she's targeted, however, all bets are off. He won't sit by while she's terrorized, and with her and her daughter's lives in danger he's prepared to stand his ground and protect them both. Together they face the impossible task of trying to figure out who to trust before they all wind up six feet under.
Captivating in Love by Bella Andre and Jennifer Skully (Live 9.12)
Gideon Jones came back from war a changed man. Though the Maverick Billionaires claim he's one of their own, he knows he doesn't deserve to be part of their tightly knit unit. Just like he doesn't deserve Rosie Diaz–an amazing mother…and an utterly captivating woman that he can't stop dreaming about.
Rosie Diaz pulled herself out of the foster care system and made a great life for herself while raising Jorge, the son she adores. Only one thing is missing–a good man, one she can respect and love with her whole heart. A man exactly like her best friend's older brother Gideon.
When Rosie and Gideon agree to take care of Matt and Ari's son, Noah, while the couple is on their honeymoon, they have no idea of the havoc two matchmaking little boys can create. Not to mention the steamy kisses that Rosie and Gideon can't help but steal from each other as their connection deepens and grows. But when mother and son are threatened, Gideon will stop at nothing to protect them. Will he finally believe that he truly is Maverick material…and worthy of Rosie and Jorge's love?
CAPTIVATING IN LOVE is part of Bella Andre and Jennifer Skully's bestselling series about The Maverick Billionaires. While it can easily be read as a standalone story, you'll likely enjoy reading the other books too.
The Maverick Billionaires are sexy, self-made men from the wrong side of town who survived hell together and now have everything they ever wanted. But when each Maverick falls head-over-heels for an incredible woman he never saw coming, he will soon find that true love is the only thing he ever really needed.
Sugar Cookie Slaughter by Addison Moore (Live 9. 12)
My name is Lottie Lemon, and I see dead people. Okay, so I rarely see dead people, mostly I see furry creatures of the dearly departed variety, aka dead pets, who have come back from the other side to warn me of their previous owner's impending doom.
Love is in the air and all of Honey Hollow is staring down the barrel of Valentine's Day. By some stroke of luck I'm taking part in Vermont's Best Baker competition, and believe me when I say there's more drama than there are ingredients in the room. But when one baker accuses another of ripping off her sugar cookies things take a turn for the deadly. Add a stalker, an ornery snake, a fluffy white kitten who has an eye for everything that moves—and you have the perfect recipe for murder.
Lottie Lemon has a brand new bakery to tend to, a budding romance with perhaps one too many suitors, and she has the supernatural ability to see dead pets—which are always harbingers for ominous things to come. Throw in the occasional ghost of the human variety, a string of murders, and her insatiable thirst for justice, and you'll have more chaos than you know what to do with.
Living in the small town of Honey Hollow can be murder.
Another by Fiona Cole (Live 9.12)
The first time I saw him, he entranced me and offered to help me forget my broken engagement.
The second time was on a blind date with no last names and undeniable passion.
The third time, I was eight months pregnant with his baby he knew nothing about.
This time he's not letting me walk away so easily.
Gym or Chocolate by Stuart Reardon & Jane Harvey-Berrick (Live 9.13)
Career girl and radio host hotshot Cady Callahan has never met a chocolate she didn't love. She has curves and doesn't care.
She's shocked when a raffle ticket bought to support a veterans charity means she's won a year's membership to Body Tech, an exclusive Manhattan gym, where all the top athletes train and all the A-list actors go to get in shape for their action roles. She's also won a personal trainer in the shape of far too tantalizing Rick Roberts.
Rick is less impressed when Cady's arrival leads to a media circus. The retired British rugby ace runs a serious training facility, and he definitely doesn't have time for anyone who doesn't want to work hard.
When curvy Cady challenges him to train her to run a marathon by the end of the year, it seems a solution to both their problems. If … when she drops out of training, his gym will go back to normal.
But Cady isn't planning on losing the bet—she just wasn't counting on any complications. And surly Rick is very complicated. And as tempting as the tastiest treat…