The Lucky Heart by Devney Perry
Life on his ranch could be their future. If they can overcome their past.
Felicity's life story reads like the script to a bad soap opera. Girl's high-school boyfriend becomes a drug addict. Girl falls for boyfriend's best friend. Girl leaves them both behind only to return home years later for murdered ex-boyfriend's funeral. Now she's back home in Montana, ready to start fresh. She's got a long list of amends to make and relationships to rebuild, including one with the man who has owned her heart for sixteen years.
Silas doesn't need much. He's got a great horse, close friends and the Lucky Heart ranch, but something has always been missing. He's not an idiot. He knows the missing piece is Felicity. And now that she's returned to Prescott, he's got a second chance to win her heart. This time, the only thing standing in his way is history. Drudging up the past is going to be about as painful as playing tug of war with barbed wire. But if they can heal old wounds, he'll get the girl he should have had all along.
Cockloft by K.C. Lynn 
Cockloft: A firefighter term used as a structural space above ceiling and below rafters, often connecting adjacent occupancies and permitting fire to spread laterally, often unseen.
Gabriel Martinez is the most arrogant and infuriating man I've ever met. He has a knee-weakening smirk that makes me want to kiss—no—slap it off his rude, sexy face. Judging by his ego, you'd think the hose in his pants is as big as the one on his fire truck. Not that I know anything about that nor do I want to. Nope, not at all. He's already been forgotten like last season's Michael Kors.
CeCe Kensington is as pretentious and spoiled as they come. The ridiculous purses she shoulders around are as big as her attitude. And don't get me started on her mile-long legs or full, glossy lips that are meant to be wrapped around a guy's… If she only knew the dirty things I think about doing to that sassy mouth of hers, she'd be hightailing it back to her side of town.
✿¸.•´¸✿*´¨) ¸.•*¨✿
When the beautiful boutique owner and sexy firefighter meet in the most unlikely situation, their two worlds collide, creating an explosion of misperceptions and combustible heat, trapping them in a fire they never saw coming.
Wild Card by Karina Halle 
She swore she'd never go back home.
She swore she'd never see the man who broke her all those years ago.
But you don't always get to choose your path.
And sometimes that path is as wild and rugged as the heart.
Rachel Waters thought she saw the last of the small mountain town of North Ridge, British Columbia, when she left six years ago. But while her advertising career blossomed beneath the skyscrapers of Toronto, her mother's sudden illness has the 26-year old returning to North Ridge to care for her, putting her career on hold while dealing with family secrets, regrets and unresolved goodbyes.
Shane Nelson has always been a bit of a wild card. The youngest of his brothers, Shane's spent most of his life being underestimated and misunderstood. With his quiet intensity, classic good looks and thoughtful demeanor, he's an enigma on horseback, managing his father's sprawling ranch on the slopes of North Ridge.
But while Shane remains the quintessential brooding cowboy, complete with an arsenal of inner demons, all of that changes when Rachel steps back into his life.
She was the girl he pushed away.
Now she's the girl who wishes she could leave.
Despite the odds, Shane will do everything to convince Rachel he needs a second chance that he doesn't deserve but when the two of them head off into the wilderness together in search of lost cattle, more than just their hearts are at stake.
Whether it's love or lives on the line, one thing is for sure: always bet on the wild card.
Social Media by J.A. Huss
When Grace @FilthyBlueBird tweeted her dirtiest, most delicious secret desires to MovieStar @VaughnAsher she never expected a reply, let alone a face-to-face meeting and an offer of a lifetime.
And when MovieStar @VaughnAsher figured out the woman vacationing at his family's St. Thomas resort was the author of all those dirty hashtags she was relentlessly tweeting at him… well, that was a challenge he couldn't pass up. He was more than happy to #RockHerFilthyWorld.
@FilthyBlueBird's online fantasy is about to collide with her real-life reality. And it's about to happen now.
What started out as a fun, filthy tweet turned into the romance of a lifetime. If—that is—your idea of romance is the #asshole real-life persona of a kinky off-screen control freak.
Thousands by Pepper Winters 
"Love had been stolen from me for reasons entirely my fault. But then a miracle happened, and Pim gave me something I thought was lost forever. She gave me a love I'd earned. Love that ruined me. Love that made me hopelessly hers…"
Once upon a time, I didn't think I'd ever be normal.
Now, I'm talking and trusting, and it's all thanks to Elder.
He gave me my life back, and I gave him my heart, but love stories like ours are never simple.
I did something to protect him.
He did something to survive me.
We screwed up.
And now, it's no longer just about us.
It's about safety, sanctuary, and sin.
Wish You Were Mine by Renee Carlino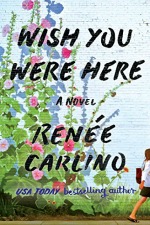 You know when you're looking at someone and you can't help but smile at how oblivious they are to their own charm? That's what was happening to me, and it was making me feel…happy. Euphoric. Something indescribable. It was like we already knew each other, like we had met in a previous life. Memories that didn't exist began exploding in my mind like fireworks. 
Charlotte has spent her twenties adrift, searching for a spark to jump-start her life and give her a sense of purpose. She's had as many jobs as she's had bad relationships, and now she's feeling especially lost in her less-than-glamorous gig at a pie-and-fry joint in Los Angeles, where the uniforms are bad and the tips are even worse.
Then she collides—literally—with Adam, an intriguing, handsome, and mysterious painter. Their serendipitous meeting on the street turns into a whirlwind one-night stand that has Charlotte feeling enchanted by Adam's spontaneity and joy for life. There's promise in both his words and actions, but in the harsh light of morning, Adam's tune changes, leaving Charlotte to wonder if her notorious bad luck with men is really just her own bad judgment.
Months later, a new relationship with Seth, a charming baseball player, is turning into something more meaningful, but Charlotte's still having trouble moving past her one enthralling night with Adam. Why? When she searches for answers, she finds the situation with Adam is far more complicated than she ever imagined. Faced with the decision to write a new story with Seth or finish the one started with Adam, Charlotte embarks on a life-altering journey, one that takes her across the world and back again, bringing a lifetime's worth of pain, joy, and wisdom.
Royally Endowed by Emma Chase 
Logan St. James is a smoldering, sexy beast. Sure, he can be a little broody at times—but Ellie Hammond's willing to overlook that. Because, have you seen him??
Sexy. As. Hell.
And Ellie's perky enough for both of them.
For years, she's had a crush on the intense, protective royal security guard—but she doesn't think he ever saw her, not really.
To Logan, Ellie was just part of the job—a relative of the royal family he'd sworn to protect. Now, at 22 years old and fresh out of college, she's determined to put aside her X-rated dreams of pat-downs and pillow talk, and find a real life happily ever after.
The Queen of Wessco encourages Ellie to follow in her sister's footsteps and settle down with a prince of her own. Or a duke, a marquis…a viscount would also do nicely.
But in the pursuit of a fairy tale ending, Ellie learns that the sweetest crushes can be the hardest to let go.
***
Logan St. James grew up on the wrong side of the tracks, in a family on the wrong side of the law. But these days, he covers his tattoos and scars with a respectable suit. He's handsome, loyal, brave, skilled with his hands and…other body parts.
Any woman would be proud to bring him home to her family.
But there's only one woman he wants.
For years he's watched over her, protected her, held her hair back when she was sick, taught her how to throw a punch, and spot a liar.
He dreams of her. Would lay down his life for her.
But beautiful Ellie Hammond's off-limits.
Everybody knows the bodyguard rules:
Never lose focus, never let them out of your sight, and never, ever fall in love.
The Soul Mate by Kendall Ryan
From New York Times Bestseller Kendall Ryan comes a sexy new stand-alone novel in her Roommates series.
The smoking-hot one-night stand I was never supposed to see again?
Yeah, well, I might be pregnant, and he's my OB-GYN.
Get ready to fall head over heels madly in love with the hottest OBGYN doctor you have ever met! This full-length standalone contains the most hilariously awkward lady-doctor visit, lots of playful banter and some good ol' fashioned baby-makin'! One-click now for this summer's swooniest read.
Crave, Part One by E.K. Blair 
From, New York Times bestselling author, E.K. Blair, comes a breathtaking romance that will leave you captivated far past the last word.
Kason and Adaline.
From the moment they met, they started to fall. Neither of them predicted just how far the drop would be, though.
Loving Adaline was all Kason had ever wanted to do. But layer by layer, he started to unravel, forcing Adaline to face an addiction she never could've imagined.
This is what happens when one person loves beyond the craving and the other craves beyond the loving.
At Her Own Risk by Rachael Duncan 
Sex.
That's all it was supposed to be. No strings attached, no feelings, no heartache.
But if I thought Sean Riley would be content having only parts of me, I was dead wrong. His persistence wore me down and I found myself in the one situation I was trying to avoid.
Little does he know a life with me will lead to nothing but disappointment and heartbreak. He's a good man and deserves everything I can't give him. Not because I don't want to, but because I'm unable.
Pushing him away in the beginning was to protect me, now I'm trying to protect him as I gear up for the fight of my life.
A fight I could lose.
Getting into a relationship was my risk, but as things get worse, I'm not the only one who will have something to lose.
I just hope it's worth it.
Love in the Friend Zone by Molly E. Lee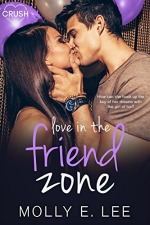 The only thing worse than not being able to tell your best friend you're head over heels in love with him? Having to smile and nod when he enlists your help to ensnare the girl of his dreams.
Braylen didn't even want to go to Lennon Pryor's epic graduation-night party, but when Fynn begs her to be his "wingwoman," she can't deny him. Talking up her BFF—how he's magic behind a camera, with a killer sense of humor and eyelashes that frame the most gorgeous blue eyes in the history of forever—is easy. Supporting his efforts to woo someone so completely wrong for him? Not so much.
Fynn knows that grad night is his last shot before leaving for college to find true love. And thanks to Bray, he gets his chance with the beautiful Katy Evans. But over the course of the coolest party of their high school careers, he starts to see that perhaps what he really wants has been in front of him all along. Bray's been his best friend since kindergarten, though, and he'd rather have her in his life as a friend than not at all.
Disclaimer: This Entangled Teen Crush book contains one epic party, complete with every high-schoolers-gone-bad shenanigan, and two best friends whose sexual chemistry is off the charts…if only they'd succumb to it.
Random on Tour: Las Vegas by Julia Kent 
Now, you know my mama's a gambler (sweeper, whatever…), so I guess I got to blame her for a little of this.
When the band got invited to do a big gig here in Las Vegas, I was so excited. Really excited. And when we got here, I was dazzled.
A little too dazzled. I blame the lights and the money and does Vegas pump a scent through the entire town that makes you think you're a winner, or what?
Because I gambled all our money away. And by "our," I mean the band's money. All of it. Every dang cent.
Only no one knows. They'd kill me. So I have to find a way to make all that money back.
I have an idea. I got a good body and a smart mind.
(Quit laughing).
I can do this. I can fix this.
Really.
It's just gonna get a little weird for a while.
Random on Tour: Las Vegas is the ninth book in Julia Kent's New York Times-bestselling Random series. When the band performs in Vegas, anything goes – including Darla's dignity and all of the band's savings. When a savior appears, though, there's a trade-off for being rescued. A big one. How far is Darla willing to go?
Oh, please. It's Darla. Like you even have to wonder…
This book is told from the point of view of Darla, Trevor, and Joe.
Hot & Bothered by Elle Kennedy (Re-release)
Give a SEAL an inch, and he'll take your heart.
Heat of the Moment
For almost a year Shelby has lusted over swoon-worthy Garrett, but she can't figure out why he's not interested…until she overhears him saying she's too vanilla for his taste. When a heat wave sends the sexy Navy SEAL into her bakery, she finally has the opportunity to show him exactly what he's missing…
Heat of Passion
Holly has too much on her plate to think about a serious relationship. A hot fling with a SEAL, though, is the perfect way to take the edge off. The last thing she expects is to run into her gorgeous one-night stand weeks later, and to discover that Carson wants the one thing she doesn't: more. In the face of his methodical seduction, her resistance is crumbling…
Heat of the Storm
Will has waited fifteen years for the storm that sends Mackenzie into his arms. He's the one man not scared of her psychic gift, and their one night of passion is enough to convince this tenacious SEAL that they are much, much more than friends. Now he just has to convince her of that…
Warning: Contains dangerously hot Navy SEALS, and heroines not afraid to take them on one—or two—at a time.
Swept in Love by Melissa Foster (Live 8.16)
It's been years since Sally Tuft's husband died and she was left to raise her teenage son alone. And almost as long since she told the only other man she'd ever wanted that they should be just friends. Now her son has left for college and Sally has no distractions to keep her from thinking about her best friend and coworker, Gage Ryder, and what could have been.
Gage always believed that one day Sally would move past the death of her husband and they would finally explore the passion that's simmered between them since the day they met. Tasked with opening a new youth center in Oak Falls, Virginia, Gage hopes the trip away is just what they need to finally come together.
Before Gage and Sally ever reach Oak Falls, one night at a conference changes everything, putting their friendship–and their love–on the line, and the two must decide if getting swept up in love is the beginning of forever, or the end of their friendship as they know it.
Crazy Girl by B.N. Toler (Live 8.16) 
Romance author Hannah Bircham had made it. She was living the dream; a successful writing career, a loving husband, and dream home. Life couldn't get better.
But it could get worse.
And it did.
The dream ended. And life as she knew it took a turn into Destitute City, party of one. Divorced, lost, and worst of all, a neurotic anxiety-ridden mess, Hannah's focus and admirations disappeared. Feeling down on her luck, Hannah lost her mojo, her gift of writing.
How did one write about love when they'd stopped believing in it?
Hannah could either make up the perfect muse, or make it her mission to meet him. She just needed a little push. With encouragement from her best friend, Hannah decided to join a dating app, convinced she wouldn't find Mr. Forever, but maybe, at the very least, she'd find her inspiration.
A muse.
Enter Wren Marner.
The complicated, sexy alpha veteran with his trunk of accomplishments and adventures walked, talked, and looked as if he'd just stepped out of a sultry romance novel. He was every woman's fantasy and at the same time, the man one knew they should stay away from.
Filled with equal parts fear and fascination, Hannah threw caution to the wind, but what she experienced terrified her like never before.
Still, she forged forward.
But with all the wonder of Wren also came a reality Hannah didn't know how to handle. She told herself he was merely work, but the truth was she was falling for him. And that couldn't happen. But walking away from him wasn't possible either, when he was her muse.
With her future on the line, she had to decide: As she entered the next chapter in her life, did she delve deeper with Wren in hopes of saving her career, or run in hopes of saving her heart?
Amnesty by Cambria Hebert (Live 8.18) No Preorder 
There's freedom in remembering. My past is a double-edged sword. Damned if I remember; damned if I don't. Recollection beyond the horrors I already have will change me. Change us. But what if I'm living a lie? What if everything I believe is wrong? What if who I thought I was isn't real? If not her, then… Who am I? Eddie says it doesn't matter, but deep down, I'm terrified it does. I'm trapped. Held prisoner by a past I can't remember and a future that may not belong to me. There's a light, though not at the end of the tunnel… It's wavering in the distance, calling to me from Rumor Island. That light, it scares me far more than darkness. Am I brave enough to confront it? So many questions, so few answers. I don't have a choice; the truth always finds a way to the surface. Finally learning who I truly am will be a permanent life sentence. Total punishment or absolute amnesty. *Book 2 of 2 in the Amnesia Duet
Pack Violet Shadow by C.M. Stunich (Live 8.20)
The hunters have become the hunted.
The monsters have become the prey.
The blood of werewolves runs with the fierce, wild magic of the earth. For millennia, that's what's kept us safe, let us shed our human skins and run as beasts. Now, it's the siren song that calls our enemies.
I'm the girl known as White Wolf, the Alpha Female for a new pack, a super pack, a combination of my wolves and the wolves governed by the seven Alpha Males I've chosen as my mates. Together, we represent and protect every werewolf in North America. Together, we represent the most highly desired prey on the continent.
Faerie courts, vampires, witches, demons…they want our blood, our flesh. They want the magic that runs through our veins that even we don't know how to use. If I can't learn to wield magic from my grandmother, the last werewolf to ever cast a spell, then we're all doomed.
The hunters won't just be the prey…they'll be extinct.
And me, I have seven soul mates to kiss, hold, protect.
My males and I, we'll fight to our very last breaths. I just hope that last gasp doesn't come sooner rather than later.
***PACK VIOLET SHADOW (the sequel to PACK EBON RED) is a 300+ page full-length reverse harem/menage, urban fantasy/paranormal romance novel for mature teens and adults 18+ with a happily ever after waiting at the end of the series. It features one strong woman and her seven hot men that will do whatever it takes to protect and support their alpha. This book contains: werewolves, magic, vampires, dark fae, witches, intrigue, steamy sex scenes, romance, paranormal politics, and true love. This is book #2 in THE SEVEN MATES OF ZARA WOLF series.