The Wright Love by K.A. Linde 
A sexy new contemporary romance duet from USA Today bestselling author K.A. Linde…
I have the perfect life.
Until the day my husband tragically dies.
Being a single mom and widow was never part of the plan.
When David Calloway enters my life, I have no room for love in my heart.
But he's determined to do right by me.
Could he be the Wright love?
The Wright Love is the first book in the Wright Love Duet, and Sutton and David's story will conclude in The Wright One—coming May 29th! Get ready for your newest binge read.
Dirty Bastard by Jessica Clare 
Knox Price has always fallen short in comparison to his brothers. Boone is the ambitious one. Clay is the nice one. Gage is the handsome one. And Knox? Well, he's the cynical one. The odd man out in the ultra-wealthy but rather unique Price family. It's not that Knox hates people–it's that humanity always disappoints him. When you become an oil-rich, Texan billionaire overnight, people treat you a certain way. Just once he'd like to meet someone that isn't dazzled by his wallet.
Then, he meets struggling yoga teacher Lexi Brandon. She's weird. She's unpredictable and tends to say strange things. She lurks in the bushes and dresses in all black. She loves when people cross the street to get away from her. Lexi's definitely not his type, but she's also the first one to ever truly see him and not just another rich, dirty Price.
And that's…fascinating. But how do you catch the interest of a woman who goes out of her way to be odd? When an unexpected surprise throws them both for a loop, Knox decides it's time to get down and dirty, abandon the rules, and be who he truly is–a bastard.
Breathe by Carly Phillips 
Fall in love with the Wards…
From troubled teen to successful general contractor, Jake Nichols turned his life around from his time in foster care. Divorced and single, he juggles his time between his daughter and his work. Next on his agenda, a new project that is his chance to prove his worth at the job he loves. Except he never anticipates that the only girl he's ever loved and lost as a teen is now a grown and beautiful woman in charge of the project.
Phoebe Ward has survived and conquered a painful past that includes foster care and becoming a teenaged mom. She wants nothing more than to focus on the present but it's hard when she looks into the eyes of her son, knowing she's tried and failed to find his father. She's resigned herself to raising him alone with the help of her family… Until a client meeting brings her face to face with her first love. A boy… now a sexy man she thought she'd never see again … and the father of her child.
So many years have gone by and both of their lives have changed drastically. Will they be able to put the past behind them and find the second chance they both deserve?
Melt for You by J.T. Geissinger 
Socially awkward Joellen Bixby has a date every Saturday—with her cat, a pint of ice cream, and fantasies of the way-too-handsome Michael Maddox. She'd give anything to win over the unattainable CEO of her firm, but how can she when she blends in so well with her cubicle? The answer may be closer than she thinks.
Cameron McGregor is a cocky, tattooed Scottish rugby captain who just moved in next door. He's not Jo's type—at all—but the notorious playboy is offering to teach the wallflower everything he knows about inspiring desire. Though a lot of women have rumpled Cam's kilt, Jo is special. Far from the ugly duckling she thinks she is, in Cam's eyes she's sharp, funny, and effortlessly sexy. Now, thanks to him, Jo is blooming with confidence and has the man of her dreams within reach.
Unfortunately for Cam, he's just helped to push the woman of his dreams into the arms of another man—and now he's in the fight of his life to keep this beauty from getting away.
Another One by Aleatha Roming 
Get ready to laugh out loud, swoon, and fall in love with this new, fun, and sexy stand-alone novel from New York Times bestselling author Aleatha Romig. Demonstrating her versatility in writing, Aleatha revisits her lighter side that you loved in PLUS ONE.
A complete stand-alone, ANOTHER ONE is the next big summer hit.
*Shana*
Trevor Willis is sexy, sweet, and oh so fun. He's also my best friend's brother-in-law. That should mean he's off-limits, or that I should be off-limits to him.
Someone probably should have told us that before my best friend married his brother, before the morning of the wedding when we woke in each other's arms with gaping holes in my memory.
They didn't.
We did.
The hilarious truth behind our crazy, secret adventure secured this handsome, off-limits man in my heart. But alas, life goes on. After our one secret night, we went back to our lives—our hardworking, solitary lives.
And then it happened.
My phone began to buzz. Each night with thousands of miles between us, we laughed, talked, and shared. And then, the phone stopped ringing.
Before it did, I knew one thing…
Our secret one had bloomed and blossomed, and now that our circumstances have changed I want another one!
*Trevor*
Shana Price is that one woman. You know, the one who suddenly makes the world more than a place to work, but also a place to live. Usually shy and awkward, in her presence I want to be more—I am more. I don't even have to try.
She's my one. I knew it the moment I first met her. What followed simply confirmed it.
The problem is the little hassle of the thousands of miles between us.
I tried to make it work, but each phone call made it harder. (Yes, that is a pun) I couldn't take it any more—and she became the one who got away.
Now, everything has changed.
Shana is back in the United States—all I have to do is make her see that her job isn't the only reason to stay.
That shouldn't be a problem, right?
From a secret one to another one!
Try Aleatha's lighter side for a guaranteed smile—the perfect getaway.
Have you been Aleatha'd?
Absinthe of the Heart by Monica James 
Two households, unlike in dignity, in the City of Angels is where we lay our scene…
London Sinclair was the boy my mother warned me about for as long as I can remember. His name alone has brought my family nothing but shame and suffering, so it's no surprise we've been sworn enemies since the first moment we met.
With his bedroom eyes and cocky smile, he has all the girls under his spell. I have one more year of school left, and then I'm home free because I'm guarding a secret, one I'm ashamed to keep.
The boy who is completely off-limits is the one who drives me, Holland Brooks, wild. I want London, and I think…he wants me, too.
Some may compare it to a Shakespearian tragedy, as our surnames have fated our future, but when a single night changes my life forever, I can't leave the City of Angels fast enough.
Ten years later, I have atoned for my sins and return to Los Angeles a changed woman. I've come home to get married. But the moment London walks back into my life, one thing is clear. Ten years can't undo that night—that single, sinful night when I gave into temptation—because I want to do it again.
The Optimist's Guide to Lettting Go by Amy E. Reichert 
Gina Zoberski wants to make it through one day without her fastidious mother, Lorraine, cataloguing all her faults, and her sullen teenage daughter, May, snubbing her. Too bad there's no chance of that. Her relentlessly sunny disposition annoys them both, no matter how hard she tries. Instead, Gina finds order and comfort in obsessive list-making and her work at Grilled G's, the gourmet grilled cheese food truck built by her late husband.
But when Lorraine suffers a sudden stroke, Gina stumbles upon a family secret Lorraine's kept hidden for forty years. In the face of her mother's failing health and her daughter's rebellion, this optimist might find that piecing together the truth is the push she needs to let go…
Merciless by Willow Winters 
I should've known she would ruin me the moment I saw her.
Women like her are made to destroy men like me.
I couldn't resist her though.
Given to me to start a war; I was too eager to accept.
But I didn't know what she'd do to me. That she would change everything.
She sees through me in a way no one else ever has.
Her innocence and vulnerability make me weak for her and I hate it.
I know better than to give in to temptation.
A ruthless man doesn't let a soul close to him.
A cold-hearted man doesn't risk anything for anyone.
A powerful man with a beautiful woman at his mercy … he doesn't fall for her.
Guilty Sin by Chelle Bliss 
When a mission puts a woman under Ret's protection, he and his longtime girlfriend Alese welcome her into their home. What starts out as a friendship rooted in trust ignites into a romance far bigger than any of them expect.
Love isn't always neat, and sometimes it can't be confined to an even number.
Get ready for the hottest book of the series yet. Ret is prepared to make you beg.
Vanilla and Vice by Tabatha Vargo and Melissa Andrea 
My sick obsession with domination and sex had become an addiction, and I was no longer willing to be a slave to it. Now, I'm six months sex free, and I haven't tied a woman up in five.
I've never felt more powerful in my life.
Then Eden Vaughn got a job at Empire Sevens and turned my newfound control on its head.
She makes me feel weak—testing my restraint—silently begging me to show her how deep my addiction runs. I can't have her sort of temptation in my casino, and I'll do whatever it takes to get her to quit.
I'm into all things dark and filthy, but innocence is my kryptonite.
She's virtuous and vanilla, and vanilla is my VICE.
Warm Storm by Victoria Aveyard 
VICTORY COMES AT A PRICE.
Mare Barrow learned this all too well when Cal's betrayal nearly destroyed her. Now determined to protect her heart—and secure freedom for Reds and newbloods like her—Mare resolves to overthrow the kingdom of Norta once and for all . . . starting with the crown on Maven's head.
But no battle is won alone, and before the Reds may rise as one, Mare must side with the boy who broke her heart in order to defeat the boy who almost broke her. Cal's powerful Silver allies, alongside Mare and the Scarlet Guard, prove a formidable force. But Maven is driven by an obsession so deep, he will stop at nothing to have Mare as his own again, even if it means demolish everything—and everyone—in his path.
War is coming, and all Mare has fought for hangs in the balance. Will victory be enough to topple the Silver kingdoms? Or will the little lightning girl be forever silenced?
In the epic conclusion to Victoria Aveyard's stunning series, Mare must embrace her fate and summon all her power . . . for all will be tested, but not all will survive.
The Cast by Danielle Steel 
Kait Whittier has built her magazine column into a hugely respected read followed by fans across the country. She loves her work and adores her grown children, treasuring the time they spend together. But after two marriages, she prefers to avoid the complications and uncertainties of a new love.
Then, after a chance meeting with Zack Winter, a television producer visiting Manhattan from Los Angeles, everything changes. Inspired by the true story of her own indomitable grandmother, Kait creates the storyline for a TV series. And when she shares her work with Zack, he is impressed and decides to make this his next big-budget project.
Within weeks, Kait is plunged into a colorful world of actors and industry pros who will bring her vision to life. A cool, competent director. An eccentric young screenwriter. A world-famous actress coping with private tragedy. A reclusive grande dame from Hollywood's Golden Age. A sizzling starlet whose ego outstrips her abilities. L.A.'s latest "bad boy" actor, whose affairs are setting the city on fire. An unknown ingénue with outsized talent. And a rugged, legendary leading man. As secrets are shared, the cast becomes a second family for Kait. But in the midst of this charmed year, she is suddenly forced to confront the greatest challenge a mother could ever know.
The strength of women—across generations and among friends, colleagues, and family—takes center stage in this irresistible novel, as all-too-real people find the courage to persevere in life's drama of heartbreak and joy.
Worth the Risk by K.Bromberg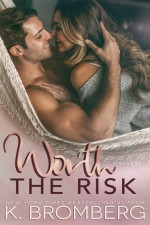 This whole contest was supposed to be easy. I know, I know. Famous last words.
It's a long story, but I messed up at work. Big time. To earn back the trust of my boss, I promised to save one of our magazines. Yep. That Hot Dad contest you've seen advertised all over the place was my idea. And if I'm successful, if I'm able to increase our online readership, then I get a shot at my dream job.
But the one thing I never expected to happen, happened: Contestant number ten, Grayson Malone. Hello, Mr. Difficult. And did I mention sexy as hell?
Unfortunately he knows me. The old me, anyway. And while we might be older now, I remind him of before. Of the woman who broke his heart, who hardened him, and who left him alone to raise the cutest little boy I've ever seen.
But I don't want a relationship. And I definitely don't fall for single dads with baggage. Even ones with chiseled abs and killer smiles.
But he got to me. They got to me. Him and his son and their messy, crazy life. But I got to him too. I see the stolen glances. I feel the walls he built start to crumble. I recognize that there's an unexpected beauty to the chaos in his life.
And now that the contest is about to end, we're left to decide whether the last six months were just fun or if what we have is worth risking it all?
Good Girl by Jana Aston 
I've always been a good girl.
I work hard, I follow the rules, and I always achieve my goals.
But sometimes good girls want things that aren't good for them.
Or someone who isn't good for them.
Like their new boss.
And sometimes they do very bad things to get his attention.
Like sell their virginity in an auction.
Who knew he'd be so very, very mad?
Maybe this was not my best laid plan…
Piece of Work by Staci Hart 
Marble isn't the only thing that's hard at this museum.
His body is as chiseled as Adonis. His lips are as sculpted as David. And his ego is the size of the Guggenheim.
You know the type—wolfish smile and the gravity of a black hole. The kind of man who sucks all the air from the room the second he enters it. My cocky boss thinks this internship was wasted on me, and he doesn't hesitate to let me know.
But he's wrong, and I'm going to prove it to him. If I can stay away from his devil lips, that is. Lips that cut me down and kiss me in the same breath, leaving me certain he's on a mission to ruin my life.
And maybe my heart.
One Baby Daddy by Meghan Quinn 
"What are you doing now that your team is out of the running for the Stanley Cup?"
Forget.
I need to forget. I need an escape.
Only one person isn't falling for my reputation as the NHL's Golden Boy; she captured my attention the minute she called me out for snooping through my best friend's house. She didn't want to hear my reason–she only wanted to playfully give me a hard time.
Adalyn is bold, sassy–and the perfect escape.
She's everywhere. In town and in my dreams, and suddenly I need to spend every waking moment with her.
And I do, making this summer the best off-season I've ever had.
But in the midst of getting lost in Adalyn, what I don't expect is to get her pregnant.
And what I definitely don't expect is having to fight for her affection.
Chef Sugarlips by Tawna Fenske (Live 5.18) 
Sean Bracelyn can whip up a saffron-laced lobster risotto in his sleep, but relationships? That's one recipe he hasn't nailed. Not that he has time, between launching a new restaurant and building a luxury resort with his awkwardly-blended family. But when his dream girl nearly knocks him unconscious with a dead turkey, it's all Sean can do to keep his eyes on the gazpacho and off Amber King's perfect curves.
Amber's done with guys propping her on a pedestal. Transforming her family's reindeer ranch into a country chic wedding venue is consuming enough, and the last thing she needs is an extra serving of love drama. So what is it about the stupid-sexy chef that gets her desires bubbling like a pot of hot spaghetti?
Keeping their distance is tough enough before Sean and Amber get tossed together by wacky weddings, lingerie mishaps, and a surly three-legged cat. When Sean's mom shows up to dish out huge helpings of family drama, a big secret threatens to spread faster than a kitchen fire.
Can Sean and Amber find the right blend of sugar and spice, or will love fall flat as a burnt soufflé?
Ashes of the Sun by A. Meredith Walters (Live 5.20- No Preorder) 
I was raised to believe in things you can't see.
It is the foundation of everything. I am taught to accept the unacceptable. To embrace the terrifying.
To give everything to my family.
To my church.
To my god.
Because I have a purpose. I have been trained for my calling for as long as I can remember. As an acolyte for the Gathering of the Sun, I am taught that my life isn't my own. I worship. I serve. And when the time comes, I will greet my fate with open arms and a sin free heart.
People call us a cult.
We are judged. We are ridiculed and reviled. Pastor Carter tells me they will be lost when the end comes. So we hide ourselves away from their sick and dangerous world. And my soul is safe because I follow the path.
I am the perfect disciple. I am confident in my devotion.
Until doubt arrives wearing the face of a boy I never expected to love.
Bastian doesn't follow the path. His destiny is his own. He paints me a picture of a beautiful world. His words contradict everything I have been told.
He invites me to live when I have been prepared to die.
He gives me something new to believe in.
Love becomes the ultimate crisis of faith and now I am torn between two futures.
One that saves my soul.
And one that saves my heart.
The Red Legder by Meredith Wild (Live 5.21)
He's death for hire…
Some people measure life in hours. Days. Weeks. I measure mine in kills. A covert military mission gone wrong robbed me of my memory and any link to my past. This is my existence now. I execute and survive. Nothing more, nothing less. I was ready to write Isabel Foster's name in my ledger of unfortunate souls until she uttered the one word that could stop the bullet meant for her. My name.
She knows my face. She knows me. She's the key to the memories I'm not sure I want back. Now nothing is simple. I still have a job to do, and my soul isn't worth saving. I'm not the man she thinks I am. I can't love her. And sparing her life puts us both in the crosshairs.