Show Me the Way by A.L. Jackson 
The first sexy, captivating, stand-alone novel in the brand-new FIGHT FOR ME series from NYT & USA Today Bestselling Author A.L. Jackson . . .
Rex Gunner. As bitter as he is beautiful.
The owner of the largest construction company in Gingham Lakes has been burned one too many times. His wife leaving him to raise their daughter was the last blow this single dad could take. The only woman he'll let into his heart is his little girl.
Rynna Dayne. As vulnerable as she is tempting.
She ran from Gingham Lakes when she was seventeen. She swore to herself she would never return. Then her grandmother passed away and left her the deed to the diner that she once loved.
When Rex meets his new neighbor, he knows he's in trouble.
She's gorgeous and sweet and everything he can't trust.
Until she becomes the one thing he can't resist.
One kiss sends them tumbling toward ecstasy.
But in a town this size, pasts are bound to collide. Caught in a web of lies, betrayal, and disloyalty, Rex must make a choice.
Will he hide behind his walls or will he take the chance . . .
The Ghostwriter by Alessandra Torre 
From New York Times Bestseller Alessandra Torre…
I have three months to write the last book of my life. Three months to confess the details of that day, and how it changed everything for me.
My name is Helena Ross. I've written fifteen romance novels, ten of which have become international bestsellers. But this one isn't a romance, no Happily Ever After in place. This novel holds only the truth, which I have run away from for four years. The truth, which I have hidden from the police, from my loved ones, from the world.
This final book?
It's my confession.
Breaking Hollywood by Samantha Towle 
It wasn't supposed to be like this. I wasn't supposed to be boyfriendless, homeless, and jobless at twenty-eight. And I most definitely wasn't supposed to hit Hollywood's resident bad boy Gabriel Evans with my car and break his foot.
Now, my guilt and homelessness have me living in his apartment, taking care of him, while he's incapacitated.
Living with the hottest guy in Hollywood, who I've had a crush on forever, doesn't sound like a chore, right?
Wrong.
Gabriel Evans is a crude, rude asshole who drinks way too much and smokes like a chimney.
The sooner I get a new place to live and when Gabriel's foot is healed, I'm out of here.
So, why do I keep forgetting to check the classifieds? And why do I keep getting flustered when I see him shirtless?
Breaking Hollywood wasn't part of the plan. But neither is falling in love with him.
Puck Love by Carmen Jenner 
Stella Hart is the hottest thing in country music. For ten years, she's been Nashville's darling. She's pure, sweet, and a positive role model in an industry rife with scandals, sex, and sequins. Men want to own her, women want to be her—everyone wants a piece of her, and Stella? Well, she wants out.
As the center for the Calgary Crushers, Van Ross isn't afraid of the spotlight, but he doesn't much like it either. Despite his reputation as a player, the NHL's bad boy lives for only two things: the game, and his younger brother. That's why when he comes across a country music superstar seeking refuge at his home in the Canadian Rockies, he's not too happy with the media shitstorm this surprise houseguest brings.
With a nationwide manhunt, paparazzi dogging their every move, producers of a reality TV show baying for blood, and a record label desperate to see their "good girl" returned safely home, Van and Stella's lives are snowballing out of control.
While Van would like nothing more than to show the purest of them all how well he handles his er … stick, Stella is no puck bunny. Nor is she as innocent as she'd have the world believe.
With chemistry like theirs, tension runs high on and off the ice, but the end game is the same for both players: line up the puck, take the shot, and score. If only their hearts understood the play.
Puck fame and fortune.
Puck right and wrong.
Puck love.
Logan by Jay Mclean 
As a kid, Logan Preston was a brat.
Through his teens, he became the bad boy.
Now, at nineteen, no one knows what the hell to expect.
High school dropout, Logan Preston is a
good-for-nothing stoner.
A black sheep.
A disappointment.
The worst Preston Punk of the lot.
At least that's how everyone in his small town
makes him feel.
But Logan Preston has secrets.
Secrets so dark and so deep below the surface that the only way he can fight them is to stay high, high, high.
He wears cockiness as a mask.
Arrogance as his armor.
Until one girl, one night, asks one life-changing question:
What's beneath the bravado, Logan Preston?
Battle Scars by Jane Harvey Berrick 
From the dusty plains of Afghanistan to the sleek corridors of the New York Times, journalist MJ Buckman seeks the truth, the whole truth, and nothing but the truth. What she doesn't expect to find is a man who's her complete opposite … and fits her perfectly.
Marine Sergeant Jackson Connor knows that relationships don't work for men in the military. He's living proof of that. But when a steely-eyed temptress in a flak jacket, who carries her moral cause in front of her, crosses his path, he's furious, curious, and all kinds of in-lust.
* * *
A grown-up love story about two people who aren't looking for love, but realize how precious it is when they find it. They don't play games and there are no stupid misunderstandings, just life standing in their way.
Can they compromise? And what does that look like in a modern relationship between two driven people?
Assignment Vs deployment.
They're always traveling in different directions. What relationship can survive that?
* * *
What a journey. This novel isn't about "giving up" it is all about "becoming" part of something bigger than yourself – the powerful symbol of the Marines is so perfect. Amazing words, characters that reach out to touch our hearts and souls.
J.B.
Hideaway by Penelope Douglas 
BANKS
Buried in the shadows of the city, there's a hotel called The Pope. Ailing, empty, and dark, it sits abandoned and surrounded by a forgotten mystery.
But you think it's true, don't you, Kai Mori? The story about the hidden twelfth floor. The mystery of the dark guest who never checked in and never checks out. You think I can help you find that secret hideaway and get to him, don't you?
You and your friends can try to scare me. You can try to push me. Because even though I struggle to hide everything I feel when you look at me–and have ever since I was a girl–I think maybe what you seek is so much closer than you'll ever realize.
I will never betray him.
So sit tight.
On Devil's Night, the hunt will be coming to you.
KAI
You have no idea what I seek, Little One. You don't know what I had to become to survive three years in prison for a crime I would gladly commit again.
No one can know what I've turned into.
I want that hotel, I want to find him, and I want this over.
I want my life back.
But the more I'm around you, the more I realize this new me is exactly who I was meant to be.
So come on, kid. Don't chicken out. My house is on the hill. So many ways in, and good luck finding your way out.
I've seen your hideaway. Time to see mine.
*Hideaway is a romantic suspense suitable for ages 18+. While the romance is a stand-alone, the plot is a continuation of events that began in CORRUPT (Devil's Night, #1). It is strongly recommended that you have read Corrupt prior to reading this.
The Choices I've Made by J.L. Berg 
Death is easy.
Surviving it? That's the hard part.
Dr. Jake Jameson knows this all too well. Losing his mother at the age of eighteen, he walks away from his small hometown and the painful memories it holds, vowing to never return again.
Twelve years later, he finds himself driving back down the coast of North Carolina. When his father leaves him a small medical practice, he has no choice but to heed the call until he can find someone else to take it off his hands.
But coming back home means facing everything he left behind, including the one woman who might make it impossible to leave again.
Molly McIntyre has spent her entire life in one town. Taking over her parents' small inn, she's settled into a quiet, happy life. But all of that comes to an abrupt halt when Jake shows up at her door in need of a place to stay.
Molly loathes everything about this man, but she can't find it in her heart to refuse his request.
After over a decade, these former lovers quickly discover what once burned brightly between them has only grown in their time apart. Soon they must decide if the choices they've made have led them back to each other for a second chance or one final goodbye.
The Brother by K.Larsen 
Nora Robertson is struggling to find her place in society after being held captive for half a year. Her sense of normal is skewed at best, in love and life but, she is trying to recover with the help of her support system. She pines for a home and a love she can no longer have. A love she knows was wrong but still clings to and desires secretly.
Liam Lockwood stumbled across a photo in a magazine of his ​long forgotten brother causing buried secrets, heartache and obsession​ ​to bubble to the surface.​ ​When Liam sees something he wants, he takes it. He always has and this time will be no different despite his father's warning. Payback for a dark and broken childhood now has a name, Nora Robertson.
When Liam and Nora's paths collide everyone in their wake will be left stumbling when the truth reveals itself.
Attraction is not random.
Holiday Spice by Samantha Chase 
As soon as the mistletoe goes up, that's when life gets really interesting
Darcy Shaughnessy has gotten used to her overbearing brothers chasing away any man she wants to date. But a chance meeting with a brooding – and deliciously handsome – artist is about to make this holiday season one to remember.
There's only one thing Benjamin Tanner loves more than his woodcarving: solitude. Then he gets snowed in with Darcy in his cozy cabin in the woods, and their heated feelings begin to melt the icy barrier between them.
With Ben's need for privacy and Darcy's love of family and social life, will opposites still attract once the snow clears and the holiday festivities come to an end?
The Shaughnessy Brothers Series:
Made for Us (Book 1)
Love Walks In (Book 2)
Always My Girl (Book 3)
This Is Our Song (Book 4)
A Sky Full of Stars (Book 5)
Holiday Spice (Book 6)
Without Merit by Colleen Hoover 
The Voss family is anything but normal. They live in a repurposed church, newly baptized Dollar Voss. The once cancer-stricken mother lives in the basement, the father is married to the mother's former nurse, the little half-brother isn't allowed to do or eat anything fun, and the eldest siblings are irritatingly perfect. Then, there's Merit.
Merit Voss collects trophies she hasn't earned and secrets her family forces her to keep. While browsing the local antiques shop for her next trophy, she finds Sagan. His wit and unapologetic idealism disarm and spark renewed life into her—until she discovers that he's completely unavailable. Merit retreats deeper into herself, watching her family from the sidelines, when she learns a secret that no trophy in the world can fix.
Fed up with the lies, Merit decides to shatter the happy family illusion that she's never been a part of before leaving them behind for good. When her escape plan fails, Merit is forced to deal with the staggering consequences of telling the truth and losing the one boy she loves.
Poignant and powerful, Without Merit explores the layers of lies that tie a family together and the power of love and truth.
At the Heart of It by Tawna Fenske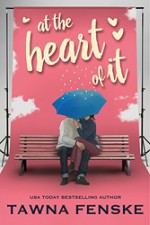 Love doesn't stick to the script in this witty romance from USA Today bestselling author Tawna Fenske.
TV producer Kate Geary is in unscripted heaven. She's piloting a reality series featuring her favorite self-help guru, Dr. Vivienne Brandt. The Dr. Viv—whose nuggets of wisdom helped Kate get through some of her toughest times. Thanks to Dr. Viv, Kate is almost on the verge of figuring everything out. That is, until Jonah Porter, the superhot book nerd Kate just spent an amazing date with, appears at the show's first meeting.
Jonah did not want to get reeled into a world filled with invasive crews, pushy network execs, and over-the-top drama, but a connection to the story leaves him no choice. Fortunately, Kate—hot, smart, and funny—helps make it bearable. Now they're both on the verge of violating their contracts as they find themselves sneaking around off set. But the cameras have a way of finding out everyone's secrets…especially the ones that can break hearts.
Hot Pursuit by Julie Ann Walker 
Welcome to Black Knights Inc.
What appears to be a tricked-out motorcycle shop on the South Side of Chicago is actually headquarters for the world's most elite covert operatives. Deadly, dangerous, and determined, they'll steal your breath and your heart.
Fighting for his life is pretty much standard operating procedure for Christian Watson, former SAS Officer. Doing it with bossy, beautiful BKI office manager Emily Scott in tow is another matter entirely.
Black Knights Inc:
Hell on Wheels (Book 1)
In Rides Trouble (Book 2)
Rev It Up (Book 3)
Thrill Ride (Book 4)
Born Wild (Book 5)
Hell for Leather (Book 6)
Full Throttle (Book 7)
Too Hard to Handle (Book 8)
Wild Ride (Book 9)
Fuel for Fire (Book 10)
Hot Pursuit (Book 11)
Built to Last (Book 12)
Misadventures of a Good Wife by Meredith Wild & Helen Hardt 
Kate and Price Lewis had the perfect marriage—love, fulfilling careers, and a great apartment in the city. But when Price's work takes him overseas and his plane goes down, their happily-ever-after goes down with it.
A year later, Kate is still trying to cope. She's tied to her grief as tightly as she was bound to Price. When her sister-in-law coaxes her into an extended girls' trip—three weeks on a remote island in the South Pacific—Kate agrees. At a villa as secluded as the island, they're the only people in sight, until Kate sees a ghost walking toward them on the beach. Price is alive.
Their reunion is anything but picture perfect. Kate has been loyal to the husband she thought was dead, but she needs answers. What she gets instead is a cryptic proposal—go back home in three weeks, or disappear with Price…forever.
Emotions run high, passions burn bright, and Kate faces an impossible choice. Can Price win back his wife? Or will his secrets tear them apart?
****
Misadventures is a romantic series of spicy standalone novels, each written or co-written by some of the best names in romance. The stories are scandalous, refreshing, and, of course, incredibly sexy. They're the perfect bedside read, a 'quick blush' for the reader who loves a page-turning romance.
Bad Reputation by Nicole Edwards 
Meet the most wanted players in sports . . . one ridiculously hot alpha male at a time.
Chase: With a nickname like "Sin," it's no wonder they call me the bad boy of hockey. Opponents curse me. Fans scream my name—in the arena and in other, much more private places. Penalties or not, I'm not afraid to dish out a little pain. But pleasure? That's my weakness. And no one knows it better than my best friend, Cassie Desrosiers. I'd have to be blind not to notice her rocking body and teasing grin. So when she invites me along on a trip to Vegas, my curiosity isn't the only thing that's aroused.
Cassie: Chase Barrett is a world-class A-hole. As his best friend, I'm allowed to call him on his BS. Who else is going to do it? Certainly not the puck bunnies swooning at every flex of his biceps. Everyone knows that Chase is the love-'em-and-leave-'em type. There's no such thing as commitment for the king of casual hookups. So why should I care? Maybe because all work and no play makes me a sexually frustrated girl. It's time to put the hockey stud at my beck and call to good use . . . but after a week in Vegas with Chase, I might never want to go back to the real world.
Bad for Her by Christi Barth 
Doctor Mollie Vickers loves the tight-knit community of her tiny Oregon town. But she's not a fan of the limited dating options. Sleep with a guy who tried to copy off her in junior high? Pass. Mollie's sex life is flatlining… until a deliciously handsome man she's never seen before stops to help her fix a flat tire.
As an ex-mobster, Rafe Maguire's no saint. But he's trying to turn over a new leaf. Although he probably shouldn't kiss the hot doctor on the side of the highway. Or suggest a no-strings fling with a woman he has no business pursuing. Rafe's life is too complicated for love—his new WITSEC-provided identity doesn't fit him at all and there's a U.S. Marshal watching his every move. He can't tell Mollie the truth… but their chemistry is scorching and being good doesn't mean he can't be a little bad.
Mollie can't resist the guy who looks rough, talks tough, and is loyal to the bone. But it's obvious Rafe is keeping secrets. When the truth comes out, Mollie must decide if she could ever love an ex-mobster… or if this bad boy has truly gone good.
Ringer by Lauren Oliver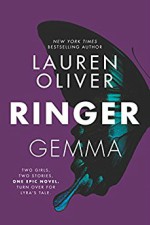 Like its ambitious companion novel, Replica, this far-reaching novel by the powerhouse author of Before I Fall and the Delirium trilogy digs deep into questions of how to be a human being in a world where humanity cannot be taken for granted.
In the world outside of the Haven Institute, Lyra and Caelum are finding it hard to be human—and Lyra, infected at Haven with a terrible disease, finds her symptoms are growing worse. When Caelum leaves without warning, Lyra follows him, seeking a pioneering organization in Philadelphia that might have a cure. But what they uncover there is a shocking connection to their past, even as their future seems in danger of collapsing.
Though Gemma just wants to go back to her normal life after Haven, she soon learns that her powerful father has other plans for the replicas—unless she and her boyfriend Pete can stop him. But they soon learn that they aren't safe either. The Haven Institute wasn't destroyed after all, and now Gemma is the one behind the walls.
Bestselling author Lauren Oliver brings the Replica duology to a shocking close in Ringer, but like both Gemma and Lyra, you won't be able to leave the world of Haven behind after you've turned the last page.
The Indigo Girl by Natasha Boyd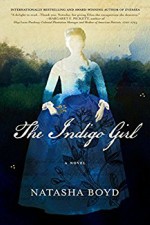 In 1739, sixteen-year-old Eliza Lucas' family is in danger of losing their plantations in South Carolina. With the high value of indigo dye, Eliza believes that it is their salvation.
But thwarted at every turn, even by her family, Eliza finds her only allies in an aging horticulturalist, a lawyer, and a slave with whom she strikes a dangerous deal: teach her the intricate, thousand-year-old secret process of making indigo dye, and in return—against the laws of the day—she will teach the slaves to read. So develops an incredible story of romance, intrigue, hidden friendships, threats, ambition, betrayal, and sacrifice, based on historical documents and Eliza Lucas' own letters.
Forever Our Boys by Heidi McLaughlin (Live 10.5)
A Beaumont Series Novella
Come back to Beaumont… sort of! Join Josie, Katelyn, and Jenna when they embark on a vacation, away from the glitz and glam that their lives have become.
With Katelyn and Jenna living in California, and Josie in Beaumont, the daily coffee at Whimsicality has long been forgotten, while motherhood and being wives to Harrison, Jimmy, and Liam have taken over, the best friends aren't able to see each other as often as they like. After their husbands all but push them out the door, they meet up for a week of sun, relaxation, and reminiscing.
Gun Shy by Lili St. Germain (Live 10.6)
HAVE YOU SEEN THIS GIRL?
In the middle of a fierce snowstorm in Gun Creek, Nevada, a teenage girl disappears without a trace.
The second girl in nine years.
Identical cases. Identical conditions. Only last time, the girl was found. Dead, stuffed in a well beside the creek that feeds the town's water supply.
The killer was never found.
As the small town mobilizes and searches for newly vanished Jennifer Thomas, one suspect comes to the fore. But did he do it? Or is there something else at play? Something nobody could have anticipated?
For Jennifer's friend Cassie Carlino, the worst is yet to come. As she pins MISSING posters to store windows and joins the search, she begins to suspect that Jennifer's disappearance might be closer to her than she could have ever imagined…
In Gun Shy, USA Today Bestseller Lili St. Germain weaves her unique brand of darkness and grit into a much-anticipated psychological thriller that early readers are calling her best work yet. Evocative, atmospheric and gripping, this book will stay with you long after you're finished reading.