Scandalous by L.J. Shen 
They call him The Mute for a reason.
Hard, cold and calculated, he rarely speaks.
When he does, it's with disdain.
When he does, his words aren't meant for me.
When he does, my stomach flips and my world tilts on its axis.
He is thirty-three.
I am eighteen.
He's a single dad and my father's business partner.
I'm just a kid to him and his enemy's daughter.
He's emotionally unavailable.
And I am…feeling. Feeling things I shouldn't feel for him.
Trent Rexroth is going to break my heart. The writing isn't just on the wall, it's inked on my soul.
And yet, I can't stay away.
A scandal is the last thing my family needs. But a scandal is what we're going to give them.
And oh, what beautiful chaos it will be.
The Charmer by Avery Flynn 
Don't miss the hot new romantic comedy follow-up to the smash hit The Negotiator…
Hot, filthy rich, and usually irresistible, Hudson Carlyle just met the one woman in Harbor City who's immune to his legendary charm. Nerdy ant researcher Felicia Hartigan is the unsexiest dresser ever. She trips over air. And she's in love with totally the wrong man. Hudson can't stop thinking about her.
His regular moves won't work here. He's going to need a new plan, starting with helping her win over the man she thinks she wants. And if in the process she ends up falling for Hudson instead? Even better. Step one, charm her panties off. Step two, repeat step one as frequently as possible.
But what if the famous Carlyle charm finally fails him when he needs it most? Or worse, what if she figures out the one secret he's kept from everyone, including his family, and walks away for good?
Forsaken by Night by Larissa Ione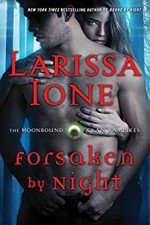 Desire collides with danger as a vampire and a shapeshifter cross paths in this searing MoonBound Clan story from New York Times and USA TODAY bestselling paranormal romance author Larissa Ione.
After accidentally shifting into a wolf—and getting stuck—Tehya, herself a vampire, has spent the last twelve years as the pet of Lobo, another vampire who has the unique gift of communicating with wolves.
When Lobo found Tehya starving and nearly frozen to death, he took her in and nursed her back to health, all the while completely unaware that she was really a fellow vampire. But there was always something special about her, and he finds out exactly how special after she's injured and returned to her true form. Desire collides with danger as he soon finds that he must protect not only Tehya but also himself..
Dark Swan by Gena Showalter 
The Alien Huntress series is back with fan favorite AIR agent Dallas Gutierrez from New York Times and USA TODAY bestselling paranormal romance author Gena Showalter, who doesn't disappoint with this sizzling hot alpha hero.
Lilica Swan isn't quite human or otherworlder; she is the best—and worst—of both.
She is willing to do whatever proves necessary to save her sister from the seductive and deadly Alien Investigation and Removal agent, Dallas Gutierrez, even bonding her lifeforce to his by effectively marrying him. But the bond will fade without consummation. Can Dallas resist his insatiable desire for the powerful beauty? Or will she lead to his ultimate downfall?
Have my Baby by Taryn Quinn 
That was what my single dad best friend Seth said to me while I was waitressing at the diner.
His little girl wants a sibling. But Seth is a workaholic millionaire and doesn't have time to meet someone.
Someone who won't screw him over, like his kid's mother.
Only problem is this someone has secretly been in love with him since high school. I've been hiding it forever, not wanting to risk our friendship.
Sleeping with him is my biggest fantasy. And I've fantasized plenty, being a virgin. Another thing he doesn't know.
Now I have to make the biggest decision of my life.
Is having a no strings attached affair just to make a baby better than never having him at all?
Author's note: this case of insta-love and insta-naked-time has been brewing for over a decade. Babymaking has never been so hot…or so funny…or so complicated.
Touched by Mara White 
-Does your sister let you touch her, Gemini?
-Barely, but, yes, more than anyone else. I remember even in preschool when the teacher would grab her hand, she'd stare at the spot where their skin connected as if it were an affront to her existence. Just stand there and glare like she wanted to hurt someone.
-Junipera suffers from a rare phobia.
-Please, what does June not suffer from?
-When did she start chasing storms?
-In third grade she started obsessing about the rain. Full blown? I'd say after hurricane Katrina she never looked back. And she didn't just chase them, June became those wild storms.
Junipera and Gemini Jones, Irish twins born during the month of June, survive a childhood of neglect and poverty by looking out for one another. Destined for a group home, the girls are rescued by a rich aunt and uncle who move them from Northern Minnesota to Fairfield, Connecticut. One sister thrives while the other spins out of control. A violent assault leaves Gemini searching for clues, but what she finds might be questions that are better left unanswered.
Still by Kennedy Ryan 
**STILL is the conclusion of Grip & Bristol's emotional journey. You must read FLOW, the prequel, and GRIP, book 1 before beginning STILL**
"Take everything you've ever thought about follow-up books and discard it. Even deeper than what came before, STILL is a love letter to soul-deep commitment. I adored Flow and Grip, but Kennedy took it to a whole new level with STILL. Prepare to be blown away." – Ella Fox, USA Today Bestselling Author
I'll be there.
Through thick and thin.
Ride or die.
You can count on me.
The promises people make.
The vows we take.
Assumptions of the heart.
Emotion tells us how we feel, but life…life has a way of plunging us in boiling water, burning away our illusions, testing our faith, trying our convictions.
Love floating is a butterfly, but love tested is an anchor.
For Grip and Bristol,
Love started at the top of the world
On a Ferris wheel under the stars
But when that love is tested, will they fly or fall?
Stud Finder by Lauren Blakely 
Man seeking woman: Hot, rich, smart, witty, self-made multimillionaire Internet genius seeks classy, intelligent, sexy, fun-loving woman who's interested in settling down and sharing all the good things.
There. Best. Ad. Ever.
I will absolutely find the woman of my dreams, someone who'll love me for me. Even if my sister thinks I need help dating, I'm confident I can pull this off, courtesy of the great worldwide web.
Let me just hit the upload button right now…
* * *
No. Just no. As a woman and a professional matchmaker, I can't let Dylan Parker run this ad. He's the catch of all catches. That's why his sister has asked me to help her ridiculously good-looking, insanely rich, but socially clueless brother find a woman. As a broker of happily ever afters, I'm known as the Stud Finder since I make a great living pairing wildly successful women with men who won't fleece them but will adore them. After all, what woman in her right mind wouldn't fall in love with Dylan?
I mean, besides me. It totally won't be me.
*Stud Finder is a standalone novella told in dual POV in the style of Lauren Blakely's series of standalone rom-coms like Big Rock, Mister O and The Sexy One.
The Beautiful Now by M.Leighton 
Dane James worked my stepfather's fields. He was the boy next door.
Strong.
Hardworking.
Forbidden.
From the moment we met, we were star-crossed lovers—always wanting, never having. We loved each other for most of our lives, but right from the beginning destiny had other plans. She knew we would fall in love. She knew we would fall apart. Over and over again, like the curse of a recurring nightmare. Or the hope of a familiar dream.
Our past was tumultuous. Our future was bleak. But the one thing we always had was the beautiful now.
Until that was taken from us, too.
Chasing Christmas Eve by Jill Shalvis 
Meet cute…
Run for the hills—temporarily. That's Colbie Albright's plan when she flees New York for San Francisco. Wrangling her crazy family by day and writing a bestselling YA fantasy series by night has taken its toll. In short, Colbie's so over it that she's under it. She's also under the waters of a historic San Francisco fountain within an hour of arrival. Fortunately, the guy who fishes Colbie out has her looking forward to Christmas among strangers. But she's pretty sure Spencer Baldwin won't be a stranger for long.
Make merry…
Spence's commitment to hiding from the Ghosts of Relationships Past means he doesn't have to worry about the powerful—okay, crazy hot—chemistry he's got with Colbie. Just because she can laugh at anything, especially herself… just because she's gorgeous and a great listener…just because she "gets" Spence immediately doesn't mean he won't be able to let Colbie go. Does it?
…and hope for a miracle.
Now the clock's ticking for Colbie and Spence: Two weeks to cut loose. Two weeks to fall hard. Two weeks to figure out how to make this Christmas last a lifetime.
Never Let Go by Cynthia Eden 
He was more than just a man…
Dr. Elizabeth Parker didn't like wild, dangerous men…yet she still found herself falling for sexy Navy SEAL Sawyer Cage. He was her exact opposite–a man she should definitely stay away from, a man who lived for the thrill of danger…but he was also the man she found herself wanting more than any other.
But their secret relationship ended in heartbreak when Sawyer was killed on a mission. Grieving for him, the last thing Elizabeth ever expected was to find Sawyer listed as a test subject for the top secret government project she was heading–a project called Lazarus.
For years, Elizabeth had worked feverishly to unlock the secrets of life and death, and with her Lazarus formula, she finally thought she'd made a breakthrough. Only she never expected to use Lazarus on her lover.
But the choice is taken out of Elizabeth's hands…
Sawyer is given the Lazarus formula, and he's transported to a remote government facility. At that facility, Sawyer wakes once more, only he's not the same man. He's stronger, he's faster, his reflexes and his senses are ten times better than an average man's. The government calls Sawyer a super soldier… Elizabeth still calls him…hers.
Unfortunately, Sawyer has no memory of his life before Lazarus. All he knows is that something about the sexy doctor awakes a primal response in him. He wants her, and he'll do anything to possess her. Soul-deep, he feels that she was meant to be his.
Death waits in the darkness.
But something is wrong inside the Lazarus facility. The test subjects are holding back secrets, and danger seems to lurk in the air. The Lazarus subjects are super-human now, and some of those subjects have a very, very dark side. Twisted cravings drive them to the very edge of sanity. Can Sawyer keep Elizabeth safe from the madness around them…or will the growing darkness consume them both?
NEVER LET GO…a gripping new romantic suspense from New York Times and USA Today best-selling author Cynthia Eden.
Completely by Ruthie Knox 
Everest. If they can make it there, they can make it anywhere. Maybe even New York, where Ruthie Knox takes her charming rom-com style to new heights.
Beneath her whole "classic English beauty" appearance is an indomitable spirit that has turned Rosemary Chamberlain into something of a celebrity mountain climber. But after an Everest excursion takes a deadly turn, Rosemary is rescued by her quick-thinking guide, New York native Kal Beckett. Rosemary's brush with death brings out a primal need to celebrate life—and inspires a night of steamy sex with the rather gorgeous man who saved her.
The son of a famous female climber with a scandalous past, Kal Beckett is still trying to find himself. In the Zen state of mind where Kal spends most of his time, anything can happen—like making love to a fascinating stranger and setting off across the world with her the next morning. But as their lives collide in the whirlwind of passion that is New York City, the real adventure is clearly just beginning. . . .
Archangel's Viper by Nalini Singh 
Once a broken girl known as Sorrow, Holly Chang now prowls the shadowy gray underground of the city for the angels. But it's not her winged allies who make her a wanted woman–it's the unknown power coursing through her veins. Brutalized by an insane archangel, she was left with the bloodlust of a vampire, the ability to mesmerize her prey, and a poisonous bite.
Now, someone has put a bounty on her head…
Venom is one of the Seven, Archangel Raphael's private guard, and he's as infuriating as he is seductive. A centuries-old vampire, his fangs dispense a poison deadlier than Holly's. But even if Venom can protect Holly from those hunting her, he might not be able to save himself–because the strange, violent power inside Holly is awakening…
No one is safe.
Running into Love by Aurora Rose Reynolds 
Fawn Reed has kissed one too many toads and has finally decided that Prince Charming doesn't exist. After countless mishaps, mistakes, and unmitigated disasters on the dating scene, she's decided to give up and move on with her life…solo.
Everything changes, however, after Fawn runs into Levi Fremont, a homicide detective new to New York City.
Dedication to the job has rendered Levi's love life nonexistent—until he moves in next door to the free-spirited Fawn. After a series of comedic run-ins push them together, will they finally give in to the inevitable and realize—maybe—they are perfect for each other?
Too Beautiful to Break by Tessa Bailey 
A love of a lifetime . . .
Leaving Belmont Clarkson is the hardest thing Sage Alexander has ever done. From the moment they met, she knew Belmont was the one, and getting up close and personal with him on his family's epic road trip has taken her desire to a new, even hotter level. But there's no way she can go there—not without revealing secrets that could devastate them both.
Losing Sage is not an option. Belmont's heart is hers, has always been hers. He knows she's hiding something from him, but nothing will stand in his way of telling her just how much she means to him. Finding her is easy—saving her from her past could cost him everything.
Reveal Me by Jennifer Probst 
One Masquerade Ball.
One Chance to Reveal All Secret Desires.
One Fiery Encounter.
One Shot at Love.
Are you ready to reveal all?
A Man Who Knows What He Wants…
Leonardo Sinclair never expected to fall for the fierce, yet vulnerable woman he meets at his friend's masquerade party, or for her to disappear without a trace. When his cousins sign him up with the mysterious FANTA-C agency, he finds her back in his bed. This time Leo's not about to let her go. But can he convince her she's safe to reveal every hidden part of her soul before she walks out of his life again for good?
A Woman Ready to Explore her Desires…
Scarlett Rose has always been tempted to explore her wilder side, but for years she'd been humiliated and emotionally abused by her ex. Now that he's gone, she's finally ready to embrace her true self. Safely hidden behind a mask, she attends a ball held in the famous Blasphemy club and meets the man who not only embraces her, but demands her complete surrender. Once the mask is stripped away, will she be brave enough to reveal her entire self and take another risk on love? Or will her past ruin the chance of a brand new future?
A Special Crossover Release with Laura Kaye's Theirs to Take, A New Book in Blasphemy Series
Two Hot Fantasies. One Night at Blasphemy. Coming September 26, 2017
How to Date a Douchebag: The Learning Hours by Sara Ney 
He's not a douchebag; but that doesn't stop his friends from turning him into one.
MY FRIENDS WANT ME TO GET LAID.
So much so that they plastered my ugly mug all over campus, in bold printed letters:
Are you the lucky lady who's going to break our roommate's cherry?
Him: socially awkward man with average-sized penis looking for willing sexual partner. You: must have a pulse. He will reciprakate with oral. Text him at: 555-254-5551
The morons can't even spell. And the texts I've been receiving are what wet dreams are made of. But I'm not like these douchebags, no matter how hard they try to turn me into one.
THIS ISN'T THE KIND OF ATTENTION I WANT.
One text stands out from hundreds. One number I can't bring myself to block. She seems different. Hotter, even in black and white.
However, after seeing her in person, I know she's not the girl for me. But my friends won't let up–they just don't get it. Douchebags or not, there's one thing they'll never understand: GIRLS DON'T WANT ME.
Especially her.
Second Chance by Susan Mallery 
Mathias Mitchell's easy smile hides a world of hurt. After the worst kind of family betrayal, he moves to Happily Inc., California—the wedding destination town supplies a steady stream of bridesmaids, perfect for his "no promises, no pain" lifestyle. Yet he can't stop watching for his beautiful, elusive neighbor on the animal preserve behind their homes.
Gamekeeper Carol Lund knows she's not special enough to attract an alpha male like Mathias, so his offer to help her adopt a herd for her lonely giraffe is surprising—and his determined seduction, even more so. But just as she finally welcomes him into her bed, his careless actions crush her heart. Will she give him a second chance to prove she'll always come first in his heart?
Don't miss You Say It First, the first book in the Happily Inc series. 
Cavanagh- Serenity Series Vol. 1 by Eden Butler 
Home is where your heart lives; it's where you find your center. Even if sometimes it takes years to admit that truth.
For these four lifelong friends, the sleepy town of Cavanagh, Tennessee—rich in Irish history and diverse culture—is the softest place to fall. Here they forgive and move forward. Here they love fiercely. Here they endure.
Welcome to Cavanagh, where rugby is king, Guinness is mandatory and family has nothing to do with blood.
☘ ** ☘*☘ ** ☘*☘ ** ☘*☘ ** ☘
Chasing Serenity – Book One
Graduate student Autumn McShane has had her share of heartbreak. But she's learning to recover, until her ex-boyfriend returns to town, intent on making her life miserable. Declan Fraser hates her ex as much as Autumn does, but the last thing she needs is to put her trust in the hands of another man, especially one like Declan, but he's the only one who can help Autumn win an ill-advised bet that, if lost, could cost her more than she's willing to pay.
Behind the Pitch – A Serenity Series Novella
Expat Irish rugby player Declan Fraser only wanted to play the sport he loves. He didn't want to be stuck in this middle-of-nowhere town at this all too quaint university. He didn't want his team captain to be an entitled jackass and he sure as hell didn't want to fall in love with graduate student Autumn McShane.
Finding Serenity – Book Two
Mollie Malone's mom skipped out on her. Her biker dad, always loose and easy with the law, still was able to make her feel loved, and to keep her safe. But thirteen years ago, when his luck finally ran out and he landed in prison, Mollie found herself a new family – a group of friends who know about the rotten roots of her family tree but accept her anyway. Now Mollie is finally able to see past graduation to a future that is bright and secure. But sometimes the past doesn't stay buried. Suddenly, there's a shadow behind every step Mollie takes. And it isn't just the past that has Mollie's life in upheaval. Former Marine Vaughn Winchester has his own secrets and Mollie wants to know each one.
Cavanagh- Serenity Series Vol. 2 by Eden Butler 
Home is where your heart lives; it's where you find your center. Even if sometimes it takes years to admit that truth.
For these four lifelong friends, the sleepy town of Cavanagh, Tennessee—rich in Irish history and diverse culture—is the softest place to fall. Here they forgive and move forward. Here they love fiercely. Here they endure.
Welcome to Cavanagh, where rugby is king, Guinness is mandatory and family has nothing to do with blood.
☘ ** ☘*☘ ** ☘*☘ ** ☘*☘ ** ☘
Claiming Serenity – Book Three
She left glitter in his AC vents. He put green dye in her conditioner. She buttered his bathroom floor, and he kidnapped her precious puppy. Layla Mullens hates Donovan Donley. His crude language, his wide shoulders, his crystal blue eyes…she hates that she can't stop herself…from kissing him or landing in his bed. And Donovan Donley wants nothing more than to knock Layla off her princess pedestal. He hates her stuck up attitude and her soft, tempting lips. The white flags in their prank war have been lowered but their high stakes battle has just begun.
Catching Serenity – Book Four
It began with a look. Just one, thrown my way. A mad, dizzying rush of desire cracking across the patio, bouncing around my friends, ignoring everything but the heat bubbling between his eyes and mine. That's when Quinn O'Malley came into my life. We were inevitable. We were senseless. He wrecked me. He saved me. I still haven't recovered.
Sayo McIntyre didn't want the complications that came with Quinn O'Malley. But life doesn't care what we want. It gives us what we need. *This is a multi-media novel with illustrations from RN Laing.*
Beyond the Pitch– A Serenity Series Novella
One birth.One death. One promise of forever. Friendship means always being there. It means never giving up, but for Autumn, Sayo, Mollie and Layla, sometimes the demands become too much. Sometimes love gets lost and sometimes, we forget we aren't all alone. When they return to Cavanagh to say goodbye, these four women, all struggling with their own stressful realities will have to decide just how much they're willing to sacrifice for their friends and what that sacrifice will cost them.
The Heiress by Cassia Leo 
A new heartfelt and suspenseful stand-alone novel from New York Times bestselling author Cassia Leo.
How much is love worth?
Twenty-two-year-old Kristin and her single mom have always struggled to make ends meet. When her mother's body begins to deteriorate after many back-breaking years of working as a housekeeper, Kristin must say farewell to her college dreams and hello to a full-time job waitressing. She doesn't really mind. After all, giving up on her dreams will be her penance for that one horrible night.
Her luck begins to turn when she meets Daniel Meyers. Daniel is sexy and funny, but most importantly, he wants to get to know the real Kristin. It doesn't hurt that he's also extremely wealthy and intent on protecting her. Kristin feels safe with him. She wants to open up to him, to share the details of the awful night that changed her life. But she can't shake the feeling that Daniel may be keeping a dark secret of his own…
Smoke and Sin by Shayla Black and Lexi Blake 
More than a decade ago, Roman Calder had a scorching affair with the sister of one of his best friends. Augustine Spencer drove him so crazy he thought of nothing but her. The only thing they did more often than heat the sheets was fight. Unprepared for the intensity of their relationship, Roman broke things off and concentrated on things that made sense to him: his career and putting his best friend, Zack Hayes, in the White House.
Gus Spencer is known to Washington insiders as the president's secret weapon. Gorgeous and brilliant, Gus runs the press pool with the determination of a shark. No one dares to cross her, not when she's known for having a spine of steel…but long ago one man melted her down. Despite the fact that she'll never forgive Roman for breaking her heart, now that they work together she can't get him off her mind.
When a dangerous investigation leads both Roman and Gus to London, the heat between them becomes unbearable. As they begin to unravel an international conspiracy, they find themselves falling all over again. But when a killer threatens their world, can they fight to stay together or will the sins of their past keep them forever apart?
Theirs to Take by Laura Kaye 
She's the fantasy they've always wanted to share…
Best friends Jonathan Allen and Cruz Ramos share almost everything—a history in the Navy, their sailboat building and restoration business, and the desire to dominate a woman together, which they do at Baltimore's exclusive club, Blasphemy. Now if they could find someone who wants to play for keeps…
All Hartley Farren has in the world is the charter sailing business she inherited from her beloved father. So when a storm damages her boat, she throws herself on the mercy of business acquaintances to do the repairs—stat. She never expected to find herself desiring the sexy, hard-bodied builders, but being around Jonathan and Cruz reminds Hartley of how much she longs for connection. If only she could decide which man she wants to pursue more…
As their attraction flashes hot, Jonathan and Cruz determine to have Hartley for their own. But the men's erotic world is new and overwhelming, and Hartley's unsure if she could really submit to being both of theirs to take…forever.
Hail No by Lani Lynn Vale (Live 9.27)
Evander Lennox doesn't do anything he doesn't want to do. At least, that is, until he's sent to prison. The four years he's incarcerated, he's had no choice but to do the things he's asked to do, when he's asked to do them. And now, if he doesn't, it will mean a one-way ticket straight back to hell.
Once he's free, it takes him twenty-four hours to get his old job back, his dog at home where he belongs, and an understanding that people aren't as forgiving as he once thought them to be. He's just about given up hope of ever integrating back into society when a woman slams into his heart, literally and figuratively.
***
Kennedy Swallow just wants to belong somewhere.
When she was younger, her parents divorced, and chose to separate her from her twin. Fast forward fifteen years, and she's finally getting to meet the family she's always wanted to be a part of. To make that happen, she uproots her life and moves to the tiny town of Hostel, Texas—giving her almost everything she's ever wanted.
Just when she thinks she's making progress in winning her family over, she finds out that her twin is ill, and the only reason her family tolerates her is due to the convenience of having a free caretaker whenever they might be in need of one.
After a few eye-opening experiences, she quickly realizes that she's being used. Vowing to herself that she'll make the best of the situation, she begins to steel her heart. What she doesn't prepare for is a man named Evander who sees that barrier as a challenge.
***
It takes Evander all of ten seconds while watching the woman on the floor, bleeding from her jaw, to realize that maybe life isn't as bad as it could be.
This woman with her thrill for life, a crazy obsession with chickens, and a desire to be wanted, changes everything he thinks he knows.
But it doesn't take long for him to realize that just by being around her, the people of the town have judged her guilty by association.
Her business suffers, and soon after, she realizes what it will mean to have him by her side—the loss of everything she's worked so hard for.
Kennedy knows that Evander is worth it. Evander, however, decides that he's not letting another person get hurt because he was stupid enough to care.
Hot Stuff by Kim Karr (Live 9.27)
Get ready to fall in love with this new standalone sports romance from New York Times bestselling author Kim Karr.
He's the newly drafted quarterback.
Hot. Arrogant. Too sexy for words.
Ready to score.
I'm an athletic intern, and the coach's daughter.
Driven. Determined. Ready to conquer the world.
Completely off-limits.
The NFL is full of rules. Rules I've never broken. Never challenged. Never even scratched–until the day Lucas Carrington crashes into my life with his hard body and I-don't-give-a-f*ck attitude.
After I almost injure my father's star player, I volunteer to make sure he's in top shape. At first, it's hell. I don't like his cockiness, his easy smile. Don't like the way he oozes sex. Or how his penetrating eyes follow me everywhere.
That doesn't stop me from wanting him.
He's meant to be a distraction–something to occupy my mind for these precious few remaining hot summer nights before I'm forced to leave football behind forever.
I know what we're doing will lead nowhere good. I know we're crossing the line. And I know my father will never understand.
None of that matters.
But maybe it should.
Rules aren't meant to be broken.
Or are they?
Racer by Katy Evans (Live 9.28)
A sizzling new standalone contemporary romance by New York Times and USA Today bestselling author Katy Evans.
A bad boy with something to prove.
A woman with a mission.
The race of their lives.
The love of a lifetime.
I don't think his parents expected him to live up to his name—Racer Tate—but once he felt the adrenaline rush behind the wheel, he was addicted.
He's the fastest, fiercest driver around.
Scouting new talent brings me to his doorstep…
but his smile sends me to my knees.
The sexy, mysterious Racer Tate is not the kind of man a girl like me falls for. He's secretive, reckless, elusive. But his proximity pushes me beyond reason, and his kiss….
This is our last chance to win, and he is our only hope. I'm supposed to watch him—make sure he doesn't get into trouble. But it's an impossible task. And now the one in heart wrenching, toe-curling, soul-crushing trouble is me. Because when your heart belongs to someone, their truths become your own, and their secrets become your salvation…or your curse.
He says he wants me. He says I'm the One. But he also thinks he'll break my heart, one piece at a time until it's gone.
The Next Generation by S.C. Stephens (Live 9. 28)
Fitting in can be hard for anyone. But for Julian and Nika Adams, it's especially challenging. Born as partial vampires, a rare offshoot of pureblood vampires, the twins have had to deceive people their entire lives—distancing themselves from their peers.
Nika desperately wants a hero, a soulmate, someone she can trust with every fiber of her soul—someone as amazing as her father. The boys at her high school aren't impressing her, but, luckily for Nika, Hunter Evans has moved into the neighborhood.
Julian desperately wishes he could sever the empathic bond he has with his sister. While it was fun to experience each other's emotions when they were kids, now that Julian finds himself pining for a girl he can't have, sharing his feelings is the last thing he wants to do.
From Darkness by Staci Hart (Live 9.28)
I never wanted to leave her. But I had no choice.
I've spent the last three years raising my daughter and wishing for things I couldn't have. When I came back to New York, I thought I could find my way back to her. But that path was lost, grown over and hidden from everyone, especially me.
Her obsession over her best friend's death is dangerous, and the man she's after could put her life at stake. She'll never let it go, not until he's behind bars or dead.
She just doesn't realize it might not be him who pays in the end.
If only she'd let me help her. If only she'd let me in. When she sets her mind to something, that's it. But there's an exception to every rule, and I plan to be the exception to this one.
And I'll protect her until my very last breath, whether she wants me or not.
The Social Experiment by Addison Moore (Live 9.28)
Sophie Meyer is a handful. I should know, I hung out in her living room for so long I became a fixture. But that was when her older brother, Braden, and I actually got along, before he snatched my long time girlfriend out from underneath me and stopped speaking to me as if I were the one who hijacked his life. And now here I am with his feisty little sister in my arms, her face lit up in horror at the thought of what we've just done. I would never kiss Sophie Meyer under normal circumstances, never even entertain the thought. Nope, this was a bad idea through and through. This is one social experiment I never want to think about again. But one thing is for sure. I will never forget that kiss.
Two strangers, six weeks, the social experiment says the odds are in their favor, Rowen and Sophie says they aren't.