Eye  Candy by various authors 
A frightfully good time! Dive into these Halloween novellas from bestselling authors Tijan, J. Daniels, Helena Hunting, Bella Jewel and Tara Sivec. Featuring stories set in the worlds of their popular series.
Tijan's Fallen Crest crew are back for a weekend of mischief that takes a sinister turn; all four couples from J. Daniels' Alabama Summer series gear up for Halloween in their own sexy ways, with a special surprise at the end; Helena Hunting's characters from Shacking Up plan a Halloween gala that features a few ghouls and witches; Bella Jewel brings the chills and thrills in her suspenseful take on Halloween night; and Tara Sivec gathers the Holiday family together one last time as they try to make this ghostly holiday one to remember—or one they'd rather forget…
Cozy up with a mug of hot cider on a dark night and fall under the spell of this Halloween anthology!
When We Touch by Tia Louise 
Ember Rose was spicy-sweet seduction.
My biggest temptation.
My biggest regret.
I thought she'd always be waiting for me.
I was wrong.
Now I'm back in Oceanside searching for peace, hoping to escape what my life has become.
She isn't supposed to be here…
Dark hair blowing in the ocean breeze,
Luscious curves barely hidden by thin cotton.
I didn't come back for her.
But when we touch, I know I'll do whatever it takes to make her mine…
Long For Me by Stacey Lynn
My boss already controls my days; do I want to give him my nights, as well?  
Rebecca 
I've seen what happens when you give everything to a man. That's not what I want. I won't have my heart crushed in anyone's fist.
Then he changed everything.
Him. Bennett Ashby. My boss.
Seeing him at Luminous, dressed in leather pants and wielding a whip…
Do I crave this?
My mind says no, but my body is starting to have very different ideas.
Bennett 
I knew Rebecca Morales would be the perfect assistant. That's why I hired her.
I didn't know that working with her every day would lead to temptation—to own her, to possess her.
When she walked into Luminous, I knew I was screwed. Dipping your pen in the company ink is never smart, but we both agreed what happens at the club stays there.
One night and then it's back to business tomorrow.
Except I don't want just one night with Rebecca. I want them all.
This book is approximately 73,000 words
One-click with confidence. This title is part of the Carina Press Romance Promise: all the romance you're looking for with an HEA/HFN. It' s a promise!
Play Room by L.P. Dover and Heidi McLaughlin 
The rules of Society X are simple . . . break them and you're out.
Rule #1 – No names
It doesn't matter if you want to know, it's forbidden.
Rule #2 – No exchanging numbers
It doesn't matter if you want to call, it's forbidden.
Rule #3 – Everything is to remain strictly anonymous.
It doesn't matter if you want to tell, it's forbidden.
Whatever your desire.
Whatever your fetish.
The Play Room is the place to go.
For Alexandria Miller, it's a chance to express herself, to embrace her hidden passions.
For Kai Robicheau, being in the club brings out who he truly is.
What happens in the Play Room will have you aching for more . . .
Drumline by Stacy Kestwick 
Traditions are important. Especially in the South.
College football. Rivalries. Tailgating. Halftime shows.
Some things just don't change.
Until Reese Holland shows up with her long legs and no-bullsh*t attitude to audition for the prestigious all-male Rodner University snare line.
It doesn't matter how much hazing she has to endure from Laird Bronson, with his narrowed green eyes and arrogant smirk. She wants that damn spot, and she's more than good enough to earn it.
She expects there to be tension. Even friction.
But not sparks hot enough to burn the entire campus down.
***Drumline is a standalone college romance.
If There's No Tomorrow by Jennifer L' Armentrout 
Lena Wise is always looking forward to tomorrow, especially at the start of her senior year. She's ready to pack in as much friend time as possible, to finish college applications and to maybe let her childhood best friend Sebastian know how she really feels about him. For Lena, the upcoming year is going to be epic—one of opportunities and chances.
Until one choice, one moment, destroys everything.
Now Lena isn't looking forward to tomorrow. Not when friend time may never be the same. Not when college applications feel all but impossible. Not when Sebastian might never forgive her for what happened.
For what she let happen.
With the guilt growing each day, Lena knows that her only hope is to move on. But how can she move on when her and her friends' entire existences have been redefined? How can she move on when tomorrow isn't even guaranteed?
Tower of Dawn by Sarah J. Maas 
Follow Chaol on his journey to the southern continent in part two of the fifth installment of the Throne of Glass series by #1 New York Times bestselling author Sarah J. Maas.
Chaol Westfall has always defined himself by his unwavering loyalty, his strength, and his position as the Captain of the Guard. But all of that has changed since Aelin shattered the glass castle, since Chaol's men were slaughtered, since the King of Adarlan spared him from a killing blow, but left his body broken.
Now he and Nesryn sail for Antica – the stronghold of the southern continent's mighty empire and of the legendary healers of the Torre Cesme. It's Chaol's one shot at recovery, and with war looming back home, Dorian and Aelin's survival could depend on Chaol and Nesryn convincing Antica's rulers to ally with them.
But what they discover there will change them both – and be more vital to saving Erilea than they could have imagined.
Secrets in Death by J.D. Robb 
A new novel in the #1 New York Times bestselling series: Lt. Eve Dallas must separate rumors from reality when a woman who traffics in other people's secrets is silenced.

The chic Manhattan nightspot Du Vin is not the kind of place Eve Dallas would usually patronize, and it's not the kind of bar where a lot of blood gets spilled. But that's exactly what happens one cold February evening.
The mortally wounded woman is Larinda Mars, a self-described "social information reporter," or as most people would call it, a professional gossip. As it turns out, she was keeping the most shocking stories quiet, for profitable use in her side business as a blackmailer. Setting her sights on rich, prominent marks, she'd find out what they most wanted to keep hidden and then bleed them dry. Now someone's done the same to her, literally—with a knife to the brachial artery.
Eve didn't like Larinda Mars. But she likes murder even less. To find justice for this victim, she'll have to plunge into the dirty little secrets of all the people Larinda Mars victimized herself. But along the way, she may be exposed to some information she really didn't want to know…
Arm Candy by Jessica Lemmon 
Last call! At the end of the night, a clean-cut hunk and a rebellious bartender act on their unlikely chemistry in this frisky standalone novel from the author of Eye Candy.
Davis: I've had my eye on Grace Buchanan for a while now. Unlike the bubbly blondes I usually date, the feisty, flame-haired bartender both intrigues and bewilders me. Something about Grace—the tattoos? the nose ring?—makes every part of me sit up and beg. There's only one problem: She hates me. Trading insults and one-liners has become our M.O. But when Grace bets me that I can't get a date with a non-blonde if my life depends on it, I'm determined to prove her wrong by landing the ultimate non-blonde: her.
Grace: I'm used to regulars hitting on me, and I've turned them all down, except for one: Davis Price. I like giving him a hard time, and he's kind of cute in his suit and tie—if you're into that kind of thing. Anyway, I don't care how many blondes he takes home . . . until one of them sidles up to him in my bar. Nuh-uh. But after my little bet with Davis backfires, our first date lands us in the sack. So does the second. And the third. Neither of us wants more than the best sex of our lives. The trouble is, it's not a question of what I want. It's what I need. And what I need is Davis.
Raw Heat by Cherrie Lynn 
The third book in the Larson Brothers series from New York Times bestselling author Cherrie Lynn is the sexiest installment yet!
Youngest Larson brother Damien has the luck of the devil. Fast talking and faster thinking, he owns a successful nightclub in Houston and runs an illegal poker room upstairs. After a troubled childhood, now nothing is out of Damien's reach—except his accountant, Emma Haskell.
Emma has always been drawn to Damien's dark intensity and the gleam in his eyes that promises more than she can possibly handle. But when her brother's gambling threatens to destroy her family, Damien makes her an offer she'd be crazy to accept—but can't refuse: her brother's debts will be forgiven, and Emma belongs to him for thirty days.
In Damien's world, he shows his angelic bookkeeper what it's like to live with the devil. But Emma brings out a side in Damien he thought didn't exist. Will the flames of lust scorch them both, or will this beauty tame the beast and give him something to fight for?
Raw Heat scorches with emotional intensity and smoldering passion that will leave readers spellbound!
The Summer Made Us by Robyn Carr 
For the Hempsteads, two sisters who married two brothers and had three daughters each, summers were idyllic. Escaping the city the moment the school holidays started, the two families would gather at their holiday home on Lake Waseka: a magical haven, where everyday problems drifted away in sun-dappled contentment.
Until the summer that changed everything.
This is now…
After a drowning turned the lake house into a site of tragedy and grief, it was closed up for good. Torn apart, none of the Hempsteads speak of what happened that summer.
Just one woman is determined to draw her family together again. But she knows that the only way that can happen is to face the truth.
And to do that, they must return to the lake house.
The Real Thing by Melissa Foster 
Bakery owner Willow Dalton's friendship with Zane Walker has always been a bit complicated. Now a scrumptiously hot A-list actor, Zane's always had a reputation as a player. He's arrogant, and he's definitely not boyfriend material. Sure, he did Willow a favor by agreeing to take her virginity before college, but is that reason enough for her to go along with a fake engagement a decade later—even if it comes with a real diamond ring?
Zane should have known better. Nothing involving Willow has ever been easy. Still, he knows her better than anyone, and becoming America's hottest new leading man means cleaning up his reputation. An "engagement" to curvy, sass-mouthed Willow is the perfect PR move…provided no one gets hurt.
Now Zane and Willow's little white lie has turned into an irresistible recipe for sweet temptation. And soon no one will be able to tell the difference between their fake engagement and the real thing—including them.
The Woman Who Couldn't Scream by Christina Dodd 
Between vicious meth-cooking fugitives, hostile family members, rampaging egos in the Virtue Falls city council and — shocker! — not one but two compelling men competing for her affection, Kateri Kwinault, the newly-elected first female sheriff, has her hands full.
Because someone is stalking innocent women and slashing them…to death. With no one to turn to, no one she dares trust, Kateri has to wonder–who is the killer's ultimate target? No one is safe, and if Kateri doesn't find the killer before the night is done, she just might become the town's first dead female sheriff…
One Night by Aleatha Roming 
A sweet, fun, and sexy stand-alone romance from New York Times bestselling author Aleatha Romig.
One night to remember
Is that too much to desire?
One night for fun, passion, and a chance to remember what it's like to be a woman.
I'm not looking for love.
There's a man in my life who loves me with all his heart. He has beautiful blue eyes, is three feet tall, and calls me mommy.
He's my whole world and I'm his. Fate stole his daddy way too soon.
What would happen if I allowed fate another chance, just for one night?
One night to help a friend
Why did I agree to this?
Blind dates are disasters. If I weren't helping the friend of a friend, I wouldn't go.
I'm not looking for romance, love, or even a one-night stand.
After all, the man my friend knew is gone. I'm no longer the hockey star known for his "pep" on the ice and in the sack. I have a new life, and a new career—a new passion. I'm not looking for more.
When the blind date is a bust, could fate change everything?
One night doesn't end with a kiss—it begins with one
Be ready to laugh, cry, and fall head over heels as you meet Leatha, the lighter side of Aleatha in this new sweet and sexy stand-alone romance, ONE NIGHT.
Intensity by Sherrily Kenyon 
It's a demon-eat-demon world for Nick Gautier. Just when he thinks he's finally gotten a handle on how not to take over the world and destroy it, Death returns with an all-star cast that is determined to end the Malachai reign and lineage forever. Worse? Death and War have found the one, true enemy Nick can't find, and even if he did, it's one he could never bring himself to banish or kill.
Now framed for murders he hasn't committed, and surrounded by new friends who might be turncoats, Nick is learning fast how his father went down in flames.
The heat in New Orleans is rising fast, and Nick's threat-level has gone into a whole new level of intensity. He's learning fast that when War and Death decide to battle, they don't take prisoners. They don't negotiate. And they're both immune to his biting sarcasm and Cajun charm. To win this, he will have to embrace a new set of powers, but one wrong step, and he will belong to the side of Darkness, forever.
Champagne & Handcuffs by Kimberly Knight 
Young love is just the beginning …
Seth McKenna had wanted to be a police officer for as long as he could remember. Protecting people was in his DNA, especially when it came to his two best friends, Joselyn and Catherine. From the moment he laid eyes on Cat, he knew she'd be his one day.
Until one night when everything changed …
It's rare to find the one you're meant to be with, especially when you're only twelve, but when Catherine Stone laid eyes on Seth, she knew it was love. He was always looking out for her during the summers they spent together, keeping other boys in line and just making her laugh. She knew that Seth was supposed to be her forever.
Until one night when heartache became inevitable …
Many years later, Cat and Seth are forced to come face to face when Joss is getting married to the love of her life. Just when everything seems to be going back to the way it was meant to be, the devil has other plans for them, and Seth will be forced to break a few rules to win Cat back …
Because he won't give her up this time.
Dark Legacy by Christine Feehan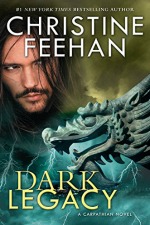 In a beautiful compound hidden away from the world, Emeline Sanchez tries to blunt the pain that has wracked her body ever since her terrifying ordeal in the labyrinth beneath the city—when she was forced to exchange blood with an evil master vampire.
Now, it's his voice that haunts her…that calls to her in the dark…that never lets her rest. And while the children that she helped to free from his clutches struggle to heal, watched over by their Carpathian protectors, Emeline knows one thing: She must sacrifice herself to keep them all from harm…
For her beauty is irresistible to the vampires, her psychic ability like a drug. Whipped into a frenzy, they'll never stop coming for her. And only the taste of one Carpathian warrior—the rush of his blood—can save her…
We Own Tonight by Corinne Michaels (Live 9.7) 
I'm not a one-night stand kind of woman. I'm especially not the woman who has a few drinks at a concert and ends up in bed with my childhood celebrity crush, Eli Walsh.
However, that's exactly where I find myself.
What's a girl to do after a drunken mistake? Run. I grab my clothes and get away from the powerful, irresistible, and best-sex-of-my-life superstar as fast as I can. His gorgeous green eyes, rock-hard body, and cocky smile have no place in my world. My life is complicated enough.
Someone forgot to tell him that.
Eli is relentless. Pushing his way into my heart, wearing me down, proving he's nothing like I assumed, and everything I need. But when my world shatters to pieces, he holds the broken bits together. Unwillingly, I fall desperately in love with him.
He made me think we'd have forever . . . I should've listened when he said we could only own tonight.
I Heart Forever by Lindsey Kelk (Live 9.7)
Winter in Manhattan…and someone's keeping a secret.
The day her husband Alex picks up a backpack and goes travelling, Angela Clark promises to stay out of trouble and keep both Louboutins on the ground.
So when her best friend's boyfriend confides in her, it can't hurt to help him pick out a ring at Tiffany's surely?
And when her fashion magazine announces major changes, being terminally late and arguing with your boss isn't that bad, is it?
Then suddenly there's another big secret Angela's got to keep – and the man she loves is still thousands of miles away. As the wedding of the year looms, and Manhattan switches on its Christmas lights, Angela is going to need her friends by her side as her old life looks set to change forever.
The Crossroads Duet by Rachel Blaufeld (Live 9.7) 
LIMITED EDITION BOX SET!!
Twin brothers, both broken and in love with the one person they shouldn't be in love with…
Redemption Lane
Sometimes the past bleeds into the future.
Bess, a wild party girl running from herself, literally falls victim to her demons when she collapses in the most unexpected of places.
Lane, a tightly wound, up-and-coming CEO who can't seem to stop enabling his brother, doesn't know what hit him when Bess falls at his feet and into his life.
It was a night she doesn't remember, and one he can't forget.
But rather than stay and help the needy college coed, Lane decides to teach his brother a long overdue lesson––a decision that later comes back to haunt him and only adds fury to the transgressions of his past he is already fleeing from.
Years later, Bess and Lane meet again. She doesn't know him, and he doesn't share that he knows what happened on that ill-fated night when she almost died. After all, he has a web of complicated lies from his own youth to protect.
Both are seeking salvation in the arms of others and ignoring the truth—that the only road to redemption lies in confronting your past.
When the past and present collide, is there any chance at redemption?
Absolution Road
For Jake Wrigley, the future is bleak. Some people are survivors, but he's getting by on his bad-boy looks and charming smile. He owns a gym, gets into bar fights, and wrestles his demons with rough workouts—both in and out of the bedroom.
For Alyson Road, the future is bright. Life can only improve from where she grew up. She graduated at the top of her law class, cares for her ailing mom, and in her job, she defends those who can't afford anyone else. Her work is thankless but honest.
Jake's twin brother has been covering his ass for as long as they've been alive, but that all changes when Jake finds himself in front of the fiery public defender, his future in her hands. For the first time ever, he doesn't want to involve his brother, finally realizing he needs to stand alone, be his own man.
Even if Jake's never absolved of his past wrongdoings or his heart is never scrubbed of the blackness that resides there, he can do one good deed—protect the beautiful lawyer who touched his soul—until helping her nearly becomes his own undoing.
Keeper by Amy Daws (Live 9.7)
They were best friends until they became roommates.
Booker Harris has spent the last several years pushing himself to become the best goalkeeper in the Championship League. Tired of living in the shadows of his headline-splashing brothers, he has finally carved a path of his own.
As a child, Poppy McAdams was content in her own little make-believe world, until the boy next door with dimples and pained eyes came barreling into her makeshift fort demanding all her attention.
Best friends for most of their lives, everything changes when Poppy abruptly leaves London for University.
Now she is back, and gone is the awkward girl from Booker's youth. She has been replaced by a stunning woman with secrets. Secrets that Booker is desperate to know.
Sharing a bedroom wall with your best friend from childhood quickly turns to anything but sweet and innocent.
Pitch Please by Lani Lynn Vale (Live 9.8)
Baseball is life, the rest is just details.
Everyone who's played the game has heard those words a time or two. But Hancock has heard them his entire life from his parents. His family has lived and breathed baseball even before he started little league.
Hancock "Parts" Peters has a name that inspires grins across many faces, but the moment those faces get their first look at him, those grins slide away.
Hancock is gruff, filterless, and doesn't give a crap who he offends. He is the only man in baseball who doesn't care if he gets an endorsement or not. He's there to play the game. He's there to win. He's there because baseball is his life.
People think he's a jerk.
And maybe he is. But if that's how he has to come off to get people to leave him the hell alone so he can play in peace, so be it. The less people he has to worry about offending, the better.
***
Don't let the fear of striking out hold you back.
Sway Coffman didn't mean to rock the boat. She was just there to do her job.
Sure, she was a woman in a man's world. Yes, she beat out several of those men to get the job as head athletic trainer for the professional baseball team, The Texas Lumberjacks. And yeah, she now got hate mail from those men.
But she's good at her job, and she earned the position.
What she is not good at, however, is talking to men.
Men seem to see her curvy hips, large breasts and thick thighs and automatically think she is incompetent. Because surely a fat girl couldn't get the job treating some of the most fit and athletic men in the world, right?
Wrong.
This fat girl got the job, and she is proud of it.
What else did she get?
The attention of the sexiest bearded man she'd ever had the pleasure of laying eyes on.
It was enough to bring to her down to her knees…in front of that man, the hot and grumpy baseball player, Hancock Peters.