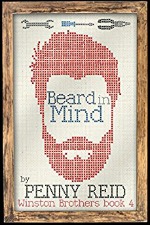 For every person  there is someone out there in the world to love them and complete their life. There is not anyone too broken or too scarred so as not to be loved and Penny Reid gives us a story example of that!
Beau Winston is a man that everyone loves; his family, his friends, his community. There is only one exception with a face of an angel and a glare of a demon, Shelly. The new mechanic of his shop aggravates him like no other and he does not know how to break her walls.
Shelly is drowning in her fears and her Obsessive Compulsive Disorder. She has no friends, she keeps her family away and she doesn't want anyone close to her. If only her sexy boss wouldn't make her want his touch over her body.
Penny Reid knows how to write different stories and unusual characters. I have come to love her quirky humor and all of her books have touched me somehow. These characters are not perfect. They fight but also accept their flaws and their love stories are always unique.
Beau is kind, gentle, patient and easygoing. I love his attitude towards everyone and especially towards Shelly. He respects her without pitying her and he sees her as a woman and not someone sick or crazy. He is caring and helpful and overall a decent human being.
Shelly is a woman that struggles with her mental disorder. She is a fighter and I love her honest tongue. She is sarcastic but without wanting to hurt anyone. I don't think there is a person out there that cannot connect somehow with her anxiety and her phobias. We all want acceptance and love and Shelly is not any different. Her disorder is harder to overcome but the core of the woman is pure. I admire her desire to support Beau and how much she is there for him.
These two might start as enemies but their chemistry is sizzling and under the "hateful" glares there is an attraction off the charts. Their romance is slow burn and it's beautiful to see them falling in love and having to face their problems together.
As always, all the Winston family and the side characters are there to complete the story and I have to say that I have wanted from the start the book for Billy and now I am even more excited!
When you open a book by Penny Reid, you know you will read a love story different than everything you know but you will certainly love it! Beard in Mind is an emotional, touching book that will make you cherish this series even more!

Buy here: https://www.amazon.com/Beard-Mind-Winston-Brothers-Book-ebook/dp/B074FYPLZD/ref=sr_1_1?ie=UTF8&qid=1502449860&sr=8-1&keywords=beard+in+mind