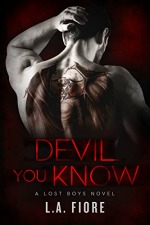 L.A. Fiore returns with a suspenseful story about love, friendship and family. Things are not always what they seem and two young people will connect as soulmates and shine their light into a world of darkness.
Damian was only a child when he learned what abandonment and hate means. Having being treated as the devil, it was only natural to feel like one. His fears and doubts though are erased in the company of a bright girl, Thea and her family.
Thea knows happiness through her family and when she meets the lonely boy, she wants to share her brightness and show him that there is more than anger. Together they explore their first love but they both have to grow up to connect forever.
The years pass, they separate but their bond remains strong. When tragedy strikes Damian will do anything to keep her safe. Suddenly, danger threatens their world but Damian and Thea along with their family and friends will fight for justice and their happily ever after.
Thea is one of the best female heroines I have ever read. She is caring, she has a colorful personality and her humor is charming. She is so different than Damian and she just completes him. I love how patient she is and understanding to him though the man really pushes her limits.
Damian is a man a little broken. His past brought tears to my eyes and I felt so much compassion for him. Although, he is hurt and has some insecurities I love that he remains quiet and respectful. He is intense as a kid and he becomes a silent, protective man.
I have to warn you that their relationship starts strongly as teenagers but though they love each other truly, there are many obstacles in their way and they reconnect as a real couple much later. Sometimes I wanted to push Damian a little so as not to resist Thea. However, not once you will doubt their forever love. They are born for each other.
The thing that will win your heart in this story is the secondary characters. Every little character is written masterfully and is supportive of the couple. Each one has their role and they complete the interesting storyline. I LOVED the idea of a family not bonded only by blood and in the end, I found myself wondering about them and wanting their own books and thankfully, the author is ready to give us more.
The beginning of this story will make you cry, their teenage love will make you sigh and their forever bond and their epilogue will make you smile. Now how can we convince the author to give us many, many more books about them?!
Buy here:https://www.amazon.com/Devil-Know-Lost-Boys-Book-ebook/dp/B06XC7P363/ref=tmm_kin_swatch_0?_encoding=UTF8&qid=1490348014&sr=8-1