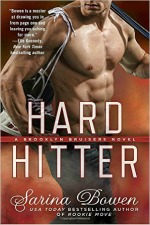 I have liked the first book of this series but this one is so much better! Sarina Bowen brings us a story romantic, swoony with a little bit of drama and a lot of hot tension!
Patrick O'Doul is the Brooklyn Bruisers' captain and the enforcer of his team. That means that on the ice when the gloves come off, the fight is on! After ten years of hard games, he starts to feel the pain and the uncertainty of what he can endure hurts him more.
Ariana is the team's massage therapist/yoga instructor and ready to tame the gruff man on her table. He resists all the way but her sooth touch captures his body and his mind.
I loved Patrick's personality. He is rough around the edges, a bit of a loner and he guards his secrets and his insecurities. I found surprising how much he changes throughout the book. His relationship with Ari makes him more social, romantic, a better teammate and captain. He is understanding, protective and caring. He opens his heart to her and he respects her boundaries and her fears. I adored that he didn't appear arrogant or selfish and it was a wonderful thing to see him searching of ways to woo her.
Ariana on the other hand is a girl on a boys' game and she wants to be perfect on her job. She has an abusive ex and she is not prepared to move forward on a new relationship. The only problem is Patrick makes it impossible. She may be reluctant to trust again another man that can hurt her, but he shows her with his actions that he is there to offer her everything. I liked Ariana as a character, especially with her friends and her colleagues. She is an easygoing girl who wants to help, very social and she has that calmness of a yoga instructor. My only objection was that I found her actions towards her ex sometimes frustrating and I would have loved if she didn't have so many doubts about Patrick, but I understand that all her ex's drama confused her.
Their relationship is sweet, steamy and Patrick steals the show with his affections and his words!
I cannot wait to read the next book and I am crossing my fingers about more stories from this great world of hockey!
Buy here: https://www.amazon.com/Hard-Hitter-Brooklyn-Bruisers-Book-ebook/dp/B01N0KZ7DG/ref=sr_1_2?ie=UTF8&qid=1483905459&sr=8-2&keywords=hard+hitter+sarina+bowen