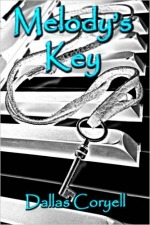 Dallas Coryell is a songwriter and a new author that wrote a sweet story full of songs given by the heart.
Tegan is a girl burdened by responsibilities. She has abandoned her artistic talents , so as to help her family with their holiday excursion business. She does her daily jobs without complaining, happy to help her parents with their money troubles. When a famous pop artist uses their place for hiding from the spotlight, her life turns upside down.
Soon she finds out that Mason is not a conceited singer. He is not what she expects. Slowly and steadily, they get to know each other , sharing their hopes , their dreams and their secrets.
Their love for the music connects them and the lyrics they write together unite their souls. I have to admit the songs were one of the most beautiful aspects of this story and the fact that the author has these songs ready to be heard on YouTube made it more real.
Mason is the perfect man. He is sensitive, kind and he expresses his interest and his love so openly. I was happy to see that he was open to say his fears and admit his loneliness and his need to have a family and someone to love him.
Tegan having being hurt in the past was more insecure and she was harder to connect to with her hot and cold attitude. I was not fond of her hostility towards Mason but at least she admitted her mistakes and apologized.
The writing was a bit descriptive for my taste but the lyrics of the songs and some letters included in the book were beautifully written. Also, Mason expressed his feelings and his love romantically , something that I loved.
This is a slow burn romance accompanied by great songs and I think that this author and songwriter has many potential.
Buy here: https://www.amazon.com/Melodys-Key-Dallas-Coryell/dp/1533430217/ref=sr_1_1?ie=UTF8&qid=1480839765&sr=8-1&keywords=dallas+coryell