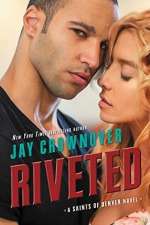 I don't know why I keep getting surprised by Jay Crownover, because every time she proves her ability to write different stories, but somehow that continues happening to me. Over and over she takes a simple idea and turns it into an extraordinary book and after reading it, I am always wondering how she did that. She is one of my most favorite authors because she has the talent to have diversity in her stories and she can write about a mafia boss, a soldier, a cowboy with the same excellence.
Riveted is about a man tortured, a past soldier that leaves with fear and regret every day. Church has left the war behind but the darkness still haunts him. After losing some important people in his life, he prefers to stay away from his family. He thinks leaving them alone is the best for them and for him. He doesn't allow anyone getting close to him even the girl he dreams about for years. He doesn't want to hurt her but Dixie is so irresistible with her sunny personality.
Dixie sees her friends falling in love and she wants exactly that; the only problem is that her dream man is sullen, distant and uncommunicative. She offers him her smile and her heart openly but the man doesn't give her even a chance.
When he asks for her help by going with him in his hometown in Mississippi, she cannot refuse. Having being forced to spend a lot of time together, Church can give her his body and some fun but not forever. Although, Dixie knows she cannot avoid heartbreak, she cannot say no to him and though Church doesn't want to get involved, the positive girl is all he wants.
As Church takes her to his family to help him reconnect with them, they start to fall in love with their whole hearts. They are so different but they match perfectly.
I loved this couple. Church has intensity in him, he is broody and badass. He is cool, calm, strong but underneath his sturdy personality, he has sensitivity. He is hurt by the losses of his life and he wants to love and be loved but he is just afraid. I adore that he is a man that appears unruffled but in reality he has the most insecurities.  A man that wants not to fall in love steals your heart when he feels so passionate about someone. As for Dixie, she is so amazing and loveable. She is always positive, upbeat and with a ready smile. I loved her caring nature and that she is not afraid to want a husband, kids and a nice home. Just a humble dream but so important for her. It takes a person to be stronger for focusing on the good and leave the negativity behind and Dixie is this kind of special. Church might be the soldier but for me Dixie is the truth fighter. She fights for her friends, her lover and her family and that is truly admirable.
Another aspect of this story that I found great was the secondary characters. Church's family is so supportive and there for both of them and Dixie's family and friends so complicated that promise another fantastic story to come.
This story is about love, self-worth, family with a touch of adventure and mystery! Jay might surprise me every time with her different ideas but one thing is sure, she writes interesting stories that will hold your attention and steal your heart!
Buy here: https://www.amazon.com/Riveted-Saints-Denver-Jay-Crownover-ebook/dp/B01G1FJV8Y/ref=sr_1_1?ie=UTF8&qid=1487522826&sr=8-1&keywords=riveted+jay+crownover