Wait for It by Mariana Zapata (Read my Review)
If anyone ever said being an adult was easy, they hadn't been one long enough.
Diana Casillas can admit it: she doesn't know what the hell she's doing half the time. How she's made it through the last two years of her life without killing anyone is nothing short of a miracle. Being a grown-up wasn't supposed to be so hard.
With a new house, two little boys she inherited the most painful possible way, a giant dog, a job she usually loves, more than enough family, and friends, she has almost everything she could ever ask for.
Except for a boyfriend.
Or a husband.
But who needs either one of those?
Egomaniac by Vi Keeland (Read my Review)
The night I met Drew Jagger, he'd just broken into my new Park Avenue office.
I dialed 9-1-1 before proceeding to attack him with my fancy new Krav Maga skills.
He quickly restrained me, then chuckled, finding my attempted assault amusing.
Of course, my intruder had to be arrogant.
Only, turned out, he wasn't an intruder at all.
Drew was the rightful occupant of my new office. He'd been on vacation while his posh space was renovated.
Which was how a scammer got away with leasing me office space that wasn't really available for rent.
I was swindled out of ten grand.
The next day, after hours at the police station, Drew took pity on me and made me an offer I couldn't refuse. In exchange for answering his phones while his secretary was out, he'd let me stay until I found a new place.
I probably should have acted grateful and kept my mouth shut when I overheard the advice he was spewing to his clients. But I couldn't help giving him a piece of my mind.
I never expected my body to react every time we argued. Especially when that was all we seemed to be able to do.
The two of us were complete opposites. Drew was a bitter, angry, gorgeous-as-all-hell, destroyer of relationships. And my job was to help people save their marriages.
The only thing the two of us had in common was the space we were sharing.
And an attraction that was getting harder to deny by the day.
#Blur by Cambria Hebert (Read my Review)
Nothing but a #blur…
There's a new kid in town, and he's hell on wheels.
From what we've heard, it may be because
he knows exactly what hell's like.
Lonely.
Scorching.
Unforgiving.
You may know his brother, the NRR hotshot
(and former GearShark cover model)
Lorhaven.
It's only natural a driver with his background and family connections
has sped his racecar into the newest, hottest division.
But that's not all.
Arrow may be following in big bro's tread marks,
but he doesn't plan to stay there.
He's swerving onto the road less traveled…
and a lot more controversial.
He's opening up about his private struggles with sexuality
to tell a story that's gone unheard until now.
One thing's for sure; Arrow may have a painful past,
but his foot is heavy on the accelerator.
With speed like this, he's bound to leave everything behind in
nothing but a #blur.
Check out the full feature article inside…
To Have It All by B.N. Toler (Read my Review)
Rock bottom.
Liam had set up shop there.
After an accident left him injured and unable to work, it wasn't long before he ended up on the street with his dreams in the gutter.
This was it.
This was his life.
Until the day he met Max Porter—a man who appeared to have it all. They didn't meet so much as made eye contact as Max sneered at Liam, the bum occupying precious space on the sullied New York City street.
When Max stepped into oncoming traffic, a lesser man might've let him. But Liam risked his life to save Max only to be left to die without a second thought.
When Liam woke up days later, he wasn't himself…at least he wasn't in his body.
He was in Max's.
And with Liam's body on life support, there was only one logical conclusion: Max was trapped in Liam's comatose body.
Somehow the twisted hands of fate had given Liam a second chance; a chance to have it all. But with all the perks of Max's life also came his problems. Finding balance in his new identity was challenged more so once Liam fell for Waverly, Max's beautiful ex.
Could Liam live out his life as another man or would he pull the plug and let fate decide?
Would he lose his chance at true love?
Would he lose the chance to have it all?
Jordan Reclaimed by Scarlett Cole (Read my Review)
Jordan Steele's life began when he was ten. When he was taken from his parents and a house that was never a home. When he met his brothers, the other lost and abandoned boys in his group home. When he learned what friendship and family and love looked like.
Now he's made good, touring the world with the band he and his brothers formed in that crowded group home. No one but his found family really knows the man under the fame and fortune, the scars he hides behind the rockstar lifestyle. Until he sees her through the windows of the National Ballet, dancing, and suddenly the world doesn't seem so dark.
Aleksandra Artemov ticks all the ballet boxes. Father a legendary Kirov dancer. Check. Prepping since birth for classical ballet. Check. Compulsive control over the food she eats. Check. Principal dancer at The National Ballet of Canada. Check. But what she craves is freedom.
She craves Jordan.
Everything about him should terrify her. His size, his tattoos, his edge. But he doesn't. He stirs her very soul. Jordan has nothing but himself to offer her, and he's never been good enough for anyone. Can he figure out how to face his own demons before he loses his light for good?
Stay by A.L. Jackson (Read my Review) 
I'm Ash Evans.
The life of the party.
Hot. Rich. Charismatic.
A tattooed rock star with the world at my feet.
I burn through women faster than the strike of a match.
I've embraced my lifestyle and live it to the fullest.
Until the day my lifestyle caught up to me.
Willow Langston found me at my lowest.
Literally.
Facedown in a puddle of my own blood.
I owe her my life and I have three months to repay that debt.
What I never should have done was touch her. Kiss her. Take her to my bed.
Love wasn't supposed to be a part of the equation.
I gave up that nasty complication a long damned time ago.
Now I want her more than my next breath.
But she doesn't know what I know.
Do I leave to protect her? Or can I face my demons and ask her to Stay?
The Someday Girl by Julie Johnson (Read my Review)
THE SOMEDAY GIRL is the 85,000 word follow up to THE MONDAY GIRL. It concludes the angsty, addictive storyline of THE GIRL duet. PRE-ORDER NOW FOR ONLY $2.99!
The movie has wrapped, but the drama is just getting started…
Katharine Firestone finally has everything she's ever wanted — new house, new car, new status as a Hollywood A-lister. And yet, she's never felt more isolated. As the movie premiere creeps closer, Kat spends her days playing an infatuated co-star for the press tour cameras, and her nights wondering what the hell she's going to do to fix the mess she's made out of her personal life.
One broken girl.
Two heart-stopping men.
One impossible decision.
Torn between the heartbreaker she tried to avoid and the man she never saw coming, Kat will be forced to answer the ultimate question: Do we get a say when it comes to choosing our soulmate?
Love. Lust. Passion. Paparazzi. The road to fame and fortune is never easy. And, in the City of Angels, the only place they guarantee a happily-ever-after is in the movies…
Mists of The Serengeti by Leylah Attar (Read my Review)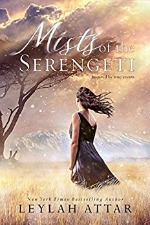 Once in Africa, I kissed a king…
"And just like that, in an old red barn at the foothills of Mount Kilimanjaro, I discovered the elusive magic I had only ever glimpsed between the pages of great love stories. It fluttered around me like a newborn butterfly and settled in a corner of my heart. I held my breath, afraid to exhale for fear it would slip out, never to be found again."
When a bomb explodes in a mall in East Africa, its aftershocks send two strangers on a collision course that neither one sees coming.
Jack Warden, a divorced coffee farmer in Tanzania, loses his only daughter. An ocean away, in the English countryside, Rodel Emerson loses her only sibling.
Two ordinary people, bound by a tragic afternoon, set out to achieve the extraordinary, as they make three stops to rescue three children across the vast plains of the Serengeti—children who are worth more dead than alive.
But even if they beat the odds, another challenge looms at the end of the line. Can they survive yet another loss—this time of a love that's bound to slip through their fingers, like the mists that dissipate in the light of the sun?
"Sometimes you come across a rainbow story—one that spans your heart. You might not be able to grasp it or hold on to it, but you can never be sorry for the color and magic it brought."
A blend of romance and women's fiction, Mists of The Serengeti is inspired by true events and contains emotional triggers, including the death of a child. Not recommended for sensitive readers. Standalone, contemporary fiction.
How to Date a Douchebag: The Failing Hours by Sara Ney (Read my Review)
Zeke Daniels isn't just a douchebag; he's an asshole.
A total and complete jerk, Zeke keeps people at a distance. He has no interest in relationships–most assholes don't.
Dating? Being part of a couple? Nope. Not for him.
He's never given any thought to what he wants in a girlfriend, because he's never had any intention of having one.Shit, he barely has a relationship with his family, and they're related; his own friends don't even like him.
So why does he keep thinking about Violet DeLuca?
Sweet, quiet Violet–his opposite in every sense of the word.
The light to his dark, even her damn name sounds like rays of sunshine and happiness and shit.And that pisses him off, too.
Good Boy by Sarina Bowen and Elle Kennedy (Read my Review)
Hosting her brother's wedding for an MVP guest list is the challenge of Jess Canning's life. Already the family screw-up, she can't afford to fail. And nobody (nobody!) can learn of the colossal mistake she made with the best man during a weak moment last spring. It was wrong, and there will not be a repeat. Absolutely not. Even if he is the sexiest thing on two legs.
Blake Riley sees the wedding as fate's gift to him. Jess is the maid of honor and he's the best man? Let the games begin. So what if he's facing a little (fine, a lot) of resistance? He just needs to convince the stubborn blonde that he's really a good boy with a bad rap. Luckily, every professional hockey player knows that you've got to make an effort if you want to score.
But Jess has more pressing issues to deal with than sexy-times with a giant man-child. Such as: Will the ceremony start on time, even though someone got grandma drunk? Does glitter ever belong at a wedding? And is it wrong to murder the best man?
Caution: May cause accidental aspiration of tea or coffee. Do not read in a public place where loud laughter is inappropriate. Contains hot but hilarious hockey players, puppy cuddling and a snarky pair of underwear.
Singe by Aly Martinez (Read my Review)
She was my nightmare. Every time I closed my eyes, I watched her fall into that inferno. Over and over, I failed to save her.
I hadn't been able to reach her, and the guilt only burned hotter over time. Four years later, I was the unreachable one.
Heroes aren't always saints. Sometimes, we're nothing more than jaded sinners driven by sleepless nights and hearts full of darkness.
And then I met her. She was a dreamer who managed to soothe my scars and heal my wounds.
But, as the flames closed in around us, I feared I wasn't the right man to save her. That is until I realized she was the one woman I'd burn the world down to protect.
Riveted by Jay Crownover (Read my Review)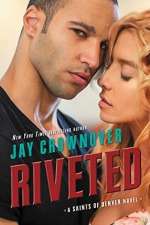 Everyone else in Dixie Carmichael's life has made falling in love look easy, and now she is ready for her own chance at some of that happily ever after. Which means she's done pining for the moody, silent former soldier who works with her at the bar that's become her home away from home. Nope. No more chasing the hot as heck thundercloud of a man and no more waiting for Mr. Right to find her; she's going hunting for him…even if she knows her heart is stuck on its stupid infatuation with Dash Churchill.
Denver has always been just a pit stop for Church on his way back to rural Mississippi. It was supposed to be simple, uneventful, but nothing could have prepared him for the bubbly, bouncy redhead with doe eyes and endless curves. Now he knows it's time to get out of Denver, fast. For a man used to living in the shadows, the idea of spending his days in the sun is nothing short of terrifying.
When Dixie and Church find themselves caught up in a homecoming overshadowed with lies and danger, Dixie realizes that while falling in love is easy, loving takes a whole lot more work…especially when Mr. Right thinks he's all wrong for you.
Royally Matched (Read my Review)
Some men are born responsible, some men have responsibility thrust upon them. Henry John Edgar Thomas Pembrook, Prince of Wessco, just got the motherlode of all responsibility dumped in his regal lap.
He's not handling it well.
Hoping to help her grandson to rise to the occasion, Queen Lenora agrees to give him "space"—but while the Queen's away, the Prince will play. After a chance meeting with an American television producer, Henry finally makes a decision all on his own:
Welcome to Matched: Royal Edition.
A reality TV dating game show featuring twenty of the world's most beautiful blue bloods gathered in the same castle. Only one will win the diamond tiara, only one will capture the handsome prince's heart.
While Henry revels in the sexy, raunchy antics of the contestants as they fight, literally, for his affection, it's the quiet, bespectacled girl in the corner—with the voice of an angel and a body that would tempt a saint—who catches his eye.
The more Henry gets to know Sarah Mirabelle Zinnia Von Titebottum, the more enamored he becomes of her simple beauty, her strength, her kind spirit… and her naughty sense of humor.
But Rome wasn't built in a day—and irresponsible royals aren't reformed overnight.
As he endeavors to right his wrongs, old words take on whole new meanings for the dashing Prince. Words like, Duty, Honor and most of all—Love.
Mastering Her Senses by Laura Kaye (Read my Review)
He wants to dominate her senses—and her heart…
Quinton Ross has always been a thrill-seeker—so it's no surprise that he's drawn to extremes in the bedroom and at his play club, Blasphemy, where he creates sense-depriving scenarios that blow submissives' minds. Now if he could just find one who needs the rush as much as him…
Cassia Locke hasn't played at Blasphemy since a caving accident left her with a paralyzing fear of the dark. Ready to fight, she knows just who to ask for help—the hard-bodied, funny-as-hell Dom she'd always crushed on—and once stood up.
Quinton is shocked and a little leery to see Cassia, but he can't pass up the chance to dominate the alluring little sub this time. Introducing her to sensory deprivation becomes his new favorite obsession, and watching her fight fear is its own thrill. But when doubt threatens to send her running again, Quinton must find a way to master her senses—and her heart.
Don't Speak by Katy Regnery (Read my Review)
In this modern retelling of The Little Mermaid, a fisherman's daughter from an Outer Banks island untouched by time, meets the son of the North Carolina governor at a fancy party where she is working.
Laire, who wants more from life than her little island can offer, is swept away by wealthy, sophisticated Erik, who is, in turn, entranced by her naiveté and charm. The two spend a whirlwind summer together that ends on the knife-point of heartbreak and forces them to go their separate ways.
Years later, when fate finds them together once again, they will discover the terrifying depth of the secrets they kept from each other, and learn that shattered hearts can only be healed by a love that willfully refuses to die.
All novels Katy Regnery's ~a modern fairytale~ collection are written as fundraisers. 10% of the e-book sales for in March and April 2017 will be donated.
Lost in Between by K.L. Kreig (Read my Review)
We all have one.
A price.
That magic number that will get us to agree to do anything, be anything.
Don't sit on your gold-plated high horse and say you don't because you do. Everyone does. Each of us has something we covet enough that we'd sell ourselves to have it.
What's my tipping point, you ask? Apparently a cool quarter mil will do the trick.
What does one do for 250 large, you wonder? Anything the infamous, gorgeous playboy of Seattle wants. For the next four months I'll be Shaw Mercer's arm candy, his beck and call girl, his faux girlfriend. I'll be his to command, mold, push and pull in any direction he sees fit.
I'll fight falling into bed with him. I'll fight falling in love with him even harder. I'll fail at both. And when my past and present collide in the most unexpected of ways, I'll learn that while one man's love for me has never died, the only man's love I really want will never be mine.
*warning: 18+ only. Contains foul language, explicit sex and a hot alpha (or two, or three). NOTE: Book 1 in a duet. Conclusion in FOUND UNDERNEATH, out May 2017.
The Coppersmith Farmhouse by Devney Perry (Read my Review)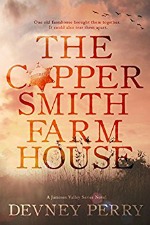 One old farmhouse brought them together. It could also tear them apart.
Gigi has just uprooted her whole world to start a new life. The unexpected gift of a farmhouse in small-town Montana is just what she and her daughter need to escape big-city loneliness. The last thing she needs is attitude from the town's sheriff, the most perfectly attractive and ruggedly handsome man she's ever laid eyes on—and a complete jerk.
Jess knows all about women like Gigi. Beautiful. Sexy. Scheming. She's stolen his sanctuary, the farmhouse that should have been his. But along with a face full of freckles, she's got a sharp wit and a backbone of steel—something he doesn't discover until after making a complete fool of himself. If he can earn back her trust and win her heart, he might just find the home he's always needed.
Riot by Tillie Cole (Read my Review)
They call me 901. I am a monster, a killer, a champion. In the blood pit I am a god. I have no name, no family, and no identity. When master says fight, I fight…until I am the only one left standing. I have one goal, to fight so well that I am freed. I don't need friends, I don't need women. They are weaknesses. I am strong.
Until I see her. She is gorgeous and kind and off-limits to me. She was stolen as a child to be the worst type of slave and now master wants her. What he wants, he gets. With a smile, she melts my brutal heart. I have never wanted anything more.
I need to make a choice. Freedom or Love. I cannot choose wrong.
Devil You Know by L.A. Fiore (Read my Review)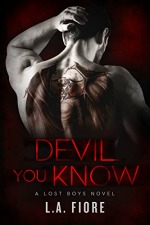 Damian Tate. One look into his sad green eyes and I was hooked. I wanted to be the one to make him laugh, to make him smile. I hadn't expected him to be the one to make me blush, to make me hot…to make me fall in love. He was my first kiss, my first love, my first everything. I wanted forever with him, but life got in the way.
He enlisted, I went to college, and for years we were never in the same place long enough to pick up where we left off.
Thirteen years after he left, tragedy brings him home. The stoic boy I fell in love with grew into a quiet, dangerous and wildly sexy man. He still tugs on all the right strings for me, but he seems determined to keep me at arm's-length.
However, when trouble comes knocking at my door, he is the one to put himself between that trouble and me.
Spending time with him might drive me insane, or it might be our second chance at first love.
Due to strong language and sexual content, this book is not intended for readers under the age of 18.
An Act of Courage by K.C. Lynn (Read my Review)
She's the light from his past.
He's the one her heart has always longed for.
Trained by the best, Christopher Walker has fought hard for his country and even harder to forget the only girl he's ever loved. He spent countless nights submerged in death and destruction only to find himself clinging to the memories of her when the darkness crept in.
When her life is threatened, Christopher will stop at nothing to protect her. Even if it means having to confront his past.
Alissa Malone never thought she would find herself face-to-face again with the only boy she's ever loved. But she soon realizes Christopher is not the same man he once was.
His touch is still electrifying—his voice still earth shattering. But there's a darkness about him that wasn't there before. A pain he harbors so deep that she can feel it all the way to her soul.
One fateful moment destroyed his very existence, and only one person will be able to make him realize that what he considers an act of dishonor was truly an act of courage.
***
This is Book Four in the Acts Of Honor series, the spin-off series to Men Of Honor. It is not necessary to read all the other books in the series. However, I do highly recommend that you at least read Resisting Temptation, the third book in the Men of Honor series since this is where these Characters story began.
The Brave Line by Kate Stewart (Read my Review)
She is a five foot seven long list of things he can't have.
He is a determined cop, desperate to keep his heart sealed behind his badge.
Michelle is a survivor. With a fresh perspective on life, she trades her tragic past in California for the coastal waters of Charleston. Fueled by a new career as a dispatcher, she's determined not to let her scars weigh her down. She apologizes for nothing, especially her insatiable need for a certain police officer.
Rowdy is a newly minted sergeant dedicated to his job, but the life of a Charleston police officer has never been more dangerous. With his need to take order of a city spiraling out of control, the last thing he wants is an entanglement with a mouthy dispatcher. But, there's just one problem. He can't get enough of her.
As the heat rises between the unlikely pair, so does the tension.
Three months of summer was all it took to shake their foundations, rattle their walls, and bring them crashing down.
It was lust.
It was love.
It was real.
And it would have been perfect . . . if it wasn't already over.
Note to reader:
This book has several elements and explores topics that some may consider triggers. For mature audiences only. Explicit sex, violence, and language.
The Storm by R.J. Prescott (Read my Review) 
Marie Kelly is a survivor who doesn't know when to quit. Against all odds, she's living a life she never dreamed she could have. It was enough…until a stubborn fighter makes her want more.
Irish charmer Kieran Doherty has been a fighter at Driscoll's Gym for most of his life. He's been content to let his best friend take the spotlight, now it's his turn to make a name for himself in the world of heavy weight champions. Falling in love is the one thing he vowed never to do, but meeting Marie changed everything.
It's easy to imagine a happy ever after when the sun is shining. But when the storm comes, and all hope seems lost, they both learn that if you want something badly enough, you have to be willing to fight for it.
The Storm is a stand alone companion novel to The Hurricane and The Storm. Heavy language and sexual content means that this book is intended for persons aged 18+.
The Opposite of You by Rachel Higginson (Read my Review)
I've sworn off men.
All men.
Famous last words, right? You're expecting some epic tale of reluctant love and my dramatic change of heart? Well, you're not going to get it.
I'm stubborn. And headstrong. And I've just survived the worst three years of my life. After escaping an abusive boyfriend to live in hostels and cheap hotels while I worked my way across Europe, I've come to two conclusions.
The first? Now that I'm back home, I'm going to squander my expensive culinary degree on a food truck that caters to the late night drunk crowd.
The second? I'm going to prove to the bastard across the plaza that my street food is better than his fussy five course monstrosities.
Killian Quinn might be Food and Wine's Chef to Watch Out For. He might have a Michelin Star. He might have every food critic in the city wrapped around his too-large fingers. But he's also pretentious and unbearably arrogant and the very opposite of me.
So he can keep his unsolicited advice and his late night visits and his cocky smiles. I want none of it. Or him.
I want the opposite.
The Butterfly Project by Emma Scott (Read my Review)
"Where you are is home…" At age fourteen, Zelda Rossi witnessed the unthinkable, and has spent the last ten years hardening her heart against the guilt and grief. She channels her pain into her art: a dystopian graphic novel where vigilantes travel back in time to stop heinous crimes—like child abduction—before they happen. Zelda pitches her graphic novel to several big-time comic book publishers in New York City, only to have her hopes crash and burn. Circumstances leave her stranded in an unfamiliar city, and in an embarrassing moment of weakness, she meets a guarded young man with a past he'd do anything to change… Beckett Copeland spent two years in prison for armed robbery, and is now struggling to keep his head above water. A bike messenger by day, he speeds around New York City, riding fast and hard but going nowhere, his criminal record holding him back almost as much as the guilt of his crime. Zelda and Beckett form a grudging alliance of survival, and in between their stubborn clash of wills, they slowly begin to provide each other with the warmth of forgiveness, healing, and maybe even love. But when Zelda and Beckett come face to face with their pasts, they must choose to hold on to the guilt and regret that bind them, or let go and open their hearts for a shot at happiness. The Butterfly Project is a novel that reveals the power of forgiveness, and how even the smallest decisions of the heart can—like the flutter of a butterfly's wings—create currents that strengthen into gale winds, altering the course of a life forever.
The Hot Shot by Kristen Callihan (Read my Review)
First we were friends. Then we were roommates. Now I want more…
What can I say about Chess Copper? The woman is capable of bringing me to my knees. I know this about five minutes after getting naked for her.
No one is more surprised than me. The prickly photographer my team hired to shoot our annual charity calendar isn't my usual type. She's defense to my offense, a challenge at every turn. But when I'm with her, all the regrets and darkness goes away. She makes life fun.
I want to know Chess, be close to her. Which is a bad idea.
Chess is looking for a relationship. I've never given a woman more than one night. But when fate leaves Chess without a home, I step up and offer her mine. We're roommates now. Friends without benefits. But it's getting harder to keep our hands off each other. And the longer we live together the more I realize she's becoming my everything.
Trick is… Now that I've made her believe I'm a bad bet, how do I convince her to give this player a true shot at forever?
The Gravity of Us by Brittainy C. Cherry (Read my Review)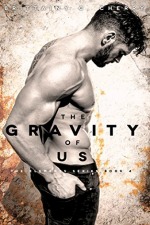 Graham Russell and I weren't made for one another.
I was driven by emotion; he was apathetic. I dreamed while he lived in nightmares. I cried when he had no tears to shed.
Despite his frozen heart and my readiness to run, we sometimes shared seconds. Seconds when our eyes locked and we saw each other's secrets. Seconds when his lips tasted my fears, and I breathed in his pains. Seconds when we both imagined what it would be like to love one another.
Those seconds left us floating, but when reality knocked us sideways, gravity forced us to descend.
Graham Russell wasn't a man who knew how to love, and I wasn't a woman who knew how to either. Yet if I had the chance to fall again, I'd fall with him forever.
Even if we were destined to crash against solid ground.
180 Seconds by Jessica Park (Read my Review)
Some people live their entire lives without changing their perspective. For Allison Dennis, all it takes is 180 seconds…
After a life spent bouncing from one foster home to the next, Allison is determined to keep others at arm's length. Adopted at sixteen, she knows better than to believe in the permanence of anything. But as she begins her third year in college, she finds it increasingly difficult to disappear into the white noise pouring from her earbuds.
One unsuspecting afternoon, Allison is roped into a social experiment just off campus. Suddenly, she finds herself in front of a crowd, forced to interact with a complete stranger for 180 seconds. Neither she, nor Esben Baylor, the dreamy social media star seated opposite her, is prepared for the outcome.
When time is called, the intensity of the experience overwhelms Allison and Esben in a way that unnerves and electrifies them both. With a push from her oldest friend, Allison embarks on a journey to find out if what she and Esben shared is the real thing—and if she can finally trust in herself, in others, and in love.
The Queen and the Cure by Amy Harmon (Read my Review)
There will be a battle, and you will need to protect your heart.
Kjell of Jeru had always known who he was. He'd never envied his brother or wanted to be king. He was the bastard son of the late King Zoltev and a servant girl, and the ignominy of his birth had never bothered him.
But there is more to a man than his parentage. More to a man than his blade, his size, or his skills, and all that Kjell once knew has shifted and changed. He is no longer simply Kjell of Jeru, a warrior defending the crown. Now he is a healer, one of the Gifted, and a man completely at odds with his power.
Called upon to rid the country of the last vestiges of the Volgar, Kjell stumbles upon a woman who has troubling glimpses of the future and no memory of the past. Armed with his unwanted gift and haunted by regret, Kjell becomes a reluctant savior, beset by old enemies and new expectations. With the woman by his side, Kjell embarks upon a journey where the greatest test may be finding the man she believes him to be.
Dating-ish by Penny Reid (Read my Review)
There are three things you need to know about Marie Harris: 1) She's fed up with online dating, 2) She's so fed up, she's willing to forego the annoyance and consider more creative alternatives, and 3) She knows how to knit.
After the most bizarre and irritating first date in the history of humankind, Marie is looking for an alternative to men. With the help of her friends, she quickly identifies a few possibilities:
Need a cuddle? Use a professional cuddler.
Need affirmation? Get yourself a life coach.
Need an orgasm? Try orgasm meditation!
Why does she need the hassle of a romantic partner when she can meet all her needs with paid services?
But then her irritating date resurfaces. And he's not at all the person she thought he was. And he suggests a different–and crazier–solution to her dilemma . . .
As everyone knows (or will soon come to realize), traditional relations between humans are a thing of the past. Robots are our future. And if robots are our future, then why do we need other people at all?
'Dating-ish' can be read as a standalone, is a full length 100k word novel, and is book #6 in the Knitting in the City Series.
The Clover Chapel by Devney Perry (Read my Review)
She took a dare and fell in love. Truth would have been the smarter choice.
After years of living under her father's thumb, Emmeline is ready to break free. She's abandoned her life as a New York socialite to follow her dream of becoming a kindergarten teacher in a small, wholesome town. Seeing the man that nearly broke her was absolutely not what she had hoped to find in Prescott, Montana.
Nick hasn't seen his Emmy in nine years, but that doesn't mean he's forgotten a thing about the woman he loves. After just one blissful night as man and wife, he gave her up, sacrificing his own happiness to keep her safe—far away from him. But the moment she walks back into his lonely life is the moment he decides never to let her go again. He won't waste his second chance. All he has to do is win back Emmeline's heart, keep her safe from the shadows in his past and prove to her that taking a wager on him is a sure bet.
Stand by A.L. Jackson (Read my Review)
Zachary Kennedy has never been known as a fighter, but he'll never regret fighting for her…
I'm Zee Kennedy.
Quiet. Reserved. Predictable.
When my brother died, everyone thought I was just the good guy who stepped up to take his place in the band.
No one knew what I was hiding. The one thing I've been fighting for.
For six years, I've never lost focus.
Not until one chance encounter with Alexis Kensington.
Now she's become my greatest temptation.
I knew better than to touch her, but now that I've had a taste, I can't get enough.
Her kiss becomes my air. Her body my salvation.
She needed a savior and somehow she became mine.
Taking her was a betrayal. But keeping her means risking everything.
One look at Alexis Kensington, and I know she's worth the fight.
Will my past continue to keep me down or will I finally find the strength to pull myself up and Stand…
Fighting with Honor by K.C. Lynn (Read my Review)
Once a man pledges his honor to his country, that sacrifice is embedded in his soul forever. For years he's trained to fight, kill, and do whatever necessary to protect his country and its freedom, even if it means giving his own life.
He becomes more of a machine than human—one that's built to destroy the enemy.
When it's time to turn in his weapons, he never forgets the skills he learned. Never forgets the smell of death or feel of a rifle in his hands. The same hands that one day cradle his baby girl and caress the skin of his beautiful wife.
If anything or anyone ever tried to steal away the family he has vowed to love and protect, may God have mercy on their soul.
***
This is a Men of Honor novella. All prior Men of Honor stories must be read in order to read this one.
Sugar & Gold by Emma Scott (Read my Review)
Nikolai Alexei Young was born with a special gift…one he'd do anything to lose. The heart and soul of every person he comes into contact with is an open book to his heightened senses. Colorful emotions, whispers of thoughts, the sour tastes of old memories…He feels them all. The sci-fi books would call him an empath. For Nikolai, his ability has made him an exile. He roams the U.S. alone, avoiding the glut of life in big cities, and using his innate talents to win money in underground poker games. Just enough to keep going, one town to the next. He has no hope that his life can be anything else, until he meets her…
At nineteen, Fiona Starling was trapped in an ugly, desperate situation until she freed herself the only way she knew how. Now three years later, living outside Savannah, Georgia, she is rebuilding her life on her own terms; seizing every moment and saving every penny so that she might fulfill her dream of moving to the raw wilderness of Costa Rica. But behind her carefree smile beats the heart of a lonely young woman haunted by her past, until a chance encounter with a tattooed stranger changes everything…
Fiona takes Nikolai under her roof for three sultry nights, waiting out the rain of a summer storm. She grows more and more fascinated by this brooding stranger with whom she shares an intense physical connection—a connection so strong, she wonders if there is something between them beyond lust and passion. Nikolai is shocked to discover that Fiona calms the raging turmoil in his heart. She alone silences the din of other people's lives, and envelops him in the sweet beauty of her inner self. Every moment he's with her—every touch of her skin—brings him closer to the peace that's been eluding him his entire life.
But Fiona harbors secrets that she is too terrified to reveal. After Nikolai confesses his unique ability, she is caught between wanting to believe him and fearing he'll eventually unearth her own dark past. When the unthinkable happens, Fiona's plans come crashing down, and Nikolai discovers his hated ability might be the only thing that can save the woman he loves.
Sugar & Gold is a STANDALONE new adult romance with shades of the paranormal. Intended for readers 18 and up.
Salvaged by Jay Crownover (Read my Review)
Hudson Wheeler is a nice guy. Everyone knows it, including his fiancée who left him with a canceled wedding and a baby on the way. He's tired of finishing last and is ready to start living in the moment with nights soaked in whiskey, fast cars, and even faster girls. He's set to start living on the edge, but when he meets Poppy Cruz, her sad eyes in the most gorgeous face he's ever seen hook him in right away. Wheeler can see Poppy's pain and all he wants to do is take care of her and make her smile, whatever it takes.
Poppy can't remember a time when she didn't see strangers as the enemy. After a lifetime of being hurt from the men who swore to protect her, Poppy's determined to keep herself safe by keeping everyone else at arm's length. Wheeler's sexy grin and rough hands from hours restoring classic cars shouldn't captivate her, but every time she's with him, she can't help being pulled closer to him. Though she's terrified to trust again, Poppy soon realizes it might hurt even more to shut Wheeler out—and the intense feelings pulsing through her are making it near impossible to resist him.
The only thing Poppy is sure of is that her heart is in need of some serious repair, and the more time she spends with Wheeler, the more she's convinced he's the only man with the tools to fix it.
The Darkest Sunrise by Aly Martinez (Read my Review)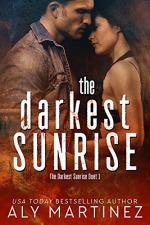 Sticks and stones will break my bones, but words will never harm me.
Whoever coined that phrase is a bald-faced liar. Words are often the sharpest weapon of all, triggering some of the most powerful emotions a human can experience.
"You're pregnant."
"It's a boy."
"Your son needs a heart transplant."
Sticks and stones will break my bones, but words will never harm me.
Lies.
Syllables and letters may not be tangible, but they can still destroy your entire life faster than a bullet from a gun.
Two words—that was all it took to extinguish the sun from my sky.
"He's gone."
For ten years, the darkness consumed me.
In the end, it was four deep, gravelly words that gave me hope of another sunrise.
"Hi. I'm Porter Reese."
Elusive by L.A. Fiore (Read my Review)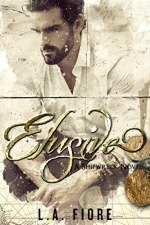 I didn't set out to be a pirate.
Life for me was about surviving the ugliness that people knew existed but didn't talk about.
I lived in hell.
Then I saw her.
I knew I couldn't keep her, but for just a little while I had found heaven.
Eight years later, I can't get her out of my head.
It is a mistake sailing to her island.
It is a mistake reaching out to her.
She doesn't recognize me. Or maybe she does.
Closure, it is all I'm after.
Then my past comes back to haunt me.
She's thrust into my ruthless world. An angel.
A romantic who has a journal that leads to a shipwreck and a lost treasure.
She wants to find the ending to a love story that is over two hundred years in the making.
I want to help her find it.
I didn't set out to be a pirate.
I didn't set out to fall in love with an angel.
I did both anyway.
Elusive is the first in a series of standalones. A contemporary, modern day romance. Due to strong language and sexual content, this book is not intended for readers under the age of 18.
So Good by Nicola Rendell (Read my Review)
On the roof of a house outside Truelove, Maine, master carpenter Max Doyle looks down through a skylight and sees the most beautiful woman he's ever laid eyes on. She's naked, she's gorgeous, and everything about her is perfect, down to the ball-busting tattoo of a rose that wraps around her hip. But it isn't just any woman making his knees buckle. It's his best friend, Rosie Madden. And as he stands there, mesmerized and precariously close to toppling off the roof, he knows he'll never, ever be able to look at her the same way again.
Rosie can't help but notice that Max is suddenly acting very strange—lots of long stares, totally tongue-tied, and not at all like the slightly cocky hunk she's proud to call her best friend. She can't figure it out, until later that night when Max rescues her from the world's worst date, challenges her to a game of pool, and shows her just exactly what she's got him thinking about. Repeatedly.
But life is complicated. Rosie's cat, Julia Caesar, wants to eat Max's dog Cupcake for an afternoon snack. A dream job threatens to pull them apart. And another glance through the skylight changes everything, one more time. Yet try as they might, they can't go back to being just friends, because falling in love with the one you've always adored?
It feels so good.
The Lucky Heart by Devney Perry (Read my Review)
Life on his ranch could be their future. If they can overcome their past.
Felicity's life story reads like the script to a bad soap opera. Girl's high-school boyfriend becomes a drug addict. Girl falls for boyfriend's best friend. Girl leaves them both behind only to return home years later for murdered ex-boyfriend's funeral. Now she's back home in Montana, ready to start fresh. She's got a long list of amends to make and relationships to rebuild, including one with the man who has owned her heart for sixteen years.
Silas doesn't need much. He's got a great horse, close friends and the Lucky Heart ranch, but something has always been missing. He's not an idiot. He knows the missing piece is Felicity. And now that she's returned to Prescott, he's got a second chance to win her heart. This time, the only thing standing in his way is history. Drudging up the past is going to be about as painful as playing tug of war with barbed wire. But if they can heal old wounds, he'll get the girl he should have had all along.
Ghosted by J.M. Darhower (Read my Review)
A new second chance romance standalone from USA Today bestselling author J.M. Darhower.
He's a troubled young actor, Hollywood's newest heartthrob, struggling with fame as the star of the latest superhero franchise. Through scandal after scandal, addiction on top of addiction, a flurry of paparazzi hunt him as he fights to conquer his demons.
She's a single mother, assistant manager at a grocery store, existing in monotony with her five-year-old daughter. Every day when she goes to work, lurid tabloids surround her, the face of a notorious bad boy haunting her from their covers.
A man and a woman, living vastly different lives, but that wasn't always the case. Once, they were just a boy and a girl who bonded over comic books and fell in love unexpectedly.
When Kennedy Garfield met Jonathan Cunningham back in high school, she knew he had all the makings of a tragic hero. With stars in his eyes, and her heart on her sleeve, the pair ran away together to follow their dreams.
But dreams, sometimes, turn into nightmares.
Now, years later, the only thing they share is a daughter—one who has no idea her father plays her favorite superhero. But Jonathan is desperate to make amends, and at the top of his list is the woman who gave up everything for him and the little girl he hasn't yet met.
Play On by Samantha Young (Read my Review)
Nora O'Brien chased a dream from Indiana to Scotland, so sure it was the right thing to do. Three years later she was left in her adopted country with nothing to her name but guilt and regret.
Until Aidan Lennox entered her life.
Older, worldlier, a music producer and composer, the sexy Scot should never have made sense for Nora. But somehow in each other they found the light they were looking for, the laughter and the passion—the strength to play on despite their past losses.
But when life dealt Aidan another unlucky hand, instead of reaching for her he disappeared. The agonizing loss of him inspired something within Nora. It fired her spirit— the anger and hurt pushing her forward to take control and reach for her dreams.
Finally pursuing a career on stage while she put herself through college, everything is how Nora wants it. She's avoiding heartbreak and concentrating on her goals.
Sounds easy but it's not. Because Aidan is back. And for some reason he hates Nora.
He's determined to be at war with her.
And she has absolutely no idea why.
Dear Bridget, I Want You by Penelope Ward and Vi Keeland (Read my Review)
Dear Bridget,
I'm writing this letter because it's highly doubtful I'll ever garner the courage to say this to your face.
So, here goes.
We're totally wrong for each other. You're the proper single mum with a good head on your shoulders. I'm just the carefree British doctor passing through town and temporarily living in your converted garage until I head back to England.
But here's the thing… for some bloody reason, I can't stop thinking about you in very inappropriate ways.
I want you.
The only reason I'm even admitting all of this to you right now is because I don't believe it's one-sided. I notice your eyes when you look at me, too. And as crass as I appear when we're joking around about sex, my attraction to you is not a joke.
So, what's the purpose of this note? I guess it's a reminder that we're adults, that sex is healthy and natural, and that you can find me just through the door past the kitchen. More specifically, it's to let you know that I'm leaving said door cracked open from now on in case you'd like to visit me in the middle of the night sometime.
No questions asked.
Think about it.
Or don't.
Whatever you choose.
It's doubtful I'll even end up sliding this letter under your door anyway.
–Simon
Exes with Benefits by Nicole Williams (Read my Review)
The only benefit I want from my ex is a divorce.
We got married for all the wrong reasons. The one thing we got right was our separation. I should have known better than to think I could bet on forever with a guy like Canaan Ford. Everything about him screamed impermanent, from his wild eyes to his restless soul.
When I left him and the small town I'd spent my whole life in, I swore I'd never go back. Never only turned out to be five years. Canaan claims he's changed, but he hasn't—same knowing smile, same rough demeanor, same body crafted from sin and sinew. And yet, something is different. He thinks this is his chance for redemption. My disagreement comes in the form of divorce papers dropped in his lap. He refuses to sign them. Unless . . .
He wants a month to prove himself to me—that's his offer. One month to make me fall in love with him again and if I don't, he'll sign the papers. As much as I want to say no, I agree. I can suffer my ex for a short amount of time if that's what it takes to be free of him once and for all. I fell for him once; I won't make that same mistake twice.
He says we're not over. I say we were over before we got started. Only one of us can be right, and I can't let it be him.
How to Date a Douchebag: The Learning Hours by Sara Ney (Read my Review)
He's not a douchebag; but that doesn't stop his friends from turning him into one.
MY FRIENDS WANT ME TO GET LAID.
So much so that they plastered my ugly mug all over campus, in bold printed letters:
"Are you the lucky lady who's going to break our roommate's cherry?
Him: socially awkward man with average-sized penis looking for willing sexual partner. You: must have a pulse. He will reciprakate with oral. Text him at: 555-254-5551
The morons can't even spell. And the texts I've been receiving are what wet dreams are made of. But I'm not like these douchebags, no matter how hard they try to turn me into one.
THIS ISN'T THE KIND OF ATTENTION I WANT.
One text stands out from hundreds. One number I can't bring myself to block. She seems different. Hotter, even in black and white.
However, after seeing her in person, I know she's not the girl for me. But my friends won't let up—they just don't get it. Douchebags or not, there's one thing they'll never understand: GIRLS DON'T WANT ME.
Especially her.
Show Me the Way by A.L. Jackson (Read my Review)
Rex Gunner. As bitter as he is beautiful.
The owner of the largest construction company in Gingham Lakes has been burned one too many times. His wife leaving him to raise their daughter was the last blow this single dad could take. The only woman he'll let into his heart is his little girl.
Rynna Dayne. As vulnerable as she is tempting.
She ran from Gingham Lakes when she was seventeen. She swore to herself she would never return. Then her grandmother passed away and left her the deed to the diner that she once loved.
When Rex meets his new neighbor, he knows he's in trouble.
She's gorgeous and sweet and everything he can't trust.
Until she becomes the one thing he can't resist.
One kiss sends them tumbling toward ecstasy.
But in a town this size, pasts are bound to collide. Caught in a web of lies, betrayal, and disloyalty, Rex must make a choice.
Will he hide behind his walls or will he take the chance . . .
Unloved by Katy Regnery (Read my Review)
My father, Paul Isaac Porter, was convicted twenty years ago for the brutal murder of a dozen innocent girls.
Though I was only eight-years-old at the time, I am aware – every day of my life – that I am his child, his only son.
To protect the world from the poison in my veins, I live a quiet life, off the grid, away from humanity.
I promised myself, and my mother, not to infect innocent lives with the darkness that swirls within me, waiting to make itself known.
It's a promise I would have kept…if Brynn Cadogan hadn't stumbled into my life.
Now I exist between heaven and hell: falling for a woman who wants to love me, while all along reminding myself that I must remain…
Unloved.
Logan by Jay McLean (Read my Review)
As a kid, Logan Preston was a brat.
Through his teens, he became the bad boy.
Now, at nineteen, no one knows what the hell to expect.
High school dropout, Logan Preston is a
good-for-nothing stoner.
A black sheep.
A disappointment.
The worst Preston Punk of the lot.
At least that's how everyone in his small town
makes him feel.
But Logan Preston has secrets.
Secrets so dark and so deep below the surface that the only way he can fight them is to stay high, high, high.
He wears cockiness as a mask.
Arrogance as his armor.
Until one girl, one night, asks one life-changing question:
What's beneath the bravado, Logan Preston?
Burn For You by J.T. Geissinger (Read my Review) 
The marriage is fake. But for a sassy chef and an arrogant billionaire, the sparks are real…
Jackson "The Beast" Boudreaux is rich, gorgeous, and unbelievably rude to the staff at Chef Bianca Hardwick's New Orleans restaurant. Bianca would sooner douse herself in hot sauce than cook for Jackson again, but when he asks her to cater his fund-raiser, Bianca can't refuse, knowing the cash will help pay her mother's medical bills. Then Jackson makes another outrageous request: Marry me. The unconventional offer includes an enormous sum—money Bianca desperately needs, even if it does come with a contract—and a stunning ring.
The heir to a family bourbon dynasty, Jackson knows the rumors swirling around him. The truth is even darker. Still, he needs a wife to secure his inheritance, and free-spirited, sassy Bianca would play the part beautifully. Soon, though, their simple business deal evolves into an emotional intimacy he's built walls to avoid.
As the passion heats up between them, Bianca and Jackson struggle to define which feelings are real and which are for show. Is falling for your fake fiancé the best happy ending…or a recipe for disaster?
Savage by L.A. Fiore (Read my Review)
They call him a monster.
Pale blue eyes as cold as ice that see right through you.
He's hard.
He's damaged.
He's dangerous.
He lives in a castle fit for a fairy tale, but he's no prince.
He's savage.
He's brutal.
He's a killer.
By an act of fate, our worlds collide.
They call him a monster, but he is my salvation.
Due to strong language and sexual content, this book is not intended for readers under the age of 18.
Constant by Rachel Higginson (Read my Review)
Fifteen years ago I met Sayer Wesley. I fell in love with him. I promised I would never leave him. I swore nothing could break us apart.
Five years ago I broke my promise. I ran away. I took the one secret that could destroy us both and disappeared.
Five days ago I thought I saw him.
I knew it was impossible. Sayer was locked away, serving a deserved sentence in federal prison. He couldn't find me.
He wouldn't find me. I was too good at hiding. Too good at surviving.
Because if Sayer ever found me, there would be hell to pay for a plethora of sins. The worst of which, he didn't even know about.
Five hours ago, I told myself I was crazy.
Five minutes ago, I saw him again.
Five seconds ago, I was too late.
Behind the Bars by Brittainy C. Cherry (Read my Review)
When I first met Jasmine Greene, she came in as raindrops.
I was the awkward musician, and she was the high school queen.
The only things we had in common were our music and our loneliness.
Something in her eyes told me her smile wasn't always the truth.
Something in her voice gave me a hope I always wished to find.
And in a flash, she was gone.
Years later, she was standing in front of me on a street in New Orleans.
She was different, but so was I. Life made us colder. Harder. Isolated.
Caged.
Even though we were different, the broken pieces of me recognized the sadness in her.
Now she was back, and I wouldn't make the mistake of letting her go again.
When I first met Jasmine Greene, she came in as raindrops.
When we met again, I became her darkest storm.
Roomies by Christina Lauren (Read my Review)
From subway to Broadway to happily ever after. Modern love in all its thrill, hilarity, and uncertainty has never been so compulsively readable as in New York Times and #1 international bestselling author Christina Lauren's (Beautiful Bastard, Dating You / Hating You) new romance.
Marriages of convenience are so…inconvenient. 
For months Holland Bakker has invented excuses to descend into the subway station near her apartment, drawn to the captivating music performed by her street musician crush. Lacking the nerve to actually talk to the gorgeous stranger, fate steps in one night in the form of a drunken attacker. Calvin Mcloughlin rescues her, but quickly disappears when the police start asking questions.
Using the only resource she has to pay the brilliant musician back, Holland gets Calvin an audition with her uncle, Broadway's hottest musical director. When the tryout goes better than even Holland could have imagined, Calvin is set for a great entry into Broadway—until his reason for disappearing earlier becomes clear: he's in the country illegally, his student visa having expired years ago.
Seeing that her uncle needs Calvin as much as Calvin needs him, a wild idea takes hold of her. Impulsively, she marries the Irishman, her infatuation a secret only to him. As their relationship evolves and Calvin becomes the darling of Broadway—in the middle of the theatrics and the acting-not-acting—will Holland and Calvin to realize that they both stopped pretending a long time ago?
The Highwayman by Kerrigan Byrne (Read my Review)
They're rebels, scoundrels, and blackguards-dark, dashing men on the wrong side of the law. But for the women who love them, a hint of danger only makes the heart beat faster, in the stunning debut historical romance The Highwayman by Kerrigan Byrne.
STEALING BEAUTY
Dorian Blackwell, the Blackheart of Ben More, is a ruthless villain. Scarred and hard-hearted, Dorian is one of Victorian London's wealthiest, most influential men who will stop at nothing to wreak vengeance on those who've wronged him…and will fight to the death to seize what he wants. The lovely, still innocent widow Farah Leigh Mackenzie is no exception-and soon Dorian whisks the beautiful lass away to his sanctuary in the wild Highlands…
COURTING DESIRE
But Farah is no one's puppet. She possesses a powerful secret-one that threatens her very life. When being held captive by Dorian proves to be the only way to keep Farah safe from those who would see her dead, Dorian makes Farah a scandalous proposition: marry him for protection in exchange for using her secret to help him exact revenge on his enemies. But what the Blackheart of Ben More never could have imagined is that Farah has terms of her own, igniting a tempestuous desire that consumes them both. Could it be that the woman he captured is the only one who can touch the black heart he'd long thought dead?