Rock Chick Awakening by Kristen Ashley 
From New York Times bestselling author, Kristen Ashley, comes the long-awaited story of Daisy and Marcus, Rock Chick Reawakening. A prequel to Kristen's Rock Chick series, Rock Chick Reawakening shares the tale of the devastating event that nearly broke Daisy, an event that set Marcus Sloan—one of Denver's most respected businessmen and one of the Denver underground's most feared crime bosses—into finally making his move to win the heart of the woman who stole his.
It's you, Book 1 by Katy Regnery writing as K.P. Kelley 
ONCE UPON A TIME…
the most beautiful boy in the world kissed me.
I've never been able to forget.
Perhaps it was his jet-black hair,
or the changing copper-color of his eyes,
the intense way he looked at me…
or the fact that he awakened my passion for the first time,
at once otherworldly yet heartbreakingly real.
But after that kiss, I never saw him again.His name was Jack Beauloup.
Jack, my "Beautiful Wolf."Twenty years passed.
He has returned.
For me.
Real Good Man by Meghan March 
Fall for a woman over text messages? No way in hell.
Reality can never be as good as the fantasy, right?
Wrong. It's better.
Banner Regent is smart, funny, and she's so far out of my league, she might as well be royalty.
I'm a mechanic from Kentucky. She's a New York City party girl.
We were never supposed to meet, but one text started something neither of us saw coming.
How do you seduce the woman who already has everything?
Show her what it's like to be with a real good man.
Real Good Man is book one of the Real Duet, but don't worry, you won't have to wait long for the conclusion! Logan and Banner's story will conclude in Real Good Love.
Separation Games by C.D. Reiss
There are a few unbreakable rules in the game.
Stay collected. Compartmentalize. Think your next move through.
Never let your heart dictate your tactics.
The heart is impulsive.
The heart makes bad decisions.
The heart doesn't see the long game.
The heart may have decided to get Adam back, but when the endgame comes, the heart's going to be the one to break.
—-
This full-length novel is the conclusion to the Games duet.
Hard Hitter by Sarina Bowen 
He's a fighter in the rink, but he's about to learn that playing nice can help you score…
 
As team captain and enforcer, Patrick O'Doul puts the bruise in the Brooklyn Bruisers. But after years of hard hits, O'Doul is feeling the burn, both physically and mentally. He conceals his pain from his coach and trainers, but when his chronic hip injury becomes too obvious to ignore, they send him for sessions with the team's massage therapist.
After breaking up with her long-term boyfriend, Ari Bettini is in need of peace of mind. For now, she's decided to focus on her work: rehabilitating the Bruisers' MVP. O'Doul is easy on the eyes, but his reaction to her touch is ice cold. Ari is determined to help O'Doul heal, but as the tension between them turns red hot, they both learn that a little TLC does the body good…
One Careful Owner by Jane Harvey-Berrick 
Alex is lost and alone, with only his dog, Stan for company. He doesn't expect kindness from anyone anymore, but sometimes hope can be found in the most unlikely places. He has a second chance at happiness, but there's a dark side to Alex, and a reason that more than one person has called him crazy.
Single mother Dawn is doing just fine. Except that her ex- is a pain in the a**, her sister isn't speaking to her, and her love life is on the endangered list.
At least her job as a veterinarian is going well. Until a crazy-looking guy arrives at her office accompanied by an aging dog with toothache. Or maybe Alex Winters isn't so crazy after all, just … different.
Dawn realizes that she's treated him the same way that all the gossips in town have treated her—people can be very cruel.
Contains scenes of an adult nature.
Satisfaction by Lexi Blake 
The sizzling second novel in a sexy new contemporary romance series featuring the Lawless siblings—from New York Times bestselling author Lexi Blake.
Brandon Lawless is a man on a mission: obtain the information that will clear his father's name. He's willing to do whatever it takes—even seduce his enemy's personal assistant, the beautiful and innocent Carly Hendricks. But with her beguiling smile and captivating intelligence, Brandon soon realizes he doesn't want to deceive Carly, he wants to win her over—both in the boardroom and the bedroom.
Then a twisted crime leaves Carly vulnerable and Brandon finds himself reeling. The stakes of his mission are now life or death—Carly's life. And Brandon realizes he's lost his heart to an amazing woman and his plan must succeed, because the stakes are no longer just revenge, but a once in a lifetime love.
The Mistress by Danielle Steel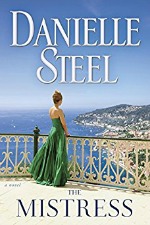 Natasha Leonova's beauty saved her life. Discovered on a freezing Moscow street by a Russian billionaire, she has lived for seven years under his protection, immersed in rarefied luxury, while he pursues his activities in a dark world that she guesses at but never sees. Her home is the world, often on one of Vladimir Stanislas's spectacular yachts manned by scores of heavily armed crew members. Natasha's job is to keep Vladimir happy, ask no questions, and be discreet. She knows her place, and the rules. She feels fortunate to be spoiled and protected, and is careful not to dwell on Vladimir's ruthlessness or the deadly circles he moves in. She experiences only his kindness and generosity and believes he will always keep her safe. She is unfailingly loyal to him in exchange.
Theo Luca is the son of a brilliant, world famous, and difficult artist, Lorenzo Luca, who left his wife and son with a fortune in artwork they refuse to sell. Lorenzo's widow, Maylis, has transformed their home in St. Paul de Vence into a celebrated restaurant decorated with her late husband's paintings, and treats it as a museum. There, on a warm June evening, Theo first encounters Natasha, the most exquisite woman he has ever seen. And there, Vladimir lays eyes on Luca's artwork. Two dangerous obsessions begin.
Theo, a gifted artist in his own right, finds himself feverishly painting Natasha's image for weeks after their first meeting. Vladimir, enraged that Lorenzo's works are not for sale, is determined to secure a painting at any price. And Natasha, who knows that she cannot afford to make even one false move, nevertheless begins to think of a world of freedom she can never experience as Vladimir's mistress. She cannot risk her safety for another man, or even a conversation with him, as Theo longs for a woman he can never have.
From Moscow to the Riviera, Paris, and London, The Mistress is a riveting tale of vast fortune, cruelty, creative genius, and daring courage, as uncocompromising individuals chart a course for collision.
We Were On a Break by Lindsey Kelk 
Is it a break? Or is it a blip?
'You've just had a holiday,' I pointed out, trying not to yawn. 'Wasn't that enough of a break?'
'I don't mean that kind of break.'
There's nothing worse than the last day of holiday. Oh wait, there is. When what should have been a proposal turns into a break, Liv and Adam find themselves on opposite sides of the life they had mapped out.
Friends and family all think they're crazy; Liv throws herself into work – animals are so much simpler than humans – and Adam tries to get himself out of the hole he's dug.
But as the short break becomes a chasm, can they find a way back to each other? Most importantly, do they want to?
Fifty Shades Darker by E.L. James- Movie Tie-In Edition 
OFFICIAL MOVIE TIE-IN EDITION, INCLUDES BONUS MATERIAL 
 
A special edition of E L James's #1 New York Times bestselling novel, Fifty Shades Darker, that includes her own photos and caption commentary from the making of the film—and an excerpt from her forthcoming book, Fifty Shades Darker, As Told by Christian Grey.
Daunted by the singular tastes and dark secrets of the beautiful, tormented young entrepreneur Christian Grey, Anastasia Steele has broken off their relationship. But desire for Christian still dominates her every waking thought, and when he proposes a new arrangement, Ana cannot resist. They rekindle their searing sensual affair, and Ana learns more about the harrowing past of her damaged, driven, and demanding Fifty Shades. While Christian wrestles with his inner demons, Ana must confront the anger and envy of the women who came before her, and make the most important decision of her life.
The second volume in The Fifty Shades of Grey Trilogy. Also available: Fifty Shades of Grey, Fifty Shades Freed
The Second Circle Tattoos -The complete series by Scarlett Cole 
The tattoo artist with a heart of gold.
The playboy with his own hidden scars.
The international rockstar who longs for a home.
The mechanic with a dark past.
These are the heroes of Second Circle Tattoos. Trent, Cujo, Dred, Reid. And now all four books are together for the first time in a fabulous, low priced eBook box set featuring an exclusive epilogue. Why pick one book boyfriend when you can have all four?
The Strongest Steel
Harper Connelly never expected to find herself outside of a tattoo parlor at one in the morning. The scars that decorate her back are just one more reminder of things she'd rather forget, the past she wants to leave far behind her, but before she can move on, she needs him. Trent Andrews has his own reasons for specializing in inking over scars. And there's no way in hell he's going to turn Harper away. Being with Harper is like going ten rounds in the ring—exhilarating, powerful, and dangerous. She stirs feelings in him he thought were long gone… if he can only get past her carefully constructed defenses.
The Fractured Heart
Tattoo artist Brody "Cujo" Matthews knows how to keep things simple. In life and in love.That all changes when he meets Drea Caron, the definition of high maintenance and sizzling curves. And the one woman he doesn't want to walk away from. Andrea "Drea" Caron is broke and tired. After years of caring for her ailing mom, she's at the end of her rope trying to manage the piling medical bills, two jobs, and a life placed on hold. She certainly doesn't need the added frustration of a sexy playboy tattoo artist messing up her carefully balanced life. Too bad the universe has other ideas.
The Purest Hook
Rugged, hot, and rock hard, Dred Zander is exactly the type of man that normally sends Pixie running. Not dreaming about running her hands down his washboard abs…and lower. The lead singer and guitarist for the band Preload embodies trouble behind his quick smile and guarded eyes, and Pixie left trouble behind her years ago along with the name Sarah Jane Travers and the pathetic trailer her mom called home. But Dred has other ideas. Pixie's sweet hazel eyes, purple hair and kaleidoscopic tattoo of exotic flowers that swirl up her arm haunt his dreams, and he's ready to fight like hell to keep that feeling.
The Darkest Link
When her car breaks down off the side of a lonely highway far from her sunny Miami home, tattoo artist Lia never expected her very own white knight to ride up on the back of a barely street-legal motorcycle…and she never expected to fall for her dark savior. A bruised heart Lia is not looking for forever, and the hot mechanic, with his sexy scruff and shaggy hair, is simply impossible to resist. He's the perfect candidate for a mind-blowingly-perfect, no-strings-attached one-night stand. But when their fling becomes something more and Reid surprises her at her tattoo studio, Second Circle Tattoos, he's in for a shock—and a fist to the face—when his past and present collide.
Commander in Chief by Katy Evans (Live 1/5)
The second installment of the White House Series, from New York Times and USA Today bestselling author Katy Evans.
We fell in love during the campaign.
The stakes were high.
Reputations could have been ruined.
Scandal hovered over us like a cloud.
Now the man I love is the President of the United States of America.
And its not my vote he is after.
He wants it all.
My heart. My body. My soul.
He wants me by his side.
In the White House.
Normalcy will be gone from my life, privacy forgotten.
I am only twenty three. I just wanted to play a part in history. But it seems like history wasn't done with me. The part where I lost my heart to Matthew Hamilton? It was only the beginning…
Dear Life by Meghan Quinn (Live 1/3)
Four lives. Four stories. Four sets of letters. Four brave souls in need of guidance while facing life's greatest challenges.
The anonymously published Dear Life program is designed to help them step outside of their comfort zones, face their obstacles, and relinquish their demons…and prove their existence.
With their lives teetering between wanting more and losing it all, all four souls dive into the program as a New Year's resolution, sending them on a crazy, life-altering journey.
Dear Life,
Please be kind.
Yours truly, Hollyn, Jace, Daisy, and Carter.