Tinsel by Devney Perry
Sofia Kendrick has always cherished her tiara. As the youngest daughter of a wealthy New York family, she's lived the life of an American princess. But after two scandalous divorces and a breakup smear her name across the society rags, the shine from her crown has dulled. People call her superficial, even gaudy.
She's nothing more than tinsel.
Desperate for escape and starving for peace, Sofia heads to Montana for a holiday weekend with her brother. But she doesn't get the relaxing vacation she planned. Instead, she's put to work in a bar alongside Dakota Magee—a man who does not want her help. A man who is set on teaching her a few lessons about real life and hard work. But Sofia has a couple of life lessons of her own to teach. Like how to fall in love.
The Risk by Elle Kennedy 
Everyone says I'm a bad girl. They're only partly right—I don't let fear rule me, and I certainly don't care what people think. But I draw the line at sleeping with the enemy. As the daughter of Briar's head hockey coach, I'd be vilified if I hooked up with a player from a rival team.
And that's who Jake Connelly is. Harvard's star forward is arrogant, annoying, and too attractive for his own good. But fate is cruel—I require his help to secure a much-coveted internship, and the sexy jerk isn't making it easy for me.
I need Connelly to be my fake boyfriend.
For every fake date…he wants a real one.
Which means this bad girl is in big trouble. Nothing good can come from sneaking around with Jake Connelly. My father would kill me, my friends will revolt, and my post-college career is on the line. But while it's getting harder and harder to resist Jake's oozing sex appeal and cocky grin, I refuse to fall for him.
That's the one risk I'm not willing to take.
Devil's Daughter by Lisa Kleypas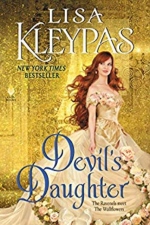 Although beautiful young widow Phoebe, Lady Clare, has never met West Ravenel, she knows one thing for certain: he's a mean, rotten bully. Back in boarding school, he made her late husband's life a misery, and she'll never forgive him for it. But when Phoebe attends a family wedding, she encounters a dashing and impossibly charming stranger who sends a fire-and-ice jolt of attraction through her. And then he introduces himself . . . as none other than West Ravenel.
West is a man with a tarnished past. No apologies, no excuses. However, from the moment he meets Phoebe, West is consumed by irresistible desire . . . not to mention the bitter awareness that a woman like her is far out of his reach. What West doesn't bargain on is that Phoebe is no straitlaced aristocratic lady. She's the daughter of a strong-willed wallflower who long ago eloped with Sebastian, Lord St. Vincent – the most devilishly wicked rake in England.
Before long, Phoebe sets out to seduce the man who has awakened her fiery nature and shown her unimaginable pleasure. Will their overwhelming passion be enough to overcome the obstacles of the past?
Only the devil's daughter knows . . .
Tomboy by Avery Flynn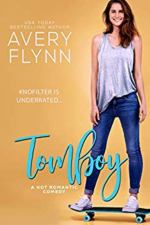 How exactly has one good deed landed me in the penalty box?
Ice Knights defenseman Zach Blackburn has come down with the flu, and my BFF—his PR manager—begs me to put my nursing degree to use and get him back to health. Of course she would call in a favor for the most hated man in Harbor City.
But when he's finally on the mend and I'm sneaking out of his place, everything goes sideways. Paparazzi spot me and pictures, plus accusations that I slept with him, fly faster than a hockey puck.
At first, all of Harbor City wants my blood—or to give me a girlie-girl makeover. But then…the team finally wins a game. And now this fickle town wants me with the big jerk twenty-four seven.
Argh. I never slept with him the first time! But no one will listen. Then the grumpy bastard goes and promises to break his no-fan-appearances rule to help raise money for a free health clinic—but only if I'm rink-side at every game. That's not a deal I can turn down.
But when the team keeps winning, and I realize there's more to him than his bad reputation, suddenly remembering to keep my real hands off my fake date gets harder and harder to do.
Jagged Ink by Carrie Ann Ryan 
The Montgomery Ink: Colorado Springs series continues with a couple fighting to keep what they thought they had and gain what they didn't know they needed.
Roxie Montgomery met her soul mate when she least expected it. When he asked her to marry him, she thought her happily ever after was only just beginning. Then, she found that walking into the sunset was much harder than her favorite books made it out to be. After a crushing loss, she feels as though she doesn't know her husband anymore, or rather…she doesn't know herself.
Carter Marshall has loved Roxie since the first time he saw her. But as the days pass between them, so does the distance. He doesn't know how to show her that he's all in, and honestly doesn't know if she's in at all. When an accident changes everything, they'll have to decide if what they have can be salvaged, or if starting over is the answer. Or even possible.
Without fighting, without a true new beginning, sometimes, the remnants of what was lost can leave anyone jagged, shells of what they were before. It will take more than the idea of forever for Roxie and Carter to find themselves again, but as the Montgomerys know, nothing worth fighting for is easy.
Breaking the Billionaire 's Rules by Annika Martin 
Max Hilton is my high school nemesis turned billionaire. And tomorrow I deliver his lunch order. In a cat costume.
You know he's going to love it. He'll smile that smirky smile, sitting there all superior in his gleaming tower, the wealthiest and most notorious playboy in all of New York, the king of everything.
Turns out it wasn't curiosity that killed the cat—it was mortification.
I'm almost ready to quit my lunch delivery job, but then my roommate tosses me a copy of The Max Hilton Playbook: Ten Golden Rules for Picking up the Hottest Girl in the Room.
It's the book that catapulted him to stardom. And it's my new bible.
I'm going to use his own techniques against him. I'll wrap him around my little finger, bring him to his knees, and crush his steely heart. Call it payback for all the single girls who had to endure legions of losers wielding his legendary tactics.
But seeing Max every day, I'm discovering a side of him I didn't even know existed–he's not the jerky guy I thought he was. He has this smile he shows only to me, and it melts my heart. His touch sends shiversdown my spine. And those forbidden kisses are driving me wild.
Falling for him was not in my plan.
Am I breaking his rules or will his rules break me first?
Misadventures of a Curvy Girl by Sierra Simone
For the first time in her life, Ireland Mills is happy with her body. No more fad diets, no more hiding from every camera in the room, no more low self-esteem. She'd rather be alone than with someone who'll only love her if she's skinny.
Caleb Carpenter and Ben Weber are everything Ireland and the Kansas Chamber of Commerce dreamed of when conceptualizing the "Real Kansas" promotional campaign. They're handsome, young, educated, and totally dedicated to their small prairie town.
When Ireland's Prius gets stuck on a Kansas dirt road and a massive storm rips through town, she's left stranded with nowhere to turn but to Caleb and Ben. These two hunky country boys are impossible to ignore, but could they ever be interested in her as well?
Caleb and Ben are more than interested…and they're willing to share. After their first night together, they know this has to be more than a one-time thing. They need to make her theirs forever. But can they convince Ireland they love her, curves and all?
In to Her by J.A. Huss
How she came to us doesn't matter.
Why she's here. Doesn't matter.
Yvette Verona has something we need. We were not meant to be soul mates. We were not meant to be lovers, or friends, or partners looking for answers.
We were just going to use her up, throw her away, and leave her behind.
But we made a mistake. We fell for her. We fell for the way our bodies move as one and the way we come together at night. We fell for her smile, and her eyes, and the soft moans spilling past her lips when we take her together.
We're in to her.
But will she be in to us once she learns the truth?
A thrilling, sexy trip into the mysterious world of ménage.
The Wrong Gentleman by Louise Bay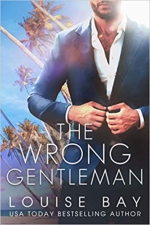 I'm an all-or-nothing man—100 percent focused on whatever has my attention.
First it was serving my country in the Special Forces. Then it was building my business. Right now it's the hot blonde at the bar who's about to become another notch on my bedpost.
But women never keep my attention for more than a night.
Until I peel off Skylar Anderson's clothes and her mask starts to crumble, showing me glimpses of the girl she's hiding. She's funny, sexy and vulnerable and throws me out of bed before I can catch my breath and suggest breakfast.
When I start my last undercover job on a yacht, turns out, she's one of the crew. I try, but I can't look away.
Her high ponytail shows off her kissable neck that tastes like summer.
Her short uniform reveals the killer legs that were wrapped around me last night.
And her provocative smile? I know what that mouth is capable of.
I want to explore her body, discover her secrets and sail off into the sunset with her.
I might want to go all in for Skylar, but she should stay away from me. I've got secrets of my own and they can only bring her trouble.
Overture by Skye Warren 
Forbidden fruit never tasted this sweet…
The world knows Samantha Brooks as the violin prodigy. She guards her secret truth—the desire she harbors for her guardian.
Liam North got custody of her six years ago. She's all grown up now, but he still treats her like a child. No matter how much he wants her.
No matter how bad he aches for one taste.
Her sweet overtures break down the ex-soldier's defenses, but there's more at stake than her body. Every touch, every kiss, every night. The closer she gets, the more exposed his darkest secret.
She's one step away from finding out what happened the night she lost her family. One step away from leaving him forever.
Marco by Sydney Landon 
My name is Marco Moretti and I'm the son of the Moretti Crime Family boss. He's also my father and a bit of an asshole, but we all have problems, don't we? I've always loved women of all shapes and sizes and they've loved me in return. Sometimes a bit too much, but a stalker or two keeps things interesting. My position within "the family" has been the most important thing to me, until fate—and food poisoning brought Nina Gavino into my life. I've finally found the woman that I can't live without, and she wants nothing to do with me. My usual charm has gotten me nowhere. And if she ever finds out that I killed her stepfather and stepbrother, I'm afraid nothing short of a miracle, will make the beautiful spitfire, give me a chance to prove that there is more to me than the job she holds so much contempt for.
Talen by Shay Savage 
In a world plagued by constant earthquakes and volcanic debris, people in the valley struggle to survive while those on top of the hill want for nothing.
This is where I come in.
I spend my nights plundering supplies in the walled city of Hilltop, and I trade them to the valley people below. I'm not a thief. I prefer to be known as the head of Lost and Found.
When I discover a beautiful but dangerous competitor in my territory, I also learn she knows more about me than she should. Is she a spy sent by my father, or is she a rebel like me? I don't trust her, but together we'll discover secrets that may destroy what's left of our world.
There have always been those with wealth and those without.
My name is Talen, and I'm here to even the score.
What He Never Knew by Kandi Steiner (Live 2.21) 
I never learn my lesson.
And I always want what I can't have.
When Sarah Henderson walks into my life, I tell myself she's off limits. She's my student, sixteen years younger than me, and my boss's niece. It doesn't matter that I see the same pain reflected in her eyes that I have in my own, or that the dead organ better known as my heart kicks to life when she's around.
I've been here before, and I know how this ends.
It's been two years since I fell for the last woman I knew I couldn't have, the one with the ring on her finger that I chose to ignore.
Two years of trying to overcome that heartache when Sarah slides into my life.
Another woman I can't have. Another woman I can't stop myself from wanting.
I never learn my lesson, but with a constant reminder of how that last forbidden love burned, I think I've finally learned this one.
This time, I won't chase what's off limits.
This time, I'm staying away.
And I'll keep telling myself that until I believe it.
Finding the Fight by Brittney Sahin (Live 2.21) 
Former CIA officer Jessica Scott and Navy SEAL Asher Hayes have worked together for years as part of a black-ops team for the president, but Jessica's close encounter with death is about to change everything between them . . .
As the team hunts down her abductor and tries to prevent an impending attack, Asher will stop at nothing to protect the woman he cares about. But will his actions push Jessica, aka the Ice Queen, further away; or will he knock down her impenetrable walls?
With their pasts coming back to haunt them, and their insatiable desire for one another pushing them to the brink, Asher and Jessica will find themselves faced with impossible choices–ones that could topple their very world.
Never Tell by Lisa Gardner (Live 2.21)
One death might be an accident.
Two deaths looks like murder.
A man is shot dead in his own home, and his pregnant wife, Evie, is found with the gun in her hands.
Detective D.D. Warren instantly recognises her. Sixteen years ago, Evie also shot her own father. That killing was ruled an accident.
D.D. doesn't believe in coincidences. But this case isn't as open and shut as it first appears, and her job is to discover the truth.
Evie might be a victim.
Or she might be about to get away with murder again.