Tattered  by Devney Perry 
Thea Landry has always known her place in modern-day society. It's somewhere just above the trash can her mother dumped her in as a newborn but below the class where much comes easy. With her tattered shoes and bargain-bin clothes, her life has never been full of glamour.
So when a rich and charismatic man takes interest, she doesn't fool herself into thinking their encounter is anything more than a one-night stand. Months later, she's kicking herself for not getting his phone number. Or his last name. She's given up hope of seeing him ever again.
Until one day, years later, Logan Kendrick waltzes into her life once more and turns everything she's built upside down. This time around, she won't make the same mistake. She's going to fight to keep him in her life—not for herself.
But for their daughter.
Double Down by Alessandra Torre 
The stunning conclusion to the All In Duet… 
In Vegas, there was one man who was off limits. One man… and I fell for him.
I knew there were risks. Still, I played the game. When Dario Capece called, I answered. When he beckoned, I came. When he broke all my rules, I looked the other way.
I knew there were risks. I just never realized they included death.
Note: This book should be read after Even Money (available now).
Mister Tonight by Kendall Ryan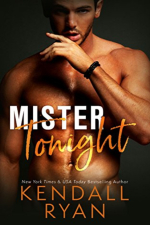 Last night was the most embarrassing night of my life.
I was that girl.
You know, the highly intoxicated chick celebrating her thirtieth birthday with her two best friends—who are happily married. And the more I drank, the more I wanted to do something reckless to celebrate.
By reckless, I mean the sexy and alluring man dressed in a business suit standing near the bar. You know his type—tall, dark, handsome. I was sure he was out of my league, but I'd had just enough alcohol that things like that no longer seemed to matter. I'm not fat, mind you, but you can tell I like french fries, so there's that.
He took me home, and I enjoyed the hottest birthday sex of my life. Well, until it came to a screeching and rather unwelcome halt.
There's nothing quite like being interrupted mid-ride with a little voice asking, "What are you doing to my daddy?"
Just kill me now . . . or so I thought.
Come to find out, the man I rode like a bull at the rodeo is my new landlord.
Down Deep by Kimberly Kincaid 
Ian Gamble has a past he'd rather forget—which is exactly what he's doing at The Crooked Angel Bar and Grill when the place catches fire. Between his active duty in the Marines and his experience as a firefighter, his instincts get him and hot, headstrong bar manager, Kennedy Matthews, to safety. But those same instincts kick into high gear when the fire is ruled an arson, and he discovers Kennedy's got secrets of her own.
The only thing that matters more to Kennedy than her bar is her brother. When she finds out he's in over his head with a dangerous arsonist, she'll do anything to keep him safe—even if it means teaming up with Gamble, who's too sharp-eyed and hard-bodied for his own good. With every step, their attraction flares hotter and the risks grow more dangerous. Can Gamble and Kennedy face their fears—and their secrets—to catch a terrifying enemy? Or will they go down in flames?
Providence by Caroline Kepnes 
Best friends in small-town New Hampshire, Jon and Chloe share a bond so intense that it borders on the mystical. But before Jon can declare his love for his soul mate, he is kidnapped, his plans for a normal life permanently dashed.
Four years later, Chloe has finally given up hope of ever seeing Jon again. Then, a few months before graduation, Jon reappears. But he is different now: bigger, stronger, and with no memory of the time he was gone. Jon wants to pick up where he and Chloe left off . . . until the horrifying instant he realizes that he possesses strange powers that pose a grave threat to everyone he cares for. Afraid of hurting Chloe, Jon runs away, embarking on a journey for answers.
Meanwhile, in Providence, Rhode Island, healthy college students and townies with no connection to one another are suddenly, inexplicably dropping dead. A troubled detective prone to unexplainable hunches, Charles "Eggs" DeBenedictus suspects there's a serial killer at work. But when he starts asking questions, Eggs is plunged into a whodunit worthy of his most outlandish obsessions.
In this dazzling new novel—and with an intense, mesmerizing voice—Caroline Kepnes makes keen and powerful observations about human connection and how love and identity can dangerously blur together.
Vampire's Faith by Rebecca Zanetti 
Vampire Ronan Kayrs wasn't supposed to survive the savage sacrifice he willingly endured to rid the world of the ultimate evil. He wasn't supposed to emerge in this time and place, and he sure as hell wasn't supposed to finally touch the woman who's haunted his dreams for centuries. Yet here he is, in an era where vampires are hidden, the enemy has grown stronger, and his mate has no idea of the power she holds.
Dr. Faith Cooper is flummoxed by irrefutable proof that not only do vampires exist . . . they're hot blooded, able to walk in sunlight, and shockingly sexy. Faith has always depended on science, but the restlessness she feels around this predatory male defies reason. Especially when it grows into a hunger only he can satisfy—that is if they can survive the evil hunting them both.
Wicked and the Wallflower by Sarah MacLean 
When Wicked Comes Calling . . .
When a mysterious stranger finds his way into her bedchamber and offers his help in landing a duke, Lady Felicity Faircloth agrees—on one condition. She's seen enough of the world to believe in passion, and won't accept a marriage without it.
The Wallflower Makes a Dangerous Bargain . . .
Bastard son of a duke and king of London's dark streets, Devil has spent a lifetime wielding power and seizing opportunity, and the spinster wallflower is everything he needs to exact a revenge years in the making. All he must do is turn the plain little mouse into an irresistible temptress, set his trap, and destroy his enemy.
For the Promise of Passion . . .
But there's nothing plain about Felicity Faircloth, who quickly decides she'd rather have Devil than another. Soon, Devil's carefully laid plans are in chaos and he must choose between everything he's ever wanted . . . and the only thing he's ever desired.
Ghostgirl by JB Salsbury 
Abandoned with his two younger brothers, Milo Vega was placed in foster care. Now a twenty-year-old high-school senior covered in gang tattoos and working as the school's janitor, he is living a life vastly different from the one he was destined for.
When another foster joins the family, this one from the psychiatric facility, Milo's skeptical. A rare genetic condition makes her unlike any girl he's ever seen, and he wants nothing to do with the one he calls Ghostgirl.
Despite his reluctance, his protective instincts flare when she enrolls in school, and eventually, an unlikely friendship grows between them. When a tragic event snaps her fragile psyche, Milo is faced with the possibility of never seeing her again.
Unless he risks it all to save her.
Almost Impossible by Nicole Williams 
When Jade decided to spend the summer with her aunt in California, she thought she knew what she was getting into. But nothing could have prepared her for Quentin. Jade hasn't been in suburbia long and even she knows her annoying (and annoyingly cute) next-door neighbor spells T-R-O-U-B-L-E.
And when Quentin learns Jade plans to spend her first American summer hiding out reading books, he refuses to be ignored. Sneaking out, staying up, and even a midnight swim, Quentin is determined to give Jade days–and nights–worth remembering.
But despite their storybook-perfect romance, every time Jade moves closer, Quentin pulls away. And when rumors of a jilted ex-girlfriend come to light, Jade knows Quentin is hiding a secret–and she's determined to find out what it is.
Rainy Day Friends by Jill Shalvis 
Following the USA Today bestseller, Lost and Found Sisters, comes Rainy Day Friends, Jill Shalvis' moving story of heart, loss, betrayal, and friendship.
Six months after Lanie Jacobs' husband's death, it's hard to imagine anything could deepen her sense of pain and loss. But then Lanie discovers she isn't the only one grieving his sudden passing. A serial adulterer, he left behind several other women who, like Lanie, each believe she was his legally wedded wife.
Rocked by the infidelity, Lanie is left to grapple with searing questions. How could she be so wrong about a man she thought she knew better than anyone? Will she ever be able to trust another person?  Can she even trust herself?
Desperate to make a fresh start, Lanie impulsively takes a job at the family-run Capriotti Winery. At first, she feels like an outsider among the boisterous Capriottis. With no real family of her own, she's bewildered by how quickly they all take her under their wing and make her feel like she belongs. Especially Mark Capriotti, a gruffly handsome Air Force veteran turned deputy sheriff who manages to wind his way into Lanie's cold, broken heart—along with the rest of the clan.
Everything is finally going well for her, but the arrival of River Green changes all that. The fresh-faced twenty-one-year old seems as sweet as they come…until her dark secrets come to light—secrets that could destroy the new life Lanie's only just begun to build.
Love Like Crazy by Magan Vernon 
Friendship, Texas just got a little bit crazier with gruff Army veteran, Clay Carrington, and Q Ranch heiress Christy Quinn's world's colliding.
Vegas was a trip, and that was an understatement. An understatement I couldn't remember and that included the brunette in my bed.
That is until my pounding headache had me getting up for a glass of water and I saw the marriage license on the ground.
The words: Clay Carrington and Christy Quinn and holy matrimony staring me in the face.
I came to Vegas to get away, and the bratty owner's daughter of the ranch wanted to come with. I didn't even like the boss's daughter, let alone want to marry her.
I guess things the happened in Vegas had a way of following you home.
Blizzard by Cambria Hebert 
An arctic blast is coming…
Fleeing to the wintry town of Caribou was always meant to be temporary,
BearPaw Resort just a place to hide.
Never in a million years did I expect that running back to the past
would bring me face to face with my future.
But it did, and now everyone I love is in danger.
I've already escaped death three times, and I know my luck is running out.
I'm left looking over my shoulder, watching and waiting,
knowing they're coming
But when?
Hiding is impossible when the mob wants you erased,
and I love Liam far too much to try to disappear.
The more time I spend with him, the more I realize how much he needs me.
A darkness lurks inside him, and the colder it gets, the more I see it in his eyes.
So here I am, more afraid than ever before.
Giving up isn't an option. Giving in will get us killed.
A blizzard is brewing on our mountain,
more frigid than anything we've ever felt.
With everything we ever wanted at stake, the only option is to fight.
When life turns arctic…
Who will survive the blast?
Crazy, Hot Love by K.L. Grayson 
Claire Daniels is good at a lot of things, but dating isn't one of them. Although she enjoys men of all different shapes, colors, and sizes, she has one requirement: they must have a job on her approved-occupation list. It has to be safe, so they can come home every night, which means no cops, pilots, doctors, ranchers, and absolutely no firefighters.
She's kept to her rules thus far—as long as you ignore the tiny crush she has on Trevor Allen, a crush that cannot move toward anything physical because Trevor is a firefighter and a rancher. Not to mention, he's four years younger than she is and the brother of her two best friends.
Still, it sure would be nice to have him put out her fire.
Trevor Allen also has a few rules when it comes to Claire Daniels: no staring, flirting, smokin' hot fantasies, or touching of any kind. He's been lusting after Claire his whole life, but with a steady stream of willing women and two demanding jobs to hold his attention, he's somehow managed to keep his hands off her.
Until they end up in a bathroom together—a small bathroom with very little room to move, leaving him pressed against Claire's lush curves. What's he supposed to do when she looks up at him with those big, green doe eyes and licks her lips? The only thing he can do: kiss the hell out of her, then convince her it can't happen again.
Too bad he can't convince himself.
Digging a Hole by Mimi Jean Pamfiloff
My name is Sydney Lucas. I am smart, deathly shy, and one-hundred percent determined to make my own way in the world. Which is why I jumped at the chance to intern for Mr. Nick Brooks despite his reputation. After ten failed interviews at other companies, he was the only one offering. Plus, everyone says he knows his stuff and surely a man as stunningly handsome as him can't be "the devil incarnate," right? Wrong.
Oh…that man. That freakin' man has got to go! I've been on the job one week, and he's insulted my mother, wardrobe shamed me, and managed to make me cry. Twice. Underneath that stone-cold, beautiful face is the evilest human being ever.
But I'm not going to quit. Oh no. For once in my life, I've got to make a stand. Only every time I open my mouth, I can't quite seem to muster the courage. Perhaps my revenge needs to come in another form: destroying him quietly.
Because I've got a secret. I'm not really just an intern, and Sydney Lucas isn't my real name.
That Guy by Kim Jones 
He's That Guy.
You know, the hero in almost every romance novel. The super-rich, powerful CEO who is beyond sexy. Lives in a penthouse. Is wicked in bed. Has massive…feet. Is kind of a jerk, but really he's not because he harbors some major secret that, once revealed, explains why he is the way he is—therefore completely redeeming himself and making all the readers who hated to love him swoon….
Yeah. That one.
Well, I found him.
I'm a writer who has spent years searching for the perfect muse.
Now that I know he exists, I have a mission.
To make him fall in love with me.
This should be easy. I mean, I have issues, but above all, I'm a great catch.
Problem is, I did a stupid thing.
And now he hates me.
Unfortunately for him, he's my That Guy.
And he's going to love me….
Whether he wants to or not.
Indiscreet by Amelie S. Duncan 
Even with all of Gia Ruiz's success professionally, a divorce has left her alone with nobody to share her triumphs and successes with.
Eager to get back in the game, she joins The Agency, a discreet and exclusive matchmaking service that can hook her up with the high-powered, gorgeous executive man she craves.
Dane Westbrook is the most seductive and tempting of all the men that The Agency offers. His piercing eyes, smoldering good looks, and enigmatic personality captivate Gia, and Dane is equally interested in Gia.
Despite the sparks that fly between the two, Dane is reluctant to reveal all his cards, and Gia quickly discovers that what should have been a hot, super-charged tryst has turned into a dangerous game; one where the rulebook doesn't exist, and nothing is quite as it seems.
An innocent mistake soon plunges Gia right into the middle of secrets she was never meant to discover. Can Gia recover in time, or will she stand to lose everything she has worked so hard for?
Sinful by M.Malone & Nana Malone 
Leave it to me to finally learn how to drive stick…with a woman who's nothing but trouble.
Protecting people is what I do. But with Gemma everything is different. There was a time when she was my everything and I would have given my life to protect her.
Now she's back and this time I won't fail her. I'm ready to put it all on the line to keep her safe.
My past finally caught up with me and I had to make a choice. Leave or destroy my family. I'll do anything to keep them safe…including walk into enemy territory.
Sinful is the conclusion to the Sin duet.
Means by Kennedy Layne 
From USA Today Bestselling Author Kennedy Layne comes a sexy trilogy that involves greed, power, and the desire to do it all over again…
Smith Gallo has everything a man could ever want at the tip of his fingertips, except of course the woman he loves. To what lengths will he be willing to go to make his ambitions come true?
Laurel Calanthe is one successful stock pick away from making partner when she finds herself in desperate need of an alibi. There's only one problem. The man who can save her from being arrested is her only competitor and the one who now holds her fate in his hands.
Greed is a powerful motivator in the game of making money, but desire can overcome even the strongest motive.
Wicked Games by L.A. Cotton (Live 6.21)
All Maverick Prince ever wanted was to play basketball in college. So starting for the Steinbeck Scorpions should be a dream come true. But not everyone wants to see him succeed. Just because you're on the same team, doesn't mean you play by the same rules.
Lo Stone thought her life was finally on an even keel. As if being a senior and having to think about her future isn't bad enough, she's a stranger in her own house. And the longer she goes without seeing Maverick, the harder it is to ignore the little voice of doubt whispering in her ear.
They thought the games were over, but the war is only just beginning…
Craving Mr. Kinky by A.M. Madden & Joanne Schwehm (Live 20.6)
Here's a tip: When you least expect it, expect it.
I'd been known to have my share of beautiful women. Usually, I met them in a bar, through a mutual acquaintance, or even when photographing them. Imagine my surprise when a gorgeous blonde drove her car into mine on the way to a party.
No more than a minute after our run-in, a string of colorful words flew from her mouth in rapid fire. Unexplainably, the angrier she became the harder I got. All sorts of scenarios played in my head of how I could get her to shut up. I was all for feisty women, but I preferred leaving that for the bedroom—not on the streets of New York.
When I learned she was a school teacher, that worsened my disposition. What man didn't have a dirty teacher fantasy at one point in his life? I decided it was my turn to teach her a thing or two… or so I thought. Little did I know, Miss Prim-and-Proper would turn the tables on me.
She called me Mr. Kinky, and that was fine with me.
Lesson learned: Desire always trumps logic.
The Upside of Falling by Meghan Quinn (No Preorder- Live 6.21) 
Tucked away at the base of the Rocky Mountains lived a little boy with one singular dream: leave this broken and battered home and become someone.
Be somebody's hero.
That boy was me—Colby Brooks. Except I'm not that same little boy anymore.
My dreams might still be the same, but my reality isn't.
I'm smarter. Stronger. A man.
And I learned a long damn time ago, the only way to achieve my dreams was to avoid distractions—at any cost.
Focus. Resolve. Determination.
But all it took was one single night. One night and my entire life…changed.
One night had me colliding head first with the biggest distraction of my life; Rory Oaks.
Smart. Charming. Beautiful.
Rory changed everything.
Quickly, my one-track mind started to bend.
Each kiss faded decade-long dreams.
And with one single incident, I fly off course.
Cry Baby by Ginger Scott (No Preorder- Live 6.22)
Tristan Lopez is loyal to his brothers. He doesn't really have a choice, born into a gang that has a chokehold on every kid that roams its streets. He gave his life to them willingly, knowing if he did then one day this kingdom, led by boys drunk with power and ruled by fear, would all be his.
He was loyal through it all. Loyal when prison took his dad away. Loyal when his face was touched by the cold metal of the rival gang's gun. Loyal even though his mom begged him to run the moment she returned home from rehab.
He thought about becoming someone else. It was hard not to crave the life of a regular 17-year-old. It's the only reason he stayed in school—to pretend. But he always fell back in line.
Loyal.
Riley Rojas didn't belong in Tristan's real world. She should have only been part of the fantasy, one of the many faces he got to pretend with amidst rows of metal chairs and desks and whiteboards with assignments. But there she was, moving boxes from the back of an old pick-up into a house Tristan had shot up on a dare with his friends only a few months before.
Tall enough to look him in the eyes and strong enough to fill his shadow, Riley took up space on his streets, her loud mouth fearless in the face of the gang leaders who terrified everyone else. She pushed Tristan around on the hard court, and she balled better than his friends—better than him sometimes. She challenged him. She needed him. He liked it. And when her pale blue eyes stared into his, he quit wanting to pretend.
He couldn't ask her to leave because she'd only dig her heels in deeper. He couldn't ask because he didn't want her to go. She was blurring his lines. She was testing his loyalty.
He was falling in love.
And it was going to tear him apart.