More of You by A.L. Jackson (Read my Review)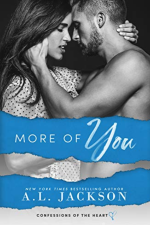 My daddy warned me never to fall for a boy like Jace Jacobs…
The second I saw him walk through the door, I knew he was trouble.
A gorgeous rebel with a bad attitude and a huge chip on his shoulder.
My heart warned me. I didn't listen. I saw something protective and good beneath the fierce, tough exterior.
I fell hard and fast.
He promised we'd be together forever, and then left me with a broken heart.
Now, ten years later, Jace Jacobs is standing at my door.
Sexier than he's ever been.
Provocative and commanding.
Successful and powerful.
The man I always knew he would become.
But I promised myself I'd never lose my heart to him again.
Even time couldn't dim our chemistry. One glance of his intense eyes, and I become weak. One brush of his hand, and he brings me to my knees.
Little do I know, Jace holds the key to everything I've lost and everything that threatens my future.
Now he will either save me, or he will break me all over again . .
Block Shot by Kennedy Ryan 
An enemies-to-lovers second chance standalone romance set in the cutthroat world of sports management.
They're two sharks in a fish tank…JARED
If I had a dollar for every time Banner Morales made my heart skip a beat…
The heart everyone assumes is frozen over.
Her anger is . . . arousing.
Every glare from those fire-spitting eyes, every time she grits her teeth, gets me . . .well, you know.
If I had a dollar for every time she's put me in my place, I'd be an even richer man.
I'm a successful sports agent because I assume "no" means you'll think about it.
I'm sure what you meant to say is "Coming right up."
They say even rich men don't always get what they want,
but those men don't know how to play the game. The trick is to keep them guessing.
Take Banner. She assumes she's winning, but this game?
She doesn't even know how to play.
BANNER
If I had a dollar for every time Jared Foster broke my heart, I'd have exactly one dollar.
One night. One epic fail. One dollar . . . and I'm out.
I've moved on.
I've found success in a field ruled by men.
Anything they can do, I have done better.
They can keep the field while I call the shots, blocking them when I have to.
And Jared has the nerve to think he gets a second chance?
Boy, please. Go sit down. Have several seats.
I'll just be over here ignoring the man carved from my fantasies with a lust-tipped chisel.
Oh, I didn't say the struggle wasn't real.
But I've got that one dollar, and Jared won't have me.
 Once Upon A Real Good Time by Lauren Blakely 
That smoking hot one-night stand with a former rock star? Turns out he's my son's new music teacher. Oops.
But I didn't know that the night I met Campbell. All I knew was he played my body the same way he played a guitar — like he owned it.My libido is still high-fiving me after being self-served for too many years, and we're both ready for another night or two of fun, especially since we don't just have chemistry in bed — we connect over everything.
That is, until I learn he's the man who'll be coming to my house twice a week to teach my son — the best music lessons money can buy.
Time to turn down the volume on our shenanigans. Only that's easier said than done.
***
I can rock a guitar solo in front of thousands, I can write chart-topping tunes, and I can absolutely stop thinking about my student's mother naked.
After all, I'm a single parent too, and I know what it's like to put your kid first. That's what I do every damn day.
Trouble is, now that I've had Mackenzie, it's hard — and I do mean hard — to stop wanting her. Harder too when I get to know her, and learn she's an awesome mom, a great friend, and, oh yeah, she happens to get along perfectly with my daughter.
All we have to do is set some rules. No dating, no nookie when the kids are around, and no one gets hurt.
It's all working out beautifully. Until we start breaking the rules, one by one.
Making music with her in the bedroom is easy. But will we be more than just a real good time when the music stops?
The Red Ledger: Part 4 by Meredith Wild 
There's no turning back…
The second I spared Isabel's life, everything changed. I used to deal in death wishes. Now the instinct to protect her charts the course. Because every time I turn away from her, something turns me back. She's uncovered a side of me that I can no longer ignore. Doesn't change the fact that she doesn't belong in my world.
Isabel's learning to hold her own, but nothing can prepare her for the life I'm being called back into. With a long road ahead of us, I won't make promises I can't keep. She can barely accept the dark deeds of my past—a bloody history spelled out in a ledger she's more preoccupied with than I'd like. When an old associate sets a dangerous plan in motion, I can't hide who I really am. And there's no turning back…
Meet the Sky by McCall Hoyle 
From award-winning author McCall Hoyle comes a new young adult novel, Meet the Sky, a story of love, letting go, and the unstoppable power of nature.
It all started with the accident. The one that caused Sophie's dad to walk out of her life. The one that left Sophie's older sister, Meredith, barely able to walk at all.
With nothing but pain in her past, all Sophie wants is to plan for the future—keep the family business running, get accepted to veterinary school, and protect her mom and sister from another disaster. But when a hurricane forms off the coast of North Carolina's Outer Banks and heads right toward their island, Sophie realizes nature is one thing she can't control.
After she gets separated from her family during the evacuation, Sophie finds herself trapped on the island with the last person she'd have chosen—the reckless and wild Finn Sanders, who broke her heart freshman year. As they struggle to find safety, Sophie learns that Finn has suffered his own heartbreak; but instead of playing it safe, Finn's become the kind of guy who goes surfing in the eye of the hurricane. He may be the perfect person to remind Sophie how to embrace life again, but only if their newfound friendship can survive the storm.
Intercepted by Alexa Martin 
Marlee Harper is the perfect girlfriend. She's definitely had enough practice by dating her NFL-star boyfriend for the last ten years. But when she discovers he has been tackling other women on the sly, she vows to never date an athlete again. There's just one problem: Gavin Pope, the new hotshot quarterback and a fling from the past, has Marlee in his sights.
Gavin fights to show Marlee he's nothing like her ex. Unfortunately, not everyone is ready to let her escape her past. The team's wives, who never led the welcome wagon, are not happy with Marlee's return. They have only one thing on their minds: taking her down. But when the gossip makes Marlee public enemy number one, she worries about more than just her reputation.
Between their own fumbles and the wicked wives, it will take a Hail Mary for Marlee and Gavin's relationship to survive the season.
Love Like Ours by Melissa Foster 
Talia Dalton lives her life on cruise control. Despite her successful career as a professor, she prefers protecting her broken heart to taking chances. She's calm, cool, collected, and steady. Until the morning she takes her eyes off that familiar road and almost runs over the sexiest man she's ever seen. It may not be the best way to start the day, but it might be the type of shake-up she needs.
Male dancer Derek Grant has goals, and nothing is going to get in the way of achieving them. As a graduate student and the sole caretaker of his ailing father, he hasn't much time for relationships. Then Talia crashes into his life. Sweet, pretty—and so buttoned-up that he can't wait to help her cut loose.
For Derek, falling in love was a beautiful accident waiting to happen. And it might be exactly what Talia needs—if she's willing to let go of the past and embrace every surprise Derek has to offer.
Wound Tight by Lorelei James 
From New York Times and USA Today bestselling author Lorelei James comes a crossover story in her Rough Riders/Blacktop Cowboys® series…
A May-December romance hotter than the 4th of July…
Bull rider Justin Donohue spent his youth hell-bent on winning world championships. After hitting the big 4-0, Justin takes a job at the Grade A Ranch and Rodeo School, where he immediately locks horns (and lips) with the sexy, sassy Callie—a 22-year-old cowgirl set on seducing him. Discovering their age difference doesn't deter Callie; neither does Justin's warning that she deserves more than a busted-up former rodeo cowboy.
From the moment Callie Morgan encounters the hot-as-fire new ranch hand, she knows his gruff manner is an attempt to mask his attraction to her. But she's never backed down from a challenge, especially not when Justin's actions speak louder than his denials. Callie doesn't give a damn that he's older than her or what others might think of their relationship. The uptight cowboy needs to relax and she'll do whatever it takes to loosen him up, proving there are no age restrictions when it comes to lust…or to falling in love.
Happy Endings by J. Sterling 
Weddings, proposals, and babies…oh my!
What happens after you've found your happily-ever-after? The Fisher boys learn that life is unpredictable and nothing is certain. Will they get to keep everything they've worked so hard to achieve, or will they lose it all?
Come join the brothers for one last round at the bar and let's cheers to a happy ending!
From Ice to Flames by A.M. Hargrove (Live 9.12)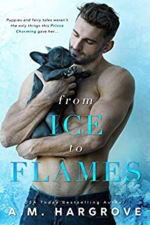 One Rule: No More Men.
Two years ago I walked away from a marriage I thought would last forever and all I got from it was Dick …
And I don't mean the one between my stupid ex's legs.
I'm talking about the one hundred fifty pound furry dog said ex dropped off at my doorstep.
But I'd take Dick over any man, any day.
So why did I resemble my dog, panting and drooling, whenever I ran into Hudson West, my sexy new neighbor?
True, the gorgeous veterinarian was hotter than sin.
And my new roommate only made it impossible for me to avoid conversation with a man I didn't need.
Until tragedy struck and some jerk decided to run Dick down.
It was hotter than sin Hudson who came to his rescue.
Then it became impossible to ignore him.
It was only supposed to be a fling, a quickie, a one and done.
We both had reasons to keep it that way … my one rule and his five-year-old son.
Except things didn't quite work out that way.
One turned into two, then three, annnnd you get the picture.
Before we knew it, he gave me a lot more than puppies and fairy tales.
And that stupid rule?
I should've stuck to it because now more than my heart was at risk.
This is a full-length, stand alone, single dad, contemporary romance.
The Truth about Us by Aly Martinez (Live 9.13)
Truth: Penn Walker entered my life like a summer storm—dark, ominous, and filled with thunder.
After witnessing my husband's murder, I didn't have much of a heart left to offer a man.
But Penn took it all.
Every jagged shard.
Every broken bit.
Even the dirty and twisted pieces that I wish never existed.
Lie: I didn't need him to save me.
Lie: I knew exactly who he was.
Lie: Losing him wouldn't destroy me.
But that's the thing about lies—you never know who to believe.
Cutie Pies and Deadly Lies by Addison Moore (Live 9.13)
My name is Lottie Lemon and I see dead people.Okay, so I rarely see dead people, mostly I see creatures of the dearly departed variety, aka dead pets. And for some reason those sweet, fluffy albeit paranormal cuties always seem to act as a not-so-great harbinger of deadly things to come for their previous owner. So when I saw that sweet orange tabby twirling around my landlord's ankles, I figured Merilee was in for trouble. Personally, I was hoping for a skinned knee—what I got was a top spot in an open homicide investigation. Throw in a hot judge and an ornery detective that oozes testosterone and that pretty much sums up my life right about now. Have I mentioned how cute that detective is?
Lottie Lemon has a bakery to tend to, a budding romance with perhaps one too many suitors and she has the supernatural ability to see dead pets—which are always harbingers for ominous things to come. Throw in the occasional ghost of the human variety, a string of murders and her insatiable thirst for justice and you'll have more chaos than you know what to do with.
Living in the small town of Honey Hollow can be murder.
No Tomorrow by Carian Cole (Live 9.13)
The people we love are thieves.
They steal our hearts. They steal our breath.
They steal our sanity.
And we let them.
Over and over and over again.
* * * * * * * * * * * * * * * * * * * *
They say you never forget your first time.
Mine was with a homeless musician who effed my brains out under a bridge.
He was my first love. And fourteen years later, I still can't get him out of my head.
He broke all my rules.
He also broke my heart.
I watched him climb to stardom, cheering him on from afar.
But I was never a fan; just a girl in love.
Like a tornado, he spiraled, leaving a path of destruction in his wake.
But love conquers all, right? It has to. Because here I stand, ravaged and ruined, needing it to be true.
You can't go back, but I want to. Back to the bridge. Back to when he sang only for me. Before he was famous. Before he shattered my heart.
I thought I knew everything about him.
But I could not have been more wrong.
He promised me every tomorrow. And here I am, waiting.
And hoping.
Again.
Muse by Katy Evans (Live 9.14)
A brand new sizzling standalone contemporary romance by New York Times and USA Today bestselling author Katy Evans.
It was supposed to just be a quick trip to Manhattan.
My best friend was heartbroken. She needed support, and I needed inspiration.
I hoped to love the city. Bustling. Crazy. Inspiring New York.
But I ended up at the airport, heading home in the same condition that I arrived.
In a rut.
Add to all that, missing my flight and losing my laptop—the laptop, where the Best Love Story Ever sat on my hard drive.
Enter Noah Steele. Eerily familiar. Movie star. Heartthrob. Sultry romeo with bedroom eyes.
(But we're not going there.)
He missed his flight too.
Noah is so smoldering, lip-bitingly hot, he's not taken seriously as an actor, and is struggling to launch his career in New York.
He's only ever had superficial girlfriends, so he's having trouble showing true passion in his acting—the same challenge I'm having with this book.
When we met, we didn't know that our connection would bring us the change we'd been craving.
That we'd be the very thing the other needed and didn't know.
Each other's muse.