Revenge by Meredith Wild
No one else can stop them…
I've never loved Tristan more. I've never trusted him less. Is it murder in his eyes or just jealousy when he insists we'll find answers in Boston, headquarters of one of our greatest enemies and home to the man I left back in Rio?
I haven't forgotten Kolt's betrayal nor the blood that's already been spilled between our families. Inviting him back into my life with the promise of settling our unfinished business is a dangerous gamble that could end in more bloodshed.
But as his family's twisted plan starts to unfold, nothing can prepare me for the horror of what will happen if I do nothing. More people will die, and every death will serve a dark purpose. Tristan and I may be an army of two, but one thing is certain—if we can't save them, no one will.
Hitched by Lili Valente and Pippa Grant
She's the last woman on earth I'd marry….again.
Yet here I am.
Saying my vows. Again.
To save an alpaca.
At least, that's my story.
But the truth might be a little more complicated.
I didn't want to let her go the first time. But now I have a second chance to win over my wife.
We're older. Wiser. And hornier.
This time, I won't fail.
Hitched is a red hot, enemies-to-lovers laugh-a-palooza featuring a girl in need of a marriage of convenience and a man in need of a cold shower to keep from falling for his fake wife. They say opposites attract, but with Blake and Hope, they also combust…
Dark Illusion by Christine Feehan
At any other time, Julija Brennan would find solace in the quiet of the Sierra Mountains, but now the mage is in the race of her life. Having broken free from her controlling family, Julija's attempt to warn the Carpathians of the coming threat has failed and put a target on her back-and those who are hunting her are close behind….
After centuries locked away in a monastery in the Carpathian Mountains, Isai Florea can't believe he's finally found his lifemate-the missing half of his soul. The second he sees Julija, his world blazes with color. But despite their explosive connection, Julija rebels against what she sees as Isai's intent to control her and rejects the bond that would prevent him from becoming a monster.
As their unfulfilled bond continues to call to them both, Julija and Isai aim to complete the task that brought them together. They are used to facing danger alone, but now the mage and the ancient warrior must learn how to rely on each other in order to stop a plot that threatens all Carpathians….
Jordyn's Army Athology
JORDYN'S ARMY is a charity anthology for Jordyn Preston (daughter of author Beverly Preston) and her fight against cancer. (Keep reading if you want to learn more about this amazing young lady.)
EVERY SINGLE PENNY, not profits, but ALL money from this project will go to the Preston family.
This beautiful book (electronic, hard & paperback) will only be available for 30 days so don't wait – order yours today.
In the hardback, you will see, exclusive to the anthology, artwork painted by Jordyn, in full color.
The new stories you'll find in Jordyn's Army.
Fighting For Our Forever… Baby style by Heidi McLaughlin
Pure Rose by Kathy Coopmans
Waking Up to Forever by Amy Briggs
Crush by Adriana Locke
Love, Rose by Shari Ryan
Reunion by Julie Richman
Coming Home by Author HJ Bellus
Roses for Rachel by Sam JD Hunt
Finley and Sebastián, Wages of Sin series by Tara Leigh
Whiskey & Roses by Kaylee Ryan
Where I Escape by Michelle Dare
Capturing Tomorrow by Haylee Thorne
Coming Up Roses by Michelle Windsor
LINE 39 by Verlene Landon
Mine to Protect by Kristin Mayer
The Way We Fell by MJ Fields
Ring Me by Rebecca Brooke
A little about Jordyn.
For those who don't know, Jordyn Preston is a nineteen-year-old Las Vegas native where she lives with her family and two golden retrievers. When she's not kicking cancer's ass, you'll find her volunteering at her favorite dog training facility, creating art from copper or the stroke of a paintbrush. She also enjoys cooking and sewing.
In June 2015, Jordyn was diagnosed with a very rare liver cancer and received a full liver transplant on September 3, 2015. She remained cancer-free for almost two years, before being re-diagnosed in Aug 2017, one week into her senior year of high school.
Through cancer, Jordyn found a new love, speaking in public. She shares her story and scars in hopes of inspiring others. Jordyn also acts as an Ambassador for the Make A Wish Foundation.
With the help of Jordyn and her mom, Beverly Preston, we've been able to bring Jordyn's Army to you.
This is Love by Natasha Madison
Vivienne
Never fall in love.
That was my motto, and I was sticking to it.
Having my heart broken once was enough, and I never wanted to do it again.
He was supposed to be a one-night stand, the only thing I do.
One rule shouldn't be so hard to follow, but then I went back for seconds, then thirds.
After that, I lost count of the number of times I lost myself in his arms.
When I wasn't paying attention, my guard slipped.
Mark
They call me Private Mark for a reason—my whole life is a secret.
For two years, we danced around each other until I got her right where I wanted her … under me.
Now that I had her, I wasn't letting her go. I thought we were on the same page.
I thought we were building something great.
Boy, was I ever wrong.
I had no idea that while I was falling in love, she was trying to convince herself we were temporary.
She thought I'd walk away.
She was wrong.
Now it's time to convince her she wants us too and to show her that the crazy, wild thing we have … This Is Love.
Heidi's Guide to Four Letters Words by Tara Sivec (Audio Only)
Cowritten by USA Today best-selling author Tara Sivec and award-winning narrator Andi Arndt, a hysterically funny, heartfelt romance – created specifically for the audio format!
Nothing good ever comes from drinking a box of wine alone. So when I decided to entertain my drunken self by setting up some hand-me-down podcasting equipment and reading the steamy parts from romance novels, I never thought anyone would actually listen. The fact that I admitted my huge crush on my sexy next door neighbor made the whole thing even more mortifying. But sometimes life surprises you, and that's how my podcast, Heidi's Discount Erotica, was born.
Now I, Heidi Larsen, a sweet former kindergarten teacher in Waconia, Minnesota, lead a scandalous double life reading erotic novels to the listening world. And with each episode, I find myself embracing my new alter ego more and more. Now I'm starting to feel more comfortable in my own skin and do things I never would have dreamed of – like kissing my neighbor.
Look out, Waconia, because Heidi's on the loose! She's in your ears, in your hearts, and down your pants…wait, that didn't sound as good as it did in my head. Well, you get the picture, don'tcha know!
Vendetta in Death by J.D. Robb
Book 49 in the bestselling In Death series – Eve Dallas takes on a serial killer dispensing their own form of justice.
When a family man is tortured, killed and left in front of his family home for all the world to see, Eve Dallas knows she is on the hunt for a particularly dangerous killer.
But death uncovers secrets and the killer leaves a note revealing the victim to be far from the family man he appears. As Eve scrambles to find out what she can to link victim and killer, another body is found. Another man with a dark and murky past.
The race is on before the killer strikes again but Eve must wrestle with her demons and her conscience as she decides whether she really wants to protect men who probably deserve everything they get…
Sweet Talker by Robin Bielman (Live 9.5- Read my Review)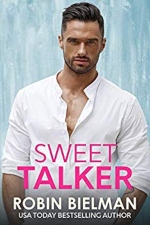 He likes to be in control…
It's like this: I'm the hottest restauranteur on the west coast. I work hard, play hard, and love my family. I'm also the guy on the receiving end of some unwelcome threats and fixation. Then Pascale Nichols walks back into my life, and I forget about everything but her. They say lightening never strikes twice, but she's the one that got away. She's also, I soon discover, the one my family secretly hired to protect me. Am I mad? Hell, yes. Am I game to play along? You bet.
She's in over her head…
Everyone knows and loves Ethan Auprince. With his sexy-as-sin dimples and crazy likeability, he's always the center of attention. I've been tasked with protecting celebrities, bigwigs, and high-ranking officials, but when I come face-to-face with the man I spent one incredible summer with, I'm in trouble. A careless mistake on my last assignment cost me, and now Ethan is looking at me like he wants to devour me, not cooperate with my subtle instructions while I work under the guise of his restaurant manager.
My reputation is at risk. His safety is on the line. But worse, we're falling in love again.
Jock Road by Sara Ney (Live 9.5)
EAT. SLEEP. FOOTBALL.
Those are Jackson Jennings, Jr's three mantras . His entire life, he's been a trained athlete with only one end-game: the Pro's. No girls. No parties. No alcohol.
EAT. SLEEP. FOOTBALL.
Repeat.
Every Friday night, Triple J cruises the strip on campus, bored, lonely and conditioned not to party. But the night he meets Charlotte Edmonds on the side of the road, he wonders if his three mantras will ever be enough.
BIG. DUMB. JOCK.
Charlie has no time for Jackson's antics. Not when he's stealing her food or teases her to no end, making her tingle in all the right places. But if she's ever going to have a boyfriend, she'd choose one who isn't a Neanderthal. One with manners and actual time to spend with her. Not a hulking man-child who cruises the strip at night, in his Big. Dumb. Truck.
Finding Storm by Samantha Towle (Live 9.6- No Preorder)
The son of an icon.
He was a legend. Rock royalty.
A man I never met.
But I'm measured against him in every aspect of my life.
The only time I feel like me … the real me … is when I'm onstage with my band. But the more we grow in popularity, the more people compare me to him.
I'm not him. And I never will be. If only everyone could figure that out for themselves.
I need a break from it all.
Then, a confrontation has me jumping in my car, putting LA in my rearview mirror. And a stupid mistake ends up with my car on the side of the road. And straight into the path of a girl who is the exact opposite of everyone else in my life.
She's like everything I used to know.
And she has no clue who I am.
Even if she did, I don't think she'd care.
She thinks I'm cavalier.
I think she's intriguing. And hot. Let's not forget hot.
I'm stuck in this town overnight while my car is being fixed. But I'm thinking I'm gonna stick around a bit longer.
I'm Storm Slater, lead guitarist in Slater Raze and the only child of the late, great Jonny Creed. But, here, right now … I'm nobody. Just a regular guy.
I'm liking it a whole lot.
And I'm liking her even more.