Loving Irish by Katy Regnery (Read my Review)
Ian Haven and Halcyon Gilbert haven't seen each other since Hallie's 17th birthday…
…the same day Hallie pledged she would never, ever speak to Ian again as long as she lived.
Hallie Gilbert has had an especially awful year. When her husband of five years left her, Hallie's 4-year-old daughter, Jenny, essentially stopped speaking. Add to this, she had to sell her Boston apartment to pay her husband's exorbitant credit card bills. What Hallie needs is an uncomplicated autumn at Colby Cottage, her family's summer home in Sandwich, NH, where she and Jenny can re-group and figure out what happens next.
But Colby Cottage, located adjacent to the Summerhaven Camp, has not been well-maintained and Hallie finds it in such disrepair, it's almost unlivable. When nearby camp owner, Rory Haven, arranges for his brother, Ian, to handle renovations for Hallie, her plans for an uncomplicated autumn suddenly get a lot more challenging.
A Wish For Us by Tillie Cole 
Nineteen-year- old Cromwell Dean is the rising star of electronic dance music. Thousands of
people adore him. But no one knows him. No one sees the color of his heart.
Until the girl in the purple dress. She sees through the walls he has built to the empty darkness
within.
When Cromwell leaves behind the gray skies of England to study music in the South Carolina
heat, the last thing he expects is to see her again. And he certainly doesn't expect that she'll
stay in his head like a song on repeat.
Bonnie Farraday lives for music. She lets every note into her heart, and she doesn't understand
how someone as talented as Cromwell can avoid doing the same. He's hiding from his past, and
she knows it. She tries to stay away from him, but something keeps calling her back.
Bonnie is the burst of color in Cromwell's darkness. He's the beat that makes her heart skip.
But when a shadow falls over Bonnie, it's up to Cromwell to be her light, in the only way he
knows how. He must help her find the lost song in her fragile heart. He must keep her strong
with a symphony only he can compose.
A symphony of hope.
A symphony of love.
A symphony of them.
More than Words by Mia Sheridan 
From the moment she met Callen Hayes, eleven-year-old Jessica Creswell knew he was a broken prince. Her prince. They became each other's refuge, a safe and magical place far from their troubled lives. Until the day Callen kissed her . . . and then disappeared from her life without a word.
Years later, everyone knows who Callen Hayes is. Famous composer. Infamous bad boy. What no one knows is that Callen's music is now locked deep inside, trapped behind his own inner demons. Then he stumbles into the one person who makes the music return. Jessica. Who still sets his blood on fire.
But they don't belong in each other's worlds anymore. There are too many mistakes. Too many secrets. Too many lies. All they have is that instinctive longing, that need, the one that's beginning to feel dangerously like love . . .
Captivated by Tessa Bailey and Eve Dangerfield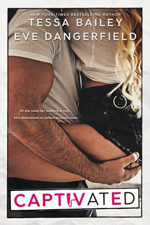 Secret aspiring comedian Autumn Reynolds is a girl gone…not wild exactly. More like lazy. Since her boyfriend abandoned her in New York City for a bunch of improv groupies she's had two priorities; sucking the nitrous out of whipped cream cans and making sex comics about her mysterious landlord.
Blake hates people—and sunlight—with good reason. Imagine his surprise when he finds himself lusting after his upstairs tenant, a sunny, Australian people pleaser down on her luck. Turns out his ability to terrify with a single scowl comes with an advantage. Autumn seems to like it. A lot. As evidenced by the prisoner-captive comic Blake was never meant to see.
As they embark on a three-date arrangement the rules are clear; filthy, ground breaking sex, no feelings or commitment required. When chemistry is this strong, though, attachment follows. As Blake and Autumn attempt to negotiate their New York romance, their prior histories and secret dreams come to the foreground. How long can these polar opposites remain Captivated, when all signs point to disaster?
Wild Card by Lila Monroe 
Is there anything worse than playing maid-of-honor to your bitchy college nemesis? Try it when she's marrying your DAD! Olivia Danvers doesn't know what she's done to deserve this karmic retribution, but she needs a date to the wedding from hell – and fast. She's used to matchmaking billionaires, but now she needs a Prince Charming of her own. Someone handsome and famous enough to make bridezilla and her minions drool with envy…
Someone like hottie ex-NFL star Ryan Callahan.
Ryan is looking for love. Well, the fake kind. He needs the perfect woman on his arm to woo investors for his superstar new business venture, but nobody is scoring that touchdown… until elegant, sophisticated Olivia comes to him with a proposition. She'll play his perfect date – if he'll play hers.
The deal is simple! Or is it? Take one week in the Florida Keys, a dose of sizzling sexual tension, a madcap wedding, and some seriously humid frizzy hair, and Ryan and Olivia have the recipe for disaster… or maybe the time of their lives.
But can Olivia let down her guard long enough to let Ryan sweep her off her feet? And will Ryan take his eyes off the (business) prize long enough to see what's right in front of him?
Their First Fall by MJ Fields 
Their First Fall
Keeka
Alone in the world, after her mother's death, she tries to find the life she dreamed of as a child.
Trucker
Alone in the world the family he felt part of began to fall apart, as his dreams of being an NFL quarterback become his reality.
What happens when everything you had is gone, everything you wished for seems to be in arms reach, and your world begins to spin in circles?
You Fall
Ace of Hearts by Chantal Fernando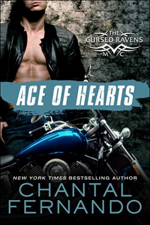 Erin Dawson had the perfect life growing up in a perfect home with a perfect family. Her parents gave her and her sister everything a child could want. But after learning that the man she's called "dad" her whole life isn't actually her biological father, Erin is determined to find the man who is.
Armed with her original birth certificate, she finds her father, but begins questioning if her mom had been right all along to keep this information buried. It turns out he is the president of a motorcycle club, which could not be further from the life Erin leads. But, she's determined to get to know the man who she gets her striking blue eyes from. Despite getting what she wants and finding her biological father, it's the slightly older, much rougher but incredibly sexy biker Ace that catches Erin's eye.
As the new "princess" of the Cursed Ravens, Erin is learning a whole new world, but her father has made it clear she is off limits. Will Ace follow his President's orders or will he put his heart ahead of his duty? A sizzling tale of family and passion, Ace of Hearts features Fernando's signature "snark and sass" (Booklist) and is perfect for fans of Kristin Ashley.
Tied Down by Chelle Bliss and Eden Butler 
Cara Carelli is a silver-tongued mafia princess, master manipulator, and the only woman I've ever loved. But she's also smokin' hot and my ex-wife.
When Cara led me straight into a trap and pleaded for my help, I couldn't say no. She thought she had the upper hand, but this time, I was in control and planned to make her beg.
They say all's fair in love and war and turnabout's fair play, but what starts out as a wickedly seductive ploy turns into a twisted game of the heart.
Tied Down is a full-length enemies to lovers, second chance STANDALONE by USA Today bestselling author Chelle Bliss and Eden Butler.
End Game by Toni Aleo 
This is going to be Ryan Justice's year. It's his last year of college and his last year as a hockey player for the Bellevue Bullies. He's making all the plays in preparation for achieving his dream of being drafted into the NHL.
This is Sofia Castilleja's beginning. She is starting her college career as a star member of Bellevue's brand-new gymnastics team. She's going to tumble her way to success, first in school and then by realizing her dream of opening her own gym.
Ryan and Sofia didn't see each other coming, but once they meet, they can't look away. Their dreams are destined to take them in opposite directions. But it doesn't take them long to realize that waking up to reality together may be better than dreaming alone.
Whiskey Reveals by Carrie Ann Ryan 
One whiskey-saturated night turns into something far more in the second standalone installment of the bestselling Whiskey and Lies series from NYT Bestselling Author Carrie Ann Ryan.
Fox Collins likes his life just the way it is. His siblings are falling in love all around him, but he'd much rather focus on his next story than on a serious relationship. However, when his latest one-night stand returns to Whiskey-this time for good-he'll need to learn to trust his instincts to figure out if he can live without her in his life.
Former dancer Melody Waters is finally ready to settle down in her grandmother's small Pennsylvania hometown. Bad decisions and fateful nights have changed her path more than once, but now she's focused on one thing: opening her new own dance studio. But fate is a funny thing, and once again, she'll be forced to learn that actions have consequences and some repercussions can not only change your life forever, they can also come back to haunt you…one broken promise at a time.
Each book is a complete stand alone and can be read in any order.
Atticus by Sawyer Bennett
Through the haze of vodka and self-loathing, Hazel Roundtree saw the poor creature lying in a ditch.
One brown eye. One blue.
Covered in mud and crying from pain, the puppy was desperately trying to free itself from a hopeless situation.
She almost kept walking by. She had her own problems and besides… no one had ever stopped to help her.
Who we're ultimately meant to be is a journey without end, but there's always a defined start…
Hazel had no idea the dog would be her beginning, her second chance, the miracle she never saw coming. She named him Atticus. He grew up to be a very bad–and completely awesome–dog. He took Hazel on a life-changing journey filled with mischievous adventure and painful heartbreak. In the end, Hazel grew up to be completely awesome, too.
Knocked Up by Stacey Lynn 
Braxton: I should probably be dead or in jail right now. Instead, thanks to some tough love, I worked my ass off and now I own a string of tattoo parlors throughout the Pacific Northwest. And yet the one thing I've always wanted—a family—still seems out of reach. When my best friend gets married, I'm just hoping to blow off some steam with the super-hot maid of honor. But after Cara Thompson tracks me down to tell me she's pregnant, she's more surprised than I am when I tell her I'm all in.
Cara: For the first time in my life, I'm living for myself—not for my parents and their ridiculous expectations. I gave up on my MBA, dropped out of the Ivy League, and moved to Portland to pursue my dream of becoming an artist. And what's the first thing I do? Get knocked up. For a tatted-up sex god, Braxton Henley seems way too eager to "be there for me." Is this guy serious? Maybe. He sure is patient. Because he won't back down until I admit what I know in my heart: that our one night standmight've led me to the one.
Uncoscious Hearts by Harper Sloan 
Ari Daniels didn't count on her whole world tumbling down around her in a mess of shredded promises, broken love, and unbelievable heartbreak. Alone and stricken with grief, she shouldered the blame and eventually closed her heart off, refusing to open it for another. After all, anytime she tried, guilt and regret were waiting in the wings to remind her how painful it was.
A bet and one steamy night with a stranger force Ari to confront all she's been hiding behind. She tries to move on, but he refuses to stand down, wanting what she is terrified to give—herself. This man may very well destroy her in the end, especially when it's clear he has his own demons.
What happens when two broken souls come together, finally allowing themselves to believe in the beauty of love … only to have to fight harder than ever to keep it?
Survival of the Richest by Skye Warren 
My story starts with a plunge into the cold water of Manhattan's harbor.
A strong hand hauls me back onto the deck of the luxury yacht. Christopher was supposed to be my enemy. Instead he protects me with fierce determination.
That should have been my happily ever after, but then Sutton appeared–ruthless and seductive. He doesn't care that my heart belongs to someone else, because he's determined to win. No matter the cost.
It's an impossible choice, but I can't have them both.
Ocean Light by Nalini Singh 
Security specialist Bowen Knight has come back from the dead. But there's a ticking time bomb in his head: a chip implanted to block telepathic interference that could fail at any moment–taking his brain along with it. With no time to waste, he should be back on land helping the Human Alliance. Instead, he's at the bottom of the ocean, consumed with an enigmatic changeling…
Kaia Luna may have traded in science for being a chef, but she won't hide the facts of Bo's condition from him or herself. She's suffered too much loss in her life to fall prey to the dangerous charm of a human who is a dead man walking. And she carries a devastating secret Bo could never imagine…
But when Kaia is taken by those who mean her deadly harm, all bets are off. Bo will do anything to get her back–even if it means striking a devil's bargain and giving up his mind to the enemy…
On The Edge by CD Reiss
"In Iraq, I promised you a bed of rose petals." He grabbed my hand under the table, tightening his grip as if he were falling from a precipice and our connection was the only thing saving him from certain death.
"They were beautiful."
"You smell like apples. Roses were wrong." There was nothing soft about his tone, but his quiet words were for me alone. "I want everything to be right for you."
"Caden, look at me."
I caught his gaze and held it. He was confident. Arrogant. Sure he had a place in the world. And under that was the man who needed me to be that place.
"If I could…" He smiled and shook his head at a silly thought he wanted to dismiss but couldn't-a contradiction in keeping with the whole man I married. "If I could write my love in the sky, it wouldn't be big enough. I'd run out of room. I'd fall out of the air trying to say it all."
He was saying it all.
Every day.
And he was falling out of the sky to do it.
In too Deep by J. Kenner 
Hannah Donovan is not my type.
Intellectual and career-focused, she's a lawyer, and an intimidatingly beautiful one, at that. I'd rather pump iron than open a book, and the only reason I'd go to court would be for a traffic ticket.
She's the most gorgeous woman I've ever seen. So how can I turn down her plea that I pretend to be her fiancé for one weekend?
But I never expected our pretend kisses to feel so real … or for it to lead to a wild night in bed that will forever stand out as the highlight of my sex life.
Our performance convinces everyone, but it was never meant to be more than a fantasy. A short term gig before reality sets back in.
I can't imagine ever being good enough for her, but I'm hooked. And now I'm determined to do whatever it takes to make this fake engagement real.
Up to You by Daisy Prescott 
I'm the last single woman among my friends. Don't feel sorry for me. I'm fine with flying solo, especially with ski season right around the corner. You won't hear me complaining. Until my mother decides I need a date for my cousin's wedding … and chooses the worst man in the world for me.
Landon Roberts is the human equivalent of a parka with every ski pass he's ever purchased hanging off of his zipper. Apparently my mother is the last person in Colorado to know about Landon's reputation.
To make things worse, his super hot brother Aiden's back in town. Still gorgeous and still not remotely interested in me.
I can survive this wedding disaster as long as I pretend my date is someone else.
***
As one of the stars of Aspen's rugby club, I don't need help meeting women. Tell that to my mother. She's picked out my date for the biggest wedding of the year.
Mae London is the local girl who broke every heart in the valley before she left for California. Now she's back and hotter than ever. Too bad she hates me.
Enlisting the help of my brother, I'm going to become the ideal man, and charm Mae right out of her bad opinion of me.
This wedding date will be perfect as long as I pretend to be someone else.
Up to You is a standalone romantic comedy set at high altitude.
Player on Ice by S.R. Grey 
Jaxon Holland is more than a top-scoring center for the Las Vegas Wolves—he's also the biggest "player" on the team. Women love him, flock to him, lust for his sculpted body.
Yeah, life is good for this hockey player.
Or it was until lately.
After blowing a key play in what may have been the biggest game of the season, the fans sour on Jaxon. Good thing memories are short, right? Uh, they're not when a widely popular sports blogger, known simply as Mr. Hockeypants, calls Jaxon out and places all the blame for the loss on him.
Life goes from bad to worse, and Jaxon wants to get away.
Good thing one of his teammates has a beautiful, secluded beach house he can escape to. Sand, sun, surf, and lots of alone time sound good to this disgruntled centerman.
Only problem is the beach house is already occupied—by beautiful and spunky Cara Milne.
Cara and Jaxon are off to a rocky start after an extremely awkward first meeting. Yeah, these two pretty much hate each other. But Jaxon, forever a "player" at heart, vows to win his housemate over.
What he doesn't know is Cara is Mr. Hockeypants! His worst enemy, the bane of his existence!
And she's determined that he never finds out.
Too bad keeping a secret is more slippery than ice, especially when you start falling in love with the guy you almost destroyed.
Player on Ice is the fifth standalone novel in the bestselling Boys of Winter hockey romance series.
**STANDALONE**
**EACH BOOK IN THE BOYS OF WINTER SERIES FEATURES A DIFFERENT SMOKING-HOT HOCKEY PLAYER'S STORY*
The Varlet and the Voyer by Penny Reid and L.H. Cosway (Live 6.14- No preorder) 
THE VARLET (and the VOYEUR)
William Moore is a long way from home. A farm boy from Oklahoma, he's now the most well-respected member of the Irish rugby team. But appearances are often deceptive, and Will isn't the clean-cut, all-American good-guy everyone imagines him to be. He's got a secret, one that will tarnish his reputation forever.
THE VOYEUR (and the VARLET)
Josey Kavanagh is a self-proclaimed mess, but she's finally getting her shi… uh, act together. She's set her sights on becoming a veterinarian, but there's one teeny tiny road bump. Her living arrangements are coming to an abrupt end, leaving Josey homeless and in need of a job to pay her way through college.
THE PLAN
What he needs is a companion to keep him on the right path.
What she needs is an apartment with free rent.
Will is convinced Josey will make the perfect companion, since she's brutally honest and basically 'just one of the guys.' Josey is convinced she can ensure Will doesn't succumb to his voyeuristic proclivities by keeping a scrupulous eye on him.
Except, what happens when the varlet is tempted by the voyeur, and vice-versa?!
Perchance something very, very volatile. And vexing.