Tinfoil Heart by Daisy Prescott 
A new romantic comedy about love, letting go, and little green men from USA Today Bestselling author Daisy Prescott.
My father was abducted by aliens.
Or so I believed for the last eighteen years.
After my mother's death, I moved to Roswell, capital of all things alien. I'm going to find out the truth and nothing will stop me . . . except Boone Santos.
Compared to the intergalactic tinfoil hat brigade, he's a god amongst mere mortals. Too handsome for his own good (and mine), with a grumpy arrogance, and the most beautiful smile ever–he smashes my plan to pieces like a UFO crashing into the desert.
I need a tinfoil hat for my heart.
Do I believe in aliens? I'm not sure.
What do I believe? I'm not going to fall in love with Boone. Definitely not . . .
Rome's Chance by Joanna Wylde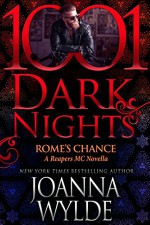 From New York Times and USA Today bestselling author Joanna Wylde comes a new story in her Reapers MC series…
Rome McGuire knew he was in trouble the first time he saw her.
She was sweet and pretty and just about perfect in every way. She was also too young and innocent for the Reapers Motorcycle Club. He did the right thing, and walked away.
The second time, he couldn't resist tasting her.
Gorgeous and smart, fun and full of wonder, she jumped on his bike and would've followed him anywhere. Still, she deserved a shot at happiness somewhere bigger and better than a town like Hallies Falls. Walking away wasn't so easy that time, but her family needed her and he had a job to do.
When she came around a third time, he'd had enough. Randi Whittaker had been given two chances to escape, and now it was time for Rome to take his.
This time, the only way Randi would be leaving Hallies Falls was on the back of Rome's bike.
**Every 1001 Dark Nights novella is a standalone story. For new readers, it's an introduction to an author's world. And for fans, it's a bonus book in the author's series. We hope you'll enjoy each one as much as we do.**
Love at Last by Claudia Connor 
With her ex-groom's words, I'm in love with someone else, still ringing in her ears, Clare Franklin flies off alone to her would-be honeymoon. Forced to accept not everyone gets that happily ever after she's always dreamed of, she's done with men. Until she gets tangled up, quite literally, with one sexy veterinarian.
The only thing Dr Deacon Montgomery wants is to share his surgical expertise and get back to his two year old twin daughters. But, the connection he feels with Clare highlights just how alone he really is and makes him wonder if he can be more than doctor and daddy.
Long talks and moonlit walks under the rustle of palms has Clare thinking maybe she gave up on love too soon. Until one phone call from home changes everything.
Co-Ed by Rachel Van Dyken 
Four guys.
Constant moaning.
And a revolving door across the college suite I somehow ended up in because my first name is Shawn.
They don't discriminate. Girls. Guys. Grandmas. Plants (okay maybe not plants) all walks of life stroll in stressed to the brim, and leave so satisfied I'm wondering what sort of talents lie behind that door.
My roommate calls them the pleasure ponies.
But the rest of the college campus?
They just call them the new face of Wingmen Inc. A paid for relationship service that makes big promises.
Breakup? They'll glue you back together again.
Depressed? They have the magic pill.
Lonely? Just spend a few minutes while they rub you down and you'll forget all about it.
And broken hearts? Well, that's their specialty. They'll fix you.
For a price…
I swore I wouldn't get involved.
But apparently they like a challenge, and a girl who doesn't put up with their BS is basically like waving a red flag in front of a bull.
They. All. Charged.
But one holds my attention above the rest.
Knox Tate looks like a Viking — and getting pillaged is starting to look more appealing by the day. Though he's hiding something — all of them are. And the closer I get. The more I realize that some things are left better in the past.
You've read reverse harem books before — but you've never read one like this. It's not what you think, or is it? Dive in and find out…
Knox, Leo, Finn, and Slater are waiting, and they aren't patient men.
Welcome to the new face of Wingmen Inc — You're welcome.
Forbidden by Elisabeth Naughton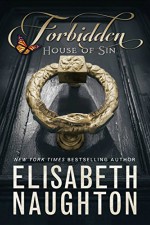 She has no idea what lurks behind the forbidden doors of the House of Sin…
He is temptation. Forbidden fruit. A craving I can't seem to resist.
I went after him in search of answers, certain he had blood on his hands. Now I've fallen prey to his seductive looks and commanding charisma.
I know he is a threat. He's entwined in a dangerous world I don't understand. But even that doesn't stop me from aching for his touch, for the taste of his wicked lips.
Before I can truly surrender to the fire smoldering between us, I need to know more. I have to see behind the doors he keeps firmly locked.
I need to discover what he's hiding in the shadowy world known as the House of Sin…
**WARNING!**
This book is very sexy, very dark, and very addictive! Features a mysterious hero with a dangerous secret. This is a big story that can't be told in only one book so there is a cliffhanger – but never fear, book two releases three weeks later.
Troublemaker by Lili Valente 
They say Rafe Hunter is trouble with a capital T.
I say–bring it on.
As long as Trouble comes in a package as delicious as Rafe's, I'm ready to climb on his Harley and ride all night long–and I'm not just talking about his motorcycle.
I can hide out until the scandal with my evil ex blows over AND have a wild rebound at the same time. Besides, I've got no heart left to break. My ex made sure of that.
As long as Rafe and I keep our no-strings fling from our families, what can possibly go wrong?
***
This is so damned wrong.
I don't do drama, and this thing with Carrie Haverford has Bad News written all over it. After one red-hot kiss, I know I should cut and run.
Instead I take her home, take her in her car, take her to the beach and make her scream louder than the crashing waves. And then I take her so far into my heart I don't see how I'm ever going to let her go.
The say the bigger and badder they are, the harder they fall. But when I fall for a girl with third degree love burns, how can I convince her that fire is a good thing?
This sexy Standalone romance will make you laugh, melt, and fall madly in love.
Anonymous by L.P. Dover 
Every person has a story to tell. Some may be sweet with a happily ever after, but there are others that end in tragedy.
Mine has yet to be finished.
My name is Elizabeth Kingston and this is where my story begins.
I never thought my life could be so perfect. I have an amazing job owning my own bakery, and a wonderful husband who I love and who loves me back. Never once did I have to worry about anything, at least, not until the texts started coming in. They always begin the same way … numbers that spell my nickname when read upside down.
31773
It's someone from my past, only they won't to tell me who they are, but that by talking to them, I'll figure it out. It's a game I refuse to play. Unfortunately, I'm left with no choice when things begin to take a dangerous turn.
His name is Anonymous and there's only one thing he wants … ME.
Lie to Me by Natasha Preston 
At nineteen, Savannah Dean escaped her family, leaving behind a note and the people who caused her so much pain.
Now, she lives on her own and keeps to herself.
At nineteen, Kent Lawson's girlfriend betrayed him, leaving him behind with a broken heart and a whole lot of mistrust in women.
Now, he lives on his own and shares himself with nearly every pretty thing that walks by but only for one night.
When Savannah and Kent meet, they can't stand each other.
Kent knows she's hiding something, and he despises liars.
And Savannah has nothing but secrets.
When Stars Burn Out by Carrie Aarons 
Stars die in one of two ways.
So slowly that each layer burning out feels like agony … or suddenly, exploding into a million pieces before the universe even has a grasp of what is happening.
When Paxton Shaw left Demi Rosen without so much as a goodbye, he stole her shine in both manners.
Now, eight years later, he's trying to pull her back into his orbit. The nation's most beloved football player, a tight end with a seriously tight end, has finally realized Demi is the one who got away.
But she's a different woman than the weak girl who used to come running whenever he called in the middle of the night. Strong, successful, her life's mission being to grant the wishes of children whose flames have all but been extinguished.
And untouchable, as dark and cold as a midnight sky with no moon in sight.
When one special child forces their star-crossed paths to collide, it's impossible to keep the feelings of their past buried. Paxton had been her Halley's Comet; the once in a lifetime love that scorched Demi's heart in the most spectacular of fashions.
She promised herself she would never make that mistake again. But, how can she forget the dreams of love she once had, when Paxton wants to make them come true?
Giving Her My Baby by Alexa Riley 
Brooks Renshaw has little time on his hands to deal with problems. But when his mom shows up after a weekend in Vegas married to someone he's never met, he decides to do some digging. Turns out she's hitched herself to a con artist with a trail of bad debts and abandoned women along the way. When Brooks finds out his new stepdad has a daughter, he decides to look into her, too. Only when he finds his new stepsister, he's ready to give her exactly what she wants.
Eleanor works as a live-in baby nurse for new mothers. But her need to have a baby of her own has led her to take matters into her own hands. It's not the ideal situation, but she can't wait on Mr. Perfect any longer. But one phone call about a final job may change all her carefully made plans.
Warning: This book is filthy, gooey goodness, with baby-making galore! They might be stepbrother and sister, but hey, who are we to stop love? Turn the lights down low, because we've got some claiming to do!
Cold by Max Monroe 
I wanted a second chance. What I got was a repeat.
She was too beautiful. Too smart. And her emerald green eyes saw too much.
I wanted space-she took it away.
I craved her lips-she gave me her kiss.
I screwed it up-she got smart.
Avoiding me is the right thing to do. I'm messed up, tortured, and probably always will be.
But I still want her.
Her mind. Her body. Her heart.
I want it all.
And this time, I'm in control.
No matter what I have to do, I will make her mine.
Note: Levi and Ivy's story will continue in Book Three-Fox.
Fortuity by Rochelle Paige 
The only kinds of luck I knew were bad and worse…until my life hung in the balance. I finally caught a break in the form of a second chance.
I vowed not to let it go to waste.
To make a difference.
But I didn't start really living until I met him.
Dillon Montgomery.
My complete opposite—except for our matching tortured souls.
I couldn't resist him for long.
How could I when his smallest touch made my heart race?
When it felt like we were destined to be together?
But sometimes luck and sorrow are intertwined…
Fortuity is the first part of Faith and Dillon's story, which will be completed in Serenity.
Execution by Lucia Franco 
The move to World Cup Academy of Gymnastics is the greatest challenge Adrianna has encountered. Punished for Coach Kova's overwhelming desires, she's reeling with resentment while she sits out the first meet of the season. As Adrianna fights to regain her focus, he pushes her body to the extreme, leaving her mentally and physically exhausted.
Kova underestimates Adrianna's endurance, and gravitates more toward her, despite his internal battle raging within to stay away. They try to disentangle themselves, but the tension between coach and gymnast mounts, engulfing them both in a forbidden world of deception and passion.
The one place where they should never feel alive, is where they find complete absolution. But one slip, one wrong landing, a missed grip, and everything they built can come tumbling down, damaging both their professional and personal lives.
Disturbing His Piece by Tessa Bailey 
Danika Silva can't stand Lt. Greer Burns. Her roommate's older brother may be sexy as hell, but he's also a cold, unfeeling robot. She just wants to graduate and forget about her scowling superior. But when a dangerous mistake lands Danika on probation—under Greer's watch—she's forced to interact with the big, hulking jerk. Call him daily to check in? Done. Ride shotgun in his cruiser every night? Done. Try not to climb into his giant, muscular lap and kiss him? Umm…
Greer doesn't let anything—or anyone—distract him from the job. Except lately, all he can think about is Danika. He's wanted the beautiful, cocky recruit since the moment he saw her. But she's reckless and unpredictable, and Greer is painfully aware of what can happen when an officer doesn't follow the rules. Probation seemed like a good idea, but now Danika's scent is in his car and he's replayed her voicemails twenty times. Christ,he's a goner.
Danika's melting Greer's stone-cold exterior one ride-along at a time. Being together could have serious consequences… but breaking a few rules never hurt anybody, right?
Iron Princess by Meghan March 
New York Times, #1 Wall Street Journal, and USA Today bestselling author, Meghan March, continues the story of her next devastating and damaged anti-hero in Iron Princess.
He's a mystery. An enigma.
His very identity is a secret buried beneath layers of deception.
He's also an addiction I can't shake. An attraction I can't fight.
And then I found out exactly who he is—a man more dangerous than the devil himself.
Now I need him in order to save everything that matters to me.
I have to pull back. Protect myself from the danger that haunts his every step.
Which would be easy . . . if I could stop myself from falling in love with him.
Blood Type by K.A. Linde 
For Reyna Carpenter, giving up her body isn't a choice. It's survival.
In a civilization laid waste by poverty and desperation, Reyna accepts a high-paying position with the wealthy and hungry vampire elite. Her new job is as the live-in blood escort for the intimidating, demanding, and devilishly handsome Beckham Anderson. He's everything she expected from a vampire, except for one thing—he won't feed off her.
Reyna soon discovers that behind Beckham's brooding, wicked façade lies a unique and complex man. And that, in a dark and divided world, she is more valuable than she ever would have believed.
For with each passing night, Reyna can't shake the sensation that it's Beckham who's afraid of her.
Note: Reyna and Beckham's story continues in Blood Match.
Only a Millionaire by J.S. Scott 
From New York Times bestselling author J.S. Scott comes the final book in her captivating Wall Street Journal bestselling series…
It has been a year since Brooke escaped to the lovely coastal community of Amesport, Maine, where no one knows her real name or what she's been through. Now she's finally heading back home to California. That means saying goodbye to Liam Sullivan, her millionaire blond god of a boss who's fulfilled every one of Brooke's fantasies. If only in her dreams…
Liam has his fantasies, too—and he's not letting Brooke go. When he confesses his feelings, it opens the door to an incendiary romance that's been a long time coming. So has Brooke's own confession: that the woman Liam is falling for has been living a lie.
But there's a secret about Brooke that even she doesn't know. When it's revealed, it'll put a whole new spin on her past, her future with Liam, the true meaning of family, and the rewards of following her heart.
Zodius Series Box Set by Lisa Renee Jones 
The Zodius Series Box Set includes the entire Zodius series: Michael, Sterling, Kel and Damion.
MICHAEL
He is a lethal weapon…
One of an army of soldiers created by a government experiment, Michael is different from the others involved, dangerous in ways no one quite understands. Even Michael himself, believes darkness lives within him, evil fights to control him. And only one woman, the woman he loves, can bring him back from the darkness and into the light. But she has become his enemy.
Cassandra is the daughter of the man who created Michael, who unknowing to her, tricked him into taking drugs he believed to be immunizations. She is torn between her love for Michael, and her love for her father. She's also the woman Michael left behind, breaking her heart, seeming to shut her out without looking back. But now Michael is back, fully intending to show his enemies, Cassandra's father included, his wrath. And he's not leaving without Cassandra.
••••
STERLING
He loved her and lost her…now he needs her help and he wants her back….
A super soldier created in a government experiment, Sterling Jeter has remarkable powers and has shown himself to be just about indestructible. That is until a beautiful, brilliant scientist who he once loved, crosses his path again. A woman who can help him save the world from a lethal threat, but will she become his weakness? Will she be the path his enemies have to victory?
••••
KEL
Sonia' a gifted physic who finds herself seeing visions of the many women who have started disappearing around Vegas. Visions that have now put her on the radar of Adam Rain, a soldier who was part of an experiment that made him a super solider, powerful and dangerous. Adam wants to control the city. He wants to control her.
Kel is also one of those super soldiers, a part of the unit called the Renegades who fight to protect humanity. A soldier who once planned to call Sonia his wife, until an Area 51 experiment changed his life, his future, Sonia's future. But now she is in danger, and nothing, and no one, is going to hurt her. She is his passion, his desire, his heart.
The man she believes is dead.
••••
DAMION
Lethally passionate, wickedly dangerous…
Renegade warrior Damion Browne is a soldier of soldiers, an enforcer of the code of honor. With ruthless precision, he calculates risks as deliberately as he does his lover's satisfaction. Now it's up to him to defeat a new generation of female Super Soldiers, including the one woman perfectly programmed to be his downfall.
His enemy…or his soul mate?
Lara Martin has never felt powerful, until she's brainwashed to destroy the one man who can help her find the answers she so desperately seeks. Alone and embroiled in lies, Lara must turn to Damion for the key to the truth …
Inferno by Julie Kagawa 
From the internationally bestselling author of The Iron Fey series comes the final novel in the fiery and unforgettable Talon Saga. Get ready to burn…
TODAY, WE STRIKE BACK.
WE SHOW TALON THAT WE WILL NEVER ACCEPT THEIR NEW WORLD.
Ember Hill has learned a shocking truth about herself: she is the blood of the Elder Wyrm, the ancient dragon who leads Talon and who is on the verge of world domination. With the Order of St. George destroyed, Ember, Riley and Garret journey to the Amazon jungle in search of one who might hold the key to take down the Elder Wyrm and Talon. If they can survive the encounter.
Meanwhile, Ember's brother, Dante, will travel to China with a message for the last Eastern dragons: join Talon or die. With the stakes rising and the Elder Wyrm declaring war, time is running out for the rogues and any dragon not allied with Talon.
The final battle approaches. And if Talon is victorious, the world will burn.
Savor You by Kristen Proby 
In the next sizzling romance in Kristen Proby's New York Times bestselling Fusion series, two celebrity chefs compete in a culinary competition, but resisting each other will prove to be the greater challenge.
Cooking isn't what Mia Palazzo does, it's who she is. Food is her passion . . . her pride . . . her true love. She's built a stellar menu full of delicious and sexy meals for her restaurant, Seduction. Now, after being open for only a few short years, Mia's restaurant is being featured on Best Bites TV. To say Seduction is a wild success is an understatement. All the blood, sweat, tears, and endless hours of work Mia has put into the restaurant has finally paid off.
Then Camden Sawyer, the biggest mistake of her life, walks into her kitchen . . .
Camden's celebrity chef status is world-renowned. He's the best there is, and the kitchen is where he's most at home. He can't resist the invitation to Portland for a showdown against Mia for a new television show. Mia was in his life years ago, and just like before, he's met his match in the beautiful Italian spitfire. The way she commands the kitchen is mesmerizing, and her recipes are clever and delicious. He's never had qualms about competition, and this is no different. He can't wait to go head to head with Mia. But can he convince her the chemistry they share in the kitchen would be just as great in the bedroom as well?
As Mia and Camden face off, neither realizes how high the stakes are as their reputations are put on the line and their hearts are put to the ultimate test.
Shopping for a Billionaire's Baby by Julia Kent 
You know what's even better than marrying a billionaire? Having his baby.
We're ready. We've studied and planned, read all the birth and labor books, researched parenting classes, consulted our schedules, and it's time.
And by we I mean me.
Declan's just ready for the "have lots of sex" part. More than ready.
But there's just one problem: my husband and his brother have this little obsession with competition.
And by little, I mean stupid.
That's right.
We're not just about to try to bring a new human being into the world.
We have to do it better, Faster, Stronger.
Harder.
McCormick men don't just have babies.
They engage in competitive billionaire Babythons.
I thought the hardest part about getting pregnant would be dealing with my grandchild-crazed mother, who will go nuts shopping for a billionaire's baby.
Wrong.
Between conception issues, my mother's desire to talk to the baby through a hoo-haw cam, a childbirth class led by a drill sergeant and a father-in-law determined to sign the kid up for prep school before Declan even pulls out, my pregnancy has turned out to be one ordeal after the other.
But it's nothing — nothing — compared to the actual birth.
Shopping for a Billionaire's Baby is the newest book in Julia Kent's New York Times bestselling romantic comedy series.
Misadventures with the Boss by Kendall Ryan 
At age twenty-nine, Piper Daniels is having the longest dry spell of her life. When she agrees to be set up on a blind date, she never expects it to end with the hottest sex of her life.
But when she discovers that her very well-endowed secret lover is also her new boss, heartless womanizer and cutthroat CEO Jackson Dane, she chalks it up to a one-time mistake and puts up her best professional front. But Jackson isn't used to rejection, and if Piper thinks it's going to be easy to move on from their tryst, she's underestimated his determination.
Wild in Love by Bella Andre and Jennifer Skuly (Live 4.25)
Daniel Spencer is proud of the billion-dollar business he's built, but there are few things he enjoys more than creating something with his bare hands. Lake Tahoe has everything he's looking for—the lakefront cabin he's building for family and friends to enjoy, crystal clear water and lush green mountains. Everything except the perfect woman to share it with. Until Tasha Summerfield literally falls into his arms.
After learning that her family has lied to her for pretty much her entire life, Tasha flees San Francisco for the mountains. As she tries to bury her heartache by hammering her dilapidated cabin back together, the last thing she expects is to fall for a sexy billionaire. But when a storm blows in and she desperately needs help, there is Daniel, waiting with open arms.
Tasha believes Daniel deserves a woman from a perfect, loving, tight-knit family like his. Yet how can she possibly resist a man this sweet and generous…who looks positively sinful in his tool belt? With every delicious taste of him, Tasha finds it harder to quell the hopes and dreams she thought were crushed forever. But when it turns out that Daniel's family isn't picture perfect after all, will the truth set them both free? Or will it destroy any chance they ever had?
WILD IN LOVE is part of Bella Andre and Jennifer Skully's bestselling series about The Maverick Billionaires. While it can easily be read as a standalone story, you'll likely enjoy reading the other books too.
The Maverick Billionaires are sexy, self-made men from the wrong side of town who survived hell together and now have everything they ever wanted. But when each Maverick falls head-over-heels for an incredible woman he never saw coming, he will soon find that true love is the only thing he ever really needed.
Chase Calloway by Sandi Lynn (Live 4.27)
Chase Calloway is book two in the Redemption Series but is a STANDALONE novel.
I've been named L.A.'s sexiest and most eligible bachelor. I'm filthy rich, live in a house on the beach, drive a fast sports car, and I do a job I love. My hobbies include partying and beautiful women. A lot of beautiful women. They adore me because I'm charming and fun until I walk away, leaving them crying on the floor and begging me to stay. I can have any woman I want with the snap of my fingers, except for one-an incredibly beautiful woman named Kinsley Davis. She isn't affected by me in the least. In fact, she wants nothing to do with me, and I can't figure out why. After all, I am Chase Calloway. She'll be tough, but I'll break her. I'll get her into my bed, leaving her so satisfied that she'll become addicted, and when she does, I'll break her heart. It's what I do best. It's all I know. I'm incapable of love. My fears run too deep and they keep me in control at all times. My life was all fun and games until the unthinkable happened, and I'm left with no choice but to face my greatest fear of all.
Chase Calloway is told from two different points of view.