Cocky Chef by J.D. Hawkins 
You can call me arrogant as much as you want. But when you're the best at what you do and have the hottest restaurant on the west coast, with enough Michelin stars to make Gordon Ramsay's head spin, you've earned the right to your confidence.
When I give an instruction in the kitchen, it's not a suggestion–it's an order. So when a new chef thinks she can do things her way, and dares to say so to my face, even her sharp wit and gorgeous pouty lips don't make it okay.
But I have to admit, she's got talent. She's creative in the kitchen and not even that double-breasted chef jacket can hide her perfect body. As I get to know her, I can't help wanting to know everything she thinks. I've never met a more talented chef. And I've never met a sassier and sexier woman in my life.
There's only one way this push and pull can end.
With her in my bed, begging for more.
Beard in Mind by Penny Reid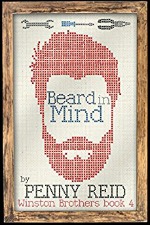 All is fair in love and auto maintenance.
Beau Winston is the nicest, most accommodating guy in the world. Usually.
Handsome as the devil and twice as charismatic, Beau lives a charmed life as everyone's favorite Winston Brother. But since his twin decided to leave town, and his other brother hired a stunning human-porcupine hybrid as a replacement mechanic for their auto shop, Beau Winston's charmed life has gone to hell in a handbasket.
Shelly Sullivan is not nice and is never accommodating. Ever.
She mumbles to herself, but won't respond when asked a question. She glares at everyone, especially babies. She won't shake hands with or touch another person, but has no problems cuddling with a dog. And her damn parrot speaks only in curse words. Beau wants her gone. He wants her out of his auto shop, out of Tennessee, and out of his life.
The only problem is, learning why this porcupine wears her coat of spikes opens a Pandora's box of complexity–exquisite, tempting, heartbreaking complexity–and Beau Winston soon discovers being nice and accommodating might mean losing what matters most.
'Beard in Mind' can be read as a standalone, is 130k words, and is book 4 in the Winston Brothers series.
Enrage by Rachel Van Dyken 
Part of a world I loathe.
Part of a family who hates me more than I hate myself.
Living with a girl who reminds me of my darkness.
I'm. In. Hell.
Also known as the Cosa Nostra.
My life was over the minute I stepped off that plane.
Son to a murdered mob boss.
Heir to a throne of murder and lies.
My name is Dante Nicolasi.
And there will be blood.
For 100 Reasons by Lara Adrian
For 100 Days she deceived him. For 100 Nights, he demanded her complete surrender. Now, after all of the secrets and lies and heartbreak, they'll have to decide if their love is strong enough to try again…For 100 Reasons.
Billionaire Dominic Baine stepped into Avery Ross's life when it was at its lowest. Obsessed with the beautiful, struggling artist, Nick was determined to have her. What began as a scorching seduction soon burned out of control, exploding into a white-hot passion neither of them could deny.
Yet Nick and Avery are two damaged people, both haunted by dark secrets with the power to destroy them. And for Nick, the ugly past that shaped him cannot compare to the unforgivable deception that drives Avery from his arms, from his life. Now the man accustomed to having everything he desires must find a way to redeem himself to the only woman he has ever loved.
Avery Ross has known heartbreak. She has known betrayal and loss, but nothing like the pain that loving Dominic Baine has brought into her life. Reeling from the aftermath of his devastating revelation, instead of allowing despair to break her, she builds herself into something stronger–the fearless woman and gifted artist that Nick's passion has taught her to be. Yet her heart is in pieces, and despite everything she has, the one thing she needs is the man whose possessive desires and consuming love holds the power to either save them both or shatter her forever. . . .
FOR 100 REASONS is the sensual, suspenseful conclusion to the acclaimed 100 Series of contemporary romantic suspense from New York Times and #1 international bestselling author Lara Adrian. Don't miss the first two books, FOR 100 DAYS and FOR 100 NIGHTS, available now.
Something So Perfect by Natasha Madison 
Matthew
Drafted first round pick when I was seventeen, playing first line at eighteen, branded NHL's bad boy at nineteen. At twenty-three I was cut from the team and living back home with my parents. A knock on the door brought an opportunity I couldn't turn down. All I had to do was prove I learned from my mistakes, so no way would I fall for a chick with a pouty mouth even if I wanted to spend all day devouring it.
Karrie
When my father gave me a job, I had no idea it would be to babysit some washed up NHL player. He wanted me to be his chaperone, his overpaid babysitter. I thought it was a joke. Then I met him, Matthew Grant. I wasn't prepared for this particular bad boy. He's not only hot but he's arrogant and kinda sweet in a 'you make me crazy' kind of way.
Basically now that he's finished screwing up his life, he's decided to turn mine upside down.
She's the first thing I've ever wanted more than hockey.
He's the guy I know I should stay away from.
But what if this thing that started out so wrong turns into something so perfect?
Sweet Disgrace by Cherrie Lynn 
Centuries of heartbreak. Grinding failures punctuated by too-few victories. What angel in her right mind would want this job? Celeste, who's driven to save Devil-contracted souls before Hell can claim them, is weary but not beaten. Yet.
Her latest case makes her wonder if it's all worth the anguish. A demon enticed a too- young musician into selling his soul for fortune and fame. To make matters worse, that demon is Damael, an insufferable, frightening minion with airtight contracts—and a body that makes her long for sin.
Damael's always had a soft spot for Celeste, but if his bored superiors want drama, he'll give them drama. Though it pains him to trick the angel he wants with all his black heart, eons of restrained lust win out. He makes the deal: her body in exchange for the human's soul.
She wasn't supposed to accept.
Damael can't be trusted, but with the deadline bearing down, Celeste lays everything on the line in a last-ditch effort to save just one precious soul. Even if it means losing hers—along with her heart.
Devil's Cut by J.R. Ward 
At first, the death of William Baldwine, the head of the Bradford family, was ruled a suicide. But then his eldest son and sworn enemy, Edward, came forward and confessed to what was, in fact, a murder. Now in police custody, Edward mourns not the disintegration of his family or his loss of freedom . . . but the woman he left behind. His love, Sutton Smythe, is the only person he has ever truly cared about, but as she is the CEO of the Bradford Bourbon Company's biggest competitor, any relationship between them is impossible. And then there's the reality of the jail time that Edward is facing.
Lane Baldwine was supposed to remain in his role of playboy, forever in his big brother Edward's shadow. Instead he has become the new head of the family and the company. Convinced that Edward is covering for someone else, Lane and his true love, Lizzie King, go on the trail of a killer—only to discover a secret that is as devastating as it is game-changing.
As Lane rushes to discover the truth, and Sutton finds herself irresistibly drawn to Edward in spite of his circumstances, the lives of everyone at Easterly will never be the same again. For some, this is good; for others, it could be a tragedy beyond imagining. Only one thing is for certain: Love survives all things. Even murder.
Under Fire by Scarlett Cole 
Hot, hard-bodied Sixton Rapp is a former SEAL who's raring to begin his brand-new civilian life. He and his Navy "brothers" start a security firm that offers the kind of services only a team of military-trained professionals can provide. But nothing prepared Six for his new client: an innocent woman on a mission to improve thousands of lives. . . unless someone takes hers first.
Dr. Louisa North knows time is against her as she tries to create a "miracle" medical treatment for a disease with no known cure, until she creates a sample so powerful that the wrong people want to use it as a chemical weapon. At first, Six is unwilling to accept Louisa as his client. But soon he realizes that the danger is real and that there's much more to this plain-Jane scientist…including a burning passion between them that neither of them can resist. And now that an enemy is on Louisa's trail, Six will do whatever it takes to protect her—or die trying.
Blind Date by Bella Jewel 
After the death of her husband four years ago, Hartley Watson is finally ready to meet someone—and maybe even have a second chance at love. But then, just as her dating life seems to be getting started, Hartley is struck with a horrifying realization: Someone is watching her. Entering her own home. Even knows the intimate details of her life. How else to explain the strange deliveries, or the sudden appearance of mementos from her dead spouse—ones that she had kept for so long in storage?
If only Hartley could know for sure whether what is happening to her is real or if her grief is making her lose touch with reality. Those around her aren't convinced that she's being stalked, nor is the wonderful, supportive man Hartley's started dating. The exciting new life she has created for herself is slowly becoming a nightmare. . .How can Hartley seek protection when nobody believes that she's at risk—and the only one in the world she can trust is herself?
Wicked Bite by Rebecca Zanetti 
As she hunts for a drug lord killing her fellow witches, all Nessa Lansa's instincts point to the Grizzly motorcycle club. That might be because their leader, Bear, is the strong, silent shifter type: warm brown eyes and more muscle and alpha male than any woman can ignore. Which makes Nessa's plan to seduce and betray him all the more dangerous . . .
Bear doesn't trust the curvy, blue-eyed witch. But Nessa can heal the injuries that sap his strength. And since he can't stop thinking of her lush body and teasing smile, her plan to mate him to reclaim her own power is highly tempting. Just one problem. Once a desire this wild is loose, no one will ever control it . . .
Delectable by R.L. Mathewson 
Reese Bradford is a typical Bradford, he enjoys his food, is easy on the eyes, and has a killer smile, but there's one thing about him that he doesn't want anyone to know about, which of course is the first thing that his ex-fiance makes sure that everyone finds out about after she leaves him for his best friend. Out of options, he reluctantly heads out of town to spend the summer in the cottage that he'd rented for his honeymoon only to find himself tormented by a woman that never should have crossed his mind twice.
More intrigued than he'd ever thought possible, he can't help but wonder about the woman that made him smile.
Filthy by Michelle Horst 
I'm only good for sex. That's what I've been trained for my whole life. I'm a puppet. I only know how to be your perfect fantasy. It's the only life I've ever known … until him.
I've been replaced, discarded like trash. Beaten, damaged, treated like an animal, I'm forced to leave the only home I've ever known.
With a warped perception of what life is really like, no dignity, and no one to call my own, I'm on the verge of giving up.
But then he saves me. For the first time in my life I'm given a choice. I can stay and have a purpose again, or I can leave and face the unknown on my own.
I choose to stay. I choose to belong. I choose to become something more than damaged goods.
Hope. It's the one thing that kept me going. At first I hoped that I would be the perfect slave, but now I hope to be the perfect woman. He's my damaged hero.
I want him to see me. The woman. The survivor.
He gives me strength. But all I want is his heart.
The Edge of Us by Veronica Larsen 
Eight years ago, Cole Van Buren left me at the altar without a single explanation. My heart's been at a standstill ever since, the anger keeping me from moving on. Keeping me from seeing the man who's been right in front of me all this time…
Andrew's been the friend I needed, the one constant through the hardest times of my life. But one night, the lines blur and we're tipped into something more. Just when I'm ready to explore what we could be…
My ex comes back.
Cole says he didn't come to get me back, but I should know better. The answers he dangles overhead are the ones I need to finally let go.
Except there's no such thing as closure, only a past that wants to pull you backward.
Dragonsworn by Sherrilyn Kenyon 
There is nothing in the universe the cursed dragon, Falcyn, hates more than humanity . . . except Greek humans. In a war he wanted no part of, they systematically destroyed everything he'd ever cared for. Now he waits for the day when evolution will finally rid him of the human vermin.
Medea was born the granddaughter of the Greek god Apollo, and among the first of his people that he cursed to die. But she will not let anyone rule her life. Not even her notorious grandfather. And when Apollo sends a new plague to destroy what remains of her people, she refuses to stand by and watch him take everything she loves from her again.
This time, she knows of a secret weapon that can stop the ancient god and his army of demons. Once and for all. However, said device is in the hands of a dragon who wants nothing to do with politics, the gods, humanity, demons or Apollites. And especially not her. He is the immovable object.
She is the unstoppable force . . .
When Apollo makes a strategic move that backfires, he forces Falcyn back into play. Now Medea either has the weapon she needs to save her people, or she's unleashed total Armageddon. If she can't find some way to control the dragon before it's too late, Falcyn will be an even worse plague on the world than the one Apollo has set loose. But how can anyone control a demonic dragon whose sole birthright is world annihilation?
Secondborn by Amy A. Bartol 
On Transition Day, the second child in every family is taken by the government and forced into servitude. Roselle St. Sismode's eighteenth birthday arrives with harsh realizations: she's to become a soldier for the Fate of Swords military arm of the Republic during the bloodiest rebellion in history, and her elite firstborn mother is happy to see her go.
Televised since her early childhood, Roselle's privileged upbringing has earned her the resentment of her secondborn peers. Now her decision to spare an enemy on the battlefield marks her as a traitor to the state.
But Roselle finds an ally—and more—in fellow secondborn conscript Hawthorne Trugrave. As the consequences of her actions ripple throughout the Fates Republic, can Roselle create a destiny of her own? Or will her Fate override everything she fights for—even love?
Revelation by Amy Briggs 
Lucinda Quinn couldn't wait to get out of her small town and make a name for herself in New York City. But what she found was the harsh reality that nothing comes easy. Working as an intern, with long nights and menial tasks doing nothing for her career, she doesn't bat an eye at becoming an employee of one of New York's best kept secrets – Infidelity. One year of companionship, with a well-connected rich man in the city, is just the ticket she needs to finally skyrocket her dream of becoming a successful businesswoman.
Ryder Donahue is one of Manhattan's most eligible bachelors. With a thriving multi-million dollar company, and stunning good looks, he could have any woman he wants. Except that he's tired of the distraction of the dating scene, filled with nothing but gold diggers, throwing themselves at him for status and money. Knowing he needs an escort to events, to establish his credibility among the old money in New York City, he hires a companion from the Infidelity Club to be his stand-in girlfriend for the year.
When Lucinda and Ryder meet, their pasts collide, setting in motion a tumultuous roller coaster of events that leave them wondering what could have been, and what could be. Will the two set aside their jaded memories to turn this business arrangement into a relationship? Find out in Revelation, a Fidelity World novella.
Envy by A.D. Justice 
Though I denied it, envy ruled most of my life.
I was always the outsider among people born to privilege.
Envy made me despise them, the Montague Manor elitists.
Until I fell in love with one of them.
Wyatt Spencer Weston changed my life.
He changed me for the better, at first.
Until his inconceivable betrayal nearly destroyed me.
He recently took control of his family's business and the vast wealth that comes with it.
I've waited years for this day to arrive.
Envy used to rule me. Now a driving need for revenge does.
Wyatt will soon learn a valuable lesson in envy.
When you have everything, you have more to lose.
Captivate by Stacey Lynn
Claudia Townsend, daughter of disgraced Judge Keith Townsend needs a fresh start, and in New York, she finds exactly what she's looking for.
Raised with poise and grace and a lifetime of being around the wealthiest members of society in Savannah, Georgia, becoming a client of Infidelity makes perfect sense. It offers her everything she needs—financial security, a new life, and the possibility of final getting rid of her pesky V-Card.
What—or who—she doesn't expect, is for Liam Allistor to come crashing in and messing up all of her new plans.
Liam Allistor has more secret than he has tattoos. His deep set black eyes and banging body along with his mystery allure is what makes panties drop as soon as he steps on stage in crowded arenas. But then he's rocked by a scandal and his ticket sales plummet. His tour ends at breakneck speed, and everyone, including Liam, is left wondering if his career has come to a screeching halt.
He needs a publicity makeover, but more than that…he needs a girlfriend. And Infidelity is just the place for him to find one.
His agent wants him to clean up his image. Infidelity wants his money and silence.
And Liam? He wants Claudia, and he doesn't care what he has to do to get her.
About that Night by Natalie Ward (Live 3.8)
Nick and Emma lead very different lives.
He's an emotionally drained, closed off bartender trying to pretend that the loss he suffered a year ago isn't slowly killing him. She's an overworked and aloof emergency room doctor who's trying to deal with the fact she can't save all her patients.
Both of them know what pain and grief feels like. And both of them are experts at burying it.
All it takes is one fateful night when their lives collide. Neither of them is expecting it, yet somehow, they find solace confiding in a stranger they know they'll never see again. But there's something about that night that changes them both, and despite their reluctance, it slowly materialises into much more.
And when it does, they'll both have to face the long-buried secrets they've been trying to ignore.
Twisted Twosome by Meghan Quinn (Liv 8.3)
Racer McKay is a broody bastard.
From the moment I met him, he's been rude, irritable, and unbearable. And worse? He's broke.
A contractor working to remodel my parents pool house for extra cash, he stomps around in those clunky construction boots with his tool belt wrapped around his narrow waist, and a chip on his shoulder.
Racer McKay is also infuriatingly . . . sexy as hell. I want to take that pencil tucked behind his ear, and draw lazy lines slowly up and down his body all the while wanting to strangle him at the same time.
We try to stay out of each other's way . . . that is until I have no other option but to ask for his help.
But what I don't realize is he needs me just as much as I need him. I have money he's desperate for, and he holds the key to making my dreams come true.
Our pranks turn from sarcastic banter, to sexual tension and lust-filled glances. Bickering matches quickly morph into slow burn moments. We're hot, we're cold. We push and pull. I need him, I don't want him. We're on the verge of combusting with an agreement dangling dangerously between us. Neither one of us can afford to lose one another and yet, we're finding it quite hard to decipher the line that rests between love and hate.
*Twisted Twosome is a stand alone romantic comedy.
Slam by Susan Fanetti (Live 8.5)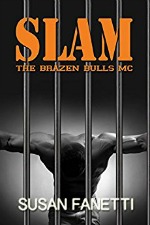 Tulsa, Oklahoma, 1997
When Richard "Maverick" Helm walks out the gate of the state penitentiary, after four hard years inside, he doesn't know what life he has left waiting for him. Abandoned by the love of his life, a stranger to his only child, Maverick turns to his club, the Brazen Bulls MC, and holds on.
But he's not sure of the club any longer, either. The Bulls have changed since he went inside, and they'd all but forgotten him.
Before Maverick can find a life worth living, he must heal the family he'd had—his woman and his child—and he must find his fit with his brothers. To do either, he must remember the man he was, and decide who he wants to be.
The love of Jenny Wagner's life promised her a beautiful future. He swore he'd be there for her and their daughter forever. He wanted to be her hero, and she believed that he would be. Then he left her alone before their baby was born—and what he did left Jenny's life in ruins. She'll never forgive him.
But she's never stopped loving him. Her anger arises from that deep, abiding love, and the pain of its betrayal.
Before Jenny can open herself and her daughter to a new life with Maverick, she must learn to trust again, and to be with him the strong woman she's become without him.
It takes only a moment of reunion for Jenny to remember their love—a love Maverick's never forgotten. It takes much longer to overcome the obstacles of the past and find a way to make a future together.
Note: explicit sex and violence.