Good Girl Gone Badd by Jasinda Wilder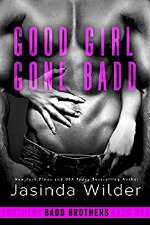 Evangeline du Maurier is the definition of a good girl. Attending Yale, raised with the best tutors and etiquette instructors, she's expected to toe the family line and be a trophy wife for a future senator. But when this good girl takes a quick getaway to clear her head, she finds a whole lot more than she'd bargained for. She finds herself in the arms of a bad boy.
Baxter Badd.
Big, hard-drinking, and as rough and demanding in bed as he is out of it, Bax may be the baddest brother yet…
Dark Room by L.P. Dover and Heidi Mclaughlin 
The rules of Society X are simple . . . break them and you're out.
Rule #1 – No names
It doesn't matter if you want to know, it's forbidden.
Rule #2 – No exchanging numbers
It doesn't matter if you want to call, it's forbidden.
Rule #3 – Everything is to remain strictly anonymous.
It doesn't matter if you want to tell, it's forbidden.
The Dark Room is the only place you can live out your fantasies and no one will ever know it's you.
For Parker, what started out as a business transaction has turned into an addiction.
For Mia, it's been a chance to discover who she truly is.
What happens in the dark will have you begging for more . . .
Beast by Elizabeth Reyes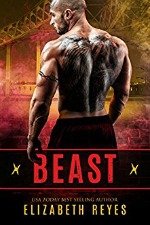 This close to turning his life around and just months away from the end of his probation, all Leo has to do is keep his inner demons in check.
But the Beast within is about to be reawakened.
One interview was all it was supposed to be. An interview with the daunting felon in the work-release program that leaves Allison breathless with anticipation for their next encounter.
Despite the risks of becoming involved, neither is able to fight the inexplicable draw they're feeling.
Life keeps throwing them back together until the fateful night they stop fighting the inevitable and give into their desires. Suddenly, Leo has even more to look forward to in his new life.
Until his violent past catches up to him.
With the stakes infinitely higher now that Allison may also be at risk, the dormant Beast deep inside Leo threatens to unleash, ruining all the progress he's made—worst of all any future with Allison.
Beast is the second in the Boyle Heights series but is a stand alone that can be read without the necessity of reading Lila.
***Due to mature content, this book is for readers 18+***
So Good by Nicola Rendell 
On the roof of a house outside Truelove, Maine, master carpenter Max Doyle looks down through a skylight and sees the most beautiful woman he's ever laid eyes on. She's naked, she's gorgeous, and everything about her is perfect, down to the ball-busting tattoo of a rose that wraps around her hip. But it isn't just any woman making his knees buckle. It's his best friend, Rosie Madden. And as he stands there, mesmerized and precariously close to toppling off the roof, he knows he'll never, ever be able to look at her the same way again.
Rosie can't help but notice that Max is suddenly acting very strange—lots of long stares, totally tongue-tied, and not at all like the slightly cocky hunk she's proud to call her best friend. She can't figure it out, until later that night when Max rescues her from the world's worst date, challenges her to a game of pool, and shows her just exactly what she's got him thinking about. Repeatedly.
But life is complicated. Rosie's cat, Julia Caesar, wants to eat Max's dog Cupcake for an afternoon snack. A dream job threatens to pull them apart. And another glance through the skylight changes everything, one more time. Yet try as they might, they can't go back to being just friends, because falling in love with the one you've always adored?
It feels so good.
Aim by L.P. Dover 
When someone asks what I do for a living, I answer it plain and simple . . . I'm a hunter. I hunt the dregs of society and I'm very damn good at it.
I'm Ian Chandler, FBI agent and a member of the Circle of Justice, an organization of justice seeking vigilantes. My mission is to solve a string of 'accidental' hiking deaths occurring around my Wyoming town. When Grace Myers –a woman who's been missing for days –shows up on my land, it turns out she's the key to it all. Someone is hunting her, and I make it my duty to keep her safe.
However, the deeper I get into the case, the more dangerous it becomes; especially, now that I've fallen for the woman I have to protect. If hunting is the game, I won't fail. I always hit my mark.
Brutal Sin by Eden Summers 
Bryan is ruthless, heartless, and more than a little proud of his notorious reputation, until his bad attitude threatens to strip him of the one place he can't live without. His sanctuary. The Vault. The exclusive club is the only place he feels at home, and he'll do whatever it takes to reclaim what is his. Even if it means asking for help from the woman who landed him in trouble in the first place.
Pamela may have become weak-kneed over Bryan's talented hands once before, but this self-empowered widow isn't stupid enough to want more from the sanctimonious ass. Nope. At least that's what she tells herself before he turns up at her café, offering to refresh her memory on his skilled fingers and filthy words in exchange for a favor.
He needs her to set things straight in the Vault. She needs him to satisfy the cravings of fulfilment she's been missing. It's a match made in hedonistic heaven, until hostility turns to lust, and lust into passion, capturing them both in an emotional web neither one of them want to be ensnared in.
Warning: This is an exhibitionist's playfield and a voyeur's delight, but dominance always rules. Throw in teasing, torture, and a gag or two, and you've got yourself another night of debauchery within the carnal walls of the Vault of Sin.
Imagines: Not Only in your Dreams by various authors including Anna Todd 
Featuring a story by Anna Todd (After, Nothing More), this is fanfiction at its best, from your favorite Wattpad authors! In this collection drawn from the Imagines anthology come five stories putting "YOU" alongside your celebrities you wish were your BFFs—Daniel Sharman (Teen Wolf), Dylan O'Brien (The Maze Runner), Cameron Dallas (YouTube), Dan Howell (The Amazing Book is Not on Fire), Channing Tatum (Magic Mike).
A unique and daring series of imagines in which you get to become besties with big name celebrities! Told in the second-person, "you" get to step into these unpredictable encounters, such as when you find yourself in a painting class with Daniel Sharman. Or when you write fic about Dylan O'Brien, only to find he's actually a huge fan of yours. Or that time you romanced Channing Tatum and helped him perfect his outrageously sexy new dance move.
All this—and more—is awaiting you inside your imagination….
Note: Although this book mentions many real celebrities, they have not participated in, authorized, or endorsed its creation.
The Forbidden by Jodi Ellen Malpas 
Annie has never experienced the 'spark' with a guy – the kind of instant chemistry that steals your breath and blindsides you completely. Until a night out with friends brings her face to face with the wickedly sexy and mysterious Jack. It's not just a spark that ignites between them. It's an explosion. Jack promises to consume Annie, and he fully delivers on that promise.
Overwhelmed by the intensity of their one night together, Annie slips out of their hotel room. She is certain that a man who's had such a powerful impact on her and who could bend her to his will so easily, must be dangerous. But she's already in too deep. And Jack isn't only dangerous. He is forbidden.
Blade by Alexandra Ivy and Laura Wright
Sexy Suit, Blade was held captive and abused for decades. Benson Enterprises was desperate to use his superior blood to create super soldiers. But when he's finally rescued, he can't return to the Wildlands with the other prisoners. Not without the female he was forced to watch being impregnated. The female who has gone missing.
Beautiful and broken, Valli just wants to run away and never look back. But with the shocking news of her pregnancy fresh in her mind, she wonders if that's even possible. Told by her captors that one of the caged animals assaulted her, she knows she must do everything in her power to keep her unborn child safe. But when a glorious male tracks her down and claims her and her baby as his own, will she have the strength to walk away?
Unexpected Circumstances- The Complete Series by Shay Savage
Seven book series with added bonus material!
In a bold political move, Sir Branford claims a handmaid as his bride instead of the expected princess in an attempt to spark a war. Poor Alexandra knows little of how to behave as the wife of a future king and knows nothing of the man who is suddenly her husband.
Alexandra knows she is being used as a pawn and must do her best to avoid scheming noblewomen and the scorned princess, accept her position as her husband ascends to the throne, and overcome her fears of the man with whom she now shares a bed.
Sir Branford is determined to have it all – the kingdom, a wife of his choosing, and the revenge he seeks for the death of his father. He doesn't expect the naïve handmaid to become more important than he ever could have foreseen.
Bad Deeds by Lisa Renee Jones 
Wall Street meets the Sons of Anarchy in Bad Deeds, the smoldering, scorching next novel in the explosively sexy Dirty Money series from New York Times bestselling author Lisa Renee Jones.
Would you bleed for the one you love?
To save his family empire from the grip of the drug cartel, Shane is pushed to the edge of darkness, forced to make choices he might never make. His father is dying. His brother is desperate to rule the empire and this means war and all gloves are off. His brother only thought he knew what dirty meant. Shane is about to give it new meaning. There is another war brewing though, and that one, is inside him, his battle between right and wrong, light and dark, and in the heat of the night, it is Emily he turns to for escape. Driving her to new limits, pushing her to accept a part of him that even he cannot.
In every one of Shane's seductive demands, Emily can taste and feel, his torment, his struggle to save his family and not lose himself. But he is losing himself, and that is a problem just as dangerous as her secret, that still lurk in the shadows, a threat to the Brandon Family waiting to erupt. No matter where she and Shane have traveled, or will travel in the future, she can't just sit back and watch him become everything he hates, everything he never wanted to become, everything she tried to save him from when she tried to run. It could be their undoing, the end. His end.
This is war, blood will spill, and someone in the heart of the Brandon family will not survive….
The Wright Mistake by K.A. Linde 
I spent six weeks screwing Austin Wright's brains out and all I got was this broken heart.
He can't be trusted. Not with my body or my heart. Yet, two years have passed and I still crave him like an addict needing a fix.
The last time we tried this, it nearly ruined me. I know I should run and never look back. But his dark haunted eyes and razor blade smile speak to my soul. His touch sets my body on fire. And we all know what happens when you light gasoline. Someone is bound to get burned.

A second chance might destroy us both.
Because everyone knows two wrongs don't make a Wright.
Kiss me if you can by Carly Phillips 
Sam Cooper has just become the most eligible bachelor in New York City. Now that he has foiled a jewelry-store robbery and has been rewarded with the ring of his choice by the owner, single women all over the city are fawning over the crime reporter. But Coop isn't interested in the admirers sending racy underwear his way. His attention is centered solely on Lexie Davis, the only woman in the city who claims not to be interested in his bachelor status.
Instead, free-spirited Lexie is interested in Coop's antique ring and its – potentially scandalous – history in her family. But Coop is quickly becoming more than just her route to the ring. When his investigation starts to uncover the truth, will she trust her heart – and her family secrets – to this most eligible bachelor?
Love me if you dare by Carly Phillips
When hostage negotiator Rafe Mancuso takes a bullet to save Sara Rios, his former partner, his actions make him a bona fide hero – and New York City's newest most eligible bachelor. Then Rafe admits that Sara is much more than just another woman he's rescued. Suddenly, a firestorm of gossip turns him into exactly what he doesn't want to be: the Bachelor Blog's newest hot topic. His only solution is to leave town and get himself out of the spotlight… and sexy, jaded Sara out of his mind.
NYPD officer Sara Rios has Rafe to thank for saving her life, and Rafe to blame for the media chaos surrounding her. She wants to throw herself back into duty at full throttle, but until her injuries heal, she's on leave and in search of her rescuer. From the moment she finds Rafe and meets his large, boisterous family, she's hooked. But mutual attraction doesn't always mean happily-ever-after, and these two have a long way to go to find their fairy-tale ending.
Beneath the Truth by Meghan March 
I used to believe there were lines in life you don't cross.
Don't lie. Don't cheat. Don't steal.
Until I learned people don't always practice what they preach.
I turned in my badge and gun and walked away from everything.
Then I got the call no one wants, and I'm back in New Orleans.
What I don't expect is for her to be here too.
Another line you don't cross?
Don't touch your best friend's little sister.
She's always been off-limits.
Too bad I don't follow the rules anymore.
***May absolutely be read as a standalone!***
Julia and the Duke by Samantha Holt (Live 8.9) 
"One of them might now be a viscountess but it does not clear the taint of scandal from those frightful Chadwick girls. Why we must deign to entertain them, I will never know!" Lady Bromsley, Countess of Marlbury.
A new duke moving into their sleepy village doesn't interest Julia, especially when she hears all about his scandalous behavior in London. Rumors of gambling debts, illicit liaisons, and pub brawls surround the far-too-handsome Duke of Weston.
The far-too-handsome duke who happens to want to build a mill on her favorite nature spot, meaning Julia's beloved otters will be homeless.
Not matter what she says, the stubborn man will not back down, but this bluestocking will not give up easily. With the help of her sisters, she must find a way to persuade him to make money another way.
If only the far-too-handsome duke did not seem to enjoy riling her so much. If only he would not insist on getting under her skin and pretending to be interested in her. All this talk of liking redheads and freckles will not make her forget those animals in need.
Will it?
More than Love by Ruth Cardello (Live 8.10)
What happens when a normally reserved billionaire tries to be a regular guy and discovers he has a wild side? Grant Barrington is a quiet hero who is about to flex his alpha billionaire muscle.
Viviana Sutton is living in Boston after being swindled by her ex-boyfriend. She's done with relationships and isn't looking for forever. Giving in to one naughty, incredibly hot romp with a financially challenged stranger actually makes her feel better until she takes a pregnancy test.
To help his family, he'll need to be the man she makes him feel like he can be.
For the sake of her baby, she'll give him a chance to prove what they had was more than sex—and he's more than just a regular guy.
Any Dream Will Do by Debbie Macomber (Live 8.10)
Shay Benson adored her younger brother. She did all she could to keep Caden on the straight and narrow. But one day her best intentions got Shay into the worst trouble of her life. By protecting Caden, Shay sacrificed herself.
Drew Douglas adored his wife. But since losing Katie, all he could do was focus on their two beautiful children; everything else came a distant second.
Shay and Drew are each in need a fresh start, and when they meet by chance it's an unexpected blessing for them both. Drew helps Shay to get back on her feet, and she reignites his sense of purpose.
But when a devastating secret is uncovered, Shay and Drew's new lives are threatened. It will take all of their strength, faith and trust to protect the bright future they dream of.
The Only Once by Melody Grace (Live 8.10)
Brooke Delancey is looking for a fresh start. She's packed up her heartbreak and traded her old life for a new beginning, managing the prettiest hotel on Cape Cod. She swears this time will be different: no drama, no distractions, and definitely no heart-stopping kisses with a handsome stranger. Which is exactly what she finds the night she meets Riley Ford.
Riley is gorgeous, charming… and intrigued by the buttoned-up blonde whose kisses are anything but restrained. He knows a thing or two about starting over, and he's convinced a little fun is exactly what Brooke needs to put the past behind her. And he knows exactly the man for the job…
With a tempting offer like that, Brooke can't help but try another kiss – or two, or three. But as the chemistry gets hotter, and their connection deepens, Brooke and Riley will discover that building a new future means reckoning with the past.
Can two unlikely hearts take a chance on a new tomorrow? Or will their sparks burn out with the end of summer in Sweetbriar Cove? Find out in the sweet and sexy new read from New York Times bestselling author Melody Grace!
Palm South University: Season three- Box set  by Kandi Steiner (Live 8.10)
Drama. Lies. Sex.
Welcome to Palm South University.
The weather isn't the only thing heating up in South Florida. At a school where fraternities and sororities don't exactly play by the rules, relationships are bound to be tested. Parties and sex are definitely key ingredients in the Palm South recipe, but what happens when family issues, secret lives, and unrequited love get tossed in the mix?
Follow Cassie, Bear, Jess, Skyler, Erin, Ashlei, and Adam as they tackle college at a small, private beach town university. Written in television drama form, each episode of this serial will pull you deeper and deeper into the world of PSU.
Where the sun is hot and the clothes are scarce, anything can happen.
Wicked Wish by Sawyer Bennett (Live 8.10)
Jorinda Pearce thought she did everything right – graduated from college, married her long-time sweetheart, established a career. But what does she have to show for it now? A degree she doesn't use, a job she hates, and an ex-husband that broke her heart.
Looking for a long overdue adventure, Jorie takes a walk on the wild side and attends a masquerade event at The Wicked Horse Vegas. It's exactly the escape she's looking for, and even better, she can explore anonymously. Drawn to the man masked in black leather with the body of a god, Jorie finds the greatest pleasures of her life at the hands of a stranger.
Walsh Brooks is the most sought after man in The Wicked Horse. Sex is nothing but a game to him and he's the type that will always leave at the end of the night without looking back. Unfortunately for Walsh, there's no way he can walk away from the mysterious green-eyed beauty behind the mask of sapphire feathers, because he knows exactly who she is.
Jorie is his best friend's little sister and there's not another woman in the world that's more off limits.
I'm in it by Tammy Falkner (Live 8.13)
What do you get when you put together one matchmaking doorman, some Reed brothers with good intentions, and five sisters, one of whom is a little lost? You get Tammy Falkner's newest book, I'M IN IT.
Mick fell in love with Wren at the worst possible time. She was in the midst of something wonderful, and then she wasn't. Her life changed in the blink of an eye. In this situation, it wasn't a change for the better. He can still remember when she felt the first cramp, when she pressed her knees together tightly in the front seat of his car as though she could hold that life inside herself by sheer will alone. If will were all it took, she'd have succeeded.
But she didn't succeed, and they were over before they began. She was too hurt. She was too raw. She was wishing for what could have been, while he was wishing for what was. And what was… well, it was nothing. At least not to her.