Monster Among the Roses by Linda Kage (Read my Review)
"Do you know how to get to the rose garden?"
"No, you can't go there. A monster lives there."
Shaw Hollander is desperate.
Broke, unemployed, and determined to help his ailing mother, he falls on the good graces of a wealthy benefactor who is willing to give Shaw a job at his mansion in order to pay off his mother's debts. Suddenly finding himself surrounded by lavish riches, he has no idea what his duties truly entail until he's sent to the rose garden and meets the tragically mutilated Isobel.
This Beauty and the Beast story holds true to the core of the fable while shaking off the element of fantasy and dragging it into present-day reality. Shaw and Isobel are ready to let you climb into their four-wheel-drive pickup and take a ride with them into their version of happily ever after, but only if you first dare to gaze upon the monster among the roses.
Unleashed by Cherrie Lynn (Re-release)
It's not enough that Kelsey's husband left her for another woman. Oh, no. The "other woman" had to be her best friend Evan's fiancée. Not only has she lost her marriage, she fears losing Evan to the lingering awkwardness and humiliation that hangs between them.
Evan has no intention of letting that happen. He's got plans…namely, an extra plane ticket to Hawaii now his future wife is out of the picture. There's only one person he wants on the trip with him, the one who's always been there for him. The one he should never have let slip away into the arms of a traitorous friend who shattered her heart.
Kelsey is anticipating a week of fun in the sun with the man who's always treated her like a little sister. No one's more surprised when she discovers that Evan has seduction on his mind—and that she's more than ready for it.
Love is the most powerful healing force of all. But past demons have a way of ripping open old wounds, and threatening the survival of even the strongest friendship…
Each story in the Ross Siblings Series is standalone story that can be enjoyed in any order.
Series Order:
Book #1: Unleashed
Book #2: Rock Me
Book #2.5: Breathe Me In
Book #3: Leave Me Breathless
Book #3.5: Light Me Up
Book #4: Take Me On
Book #5: Watch Me Fall
Trixsters Anonymous by Ahren Sanders 
Sassy, dramatic, hot-headed are just some of the words used to describe me since the time I was born. A few little mishaps growing up and my mom has a running 'Emerson Baker' prayer circle, and I have the reputation of a spit-fire that won't go away.
I prefer the terms loyal, passionate, fiery, and possibly a bit impulsive.
So when my best friend proposes the concept of starting our own business, I jump on the idea.
CHEATERS BEWARE!
That should be our motto… because your secrets can't stay hidden for long with Trixsters Anonymous on the case.
We are the moonlighting duo hell-bent on helping those who suspect their lovers are cheating. We're professional, careful, and completely anonymous…What could possibly go wrong?
Walker Scott… that's what goes wrong.
I never stood a chance against the gorgeous, hazel-eyed, fiercely determined man who storms into my life and completely blindsides me.
He's the proof that opposites attract—and when they do, the chemistry is explosive.
Did I mention he's also a detective? A very, very, talented detective?
Pretty soon being a Trixster is a lot more complicated.
Fall by Eden Butler 
A secret smile.
A haunting kiss.
Life – Interrupted.
Keilen Rivers was the best Lily Campbell never had. He was the promise she didn't let herself keep. After all, nothing in life seems meant to last, and love is no exception.
When Lily's life takes an unexpected and tragic turn, she leaves behind both her island home and the boy she could have loved to protect the only family she has left.
But sometimes life takes without giving. Sometimes you cannot bend, only break. And when her career spirals out of her control, Lily can only watch as everything she worked for falls to ruin.
But some lies are hard to come back from. And some promises are made to be broken. Sometimes going home again is the only thing that can save you. But first you have to break. First you have to fall.
Exploited by A. Meredith Walters 
At first glance, I'm nothing out of the ordinary. I am a daughter. A sister. A friend. When you look at me you won't see anything that warrants suspicion. I don't look like a criminal.
My name is Hannah Whalen, but most people know me as freed0mov3rdr1v3, or "Freedom Overdrive"—one of the world's most prolific and notorious hacktivists. My goal—my purpose—is to shed light on the evil that lurks behind the corporate and government lies we have been force-fed for too long.
My story begins with the best possible intention. Devoting my life to exposing the corrupt. The dishonest. The unethical. For that, they label me a cyber-terrorist. Wanted by the FBI, I've always been one step ahead.
Until I fell in love.
Because I'm sleeping with the man who's hunting me. And he has no idea that I am his prey. Now I have to decide what's more important: my freedom or my heart.
Note: Exploited ends on a cliffhanger. Hannah's story continues in Aftermath.
Until You Loved Me by Brenda Novak 
After catching her fiancé cheating—with another man—usually straitlaced, workaholic scientist Ellie Fisher liberates her wild side just long enough to indulge in a passionate one-night stand with a tall, dark stranger she meets at a trendy Miami bar. Embarrassed by her recklessness, she ducks out the following morning without learning the guy's full name, something that shouldn't have been a problem…until a pregnancy test turns positive.
Being a professional football player, Hudson King has always been cautious around women. But this one had been different—so disinterested in his celebrity, so convincingly into him. When Ellie tracks him down, claiming she's carrying his baby, he's stunned. And more than a little betrayed.
But after growing up as an orphan, he'll do anything to stay involved in his child's life, so he urges Ellie to move to Silver Springs, where they can co-parent. Hudson has a lot of love to give, certainly enough for his child, and when their initial spark reignites, perhaps for Ellie, too…
When I Need You by Lorelei James 
Heir to Lund Industries and ladies' man Jensen "The Rocket" Lund has three conditions when it comes to dating:
1) No single mothers
2) No cheerleaders
3) No medical personnel
So it makes no sense that he's wildly attracted to Rowan Michaels, who breaks all three.
Rowan didn't pass the rigorous requirements to become an athletic trainer and Vikings cheerleader in the hopes of landing a pro athlete. Been there, done that, and she has a young son as proof that football players and fidelity don't go hand in hand. When Rowan learns her new neighbor is Jensen Lund, the smoking-hot tight end who takes being neighborly to a whole new level, she's grateful for the team's strict no fraternization policy because the sexy man defines temptation.
But Jensen is intent on rushing straight to the goal line to prove to Rowan he's much more than just a player…on and off the field.
Fatal Threat by Marie Force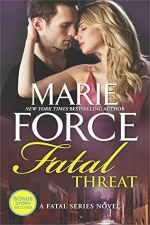 With a killer on the loose, it's the worst time to be on lockdown… 
It's just another day at the office for Washington Metro Police lieutenant Sam Holland when a body surfaces off the shores of the Anacostia River. But before Sam can sink her teeth into the new case, Secret Service agents seize her from the crime scene. A threat has been made against her family, but nobody will tell her anything—including the whereabouts of her husband, Vice President Nick Cappuano.
This isn't the first time the couple's lives have been at risk, but when a bombshell from Sam's past returns to haunt her, she can't help but wonder if there's a connection. With a ruthless killer out for vengeance, and Nick struggling to maintain his reputation after secrets from his own past are revealed, Sam works to tie the threat to a murder that can't possibly be a coincidence. And she has to get it done before her husband's career is irrevocably damaged…
The Hunting Grounds by Katee Robert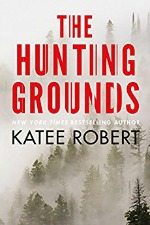 Maggie Gaines used to be an FBI agent—top of her class and one of the bright, up-and-coming stars—until she spectacularly fell apart during her first high-profile case. That was eight years ago. Now she's a ranger at Glacier National Park, and she's found some measure of peace. But when the body of a murdered woman is discovered, she must finally put the past behind her and work with the one man she thought she'd never see again.
For months, Vic Sutherland has been hunting a killer who's been targeting unsuspecting hikers in national parks—and now the predator has come to Glacier. Vic knows the case will bring him face-to-face with his former partner, yet nothing can prepare him for seeing Maggie again after all these years, or for the memories of passion it stirs in both of them.
As the investigation brings them closer together—and closer to the killer—Maggie and Vic fear they have only each other to trust. But even that might not be enough to make it out of Glacier alive.
Worth the Wait by Lori Foster 
Single dad Hogan Guthrie is getting his life back on track, and working as the "barbecue master" at a local diner is just a temporary detour. He and restaurant owner Violet Shaw constantly butt heads…until one night they end up mingling other parts instead. Hogan thought he had the recipe for happiness all figured out. But loyal, carefree Violet is daring him to trust his impulses…and see just how sweet small-town living—and loving—can be.
Nathan Hawley traded his SWAT team credentials for a sheriff's badge, but a gorgeous new neighbor is shaking up his orderly life. Nathan has a hunch there's more to Brooklin Sweet than meets the eye—but given her caution about getting involved, he has his work cut out for him. Still, there's something about the elusive beauty Nathan can't walk away from—and helping her come to terms with her past might pave the way to the future they both secretly long for.
"Brimming with heart, heat and humor, Worth the Wait is Lori Foster at her finest." —Jill Shalvis, New York Times bestselling author of Lost and Found Sisters
All I Need by Callie Harper 
"It's just a job, how hard can it be?"
I was hired by his father to become his live-in caregiver. It sounded like an easy job. But the day I arrived at his broken-down Scottish castle I started to realize it might not be as easy as I thought.
I was not told that I'd be looking after a dark, brooding, rich man mired in a world of pain.
I was not told that this man would push all my buttons and test even my strongest limits.
I was not told that he was devastatingly gorgeous with a wickedly, sinful mouth.
I was definitely not told that what I'd end up feeling and what he would propose would drive me wild.
But I'm Annie and this is my new job. And damn it, I'm not going to let anything, even him, that gorgeous, sinful, delicious man, stand in my way.
You believe me? Don't you?
Cross Check by Kelly Jamieson 
Ella Verran has three goals this semester: get off academic probation, repair her relationship with her friend Skylar, and take some responsibility for her life. All of which are hard enough without hot, snobby hockey player Ben Buckingham around to distract her. Ella can't stand Ben, and she knows the feeling is mutual. But he's best friends with Skylar's boyfriend, so he's always around—taunting and tempting Ella in ways she never thought possible.
As the star forward of the Bayard College hockey team, Ben has goals too, like playing well enough to land a spot on an NHL roster. Ben is perfectly poised on the ice, so why can't he keep his cool around Ella? Her wild behavior rubs him in all the wrong ways—and a few of the right ones. But as they skate around each other, Ben learns that there's more to Ella than her bad reputation. And when the line between love and hate starts to blur, he can't resist crossing over and sweeping her off her feet.
Well Built by Carly Phillips and Erika Wilde 
When it comes to women, sexy, well-built Kyle Coleman has always been a lover, not a fighter. His one exception? The tempting, beautiful Ella Fisher. Her family and his share a tempestuous past, which make the two of them as a couple off-limits—despite the fact that she inspires some of his dirtiest fantasies. He's kept his hands off of her for years . . . until the lines between family loyalty and lust become irrevocably blurred one fateful evening and changes everything between them.
Hope Restored by Carrie Ann Ryan 
Life isn't worth living if you don't fight to live. That's what Murphy Gallagher learned at a young age when cancer ravaged his body not once, but twice. Over the course of his survival, he lost his parents and his childhood, but he's been healthy for years and has become a man he hopes his family is proud of. But when his world tilts on its axis yet again, he'll have to learn what it means to fight not only the unknown but also his attraction to his best friend.
Tessa Stone works hard and plays harder. She's spent her life trying to figure out who she is in the present rather than looking back. Yet when she's forced into close proximity with Murphy, she'll have to not only be his rock but learn how to relax enough to maybe let him be hers, as well. But seduction doesn't stop when the world seems to, and close encounters of the naked kind might just be the first step in something much more complicated than either of them bargained for. Life, though, is for living, after all.
Billionaire Unveiled by J.S. Scott 
What happens when a man you've always hated turns out to be the one who saves you, risking his own life to rescue you from certain death?
Lines are blurred.
Everything you've always thought was true isn't quite so clear anymore.
Dani
I've always hated Marcus Colter. I have since high school. We antagonize each other every time we meet, and I thought our dislike was mutual, until he ends up saving my life on a suicide mission to rescue me from my captors, men who would have killed me if not for Marcus. Everything that happens after that successful, crazy, and dangerous mission confuses me.
Turns out, not only is Marcus incredibly brave, but he also has a gruff kindness that I never knew existed. His quiet strength sees me through my pain and fear after he pulls me out of the danger zone.
I'm not sure what to think of Marcus Colter anymore.
He's still the bossy alpha male who drives me crazy, but I eventually discover that there's so much more to Marcus than what's on the surface.
Apparently, I've never known the real Marcus Colter.
Maybe nobody does…
Please Note: Billionaire Unveiled is a full-length novel of approximately 65k words. Bonus material is included at the end Billionaire Unveiled, so if you liked this novel you can also enjoy Come Away With Me by Ruth Cardello, and a sneak peek of The Billionaire's Secret by J.S. Scott.
The Billionaire's Obsession Series:
The Billionaire's Obsession – (The Complete Collection) – Simon
Heart Of The Billionaire – Sam
The Billionaire's Salvation – Max
The Billionaire's Game – Kade
Billionaire Undone – Travis
Billionaire Unmasked – Jason
Billionaire Untamed – Tate
Billionaire Unbound – Chloe
Billionaire Undaunted – Zane
Billionaire Unknown – Blake
Billionaire Unveiled – Marcus
All or Nothing by Jennifer Probst 
HGTV's Property Brothers meets The Marriage Bargain in this third volume in the Billionaire Builders series, an all-new, heart-wrenching, and sexy contemporary romance from New York Times bestselling author Jennifer Probst.
Tristan Pierce left the family business to carve out a life of his own, but never forgot his passionate affair with the much younger, inexperienced Sydney Greene, or the hurtful breakup that tore him apart. When he's forced to return home and face his past, will he be able to carve out a future, or will lies ruin his second chance at love?
Sydney Greene loved Tristan her entire life but when he left, he took not only her heart, but her trust along with him. Now that they're together again, it's time they both face the biggest secret of all…
Say No More by Liliana Hart 
Return to New York Times and USA TODAY bestselling author Liliana Hart's romantic suspense series, the Gravediggers, with this thrilling game of cat and mouse between a member of the Gravediggers and the brilliant woman hot on his heels.
The world thinks they're dead. The world is wrong.
Dante Malcolm is a man of refined tastes. He was once a part of Britain's Elite Intelligence Force, but there was a reason he'd never been able to capture Simon Locke, the notorious thief who always seemed to be one step ahead. That's because Dante and Simon were one and the same, until Dante's double life eventually caught up with him and now he belongs to the Gravediggers.
Liv Rothschild is a Detective Inspector with Interpol and is the one responsible for catching MI-6's most notorious agent in his final heist—except the heist killed him. But something has never felt right about his death, and it's haunted her for months. It was too easy, and Dante Malcolm was too smart to go down that way.
Dante might belong to the Gravediggers in body, but his heart and soul will always belong to the next job. The rest of the team doesn't know about his alter ego because he made sure the information went missing from his file. So when the job he's always waited for seems like a possibility, he sneaks out of the country like a thief in the night, only to run into the only woman who's ever been able to match him in wit—and passion—for the job. Except they're standing on opposite sides of the law—and only one of them can walk away with the prize.
Eye Candy by Jessica Lemmon 
Jacqueline: As an adult woman–and the vice president of a marketing firm–I shouldn't be waiting by my office window to ogle the mystery man who jogs by every morning at 11:45. Sure, he's a gorgeous, perfect specimen of the human race, but I can't bring myself to hit on a total stranger. However, my best friend-slash-colleague Vince Carson thinks I should do more than talk to the guy. In fact, he's borderline obsessive about "getting me laid." (His words.) But the more time we spend together, the more it's clear: The one I'm falling for is Vince.
 
Vince: Jackie Butler's got it bad for some pompous, over-pumped A-hole who struts his stuff past her window. That doesn't bother me. I know she deserves nice things. What does bother me is that she friend-zoned me big-time last year, so I can't ask her out myself. But what if I set her up with Mr. Steroids? Then, when he breaks her heart, I can swoop in and save her like the nice guy I am. Everything's going according to plan . . . until we share a ridiculously epic kiss. And suddenly anything is possible.
Wildfire by Ilona Andrews 
Nevada Baylor can't decide which is more frustrating—harnessing her truthseeker abilities or dealing with Connor "Mad" Rogan and their evolving relationship. Yes, the billionaire Prime is helping her navigate the complex magical world in which she's become a crucial player—and sometimes a pawn—but she also has to deal with his ex-fiancée, whose husband has disappeared, and whose damsel-in-distress act is wearing very, very thin.
Rogan faces his own challenges, too, as Nevada's magical rank has made her a desirable match for other Primes. Controlling his immense powers is child's play next to controlling his conflicting emotions. And now he and Nevada are confronted by a new threat within her own family. Can they face this together? Or is their world about to go up in smoke?
Only His by Madison Rose 
I had no idea he was a sought after movie star and one of the most eligible bachelors in the world. I thought he was only mine, until one picture turned my life upside down.
She can fight it all she wants, but I knew the moment we met that she'd be mine, and I'm never giving her up.
I tried to deny it, but in the end I know I'm Only His.
Michael by Karla Sorensen (Live 7.26)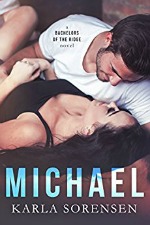 Brooke Rossi knows how to stay in control.
After all, finding herself a single mother to twins after her 'allergic to responsibility' ex-boyfriend left town has kinda set the bar for whatever might come her way. Except the day-to-day realities of single motherhood has her juggling in a way that she couldn't anticipate, which is why she's one sleepless night away from a padded cell.
Her unexpected help comes in the form of Michael Whitfield, unrepentant flirt and alleged manwhore. Michael isn't allergic to responsibility, but he does have a healthy aversion to commitment, until his relationship with Brooke. Their friendship is easy, until it's not. They learn to walk a tight rope of restraint, choosing not to act on their attraction out of respect for the friendship they've built.
One scorching, clothes-free visit past the boundaries they put in place, and Brooke finds herself facing the most uncontrollable situation of all: risking her heart to a man who's never had to take care of one before.
The Brightest Sunset by Aly Martinez (Live 7.27)
Sticks and stones will break my bones, but words will never harm me.
Lies.
Words destroyed me.
"I'm sorry. She didn't make it."
"Daddy, he can't breathe!"
"There's nothing more we can do for your son."
Sticks and stones will break my bones, but words will never harm me.
More lies.
Those syllables and letters became my executioner. I told myself that, if I didn't acknowledge the pain and the fear, they would have no power over me. But, as the years passed, the hate and the anger left behind began to control me.
Two words—that was all it took to plunge my life into darkness.
"He's gone."
In the end, it was four soft, silky words that gave me hope of another sunrise.
"Hi. I'm Charlotte Mills."
The Difference Between Us by Rachel Higginson (Live 7.27)
I'm cursed.
At least when it comes to finding Mr. Right.
I'm tired of men that only want one night stands or blind dates that are nothing but awkward and uncomfortable. I'm tired of avoiding inappropriate text messages and the constant disappointment of always meeting Mr. Wrong.
After all these years of dates that lead nowhere, I can admit that it's me. I'm the problem. I'm shy and picky and cursed. Definitely cursed.
So I've decided two things.
The first? I'm giving up dating and relationships and men in general. Maybe, possibly, forever.
The second? I'm going to have to try harder to avoid Ezra Baptiste.
If I couldn't hack it in the kiddy pool of dating, I certainly can't swim in his deep end. He's too successful. Too intense. He's all man when I'm used to nothing but boys pretending to be grownups. He's everything I'm afraid to want and so far out of my league we might as well be different species entirely.
So he'll need to find a different artist to paint his mural. And a different graphic designer to help him with his website. He'll need to find someone else to glare at and flirt with and kiss.
It can't be me.
We're too different.
Illicit by M.N. Forgy (Live 7.27)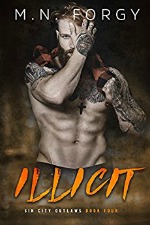 I'm an animal, a member of the Sin City Outlaws motorcycle club that isn't capable of human compassion. So I've been told anyway.
Raven is my club's prisoner. I've been ordered to break her. It should be easy given my violent history. But being this close to a woman—this woman—for the first time in a long time, is like sharing company with the demon Lilith herself.
She's my perfect toy. Filled with a dark rage. Blessed with perfected beauty. Sinfully sweet and wickedly divine. Everything about her solicits the demons inside me
I want to hear her screams. I want those big, dark eyes looking up at me—silently begging me for mercy. I want to be her heaven…and her hell.
My desire for her is forbidden. My infatuation is illicit. I'm betraying my club.
And if the wage of my sin is death, then this woman is going to get me killed.
Beard Up by Lani Lynn Vale (Live 7.27)
Ghost [gohst] noun: the soul of a dead person, a disembodied, vague, shadowy spirit wandering among or haunting living persons; a mere shadow or semblance; a trace.
That noun sums up Ghost and what his life has become with painful precision. He is barely living, merely existing but never thriving. There wasn't much that could pull him from the darkness he willingly inhabits…except one thing. Her.
She is the reason he's done what he's done, and his life has become what it has become.
He haunts his former life, lurking in the background, surviving on occasional glimpses of the only thing good that is left in his miserable life. The horror he has inflicted upon her is nothing compared to the terror that waits for her when someone moves in to take her from him.
The thing about being stuck in the past is that it is like walking through life backwards. She is always looking back, so she doesn't see what is happening in front of her. Unfortunately for her, it turns out that the ghosts of the past aren't nearly as terrifying as the monsters of the future.
They say that true love is like a ghost, something that many talk about but few have seen. It's a good thing for that, too, because he'll need that element of surprise to protect her. Hopefully when the dust settles, he'll be able to resurrect more than just himself.
Naughty, Dirty, Cocky by Whitney G. (Live 7.27)
Naughty, Dirty, Cocky is complete the first volume of the New York Times bestselling Steamy Coffee Read Series from Whitney G.
Stay after hours with the Naughty Boss, be sure to get checked out by the Dirty Doctor, and make sure you're prepared to work both inside and outside the bedroom with the Cocky Client.
Each novella is a standalone that features an alpha hero, feisty heroine, and toe curling sex. (They are also best devoured over a steamy hot cup of coffee)
Star Struck by Laurelin Paige (7.27)
She uses her fame as a wall around her heart, and only he can tear it down.
Seth Rafferty knows Heather Wainwright's type.
Demanding. Check.
Self-important. Check.
Leggy and blonde. Yeah, he knows the drill.
He's been a Hollywood production designer far too long to have patience for A-listers with a superior attitude. Beautiful women with a chip on their shoulder are a dime a dozen.
Which is why his obsession with Heather makes no sense. Nothing about her is attractive.
Except the vulnerability under the sass. The honesty under the attitude.
So when wrap-party flirting gets carried away, Seth doesn't stop it from turning into a sizzling night of passion. Too late, he realizes, one night isn't going to get her out of his system.
On to plan B: uncover the real woman under the diva.
Soon Heather will find out that Seth isn't just a simple carpenter she can use and lose without consequences. He'll play the part of the builder, but it's her walls he intends to break down.
This book has been previously published with another cover. It has been re-edited for this edition.