Cocktales- The Cocky Collection 
About the Cocktales Anthology:
'Cocktales' is a limited-release anthology (available *only* from May 26 – August 26, 2018) of original, never before published material, some of which is raw and unedited. Each story was specifically written for this anthology.
The goal of the Cocktales Anthology is to raise funds to fight against obstruction of creative expression. Specifically, what we believe are obstruction attempts through the trademarking of common (single) words for titicular use in books / or as a book series (eBooks, print, and audio).
*ALL* net profits will be donated to:
1) Authors already impacted by creative-obstruction (10%), and
2) Romance Writers of America (RWA) (90%) as a general donation intended for their Advocacy Fund.
Disclaimer: This anthology is not being conducted on behalf of RWA, nor does RWA endorse this anthology or effort. They have, however, graciously agreed to accept the funds.
Authors with material included (as they appear in the anthology):
Nana Malone, USA Today Bestselling author – Foreword
Dylan Allen – 'Cocked and Loaded'
Jana Aston, NYT, WSJ, USA Today Bestselling author – 'Double Cocked'
Whitney Barbetti – 'Cocksure Grin'
Author Sawyer Bennett, NYT, WSJ, USA Today Bestselling author – 'A Wicked, Cocky Plan'
K.f. Breene, USA Today Bestselling author – 'Magical Cock and Bull'
Ruth Clampett, Amazon top 20 Bestselling Author – 'Don't Get Cocky'
L.H. Cosway, USA Today Bestselling author – 'Illusionist Seeks Neanderthal'
Mariah Dietz – 'Landmines'
Amy Daws, Amazon Top 25 Bestselling author – 'Cock and Balls'
BB Easton, Amazon Top 100 Bestselling author – 'Cocky BB: Two Boys, One Prom.'
Jaymin Eve, USA Today Bestselling author – 'The Cockier the Dragon, the Harder They Fall'
Emma Hart, NYT and USA Today Bestselling author – 'Tricky Bond'
Staci Hart, Amazon Top 10 Bestselling author – 'Cockamamie'
Jessica Hawkins, USA Today Bestselling author – 'Cocky Couture'
Julie Johnson Amazon Top 100 Bestselling author – 'Culinary Cock-Up'
Karpov Kinrade, USA Today Bestselling author – 'Crimson Cocktail'
Adriana Locke, USA Today Bestselling author – 'Swag'
Lex Martin, USA Today Bestselling author – 'Love & Hate at the Stallion Station'
Aly Martinez, USA Today Bestselling author – 'Going Down'
Katyi McGee – USA Today Bestselling author – 'Cocksure Co-Star'
Corinne Michaels, NYT, WSJ, USA Today Bestselling author – 'Cockblocked'
Liv Morris, USA Today Bestselling author – 'Getting It Up'
Red Phoenix, USA Today Bestselling author – 'Her Cocky Russian'
Daisy Prescott, USA Today Bestselling author – 'Confessions of a Cockblocked Wingman'
Jessica Prince – 'A Cocky Corruption Engagement'
Meghan Quinn, Amazon Top 20 Bestselling Author – 'Fight or Flight'
CD Reiss, NYT and USA Today Bestselling author – 'Cocky Capo'
Penny Reid, WSJ and USA Today Bestselling author – 'Beard and Hen'
Julie Richman, USA Today Bestselling author – 'The Color of Love'
Aleatha Romig, NYT, WSJ, USA Today Bestselling author – 'Aligned'
Kennedy Ryan, Top 40 Amazon Bestselling author – 'All'
Kylie Scott, NYT, WSJ, USA Today Bestselling author – 'Short Story with Mal and Anne from The Stage Dive Series'
Sierra Simone, USA Today Bestselling author – 'Until the Cock Crows'
Tara Sivec, USA Today Bestselling author – 'Chocolate and Cockup'
Kate Stewart, Amazon Top 30 Bestselling author – 'The Golden Sombrero'
Leia Stone, USA Today Bestselling author – 'Cocky Alpha'
Karla Sorensen – 'Tristan & Anna: A Bachelors of the Ridge short story'
Rachel Van Dyken, NYT, WSJ, USA Today Bestselling author – 'Cocky Mafia'
April White, Amazon Top 100 Bestselling author – 'Code of Conduct'
The Lieutenant's Possesion by K. Langston 
Memphis Police Lieutenant Asher Cunningham is one of the best. Respected among his peers, he's well known for his discipline, assertiveness, and remarkable intuition.
He's also a sex addict.
A secret he's kept hidden until he finally decides to seek the help of renowned psychiatrist Dr. Marley Bennett. There's something intriguing about his new therapist that makes him want to confess all of his deepest, darkest desires without the fear of being judged. But it's the flush coloring her cheeks and those sensible skirts she wears that really tests his control. Pushing her limits becomes his new obsession, and he quickly learns that the good doctor has secrets of her own.
He's her patient.
She's not supposed to be attracted to him. She's not supposed to want him to possess her in all the ways he promises he can. But from the moment he steps into her office, the tattooed cop has her feeling things she shouldn't. With every commanding word and deliberate touch, he tears down her walls one by one. And with every layer he peels back, Marley realizes she needs him more than she could have ever imagined.
Making Up by Lucy Parker 
Author of Act Like It and Pretty Face Lucy Parker returns readers to the West End, where it's fireworks onstage and off in a sexy enemies-to-lovers showdown.
Once upon a time, circus artist Trix Lane was the best around. Her spark vanished with her confidence, though, and reclaiming either has proved…difficult. So when the star of The Festival of Masks is nixed and Trix is unexpectedly thrust into the spotlight, it's exactly the push she needs. But the joy over her sudden elevation in status is cut short by a new hire on the makeup team.
Leo Magasiva: disgraced wizard of special effects. He of the beautiful voice and impressive beard. Complete dickhead and—in an unexpected twist—an enragingly good kisser.
To Leo, something about Trix is…different. Lovely. Beautiful, even though the pint-size, pink-haired former bane of his existence still spends most of her waking hours working to annoy him. They've barely been able to spend two minutes together for years, and now he can't get enough of her. On stage. At home. In his bed.
When it comes to commitment, Trix has been there, done that, never wants to do it again. Leo's this close to the job of a lifetime, which would take him away from London—and from Trix. Their past is a constant barrier between them.
It seems hopeless.
Utterly impossible.
And yet…
Mine after Dark by Marie Force 
It's the dead of winter on Gansett Island, and Riley McCarthy's mood matches the lousy weather as he and his family work to bring their new business, McCarthy's Wayfarer, back to life. He can't deny that he's been in a funk since Nikki Stokes and her twin sister, Jordan, left the island last fall without saying goodbye. Riley, who'd been hired to fix the leaking roof at their grandmother's home, had liked talking to Nikki and had been looking forward to getting to know her better when she disappeared. Months later, he still thinks of her every day, even if he wishes he didn't. She's hard to forget.
As the manager for Jordan's reality TV career, Nikki finds herself square in the middle of the kind of drama she's had more than enough of, especially since her sister plans to go back to the husband who released a sex tape that devastated Jordan last fall. Enough is enough for Nikki, who quits her job and heads for her happy place—her grandmother's oceanfront home on Gansett Island, hoping she might run into the sweet, sexy guy who fixed the roof last fall. She liked talking to him and wonders if he stayed on the island for the winter. She really hopes he's still there.
The minute Riley hears that Nikki has come back to Gansett Island, he has to see her. He has to know if the spark of attraction he'd felt for her is still there, and more than anything, he'd love to know why he's thought more about a woman he met exactly twice than he ever has about anyone else. Come back to Gansett Island for Riley and Nikki's sweet, sexy story and catch up with many of your favorites, including Mac and Maddie, Adam and Abby, Shane and Katie and Kevin and Chelsea!
Screwed by Kelly Jamieson 
Cash Hale has been in love with his best friend's wife forever. Now Callie and Beau are divorced, but she's still way off-limits. Dating her would betray his friendship with Beau. And Cash is nothing if not loyal.
Callie Sutherland is starting over. The end of her marriage was just one more way she failed to live up to her wealthy family's expectations, so from now on she's not even going to try. It's time to live her life the way she wants. And she wants Cash.
Cash and Beau aren't just friends, they're business partners, and the drop in the price of oil has hurt their business. They need to win the bid for Sutherland Industries' next big project—but it may get messy since Callie's family owns the business. Not only would Cash risk his friendship with Beau to be with her, he'd be risking the company they worked so hard to create.
But this new Callie isn't taking no for an answer.
He's so screwed…
All the Little Lights by Jamie McGuire 
The first time Elliott Youngblood spots Catherine Calhoun, he's just a boy with a camera, and he's never seen a sadder and more beautiful sight. Both Elliott and Catherine feel like outcasts, yet they find an easy friendship with each other. But when Catherine needs him most, Elliott is forced to leave town.
Elliott finally returns, but he and Catherine are now different people. He's a star high school athlete, and she spends all her free time working at her mother's mysterious bed-and-breakfast. Catherine hasn't forgiven Elliott for abandoning her, but he's determined to win back her friendship…and her heart.
Just when Catherine is ready to fully trust Elliott, he becomes the prime suspect in a local tragedy. Despite the town's growing suspicions, Catherine clings to her love for Elliott. But a devastating secret that Catherine has buried could destroy whatever chance of happiness they have left.
I Flipping Love You by Helena Hunting 
Rian Sutter doesn't usually get hit on in the grocery store, but when she notices a sexy man in a suit checking her out, she thinks maybe it's her lucky day. Either that or the suit has a thing for sweaty, yoga-pant wearing women with excellent price matching skills.
Turns out it's neither.
Pierce Whitfield can't believe his luck when he's able to track down the woman who scratched up the paint job on his car at the scene of the crime. But when he confronts the hit and run hottie, he discovers there's not just one, but two of them, and he's been throwing accusations at the wrong twin.
As repair costs are negotiated, and the chemistry between them flares, Rian and Pierce find out they have more than mutual attraction in common. They're both vying for the same pieces of prime real estate in The Hamptons and neither one plans to give up without a fight.
Can these passionate rivals turn up the heat on their budding romance—without burning down the house?
Shelter in Place by Nora Roberts 
It was a typical evening at a mall outside Portland, Maine. Three teenage friends waited for the movie to start. A boy flirted with the girl selling sunglasses. Mothers and children shopped together, and the manager at video game store tended to customers. Then the shooters arrived.
The chaos and carnage lasted only eight minutes before the killers were taken down. But for those who lived through it, the effects would last forever. In the years that followed, one would dedicate himself to a law enforcement career. Another would close herself off, trying to bury the memory of huddling in a ladies' room, helplessly clutching her cell phone–until she finally found a way to pour her emotions into her art.
But one person wasn't satisfied with the shockingly high death toll at the DownEast Mall. And as the survivors slowly heal, find shelter, and rebuild, they will discover that another conspirator is lying in wait–and this time, there might be nowhere safe to hide.
The Wright One by K. Linde 
Secrets swarm all around.
My world is crumbling under the strain.
I don't know if we can survive this.
My heart is in the Wright place.
But is his?
The Wright One is the last book in the Wright Love Duet that began in The Wright Love. Find out if Sutton and David survive their world of secrets in the conclusion to the Wright Love duet!
Shadow Keeper by Christine Feehan 
The paparazzi can't get enough of infamous bad boy Giovanni Ferraro. But unknown to them–and the women he beds–he's just playing a role. Keeping the spotlight on himself keeps it off the family business. And if this lethal shadow rider can't hunt in the dark, he'll find his pleasure elsewhere…
Sasha Provis grew up on a Wyoming ranch and thought she knew how to protect herself from predators. But in the nightclub where she works, she's fair game–until one of the owners steps in to protect her. Giovanni is gorgeous. He's dangerous. And his every touch takes her breath away.
The devil at her heels may have finally met its match…
Too Wilde to Wed by Eloisa James 
The handsome, rakish heir to a dukedom, Lord Roland Northbridge Wilde – known to his friends as North – left England two years ago, after being jilted by Miss Diana Belgrave. He returns from war to find that he's notorious: polite society has ruled him "too wild to wed."
Diana never meant to tarnish North's reputation, or his heart, but in her rush to save a helpless child, there was no time to consider the consequences of working as a governess in Lindow Castle. Now everyone has drawn the worst conclusions about the child's father, and Diana is left with bittersweet regret.
When North makes it clear that he still wants her for his own, scandal or no, Diana has to fight to keep from losing her heart to the man whom she still has no intention of marrying.
Yet North is returning a hardened warrior – and this is one battle he's determined to win. He wants Diana, and he'll risk everything to call her his own.
Speakeasy by Sarina Bowen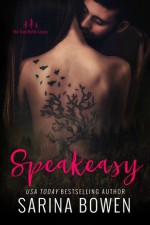 Sometimes you fall for Mr. Right. And sometimes for Mr. Right Now…
May
Did you hear the one about the girl who walks into a bar and catches her live-in lover kissing someone else? No? You're the only one in town who missed it.
Luckily Alec is there to wrap me up in strong arms and carry me out the door before things get too ugly. And that's not all Alec is good at. Our unexpected chemistry makes him the perfect rebound guy.
Alec
I should know better than to hook up with my rival's little sister, but the fiery look in May's eyes really turns my crank. She needs cheering up, and I'm just the guy for the job.
It's not like I'll fall in love. Not even after a string of scorching hot trysts, and the realization that we're good at the same things: wild nights and familial disappointment. I don't do love, never have, never will. So this is the perfect arrangement, for both of us.
Nobody would approve, but nobody has to know…
Stay With Me by Kristen Proby 
From New York Times Bestselling Author Kristen Proby comes Stay With Me, an all new addition to the series that has sold more than a million copies to date, her beloved With Me In Seattle Series!
Amelia Montgomery has left her past behind her. With a beauty and fashion career that's skyrocketing and a loving family around her, everything else is just junk in the rearview mirror.
Until it's not.
When she has to drop out of the public eye, her cousin Jules offers her a new, temporary life on the Puget Sound. Her past may be catching up with her, but hope for the future is in Seattle.
Wyatt Crawford can't figure out the enigmatic beauty who's living next door. As an architect, he's usually good at looking beneath the surface—but she barely even leaves her house.
Until she needs his help.
When she knocks on his door, how can he resist? It isn't long before Wyatt and Amelia become more than just neighbors. But when he finally learns the truth, will the skeletons in her closet be too much for him to handle, or will he stay?
Torched by Donna Grant 
The King of Silvers. Cunning, perceptive, resourceful. Determined. Banished from Dreagan eons ago because of a betrayal that shattered his entire existence, his sole focus in life is to exact revenge against the Dragon Kings. A formidable fighter with centuries of rage on his side, Ulrik will stop at nothing to take down those who exiled him.
He has been alone, trusting no one for thousands of years. Until she walks into his life. He should not yearn for her, but there is no stopping the fiercely burning attraction. When he's with her, he isn't thinking of war or revenge. He only thinks of her, craves her. Burns for her. But soon he will be forced to choose: Will he continue on his course of destruction or will he be able to set aside his vengeance to save the woman who risked everything for him.
Part-Time Husband by Noelle Adams 
On a Wednesday afternoon, I ask Trevor Bentley to marry me. He might be the most arrogant, obnoxious man I know, but I need him to be my husband for a year.
There are reasons.
He's not going to be a real husband. Just part-time. Yes, I have to live with him. And, okay, I also have to share his bed. And, sure, he's the hottest and most exciting thing to ever happen to my controlled, organized life.
But still… It's only a part-time marriage. I'm not going to give him my heart. I know what I'm doing, and I'm too smart to fall for my husband.
I hope.
Tomorrow's Too Late by Nicole Edwards 
A man with a painful past.
Hunter Kogan is no stranger to pain. For the past five years, he has been in a downward spiral, his days dark and grey. He spends most of his waking hours stumbling through, hating every second, wishing he didn't even exist.
A woman with a secret.
Danielle Davidson was born with a secret, one she knows should never get out. That very secret was what had her running from the only man she's ever loved. But it seems someone has figured it out, and they want her dead because of it.
A man who can save them both.
Kye Sterling knows Hunter has a troubled past. He knows someone hurt the man, which is the very reason he doesn't mind getting close, wanting to ease Hunter's pain in the only way he knows how. Not that it's working. Nothing seems to be working.
When Max Adorite comes to Sniper 1 Security seeking personal protection for his cousin Danielle, the world as Hunter and Kye know it will forever be changed.
Can the three of them figure out the threat to Dani before a madman gets his revenge? Can Hunter finally move out of the past and get the answers he so desperately needs? Or will he end up pushing away the two people who could pull him out of the darkness and into the light?
This is a full-length standalone novel that is part of the Sniper 1 Security series.
The Red Ledger: 2 by Meredith Wild 
She's the only link to his past…
Six years ago, Tristan Stone was everything to me. My whole heart, my future. We were unshakeable, bound tighter by any force that tried to drive us apart. Then he disappeared from my life, leaving me in tatters, broken and running away to one of the most intense cities in the world. Somehow he found me, but now nothing is the same…
Tristan claims someone wants me dead. He's scarred and dangerous, but all of that seems to melt away when we touch. I might be the only one who can give him his memories, but I want more. The lover I could never forget is trapped inside the heartless man he's become. I won't stop until I reach him. I won't stop until I find the answers he's not giving me.
All Night Long by J.Kenner 
I wear designer suits on my body by day and gorgeous women on my arm at night. Some might call me arrogant, with my chiseled jaw and my dark blue eyes. Add in my money and I can get any woman I want.
Now, I want her.
The night I spent with Selma has lived in my most erotic dreams. And ever since she swept back into my life, with her flashing eyes and delicious body, I want nothing more than to make sultry new memories.
But with an election coming up, and an office I want to fill, it isn't the right time to get involved with a free-spirited girl with a wild streak. A girl who doesn't abide by the rules. A girl who could get me noticed in all the wrong ways.
A girl who makes me crazy … in all the right ones.
Now I'm going to have to decide: Walk the straight and narrow? Or have the hottest, wildest affair of my life with the sexiest woman I've ever known?
Marrying Her Mafioso by Terri Anne Browning 
He had promises to keep.
"Protect her."
Those two words echoed through my head at least a hundred times a day.
I would keep the promises I made and protect Allegra from every possible danger that could come her way.
Even if the biggest danger was her own father.
The Boyfriend Experience by J.A. Huss (Live 5.30)
From NYT Bestselling Author, JA Huss, comes a new sexy standalone in the Jordan's Game series. Oaklee Ryan needs a boyfriend but not for any of the reasons you might think…
It's a simple request. But the girl…
Well, she's not so simple. Oaklee Ryan is a pragmatist. She lives in reality, she deals with facts, and she's goal oriented. So when she paid a visit to Jordan Wells asking for a game, calling it, "The Boyfriend Experience", he thought he knew what she was getting at.
Wining, dining, maybe a date to a wedding to appease her meddling mother…
No. That's not quite what Oaklee had in mind.
Lawton Gabriel took this game as a favor to his friend. And it only took him five minutes to regret it. Because Oaklee Ryan is insane. She's loud, she's demanding, and she's dead set on getting her way.
If she thinks he's gonna turn into her version of a boyfriend…
Just. No. He'll do anything it takes to get out of this crazy contract!
Mogul by Katy Evans (Live 5.31)
A brand new contemporary romance from New York Times, Wall Street Journal, and USA Today bestselling author Katy Evans.
He's my most delicious secret.
The hot Suit I had a one-night stand with one evening.
I didn't know anything about him, not even his name.
Only that we shared a taxi, and he was staying at the hotel where I worked.
We met in room 1103. Where he commanded not only my body but my soul.
The next day he was gone and I only had a memory of him.
I could still taste his kisses, feel his demanding touch.
I searched for him for months. Daydreaming about him. Wondering if I'd ever find him.
Until the day I find myself staring face to face with his jeweled black eyes again.
He says lets keep it casual, and my heart knows that falling for this workaholic in a three-thousand-dollar suit is off the table.
Because he has a secret. One that's a deal breaker for me.
My Suit has a name.
Ian Ford.
And this is our story.
*Mogul contains characters from Tycoon, but is written to be read as a standalone.
Beautiful Deception by Addison Moore (Live 5.31) 
From a New York Times Bestseller comes a story of two broken people with secrets so dark there is no coming back once they are brought to light. With a haunting twist that will leave you reeling. 
Abel traded his briefcase for fresh mountain air. He can't get far enough away from his life to escape it. Lake Loveless is just the place to get lost and forget that life outside its borders exists—that is until he meets Zoey.
Two broken people.
Two damning secrets that have blown their worlds apart.
One hot summer on the lake that changes everything.
Envy by Dylan Allen (Live 5.31- No Preorder) 
If envy is a sin, then let me be damned. 
Graham was born to be a star.
Once upon a time, that star shone only for me.
Now, I have to share him with the rest of the world.
For a while, I thought could do it. Because, beneath the hypnotic smile, gorgeous body and God given charm that made him famous, I caught glimpses of my best friend.
Of the boy who called me sunshine and loved me.
I wore that love like a crown… until he placed it on another's head.
Losing him was agony, distance felt like the only cure.
When tragedy reunites us after years apart, it only takes one touch to erase the past.
Just like that, I'm back in his arms.
He promises this time will be different. But I'm afraid to believe him.
Because, behind his star's blinding brilliance is a darkness that doesn't want to let him go.
I know a star that bright can'tbelong to just one person, but my jealous heart doesn't want to share him.
I want all of him..even if wanting what doesn't belong to me leads me to ruin.
Part-Time Love by Lauren Blakely (Live 6.1)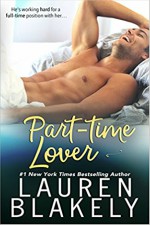 A sinfully sexy new standalone romance from #1 New York Times Bestseller Lauren Blakely 
I'll say this about Christian — he made one heck of a first impression. When I first saw the strapping man, he was doing handstands naked on a dock along the canal. His crown jewels were far more entertaining than anything else I'd seen on the boat tour, so I did what any curious woman would do — I took his photo. I might have looked at the shot a few dozen times. Little did I know I'd meet him again, a year later, at a secret garden bar in the heart of the city, where I'd learn that his mind and his mouth were even more captivating. But given the way my heart had been trampled, I wanted only a simple deal — No strings. No expectations.
Our arrangement worked well enough until the day I needed a lot more from him…
***
Let me just say, this whole part-time lover thing was her idea. I'd have gone all-in from the start, but hey, when a gorgeous, brilliant woman invites you into her bed, and only her bed…well, I said yes.
But then, one hysterical phone call from my brother later, begging me to find myself a wife so grandfather's business stays in the family, and I need a promotion with Elise. Turns out a full-time husband suits her needs too, and a temporary marriage of convenience ought to do the trick, until we can simply untie the knot…
As long as no one finds out…
As long as no one gets hurt…
As long as no one falls in love…
But our ending was one I never saw coming.