Lead Me Home by A.L. Jackson (Read my Review)
A friends-to-lovers second-chance romance…
Fourteen years ago, my life changed forever.
My sister disappeared. That day I was selfish. That day I chose myself over her. And that day, I lost everything.
Including Nikki Walters.
She's the girl I've loved my whole life. She's gorgeous. Caring. Every single thing I've ever wanted but denied myself. She was my sister's best friend, and I destroyed any chance of keeping her.
When her safety is threatened, I have a second chance to do the right thing. But as soon as she moves in, I want her in all the wrong ways.
All it takes is a brush of her hand, and I'm losing all control.
The fire between us is only burning hotter.
But neither of us saw what was coming.
And it just might be Nikki Walters who destroys me in the end.
An Imperfect Heart by Amie Knight 
The heart is exquisite.
You'll never hear anyone wax poetic over an organ quite like they do the heart.
When you're lost in the world? Follow your heart.
When your love for someone is unwavering, unparalleled and unprecedented? You give them your heart.
As a lead pediatric cardiac surgeon, I knew better than anyone that the heart is equally as powerful as it is delicate.
The heart giveth just as easily as it taketh away.
And until the day Kelly Potter darkened my doorway that was all just part of the job.
She rolled in like a slow evening storm, fierce and beautiful, fighting for the life of her unborn child.
It should have been business as usual.
I was a doctor.
Her child the patient.
But Kelly was more.
She was the one who got away.
I wouldn't make the same mistake twice.
It didn't matter what the rules were.
For once, I was listening to my heart.
The Ruthless Gentleman by Louise Bay 
As a chief stewardess on luxury superyachts, I massage egos, pamper the spoiled and cater to the most outlandish desires of the rich and famous.
I've never had a guest want something I can't give them. Until British businessman Hayden Wolf comes aboard—all sexy swagger and mysterious requests.
He wants me.
And Hayden Wolf's a man who's used to getting exactly what he demands.
Despite being serious and focused. Demanding and ruthless. He's also charming when I least expect it as well as being devastatingly handsome with an almost irresistible smile.
But guests are strictly off limits and I've never broken a rule. Not even bent one. My family are depending on me and I can't lose my job.
Only problem is Hayden Wolf is looking at me like I just changed his life. And he's touching me like he's about to change mine.
Anything for You by Layla Hagen 
Hotshot CEO Landon Connor knows his way around the boardroom. His work has been front and center for him ever since losing his wife. But after sealing the biggest deal of his career, he decides to take a trip to his hometown. Nothing spells vacation like a little time in the LA sun with the boisterous family he's missed so much.
But the tempting landscape designer working for his sister spells a whole lot more than fun. Maddie Jennings is everything Landon didn't think he wanted anymore. He can't get enough of Maddie's sweetness, or her sensual curves, and he pursues her every chance he gets.
Despite fanning herself every time Landon comes near her, Maddie tries to ignore their attraction. But Maddie hasn't met anyone quite like Landon. He's sexier than anyone has the right to be, and more intense too.
When Landon romances her with late night walks and flowers, she can't help giving in to him. His touch is intoxicating, and his love is beautiful.
But can Landon open up his heart for longer than a summer?
Hooked on You by Kate Meader 
The steamy Chicago Rebels series returns with this racy and sassy tale of embittered hearts, second chances, and going for the goal—on and off the ice.
Violet Vasquez never met her biological father, so learning he left his beloved hockey franchise—the Chicago Rebels—to her is, well, unexpected. Flat broke and close to homeless, Violet is determined to make the most of this sudden opportunity. Except dear old dad set conditions that require she takes part in actually running the team with the half-sisters she barely knows. Working with these two strangers and overseeing a band of hockey-playing lugs is not on her agenda…until she lays eyes on the Rebels captain and knows she has to have him.
Bren St. James has been labeled a lot of things: the Puck Prince, Lord of the Ice, Hell's Highlander…but it's the latest tag that's making headlines: washed-up alcoholic has-been.This season, getting his life back on track and winning the Cup are his only goals. With no time for relationships—except the fractured ones he needs to rebuild with his beautiful daughters—he's finding it increasingly hard to ignore sexy, all-up-in-his-beard Violet Vasquez. And when he finds himself in need of a nanny just as the playoffs are starting, he's faced with a temptation he could so easily get hooked on.
For two lost souls, there's more on the line than just making the best of a bad situation… there might also be a shot at the biggest prize of all: love.
Bad Boy Brody by Tijan 
One punch took him from Hollywood's Golden Boy to Bad Boy Brody.
The media didn't care he was grieving his brother's death. They descended on him, but to change his reputation, his manager got him a deal. Act in an indie film, one that already had Oscar buzz, and he'd get the movie roles he needed to secure his future.
He took the deal.
Yet he wasn't prepared for the real-life people behind the script.
He wasn't prepared for the murder the movie was based on.
And he really wasn't prepared for her, the biggest secret of all.
She was wild. She was beautiful. She defied gravity.
But was she the leading role that would tame him?
Brody is a full-length stand-alone novel! There is one bonus chapter from Cole at the end!
My Every Breath by Brittney Sahin 
After ten years of living in the shadow of the Irish mob, Gia Callaghan wants nothing more than to escape the darkness of her life. Her burning desire for answers about her past has her constantly plotting new ways to flee. When she comes face-to-face with the one man who might be able to help her, she'll have to decide exactly how much his life is worth.
Cade King's past is littered with questionable choices. He's made more mistakes than he can count, but he vows to be a better man.
When he meets Gia, his structured life turns upside down, and he must decide whether he's truly worthy of redemption. Can he protect a woman whose guard is even higher than his own, or will she end up saving him from himself?
As the tension and chemistry heat up between the two, they'll discover that life isn't always black and white.
Aiden by Melanie Moreland 
Aiden
Haunted by memories of his past, Aiden plays the part of the happy-go-lucky friend. Always ready with a teasing smile or a joke, he is good at hiding his pain.
Using his impressive physique as a shield, he keeps his past buried beneath his rugged exterior.
Except, one woman sees through his façade.
Her green eyes see too much, even as her body tempts him.
Even as his heart yearns for her.
Cami is determined to make him realize that he is worthy of being loved.
He pushes her away at every turn, yet finds himself unable to keep her at arm's length.
Who will win this battle of love?
Merciless by Gina L. Maxwell
I'm not always the hero. Sometimes I'm merciless.
My whole life I've been the good guy—loyal friend, helpful son, dedicated firefighter—but in the bedroom I'm someone else. That's where my inner villain likes to come out and play.
With a kink as taboo as mine, it's too risky to play with anyone who doesn't crave it like I do, so I've gotten used to depriving that side of me.
Then I see her. She's the most beautiful creature I've ever seen and my darker half recognizes itself in her mysterious brown eyes. She's everything I could ever want and thought I would never find.
Our arrangement may seem twisted to everyone else, but the sex is explosive—and soon my soul demands to own every part of her. We come from different worlds that want to tear us apart at every turn, but I'll be damned if I let them.
I will fight for our future, and I will be…merciless.
Intimate Intuition by Audrey Carlan 
Silas McKnight is the owner of multi-million-dollar musical production company Knight & Day Productions. He's rich, attractive, and loyal to his core. He's the man every woman wants but none can have. He's suffered immeasurable loss, and he doesn't plan on ever going through that hell again.
Dara Jackson, the quirky, stunning meditation teacher at Lotus House Yoga, is also the owner of Sunflower Bakery. She's always dreamed of being a baker—and a mother. Having grown up an orphan, Dara knows what being alone and feeling unwanted is like.
Silas and Dara meet one fated night and spend a single evening worshiping each other's bodies. All is beautiful until Dara discovers a secret and disappears before the sheets are even cold. Except Dara and Silas can't escape one another. Destiny has spoken, and these two are about to become far more intimate than they ever thought possible.
Passion Rising by J.A. Huss and Johnathan McClain 
Old demons are back.
Maddie's dealing with the fallout of her choices. Safety and happiness are relative, elusive things she's desperate to have. But they will forever remain out of reach until the demons of her past are laid to rest.
Tyler's mistakes resurface to haunt him and he's just beginning to understand that money can't fix a broken relationship. He must open his heart and search for answers he'd rather not find.
She wants peace in a world made of chaos.
He wants to rid himself of a lifetime of guilt.
They're soul mates, but that's no guarantee.
They'll need to rely on each other to find their happily ever after.
Because the fight never ends-it just gets easier with someone at your side.
Pick Six by Max Monroe 
Sean Phillips is a sexy as sin enigma.
Cocky. Promiscuous.
The New York Mavericks star wide receiver.
His quick moves and sure hands extend way past the lines of the football field—and into the bedroom.
Sure of himself and sure of his life, Sean's convinced he can handle anything. But when beautiful, pint-sized Six Malone delivers a challenge he's never faced before, his certainty starts to waver.
**
Six Malone is a force to be reckoned with.
Feisty. Hilarious.
The popular YouCam vlogger Pick Six.
The chance to work with the Mavericks on an eight-episode vlog series is the opportunity of a lifetime, and Six knows it.
But after an interesting first encounter turns into a head-to-head battle with cocky football star Sean Phillips, her attention shifts—to keeping herself from falling in love.
Too bad spending time with the team is part of the job, and Sean has a flawless track record…of getting what he wants.
**
Pick Six: A term used when a quarterback throws an interception and a defensive player returns it for a touchdown, resulting in six points.
Pick(ing) Six: When a man-wh*ring baller meets his match.
Straight Up Love by Lexi Ryan 
From New York Times bestselling author Lexi Ryan comes a sexy new standalone romance about a woman who'd do anything to have a baby and the man who'd do anything to have her…
For my 30th birthday, I'm giving myself the one thing I want most: a baby. Sure, this would be easier if I had a husband—or even a boyfriend—but I refuse to be thwarted by minor details.
When I drunkenly confess my plans to my friends, they convince me to ask Jake Jackson for help. Jake, the best friend who's been there for me through thick and thin. Jake, who also happens to be smart, funny, ridiculously good looking, and the winner of all the genetic lotteries.
So when Jake takes me up on my request—with the stipulation that we get the job done the old-fashioned way—I'd be a fool to decline.
The only problem? I don't know if I can separate sex from all the things I feel for this amazing man. If I can't keep my heart under lock and key, I risk losing the relationship I need the most.
Jake has his own reasons for granting my baby wish. But when I discover his secrets, it could mean the end of us. I have to choose—run or stay and fight for love.
Straight Up Love is book two in The Boys of Jackson Harbor series. All books in this series can be read as standalones, but you'll enjoy reading them as a series!
The Dating Experiment by Emma Hart 
1.Get over my best friend's brother.
2.Remember that I'm over him.
3.Prove I can date other people.
It should be easy.
It's not.
Setting up a dating website with the guy I've been in love with since I was five wasn't my smartest idea.
Especially since he's my best friend's brother—thankfully, she's okay with the fact I'm pulling a Sandy and I'm hopelessly devoted to him.
Which is why it's time to get over him.
So I do something crazy and ask Dominic Austin to find me a date. He does—if I find him one, too.
Since we own Stupid Cupid, it should be easy, right? And it is.
My date is perfect. His date is perfect. Everything is perfect.
Until he kisses me…
Three dates.
One kiss.
And a big-ass mess…
Rescuing Wendy by Susan Stoker 
Aspen "Blade" Carlisle is the last of his Delta Force team to find love…and he's pretty bummed about that fact. Which might explain why he finds himself chatting up a telemarketer as if she's a long-lost friend. But Wendy is surprisingly easy to talk to, so when they go from occasional calls during her work, to nightly conversations on their cells, it somehow feels right. So right, Blade eventually convinces the funny, sweet woman to meet him in person.
When their first face-to-face meeting gets high-jacked, Wendy Tucker is sure she and Aspen made a big mistake in taking their relationship to the next level. But the man is nothing if not persistent. Before long, Wendy's allowing the handsome soldier to spend more time with her and Jack, the teen brother she's raising, than anyone she's ever dated. Though she knows there are limits to how close she can get to Aspen, no matter how much she likes him. Limits carefully constructed to protect Wendy and Jack from a past they've been running from for years.
But dating Blade means having an entire team of Deltas at her back. Which may come in handy not just with Wendy's past…but also when her brother faces a current threat.
**Rescuing Wendy is the 8th book in the Delta Force Heroes Series. Each book is a stand-alone, with no cliffhanger endings.
Death Doesn't Bargain by Sherrilyn Kenyon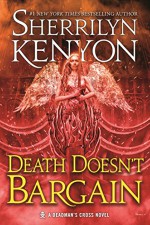 The Deadmen are back…
But so are the demons who have broken free of their eternal prison and are bent on mankind's destruction. The worst of the lot is Vine, determined to claim their lives for taking hers. She will see the world burn…and has the perfect lure to destroy them all. One of their own.
Kalder Dupree has never known a day of mercy. Born to the cruelest of mer-races, he sacrificed himself for his crew and is in Vine's hands. He expects no mercy or rescue.
Yet Cameron Jack is determined to set Kalder free. As a Hellchaser, it's her calling, and she cannot allow even a not-so-innocent to be tortured for an act of kindness that spared her damnation.
To defeat evil, it sometimes takes an even worse evil, and Cameron is willing to do whatever she must to make this right. If Vine thought she had her hands full before, she hasn't seen anything nearly as powerful as Cameron's resolve.
Puddin' by Julie Murphy 
The irresistible companion to the #1 New York Times bestseller Dumplin', soon to be a major motion picture starring Danielle Macdonald and Jennifer Aniston!
Millie Michalchuk has gone to fat camp every year since she was a little girl. Not this year. This year she has new plans to chase her secret dream of being a newscaster—and to kiss the boy she's crushing on.
Callie Reyes is the pretty girl who is next in line for dance team captain and has the popular boyfriend. But when it comes to other girls, she's more frenemy than friend.
When circumstances bring the girls together over the course of a semester, they surprise everyone (especially themselves) by realizing that they might have more in common than they ever imagined.
A story about unexpected friendship, romance, and Texas-size girl power, this is another winner from Julie Murphy.
The Other Lady Vanishes by Amanda Quick 
After escaping from a private sanitarium, Adelaide Blake arrives in Burning Cove, California, desperate to start over.
Working at an herbal tea shop puts her on the radar of those who frequent the seaside resort town: Hollywood movers and shakers always in need of hangover cures and tonics. One such customer is Jake Truett, a recently widowed businessman in town for a therapeutic rest. But unbeknownst to Adelaide, his exhaustion is just a cover.
In Burning Cove, no one is who they seem. Behind facades of glamour and power hide drug dealers, gangsters, and grifters. Into this make-believe world comes psychic to the stars Madame Zolanda. Adelaide and Jake know better than to fall for her kind of con. But when the medium becomes a victim of her own dire prediction and is killed, they'll be drawn into a murky world of duplicity and misdirection.
Neither Adelaide or Jake can predict that in the shadowy underground they'll find connections to the woman Adelaide used to be–and uncover the specter of a killer who's been real all along…
Arrogant Devil by R.S. Grey (No preorder- Live 5.10) 
Everyone in Cedar Creek, Texas, knows Jack McNight is an arrogant devil. Physically, I get it: he's tan and fit, with coal-black hair that's clearly been scorched by hellfire. Oh, and his personality? It burns just as hot.
When I show up on the doorstep of Blue Stone Ranch, I'm run-down and rockin' my last pair of underwear. I'm hoping for a savior, but instead, I find him.
My opinion of Jack is marred by a dismal first impression, but his opinion of me is tainted even before I arrive. He's heard I'm a spoiled princess there to take advantage of his goodwill. To him, I'm more trouble than I'm worth.
Our button-pushing banter should get under my skin. His arrogance should be a major turn-off. Problem is, devils are known to offer their own form of temptation.
Every one of his steely glares sends a shiver down my spine.
Every steamy encounter leaves me reeling.
Sure, it could be the Texas heat messing with my head, but there's no way I'll survive the summer without silencing him with a kiss and wrestling him out of those Wranglers.
Who knows…going to bed with the devil might just be the salvation I've been looking for all along.
Bane by L.J. Shen 
Bane
Naked surfer. Habitual pothead. A con, a liar, a thief and a fraud.
Last I heard, he was extorting the rich and screwing their wives for a living.
Which is why I'm more than a little surprised to find him at my threshold, looking for my friendship, my services, and most puzzling of all—looking humbled.
Thing is, I'm on a boycott. Literally—I cut boys from my life. Permanently.
Problem is, Bane is not a boy, he is all man, and I'm falling, crashing, drowning in his sweet, perfect lies.
Jesse Carter
Hot as hell, cold as ice.
I wasn't aware of her existence until a fat, juicy deal landed in my lap.
She's a part of it, a little plaything to kill some time.
She is collateral, a means to an end, and a side-bonus for striking a deal with her oil tycoon stepdad.
More than anything, Jesse Carter is a tough nut to crack.
Little does she know, I have the teeth for it.