Lips Close to Mine by Robin Bielman (Read my Review) 
I wasn't supposed to see Levi Pierce ever again. A few months ago, he charmed the pants off me and we spent one incredible night together.
End of story.
Only it wasn't. Pretty soon everywhere I turn, I see him. Our best friends are dating. My mother mistakenly—and happily—thinks he's my plus-one to my cousin's wedding. And he's the guy I have to work with on the most important job opportunity of my life.
Here's my problem: I like Levi. I like his killer smile and his dreamboat eyes and definitely the way he makes me feel in bed. But I've sworn off relationships. So when the sexual tension reaches epic proportions and we fall back into bed together, I tell myself it's temporary. When I start to feel more, I tell myself it's over.
Only Levi isn't a forget-it kind of guy. When his lips are close to mine and he swears he's always wanted me, my defenses disappear. But some things in life just aren't meant to be.
Or are they?
Each book in the Wherever You Go series is a STANDALONE story that can be enjoyed out of order.
* Talk British to Me
* Lips Close to Mine
Badd Mojo by Jasinda Wilder 
Our entire world has been turned upside down after a few nights of passion.
Love is in the air, commitments are being made, careers are being abandoned—nothing is easy. Except our sexual chemistry. Which is off-the-charts hot. But is it JUST chemistry, or is it more? We both want it to be more, but the question is, which one of us is going to be the first to risk heartbreak in order to find out? We both have dark pasts that are holding us back and may keep us from true happiness.
Intense sexual connection is easy…love, commitment, and figuring out the future? Well…that's a whole lot harder.
And it's twice as hard when you're twins.
The Rivalry by Nikki Sloane 
This tight end is at the top of his game.
He's good with his hands, even better with his sexy mouth, and the best at making me forget my own name. His—ahem—stats are perfect.
But I can't fall for him.
He might be everything I want, all rolled into a glorious package of gridiron god, but there's one teeny-tiny problem. The vile, loathsome team I've spent my entire life hating—my beloved school's arch-rival?
This guy is their star player.
Dirty Filthy Fix by Laurelin Paige 
From New York Times and USA Today bestselling author Laurelin Paige comes a new story in her Fixed Trilogy series…
I like sex. Kinky sex. The kinkier the better.
Every day, it's all I think about as I serve coffee and hand out business agendas to men who have no idea I'm not the prim, proper girl they think I am.
With a day job as the secretary to one of New York's most powerful men, Hudson Pierce, I have to keep my double life quiet. As long as I do, it's not a problem.
Enter: Nathan Sinclair. Tall, dark and handsome doesn't come close to describing how hot he is. And that's with his clothes on. But after a dirty, filthy rendezvous, I accept that if we ever see each other again, he'll walk right by my desk on his way to see my boss without recognizing me.
Only, that's not what happens. Not the first time I see him after the party. Or the next time. Or the time after that. And as much as I try to stop it, my two worlds are crashing into each other, putting my job and my reputation at risk.
And all I can think about is Nathan Sinclair.
All I can think about is getting just one more dirty, filthy fix.
**Every 1001 Dark Nights novella is a standalone story. For new readers, it's an introduction to an author's world. And for fans, it's a bonus book in the author's series. We hope you'll enjoy each one as much as we do.**
Head Coach by Lia Riley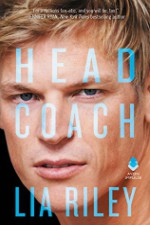 Neve Angel's life is all work and no play, but she wouldn't have it any other way.  One of Denver's top sports reporters, she's fought hard to make it in a male-dominated world, and she won't back down from a fight with anyone–not even the Hellions' gruff head coach, Tor Gunnar. Her hostile relationship with the icy Scandinavian is the stuff of local legend.
Tor Gunnar hates dealing with the media; at best, they are a nuisance and at worst, a distraction. And no one distracts him more than the scrappy, sexy reporter who gets him hot under the collar. When he wins a not-so-friendly bet with Neve, he decides it's high time they either kiss or kill each other, and invites her as a date to an out-of-town wedding.
But what happens when enemies become lovers? Will they be able to smother their sizzling attraction, or is it time to start playing for keeps?
Love by Jillian Dodd 
From USA Today bestselling author Jillian Dodd comes the last book in the addictive Keatyn Chroniclesseries. Discover a breathless fairy-tale romance with swoon-worthy characters set in a glittering celebrity world. Fans of reality TV will devour this pulse-pounding, sexy Hollywood drama.
Follow the lives and loves of those who work at Captive Films:
Riley Johnson — Captive Films' CEO and millionaire playboy is hot, privileged, and seriously single. He's got it all–a brand new jet, exotic cars, a luxury penthouse, and a different aspiring actress (or two) in his bed every night. His life is perfect until the only girl he ever loved walks back into it, causing him to wonder if he truly has it all.
Keatyn Douglas — Hollywood's sweetheart and owner of Captive Films leads a chaotic, glamorous life. But running a successful film studio, writing scripts, and her own acting career leave little time for the things she dreams of, like marrying the man she loves and having babies. When drama starts at work, she may decide to give it all up for life out of the fast lane.
Dawson Johnson — The dark and dreamy marketing consultant joins Captive to escape his past. For the last two years, his sole focus has been on caring for his adorable daughters after tragedy struck their lives. He comes to Captive looking for a fresh start and, if all goes well, he might find a lot more than that in Hollywood.
Knox Daniels — Considered the sexiest man alive by a certain magazine, the sentiment is echoed by the actor's adoring fans. While romance abounds in the roles he plays, he's convinced he'll never find his own happily ever after–until he meets a woman who just might change that.
Shelby Benson — The beautiful cocktail waitress and wanna-be actress struggles to make ends meet. A chance encounter with Riley Johnson is her lucky break and the golden ticket to everything she's ever dreamed of–fame, power, money, sex, and love.
Written soap-opera style with multiple points of view, you can expect lots of drama, sex, and tabloid-worthy events.
Sweet Tea and Sympathy by Molly Harper 
Beloved author Molly Harper launches a brand-new contemporary romance series, Southern Eclectic, with this story of a big-city party planner who finds true love in a small Georgia town.
Nestled on the shore of Lake Sackett, Georgia is the McCready Family Funeral Home and Bait Shop. (What, you have a problem with one-stop shopping?) Two McCready brothers started two separate businesses in the same building back in 1928, and now it's become one big family affair. And true to form in small Southern towns, family business becomes everybody's business.
Margot Cary has spent her life immersed in everything Lake Sackett is not. As an elite event planner, Margot's rubbed elbows with the cream of Chicago society, and made elegance and glamour her business. She's riding high until one event goes tragically, spectacularly wrong. Now she's blackballed by the gala set and in dire need of a fresh start—and apparently the McCreadys are in need of an event planner with a tarnished reputation.
As Margot finds her footing in a town where everybody knows not only your name, but what you had for dinner last Saturday night and what you'll wear to church on Sunday morning, she grudgingly has to admit that there are some things Lake Sackett does better than Chicago—including the dating prospects. Elementary school principal Kyle Archer is a fellow fish-out-of-water who volunteers to show Margot the picture-postcard side of Southern living. The two of them hit it off, but not everybody is happy to see an outsider snapping up one of the town's most eligible gentleman. Will Margot reel in her handsome fish, or will she have to release her latest catch?
Dirty Scoundrel by Jessica Clare 
In a sizzling novel from the New York Times bestselling author of Dirty Money, there's rich, and then there's filthy rich when an oil tycoon takes being a roughneck billionaire to a new level. 
Clay Price has everything he's ever wanted, except the one thing money can't buy—Natalie Weston. Years ago, Clay and Natalie were in love…until she turned down his marriage proposal. Now Clay and his brothers are oil-rich billionaires, and they can have whatever they want. And what Clay wants is Natalie in his bed, no matter what it takes. If it means being ruthless, he'll do it.
Natalie gave up on true love years ago when the realities of the world destroyed her fairy-tale hopes. Giving up Clay is her biggest regret in life, and she's excited to see him return…until she finds out why. Clay's got one hell of a proposal for her: he'll save her father's business and bail Natalie out of debt if she'll agree to become his very personal assistant. It's clear that he wants more from her than just typing.
It's also clear that Natalie has no choice. This scoundrel's bet could destroy any hope they had of reconciliation—or it could bring them together once and for all…
Thankful for Her by Alexa Riley 
Autumn has always felt a soul-shattering pull to her stepbrother, Hunter. The only problem is that they've never met. But this Thanksgiving they're finally going to meet and when they do, all her desires will be confirmed.
Hunter Danvers has lost a lot, and seeing his father marry a nightmare of a stepmother, he thinks he's lost him, too. He reluctantly comes home for Thanksgiving. And then everything he knows to be true changes.
Warning: Get stuffed with insta-love, a secret baby, and gravy puns galore! This glossed-over holiday just got a reason to be celebrated, and it has nothing to do with the cranberry sauce!
Hushed Torment by Bella Jewel
One accident changed my life.
One single second changed everything for me.
In one terrifying moment, everything I knew was gone.
Music is the only thing that keeps me holding on.
When the opportunity arises for me to tour with country music star, Scarlett Belle, I take it.
An escape.
A chance.
Only it isn't enough to lift the shadows of my past.
And when I meet him, dangerous and different, I can't turn away.
He is forbidden to me.
The President of a Motorcycle Club.
A man who could bring noise back into my soundless world.
But the shadows of my past haunt me.
They linger like a dark nightmare, reminding me that we can never be.
Because my sins are far too heavy.
And my mind far too broken.
Music is the only escape I can allow into my life.
The only one that I will let seep through my hungry veins.
But he's always there.
And he's persistent.
But if he knew what I kept behind closed doors…no.
I must continue my life just the way it is.
Without him.
Breathing in my nightmare.
Living in my Hushed Torment.
Eversong by Donna Grant 
To live in the light, they hunt in the dark…
Unparalleled in beauty and daring, Leoma has been raised with a single-minded focus—to wipe out corrupt witches. But when her new target leads her to a discovery that unveils a graver plan from the Coven, she doesn't hesitate to follow. Yet, she's not the only one on the hunt. And the sexy, infuriating man who crosses her path could prove to be a distraction—something she's never encountered before.
Honor and family mean everything to Braith. When his life is turned upside down by the murder of his ward and heir without cause or reason, he has no choice but to turn to vengeance. Until a stunning, dangerous woman continues to thwart his efforts at every turn. Now, he must battle not only his need for revenge but his desire for the female, as well.