Rule by Jay Crownover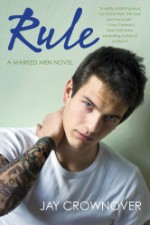 Sometimes opposites don't just attract – they catch fire and burn the city down
Shaw Landon loved Rule Archer from the moment she laid eyes on him. Rule is everything a straight-A pre-med student like Shaw shouldn't want – and the only person she's never tried to please. She isn't afraid of his scary piercings and tattoos or his wild attitude. Though she knows that Rule is wrong for her, her heart just won't listen.
To a rebel like Rule Archer, Shaw Landon is a stuck-up, perfect princess – and his dead twin brother's girl. She lives by other people's rules; he makes his own. He doesn't have time for a good girl like Shaw – even if she's the only one who can see the person he truly is.
But a short skirt, too many birthday cocktails and spilled secrets lead to a night neither can forget. Now, Shaw and Rule have to figure out how a girl like her and a guy like him are supposed to be together without destroying their love…or each other.
Nash by Jay Crownover 
The fourth book in the scorching hot NEW YORK TIMES bestselling MARKED MEN New Adult series
Nash Donovan, tattooist and good-time guy, never knew his father. Instead, he was brought up by his Uncle Phil, the best role model and mentor a guy could have. But when Phil is rushed to hospital and reveals he's at the end stages of lung cancer, he wants Nash to know the truth. Reeling from the family secret Phil has let slip, Nash needs something to hold on to – and the nurse with the beautiful grey eyes taking care of Phil seems remarkably familiar…
Saint Ford doesn't know what to think when Nash crashes back into her life. They went to school together what feels like a million years ago and although she feels – and looks – very different, she can't tell if Nash is still the same guy: the guy who teased and bullied her way back when and who she vowed never to forgive.
But Nash is impossible to stay away from. From his flame-tattooed head to his multiple piercings, and his all-round good guy attitude, he's unlike anyone Saint has ever known – does she still carry a flame for the first guy to steal her heart? And can she forgive him – and herself – for the mistakes of the past?
Tall, Tatted and Tempting by Tammy Falkner 
***This New Adult book is intended for audiences over the age of 18 due to adult content**
Kit
Logan wants to know my name, but I can't tell him. I can't tell him anything. There are too many people looking for me. He's pretty persuasive, though, and he convinces me to go home with him so he can keep me safe from this harsh city where I find myself. It's not my home. It's his. He belongs. I don't.
Logan lives with four brothers in the inner city. Yet I've never felt more safe than I do when I'm with him. I want him. But he won't let me have a darn thing, aside from his friendship, unless I'm willing to tell him my secrets. But they're mine, and I can't share them. Not unless I want them to come and get me.
Logan
She catches my eye because she's so beautiful she takes my breath. But that's not all that I love about her. I love the way she smells. The way she smiles. The way she plays the guitar is unlike anything I have ever seen. She sleeps in my bed every night, and drives me crazy with her touch. But I can't take what she offers because I need all of her. I need for her to tell me her secrets. I need for her to trust me.
From the back of the book:
She's locked up tight. But he might be the key.
Logan Reed is tall, tatted and tempting.
Kit's a woman with a mean right hook and a secret.
Kit wants a tattoo, but Logan sees more than she intends to share in the drawing of the tat she wants. He sees her in ways no one ever has.
Logan's not disabled; but he hasn't spoken in eight years. He hasn't needed to.
Until he meets Kit.
Logan doesn't know everything about Kit. Kit doesn't know anything about herself,
until she has to sacrifice all she ever wanted to save what's most important to him.
Series reading order:
Tall, Tatted, and Tempting
Smart, Sexy, and Secretive
Calmly, Carefully, Completely
Finally Finding Faith
Just Jelly Beans and Jealousy
Reagan's Revenge and Ending Emily's Engagement
Maybe Matt's Miracle
Under Locke by Mariana Zapata 
He was my boss, my brother's friend, a Widow, an ex-felon, and a man I'd seen casually with a handful of women. But he was everything that gripped me, both the good and the bad. Worst case scenario if things turned awkward between us, I could go somewhere else. I'd gotten over epic heartbreak before, one more wouldn't kill me.
—
After moving to Austin following six months of unemployment back home, Iris Taylor knows she should be glad to have landed a job so quickly… even if the business is owned by a member of the same motorcycle club her estranged father used to belong to. Except Dex Locke might just be the biggest jerk she's ever met. He's rude, impatient and doesn't know how to tell time.
And the last thing they ever expected was each other.
But it was either the strip club or the tattoo shop.
… she should have chosen the strip club.
—
"Babe, I've handpicked everythin' and everyone in here. I know what I want and I get what I want," he breathed. "And I keep what's mine."
Rock Me by Cherrie Lynn 
Candace Andrews has had enough of pleasing others. In an act of birthday rebellion, she sets out to please herself—by walking into the tattoo parlor owned by her cousin's ex-boyfriend. All she wants is a little ink, and Brian's just the guy to give it to her.
As soon as she submits to his masterful hands, though, the forbidden attraction she's always felt for him resurfaces…and she realizes the devilishly sexy artist could give her so much more.
Sweet, innocent Candace is the last person Brian expected to see again. She's everything he's not, and her family despises him. He doesn't need the hassle, but he needs her, and this time no one is taking her away. Not even those who threaten to make his life a living hell.
Backed into a corner, Candace faces the worst kind of choice. Cave in to those who think Brian is a living nightmare…or hold her ground and risk it all for the one man who rocks her world.
Leave Me Breathless by Cherrie Lynn 
It's Valentine's Day, but Macy Rodgers isn't feeling the love. Aside from a torrid, one- night fling in a backseat a few months back, her love life has been sorely lacking, but fortunately she has devious friends who feel like playing Cupid. Wouldn't they be shocked to learn that the match they've made for her is the same one that steamed up the back of that '69 GTO…
Seth "Ghost" Warren has just returned to town after an extended absence. Between his grandmother's failing health, his job as a tattoo artist, his band's gigs, and a crazy ex that won't leave him alone, he's stretched thin. Cautious cowgirl Macy is the last thing he needs thrown into the mix.
She's all country, he's all heavy metal—and Macy knows that if anyone can propel her out of her rut, it's Seth. But when their worlds collide, it's anyone guess if they'll survive with their hearts intact.
Clipped Wings by Helena Hunting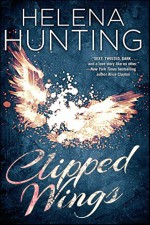 Their body art is hot. Their chemistry is even hotter.
From her dark hair sweeping below her waist to her soft, sexy curves, Tenley Page intrigues tattoo artist Hayden Stryker in a way no one else ever has…especially when she asks him to ink a gorgeous, intricate design on her back. Yet for all her beauty, there is something darkly tragic and damaged about Tenley that Hayden is everything.
Covered in ink and steel, Hayden is everything Tenley has never dared to want, awakening a desire to explore more than the art adorning his stunning body. Trapped by a past that leaves her screaming from nightmares, Tenley sees Hayden as the perfect escape. Although he has secrets too, if they both keep themselves guarded perhaps their intense physical connection will remain only that.
But nothing, not even passion, can keep them safe from their pasts…
Rowdy by Jay Crownover 
It's not about your first love, but the first love you fight for… The fifth book in the scorching hot NEW YORK TIMES bestselling MARKED MEN New Adult series.
After his first broken heart, Rowdy St. James decided he was going to do everything in his power to live up to his nickname:life was all about the good times. But when a ghost from the past appears, she makes him question everything he thought he knew about love.
Salem Cruz grew up in a house with too many rules – and no fun allowed. She left it all behind as soon as she could, but she never forgot the sweet, blue-eyed boy next door who'd been in love with her little sister. Now, Salem is determined to show Rowdy he picked the wrong sister all those years ago.
As their relationship heats up, Rowdy starts to let his heart go – until the one person who could drive them apart shows up again.
Echoes of Scotland Street by Samantha Young 
From the New York Times bestselling author of On Dublin Street comes a seductive story of forgiving the past and making up for lost time.…
Shannon MacLeod has always gone for the wrong type of man. After she drifted from one toxic relationship to the next, her last boyfriend gave her a wake-up call in the worst possible way. With her world shattered, she's sworn off men—especially those of the bad-boy variety.
Cole Walker is exactly the sort that Shannon wants to avoid—gorgeous, tattooed, charming, and cocky. But his rough exterior hides a good man who's ready to find "the one." He's determined to pull Shannon from her self-imposed solitude to win her heart.
As Shannon opens up in the face of Cole's steady devotion, the passion between them ignites to blazing levels. But when Shannon's past comes back to haunt her, her fears may destroy the trust Cole has built between them—and tear them apart for good.…
Tattered Love by Lola Stark 
When ex-Special Ops bad-ass Mace walks into Needle's Kiss tattoo parlour, he never expected to find the girl who would turn his life upside down.
Hard as nails Scarlett has been unlucky in love: she's been burnt, chewed up and spat out. Reluctant to have another relationship, can she keep her wits about her when hot-as-sin Mace walks into her tattoo parlor? Or will he break her down and leave his mark within her ink?
What starts out as a little fun, turns into something so much more.
Can Scarlett look beyond Mace's devastating past or will his demons come back to haunt them both?
Content warning: contains steamy, anywhere-goes sex, an alcohol induced embarrassing night out and two headstrong lovers taken on a whirlwind of crazy.
All Of You by Christina Lee 
In this powerfully emotional debut New Adult novel, Avery has just met her hot upstairs neighbor. He's irresistible. Tattooed. And a virgin.
Nursing student Avery Michaels wants nothing to do with dating–she's perfectly happy single.  Privy to too many of her mother's bad decisions and even worse taste in boyfriends, all Avery can handle is a string of uncomplicated hookups whenever the mood strikes.
When she meets smoking hot tattoo artist Bennett, she wants him–for just one night. But he won't accept a no-strings-attached arrangement. He lives by a straight-laced code of values based on his own troubled upbringing.
Bennett sees something special in Avery and he wants more from her. Way more. As Avery wrestles with her emotions for Bennett, danger and tragedy force them to open up to each other. And Avery must face the terrifying realization that she wants more from him, too.
So she needs to make a choice–let Bennett go or finally let him in.
Maybe Matt's Miracle by Tammy Falkner 
What he needed was a miracle…
Matthew Reed has seen his share of problems. But he's a Reed and Reeds can overcome anything. Matt is content working in his family's tattoo parlor with his brothers surrounding him. The only thing he's lacking is the ability to have a family of his own. Then his battle with cancer leads him to meet a woman who just might need him as much as he needs her.
She didn't need anything…
Skylar Morgan is happy. She has a boyfriend. Sure, he doesn't make her heart pound faster and he really doesn't support her when she needs it. But she doesn't need much. Does she? She's happy to be self-sufficient and she's happy that she doesn't have a tremendous amount of responsibility. She's educated, has a great job, and she has enough money for a lifetime. But what she lacks, she doesn't even realize until she meets him. And them. The ones who change her life forever.
Sins & Needles by Karina Halle 
Ellie Watt is used to starting over. The daughter of a grifting team, Ellie spent her childhood being used as a pawn in her parents' latest scam. Now she's much older, wiser and ready to give her con artist life a rest. But returning to the dry desert town of Palm Valley, California means one more temptation than she bargained for – Camden McQueen.
Once known as the high school weirdo, Camden is bigger and badder than the boy he used to be and a talented tattoo artist with his own thriving business. Ellie's counting on Camden still being in love with her but what she's not counting on is how easily unrequited love can turn into obsession over time. When Camden discovers Ellie's plan to con him, he makes her a deal she doesn't dare refuse, but her freedom comes with a price and it's one that takes both Ellie and Camden down a dangerous road.
Don't miss Book Two in the addictive, wild and sexy The Artists Trilogy, Shooting Scars. Need more of Karina's edgy world? Don't miss her Dirty Angels Trilogy.
King by T.M. Frazier 
Homeless. Hungry. Desperate.
Doe has no memories of who she is or where she comes from.
A notorious career criminal just released from prison, King is someone you don't want to cross unless you're prepared to pay him back in blood, sweat, sex or a combination of all three.
King's future hangs in the balance. Doe's is written in her past. When they come crashing together, they will have to learn that sometimes in order to hold on, you have to first let go.
King is the first book in a two part series. Tyrant is the name of the second book and it is available now.
The Strongest Steel by Scarlett Cole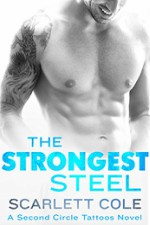 In Scarlett Cole's The Strongest Steel, Harper Connelly never expected to find herself outside of a tattoo parlor at one in the morning. The scars that decorate her back are just one more reminder of things she'd rather forget, the past she wants to leave far behind her, but before she can move on, she needs him.
Tattoo artist Trent Andrews has his own reasons for specializing in inking over scars. And there's no way in hell he's going to turn Harper away. Not when a swirling mix of tenderness and desire slams into him every time he sees her. She stirs feelings in him he thought were long gone… if he can only get past her carefully constructed defenses.
As each session at Second Circle Tattoos gives Harper new ink to cover up old demons, it brings her closer and closer to Trent. His lingering touches seduce her, making her believe in a life without fear, where she can be happy, whole, in love. But when cryptic messages start appearing on Harper's phone, strange deliveries arrive at her door, and Second Circle is vandalized, Harper is convinced that her ex-boyfriend has tracked her down, and worse, that he knows about Trent. She ran from her past once before; this time will she have the strength to fight back?
Hard as It Gets by Laura Kaye 
Tall, dark, and lethal…
Trouble just walked into Nicholas Rixey's tattoo parlor. Becca Merritt is warm, sexy, wholesome–pure temptation to a very jaded Nick. He's left his military life behind to become co-owner of Hard Ink Tattoo, but Becca is his ex-commander's daughter. Loyalty won't let him turn her away. Lust has plenty to do with it too.
With her brother presumed kidnapped, Becca needs Nick. She just wasn't expecting to want him so much. As their investigation turns into all-out war with an organized crime ring, only Nick can protect her. And only Becca can heal the scars no one else sees.
Desire is the easy part. Love is as hard as it gets. Good thing Nick is always up for a challenge…
Hard to Be Good by Laura Kaye 
Hard Ink Tattoo owner Jeremy Rixey has taken on his brother's stateside fight against the forces that nearly killed Nick and his Special Forces team a year before. Now, Jeremy's whole world has been turned upside down–not the least of which by a brilliant, quiet blond man who tempts Jeremy to settle down for the first time ever.
Recent kidnapping victim Charlie Merritt has always been better with computers than people, so when he's drawn into the SF team's investigation of his army colonel father's corruption, he's surprised to find acceptance and friendship–especially since his father never accepted who Charlie was. Even more surprising is the heated tension Charlie feels with sexy, tattooed Jeremy, Charlie's opposite in almost every way.
With tragedy and chaos all around them, temptation flashes hot, and Jeremy and Charlie can't help but wonder why they're trying so hard to be good…