The Plan by Ella James 
You've heard this story before. Woman feels her biological clock ticking and gets someone to knock her up.Not for love, for baby.Crazy, right?That's what I thought.
Then I found out my fiancé had a vasectomy. The life I thought I had? Nope. Suddenly I'm 33, and I don't even have a kissing buddy.
When my mom's health takes a turn and I wind up back in my hometown of Fate, Alabama, I tell myself to leave things up to…well, you know.
Then I see Gabriel McKellan. He's Fate's most famous son, a bestselling author who is beautiful, complicated, and living just below me. In addition to his plus-sized brain, Gabe's well-endowed in other ways, and great in bed to boot. I would know. He's my ex husband.
When I suggest The Plan, I don't imagine that he'll take the bait. It's been ten years, and we don't work. But Fate has other plans for both of us.
Just Try Me by Jill Shalvis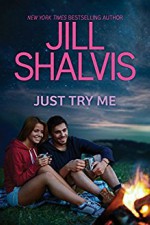 New York Times Bestselling author Jill Shalvis takes you on a wilderness adventure in this Blaze reissue
Adrenaline junkie Lily Peterson is no stranger to taking chances. She's been there, hiked/rafted/skied that. But that was before an accident nearly put her out of commission for good. Now, after months in physiotherapy, this former firefighter has a new motto: look before you leap. It's not as much fun, but it works.
Still, it's killing her that she has to start all over again, more slowly this time. But she's going to do whatever it takes. After all, her latest job guiding a simple hiking trip through the Sierras hardly qualifies as risky. That is, until she looks at hiker Jared Skye—and wants to leap into his bed. And if she's lucky, he'll take things slowly, too…
What Happens During the Holidays: A Holiday Anthology 
Holidays happen.
It's inevitable.
Emotions run high and plans can get turned upside down, landing you in bed with someone so far off the radar you never saw them coming.
Is it love? Is it lust? Or is it just what happens during the holidays?
*What Happens During the Holidays is a collection of fun and sexy holiday short stories from a group of fun and sometimes sexy authors. Or maybe they're ninjas.*
Van by Sawyer Bennett 
Score one for the Carolina Cold Fury hockey team as a stone-cold badass melts for a woman who makes his blood run hot.
As one of the league's toughest enforcers, Van Turner is ruthless on the ice. He plays hard because it's the only way to channel the rage boiling inside, and a reputation as an A-hole is better than everyone knowing the truth. Van has spent his entire life running from a secret that's kept him from getting involved in relationships—or accepting lucrative deals with East Coast teams. Then the Carolina Cold Fury makes him an offer he can't refuse . . . and Van meets a woman he can't resist.
Simone Fournier is the stubborn one in her family—and that's saying something, considering her brothers are two of the Cold Fury's biggest stars. Simone gets what she wants, and what she wants is Van. Still, there's a part of him Simone can't reach, no matter how hard she tries. In private, he's all fire and passion. In public, he freezes her out. Van may want to push her away, but Simone won't let him go that easily. Because this time, she's playing for keeps.
Run Away with Me by Mila Gray 
Two friends fall into a passionate romance, but first they must confront a painful past, or else lose out on the one thing they've been searching for in this heartrending novel from the author of Come Back to Meand Stay with Me.
Emerson Lowe and popular ice-hockey player Jake McCallister have been best friends since third grade but as their friendship starts to morph into something more a terrible event occurs that heralds the end of innocence for both of them.
Within a week, Jake's living on the other side of the country and Emerson is left alone to pick up the pieces of her life in a small town determined to paint her as a liar.
Seven years later, Emerson is still living on the beautiful Pacific West island of Bainbridge, helping run her family's business. The last thing she needs is Jake turning up, bringing with him old memories and opening up old wounds. But Jake—even better looking than Emerson remembers—seems determined to revive their friendship no matter how much Emerson tries to push him away.
Forced to work alongside him for the summer Emerson can't help but fall for Jake, and soon they're in the midst of a passionate romance that neither of them wants to end.
But both Emerson and Jake know that if they're to have any kind of future they must first confront the past—a past that most people want to stay buried.
Pulled Under by Lisa Renee Jones 
He is blond, tattooed, and dangerous. She's as beautiful as she is mysterious and could be his destruction…
Asher wasn't always a member of the elite Walker Security team, he was a billionaire's son, who rebelled against his father's controlling hand, and ended up in New York City's underground of drugs, rock n roll, and danger. But that is long behind him, and while his tattoos and long blond hair remain, he's now a chameleon, far more comfortable in a suit and tie than a leather jacket.
Or so he likes to tell himself.
But now Walker Security needs him back inside the underground club scene for a police case they're working. Women are dying, murdered, and the clock is ticking until another victim is claimed. When Asher is pulled back into this toxic world he meets Sierra, who is as beautiful as she is mysterious. A woman who calls to a darker side of him, long suppressed, unleashing it in what becomes wicked hot passion and obsession. But Sierra has a secret, one that leads her, and Asher, to a dangerous place, and game, with dangerous players, and the game is about life or death.
Past Perfect by Danielle Steel 
Sybil and Blake Gregory have established a predictable, well-ordered Manhattan life—she as a cutting-edge design authority and museum consultant, he in high-tech investments—raising their teenagers Andrew and Caroline and six-year-old Charlie. But everything changes when Blake is offered a dream job he can't resist as CEO of a start-up in San Francisco. He accepts it without consulting his wife and buys a magnificent, irresistibly underpriced historic Pacific Heights mansion as their new home.
The past and present suddenly collide for them in the elegant mansion filled with tender memories and haunting portraits when an earthquake shocks them the night they arrive. The original inhabitants appear for a few brief minutes. In the ensuing days, the Gregorys meet the large and lively family who lived there a century ago: distinguished Bertrand Butterfield and his gracious wife Gwyneth, their sons Josiah and little Magnus, daughters Bettina and Lucy, formidable Scottish matriarch Augusta and her eccentric brother Angus.
All long since dead. All very much alive in spirit—and visible to the Gregorys and no one else. The two families are delighted to share elegant dinners and warm friendship. They have much to teach each other, as the Gregorys watch the past unfold while living their own modern-day lives. Within these enchanted rooms, it is at once 1917 and a century later, where the Gregorys gratefully realize they have been given a perfect gift—beloved friends and the wisdom to shape their own future with grace from a fascinating past.
Past Perfect is Danielle Steel at her bewitching best, a novel for the ages.
Always You by Denise Grover Swank 
First love is better the second time around.
Matt Osborn had no idea coaching his five-year-old nephew's soccer team would get him so much attention from the mothers-attention he doesn't want now that he's given up on love and having a family of his own. Yep, Matt's the last of his bachelor buddies, and plans on staying that way. That is, until he finds himself face-to-face with the woman who broke his heart.
Single mom Anna paused her life in England to help her father recover from an illness. She can't afford complications, and too-hot-for-his-own-good Matt Osborn-her almost former fiancé-is definitely a complication. He's a reminder of what might have been-or should have been. That irresistible pull between them isn't over. Not even close. But if she's not careful, she'll break both their hearts . . . again.
Close Contact by Lori Foster 
There's no resisting a desire like this…
MMA fighter Miles Dartman's casual arrangement with personal shopper Maxi Nevar would be many men's fantasy. She seeks him out, they have mindblowing sex, she leaves. Rinse, repeat. Yet lately, Miles wants more. And when Maxi requests his services via the Body Armor security agency, he's ready to finally break through her defenses—and protect her day and night.
Receiving a large inheritance has brought chaos and uncertainty into Maxi's life. Her ex has resurfaced, along with lots of former "friends," and someone is making mysterious threats. Then there's Miles, who doesn't ask for anything…except her trust. Pleasure is easy. Now Maxi has to give her heart as well as her body…or risk losing a man who could be everything she needs.
Merger by Chelle Bliss 
Keep your friends close, and your enemies closer–he prefers her in his bed.
Antonio Forte has always put business before pleasure, but ever since he met the gorgeous CEO of Interstellar Corp, he finds himself wanting both. And he's hoping she won't be able to refuse his latest offer.
Lauren Bradley knows how to survive as a woman in a man's world–trust no one. Especially handsome, smooth-talking men who make her panties melt with a single glance like Antonio. But his offer is almost as tempting as he is.
Sometimes to gain it all, you have to give up everything…
The Bachelor Contract by Rachel Van Dyken 
A second-chance romance from the #1 New York Times bestselling author of The Bet, Matchmaker and Elite series!
She's everywhere.
Ex-wife.
Love of his life.
The last person in the world he wanted to see…ever.
And now that he's working beside her every day, he can't escape her. Her scent, glimpses of her smile, even the tension in the air that makes his body hum with the kind of need he'd only experienced with one person-all of it is driving him over the edge.
Brant Wellington was certain of three things:
Alcohol wasn't going to solve this.
He really was losing his F-ing mind.
And his gorgeous ex-wife was going to be the death of him.
Don't miss the other books in the Bachelors of Arizona series:
The Bachelor Auction
The Playboy Bachelor
Darker by E L James 
E L James revisits the world of Fifty Shades with a deeper and darker take on the love story that has enthralled millions of readers around the globe.
Their scorching, sensual affair ended in heartbreak and recrimination, but Christian Grey cannot get Anastasia Steele out of his mind, or his blood. Determined to win her back, he tries to suppress his darkest desires and his need for complete control, and to love Ana on her own terms.
But the horrors of his childhood still haunt him, and Ana's scheming boss, Jack Hyde, clearly wants her for himself.  Can Christian's confidant and therapist, Dr. Flynn, help him face down his demons? Or will the possessiveness of Elena, his seducer, and the deranged devotion of Leila, his former submissive, drag Christian down into the past?
And if Christian does win Ana back, can a man so dark and damaged ever hope to keep her?
Millions by Pepper Winters 
"Love had been given and taken and now…it had been stolen. No one steals from a thief—especially from me—and I will defend what's mine until my dying breath. It's not a question of what I'm willing to sacrifice but who to deserve her…"
Once upon a time, I stupidly believed if I could make Elder fall for me, everything would be perfect.
Now, I'm missing, and he's hunting, and everything is far from our happily ever after.
He gave me his heart, and I gave him my promise, but true love isn't sacred to others.
War is coming, disaster is brewing, and I'm not going down without a fight.
Elder is mine.
I am his.
And no one can keep us apart.
Fifth and Final Book in the USA Today Bestselling Series
Judging Books by Shay Savage 
The debutante path is a fairly straight track: who you are, who you associate with, and whose label you are wearing become priorities. They define you. They are the aspects by which you are judged.
Ashlyn's world has been one of enlightenment and finesse, and now she is ready to take on the financial world at her father's company just as he had always planned. Her future had been scripted long ago, but a chance meeting with a beautiful boy on a bicycle gives Ashlyn a new outlook on life.
Ethan is far too young, far too tattooed, far too pierced—just far too everything—to ever fit into her world. He has issues, too—major ones. Ashlyn knows he will never be accepted by her friends, let alone her overbearing father, but there is something about his live-in-the-moment outlook that keeps drawing her back into his arms.
Ashlyn must make a choice. Can she forgo the family dynasty and live life to the fullest with this fascinating but damaged young man?
Vampire Fight Club by Larissa Ione 
Previously published in Supernatural
New York Times bestselling author Larissa Ione tempts you into the darkly irresistible world of Demonica, populated by angels and demons, shifters and humans, all with a thirst that must be quenched . . .
When a wave of violence that hits too close to home forces shapeshifter and underworld nurse Vladlena Paskelkov to go undercover, her first stop is a haven of vice—with a dangerously sexy vamp in charge . . .
Legendary, jaded, Nathan Sabine is the manager of Thirst, a wildly popular vampire club—and secret underground blood arena. But Nathan, a rare daywalker, possesses other, even more explosive secrets, as does his beautiful new medic, Vladlena. The one thing they can't conceal is the lust that simmers between them . . .
Now, in an underworld divided by revelry and violence, debauchery and vengeance, Nate and Lena will discover which risks are worth taking—and which desires demand surrender . . .
The Brightest Embers by Jeaniene Frost 
You can run from your destiny, but you can't hide…
Ivy thought that she and Adrian had conquered their fates. Yet with thousands of innocents still trapped in the demon realms, she's determined to locate the final hallowed weapon and harness its unparalleled power to free them. But the last relic nearly put Ivy in the grave—there's probably no coming back from this one.
Adrian's dark lineage has made him the most powerful of his kind, yet even his incredible abilities might not be enough now. Instead, the treacherous fate he has fought so hard to escape might be the only way he can save Ivy. Their undeniable bond has been tested before, but never with so much on the line. Now fate will come head-to-head against true love, and nothing they've endured can prepare Ivy and Adrian for the unthinkable choices they'll face…
Don't miss the earth-shattering conclusion to New York Times bestselling author Jeaniene Frost's Broken Destiny series!
Jack by Julia London 
Fall in love with seven sexy and irresistible soldiers who find their courage and heart tested like never before in the battle for love! This multi-author collaborative series of contemporary romance novels is brought to you by bestselling authors Barbara Freethy, Roxanne St. Claire, Christie Ridgway, Lynn Raye Harris, Julia London, Cristin Harber and Samantha Chase. You won't want to miss a single one!
Former Marine Jack Carter has left Afghanistan behind, but after a close encounter with a suicide bomber, he now battles a hidden enemy. Ashamed that he succumbs to heart-stopping panic attacks, he refuses to leave his house and makes excuses for failing to meet up with his best friends. He's got the perfect set up—his job allows him to work from home, he hires out the dog walking and grocery shopping and he has subscribed to a meal delivery service that comes complete with a cook. Jack expected a lunch lady, but he gets Whitney. She's bubbly, she's way too chatty, and his dog loves her more than him. But he forgives her all of that because she's sexy as hell and a bright spot in an otherwise lonely day.
Whitney Baldwin has been groomed to follow a long line of highly successful lawyers into an equally successful family law firm, but she'd rather bake a cake than read a tort. Her dream is to open her own patisserie. To say her father is disappointed in her career path is an understatement—if she can't pull this off, she'll have to head home with her tail between her legs. In a last bid to make her dream a reality Whitney accepts a job with Dinner Magic and lands an insanely handsome client in Jack Carter. His crazy good looks captivate her, but it's something about his hyper-awareness of her combined with a vulnerability that is an irresistible recipe.
The smoldering attraction between Jack and Whitney quickly turns molten. But when he makes an important promise that he can't keep, Whitney can't fathom how this relationship is going to work. Will Jack ever be able to conquer his worst fears for true love?
Into the Fire by Mari Carr and Jayne Rylon 
James Compton is a man of two worlds. For half the year, he's Seth's oldest boy, working with his family and the horses on Compass Ranch. The other half, he's Jamie, a daring smokejumper on the West Yellowstone Squad. Those two halves make him feel whole, happy, satisfied. Until he meets his boss's daughter, Ivy…
Ivy Wagner's life should be complete. College degree in hand, she's excited to embark on her career as a large-animal vet. Add in the attention of one very sexy James Compton, and her future should be all sunshine and steamy shared showers. However, a shattering loss in her past ensures Ivy will never date a smokejumper…no matter how perfect for her James may be.
As the couple grows closer, it's clear they're headed for a day of reckoning. Ivy can't lose someone she loves to a raging wildfire, and James may be incapable of giving up a vital part of himself, of living half a life.
When James faces his own loss, the pair are forced to confront their individual demons. What will they willingly let go of…and what will they choose to fight for?
Moonlight Over Manhattan by Sarah Morgan 
Sarah Morgan is back with more love and laughter in her acclaimed series, From Manhattan With Love, which Publishers Weekly calls a "sweep-you-off-your-feet romantic experience." 
Determined to conquer a lifetime of shyness, Harriet Knight challenges herself to do one thing a day in December that scares her, including celebrating Christmas without her family. But when dog walker Harriet meets her newest client, exuberant spaniel Madi, she adds an extra challenge to her list—dealing with Madi's temporary dog sitter, gruff doctor Ethan Black, and their very unexpected chemistry.
Ethan thought he was used to chaos, until he met Madi—how can one tiny dog cause such mayhem? To Ethan, the solution is simple—he will pay Harriet to share his New York apartment and provide twenty-four-hour care. But there's nothing simple about how Harriet makes him feel.
Ethan's kisses make Harriet shine brighter than the stars over moonlit Manhattan. But when his dog-sitting duties are over and Harriet returns to her own home, will she dare to take the biggest challenge of all—letting Ethan know he has her heart for life, not just for Christmas?
The Map to You by Lindy Zart 
They both had secrets that could drive people apart—or bring them together forever . . .
Keeping his inner demons at bay means Blake Malone has more than enough trouble on his plate. He doesn't need any extra complications. But that's exactly what he gets when, on his way to North Dakota, he leaves his truck unattended—and returns to find a beautiful woman sleeping in the front seat.
Opal Allen seems to have a knack for attracting trouble. Which is why she isn't about to tell her new road trip companion the real reason she needs to hightail it out of town. But Blake has a way of seeing right through her, which is both terrifying and exhilarating. Now her biggest problem is figuring out how to resist their undeniable attraction. Because once this road trip is over, she plans on never seeing Blake again.
But the best adventures don't go according to plan.
Kneel by Eden Butler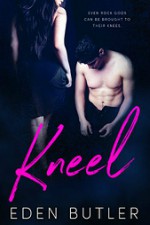 Dash Justice wrote the songs everyone sings.
His face hangs on every girl's wall. But Dash wasn't always a rock God.
Once, he was just Jamie, the boy I loved.
But when my name, sung from his lips promised I was good for only one thing, all sweet thoughts of him die.
Now his excuses mean nothing. His apologies are weak and I'm about to show the world that even rock Gods can be brought to their knees.
Undercover Attraction by Katee Robert 
Scandal. Wealth. Power. Seduction. Welcome to the world of the O'Malleys.
Ex-cop Charlotte Finch used to think there was a clear line between right and wrong. Then her fellow officers betrayed her, and the world is no longer so black and white. Especially when it's Aiden O'Malley, one of the most dangerous men in Boston, who offers her a chance for justice. The only catch: she'll have to pretend to be his fiancée for his plan to work.
Aiden can't afford to let anyone see the man behind the mask. To run the O'Malley empire, he has to be cool and controlled at all times. But the moment he meets Charlie, they're playing with fire. Her slightest touch is enough to send him over the edge. At first their "engagement" was a way to eliminate his enemies. Now he'll do whatever it takes to keep her safe– even if he has to destroy his own family to do it.
Christmas with a Prince by Noelle Adams (Live 11.29)
I might be a former party girl and the over-indulged daughter of a multi-millionaire, but for the last few years I've been trying to be work hard and be good. I have enough right now to deal with–graduate school, my community literacy program, preparations for Christmas, and my dad's constant attempts to find me a husband. I definitely don't want to put up with Henry always hanging around, acting obnoxious and looking far too sexy.
My boss forced me to take on Henry as a literacy volunteer for the month of December. I don't know anything about him except he's from somewhere in Europe, and he's spoiled, entitled, arrogant, stubborn… and incredibly hot. He's the kind of guy I've been trying to stay away from. Plus he's got a secret–something he's hiding from me.
Now I can't think of anything but him, and I'm stuck with him until Christmas is over.
A Winter's Tale by Carrie Elks (Live 11.30)
Struggling film student Kitty Shakespeare is as bad at interviews as she is talented at making films. She's given herself until the end of the year to score an internship in LA, otherwise it'll be back to London with her tail between her legs. Unfortunately the only job offer on the table is as nanny to major producer Everett Klein's son, Jonas. It's not exactly the career she'd hoped for, but if she can get this right, then surely he'll take a moment to look at her work. However, what Kitty hasn't allowed for is Everett's sexy-as-hell brother, Adam – and love at first sight this is not.
Adam Klein may be sexy, but he's also gruff, rude and completely impossible. All he wants to do hole up in his cabin and hide from the brother who destroyed his life. If only he could find it easier to ignore the way Kitty makes his heart race . . .
As Christmas approaches, Kitty and Adam realise that although the course of true love never does run smooth, just maybe, it's more interesting that way…
Etern1ty by Erin Noelle (Live 11.30)

Numbers.
They complete me.
Nothing makes sense without them, the building blocks of logic.
A math teacher by day, a statistics doctorate student at night, my obsession to solve problems is constantly fed.
I'm exactly where I want to be in life, no unknown variables or unsolved formulas.
Until I meet her.
Lyra.
The woman beyond the numbers.
How can I stay away, when everything about her draws me in?
But how can I fall in love, when she won't promise me eternity?
****THIS IS BOOK 2 IN THE EXP1RE DUET, A CONTINUATION OF LYRA AND TAVIAN'S STORY, AND SHOULD ONLY BE READ AFTER EXP1RE****
10 Things I love about You: A Love in the '90s Anthology (Live 12.1)
The 90s: The decade of AOL, Grunge music, the Gulf War, OJ Simpson trial, Friends, Seinfeld, Britney and Christina, tattoos and belly button piercings, Monica Lewinsky, Buffy the Vampire Slayer, and Tarantino movies. It was a decade of polarities and hilarity.
Those who reached adulthood in the Nineties were branded Generation X, and were labeled apathetic slackers and cynics. But, ultimately, this generation was called on to bridge the gap between old ideals and new technologies and ways of living.
These new adults had to find jobs, find themselves, and find love amidst rapidly changing landscapes online and off.
TEN THINGS I LOVE ABOUT YOU is a collection of ten contemporary romance, new adult, stand-alone stories set in the 1990s.
The title of each love story will be a hit song from the year that the novella represents, and are written, respectively, by award-winning and bestselling authors.
1990: "Nothing Compares 2 U" — Michele G Miller + Mindy Hayes
Can one weekend erase a first love's betrayal?
1991: "More Than Words" — Christina Benjamin
It takes more than words to make it in love and music.
1992: "Jump" — Micalea Smeltzer
Jenna's shy, quiet, and a bookworm. Caleb is wild, sarcastic, and an adrenaline junkie. One trip will bring their worlds together in ways they never expected.
1993: "Can't Help Falling in Love" — L.A. Fiore
Emma doesn't put much stock in fairy tales and happily ever afters, but finding herself stranded in some unknown town, in a diner late at night, dripping cheeseburger juice on her wedding gown is so not how she saw her big day ending. But when the town's sexy mechanic comes riding to her rescue, maybe her fairy godmother is onto something.
1994: "The Sign" — Carey Heywood
Are personalized mix tapes, Ferris Wheel rides, and ice cream-flavored kisses signs that I'm falling in love with my best friend?
1995: "Who Will Save Your Soul" — Skye Warren
Emily's a pathological liar. When her life is at stake, will anyone believe her?
1996: "Always Be My Baby" — Mary Ting
Lucas' words might have begun to sew me back up, but Grayson's love would heal the wound and ensure there were no scars.
1997: "Lovefool" — Katie M John
When Vicky Dean finds herself drowning in the ocean of cool that is the London indie music scene, she soon learns that if she's to survive, it's time to change the record.
1998: "My Heart Will Go On" — Tia Silverthorne Bach
After a tragic car accident, Kerry After a tragic car accident, Kerry struggles to put the pieces of her life back together. Until Jase walks into her life, and a spark of hope ignites. Can her heart go on?
1999: "Genie in a Bottle" — Elise Kova
When high school senior Erin Williams discovers that an N64 game she picked up at a yard sale contains a real (and really hot) genie, she gains three wishes and a much-needed confidant. However, the final wish may cost her more than she wants to give.
** A portion of proceeds goes to the National Kidney Foundation **