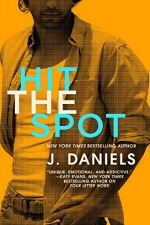 After reading "Four Letter Word" (Read my review here) , I was truly excited to read more about Tori and Jamie, as their banter was explosive from the start. J. Daniels really hit the spot  with this funny couple, their sexy relationship and their amazing chemistry!
Tori despises Jamie. Having being burnt by her ex, she cannot stand Jamie and his manwhore ways. He is a player and when he chases her, she does anything to avoid him. He cannot trust her mind or her body to him. When a bet is placed, it's a love war.
Jamie is used to have women on his feet begging. When the girl with the sexy legs refuses him again and again, his game is on. He will do anything to make her his.
This story is hilarious with their back and forth, their sexy games and their off the charts attraction. I really liked Tori. She is a girl hurt by her past and she has many insecurities, but she is sensitive, sassy and caring. Jamie on the other hand is a bossy man with a dirty mouth and he takes what he wants. Although, I love alpha males, Jamie sometimes was over the top for me. He appears sometimes crude towards her, but in the end behind his bossy ways, he shows how much he cares about Tori.
Their sex scenes are scorching hot, they truly connect physically but besides the racing hot scenes, there are romantic ones and you see that they truly love each other.
The writing flows easily, there is humor and their exchange makes you smile. This can be read as a standalone, but you have to read Four Letter Word too. It is a great story and it is like foreplay for Jamie and Tori, so you will definitely enjoy both!
J.Daniels always writes books that make you have a great time and she always gives us glimpses of side characters, who make us crave their story! I cannot wait to read more about this world!

Buy here:https://www.amazon.com/Hit-Spot-Dirty-Deeds-Book-ebook/dp/B01D9011J6/ref=tmm_kin_swatch_0?_encoding=UTF8&qid=&sr=