The Billionaire's Wake-up Call Girl by Annika Martin 
When my manager assigns me the task of finding a new wake up call service for our CEO, I think, how hard can this be? 
Answer: practically impossible. It turns out that no wake-up call company in the world will take him on as a client. They've all had enough of his surly personality.
So in an effort not to lose my job, I secretly start making the calls myself, every day at 4:30 am sharp. OMG yes you read that right–four freaking thirty in the morning.
Confession: I'm not the nicest wake-up-call girl at that hour. Hello! Who wakes up before the roosters are even crowing? Luckily he doesn't seem to mind my get-your-ass-out-of-bed attitude.
Day by day we're becoming closer, and the calls start turning hot, like pay-by-the-minute hot and oh-so-wild. Snuggled under the covers with the moonlight streaming in the windows, we divulge our secrets to each other, but the one thing that he can never find out is that the sexy vixen who wakes him up every morning is just the lowly assistant who wears frumpy dresses. I can only imagine his disappointment.
Now he wants to take me out on a date and he's scouring Manhattan to find me. He's an overachieving billionaire bent on a mission. How much longer can I keep up this charade?
The Real Deal by Lauren Blakely 
April Hamilton wants you to know she hasn't been on GigsForHire since that time she sold her futon after college. She doesn't even spend that much time online. And even if she did, she would not be looking up personal ads. But going home alone for her family's summer reunion is an invitation for every single relative to butt into her personal life. She simply can't handle another blind date with the butcher, the baker or the candlestick maker from her hometown. So when she finds the GigsforHire ad for a boyfriend-for-hire, she's ready to pay to play.
Heading Home and Need a Buffer? I'm the REAL DEAL.

Theo Banks has been running from the past for years. He's this close to finally settling all his debts, and one more job as a boyfriend-for-hire will do the trick. He's no gigolo. Please. He's something of an actor, and he knows how to slip into any role, including pretending to be April's new beau — the bad boy with the heart of gold.
Even if it means sleeping in close quarters in that tiny little bed in her parents' inn. Even if it means spinning tales of a romance that starts to feel all too true. What neither one of them counts on is that amid the egg toss, the arm wrestling, and a fierce game of Lawn Twister that has them tangled up together, they might be feeling the real deal.
She only wanted to show her family once and for all that she had no need to settle down.
He didn't expect to have the time of his life at her parent's home.
They didn't plan on loving every single second of the game.
But can a masterful game of pretend result in true love?
Broken Love Story by Natasha Madison 
When one man's death exposes a complex web of lies, three couples discover the true meaning of love, loss and redemption.
Samantha 
I had the perfect life; a husband who loved me, and two kids who were my world.
Until someone else answered his phone and my perfect life shattered.
When he died, I was left with answers he couldn't give me and a box full of lies.
He left me broken. 
Blake 
I fell in love when I was fifteen, knowing she was the one.
For five years, she was my everything—my every breath, every heartbeat, every thought.
She made me promise to move on, promise to find love again, but I broke those promises because I can't move on.
Two broken souls brought together by tragedy and heartbreak.
Can a broken love story be fixed?
Freed by Carly Phillips 
Juliette Collins is privileged and isolated from the world by her over-protective father. She thinks she knows the truth about her history until a file in her father's safe reveals she has sisters she never knew about. A family she's never met. Betrayed, she realizes there's a life waiting for her outside the walls of her daddy's New York City penthouse and Juliet is determined to live it. Against her father's wishes, she heads to a small beach community to meet her siblings… and finds herself way out of her depth instead.
In the personal protection business, Braden Clark thinks nothing of taking on a job to watch over a city girl in town for the summer. If her father wants to know his daughter is safe, it's no problem and an easy way of earning a paycheck. Except Braden doesn't count on falling for the sheltered Juliette. Watching her experience her firsts, getting an apartment, finding a job, meeting up with her lost sisters, soon Braden's brand of protection becomes a little too personal. He's mixing business with pleasure and lying to a woman he's coming to care deeply about.
Sexual attraction burns bright between them and Braden is by her side as she finds herself, her family, and what it means to love… but what happens when she discovers his secret? That he's been paid to watch over her all along?
Murder Girl by Lisa Renee Jones 
New York Times bestselling author Lisa Renee Jones returns with the second book in her electrifying series featuring Lilah Love, an FBI profiler who doesn't fight her dark side—she embraces it.
It's Lilah Love's job to inhabit a killer's mind. The unapologetically tough FBI profiler is very comfortable there. But her latest case is making her head spin. It's a string of brutal assassinations carried out across the country, each tied to a mysterious tattoo. Body by body, she's followed the clues all the way back to her hometown. And every step of the way, the killer has been following her.
Here, beneath the glamour of the privileged Hamptons community, is a secret long buried but never forgotten. It's bigger than Lilah. It's powerful enough to escape the reach of the FBI. And it's more personal than anyone can imagine. Because it's hiding in Lilah's own past. To fight it, she's forced to turn to her lethally tempting ex, Kane Mendez. He's an expert at bringing out Lilah's darkest impulses. If she plans to survive, she's going to need them.
International Guy: Paris by Audrey Carlan 
The first book in the sexy International Guy Series from #1 New York Times bestselling author Audrey Carlan.
Paris, France. The City of Lights is buzzing with more than just electricity…
I love women. All women. I've made a career out of being exactly what a woman needs.
You want something outta life and have the money to back that dream? Let's discuss it. For the right price, anything is possible, and I'm the guy who's going to help you get it. There's no challenge I can't meet, and I never leave a client unsatisfied.
So when perfume heiress Sophie Rolland calls me to help take her family's company—and Paris—by storm, I know exactly what she needs. Just a few days with my team and there will be no stopping Sophie.
Watching a gorgeous woman come alive in the City of Lights—that's why I got into this business. Not to mention what happens when those lights go out…
My name is Parker Ellis. You can call me The Dream Maker.
International Guy: New York by Audrey Carlan 
The International Guy Series continues with the second rousing book from #1 New York Timesbestselling author Audrey Carlan.
New York, New York. In the city that never sleeps, it's still easy to dream…
I'm a professional. That doesn't mean I can't lose control. I'm only human. But I'd better watch myself with Skyler Paige. She's the hottest movie star on the planet right now—the woman I've crushed on for years—and she's on the edge of losing it. She needs to find her muse. Hell, she needs to find herself. But most of all, she needs International Guy's help. That's why she's come to me, Parker Ellis.
Ever since Skyler opened her door, it's been a freakin' hurricane of charged lust between us. Damn. Those lips. That body. The need to have her once, twice, or a million times before our three weeks are up.
I just don't want to go too far, too fast. Only she's making it so hard.
Because the danger of mixing business with pleasure is that sometimes you feel a lot more than you should.
International Guy: Copenhagen by Audrey Carlan 
International Guy Parker Ellis returns in the third sizzler from #1 New York Times bestselling author Audrey Carlan.
Copenhagen, Denmark. In the City of Spires, everything is spiraling out of control.
My latest project has trouble written all over her. And it's my favorite kind: lush curves; full, kissable lips; and a wicked smile that promises a million sins. But Christina Kaarsberg is a whole new gamble. She's a princess—as in the Danish royal family. And if I make one mistake, my International Guy business will beroyally screwed.
There's a lot more riding on this job than just a woman who needs help. Not only do I have to tame this soon-to-reign bad girl but I also have to convince her to marry the crown prince and accept her rightful place as the next queen of Denmark.
It turns out that our sexy little princess is playing a game. I just need to figure out which rules to follow…and which ones to break.
The Accidentals by Sarina Bowen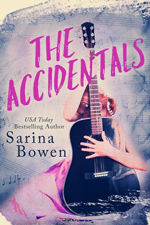 A YA novel from USA Today bestselling author Sarina Bowen.
Never ask a question unless you're sure you want the truth.
I've been listening to my father sing for my whole life. I carry him in my pocket on my mp3 player. It's just that we've never met face to face.
My mother would never tell me how I came to be, or why my rock star father and I have never met. I thought it was her only secret. I was wrong.
When she dies, he finally appears. Suddenly I have a first class ticket into my father's exclusive world. A world I don't want any part of – not at this cost.
Only three things keep me going: my a cappella singing group, a swoony blue-eyed boy named Jake, and the burning questions in my soul.
There's a secret shame that comes from being an unwanted child. It drags me down, and puts distance between me and the boy I love.
My father is the only one alive who knows my history. I need the truth, even if it scares me.
Model Boyfriend by Stuart Reardon and Jane Harvey -Berrick
"What's it like dating one of the most beautiful men in the world? A man whose face is on every magazine and ad campaign?
Not as much fun as it sounds, as Anna Scott is about to find out.
Retired from rugby at the age of 33, injured and bored, Nick is given the chance to enter the high stakes world of fashion photography as a model.
But behind the glittering façade lies an ugly reality: drugs, alcohol, all the deadly sins, and people willing to sleep their way to the top.
It's a tough life and tougher on relationships.
Nick needs to learn to navigate the treacherous path quickly or risk losing it all—including the woman who has become his reason for living.
In this glamorous world, there is no room for error. Being a MODEL BOYFRIEND has never been harder.
Can nice guy Nick find his way through, or will he be tempted to risk it all? Because the one thing he despises is failure.
He's a lot more than a pretty face."
This story continues where UNDEFEATED left off, although it can also be read as a stand-alone story in its own right.
Kissing Jenna by Kristen Proby
From New York Times Bestselling Author Kristen Proby  comes the newest installment in her beloved Big Sky Series…
Jenna Hull owns and manages vacation rentals in her hometown of Cunningham Falls, Montana. She's just completed the construction of her most exhausting project, the one she's put her heart and soul into. The inviting, opulent Snow Wolf Cottages are the first ski in/ski out tree houses in the world.
Her biggest dream is about to come true, and she can't let anything distract her.
Christian Wolfe is Hollywood's it actor. If the magazines are to be believed, he's the sexiest man on earth. He's preparing for the biggest movie role of his life, and his agent has booked him in a hot new ski lodge in Montana, tucked away from crazy fans. He can't wait for the break.
But what Christian isn't prepared for is Jenna. With a face that could easily co-star with him in a movie and her ambition to put her stamp on Cunningham Falls, he can't stay away. But even more intriguing than her beauty is the fact that she's not at all impressed with his celebrity status, only turned on by the man behind the fame.
The love they've found is perfect—but time is running out before real life intrudes. Can they survive with both their dreams—and hearts—intact?
Living with her Ex-Boyfriend by Noelle Adams 
Michelle thought she'd found the love of her life, but they ended up fighting all the time. So she broke up with Steve, and now it's time to move on.
The only problem is she still has to live with him. They're still roommates for a few more months. So he's around all the time–with his hot body and his crooked smile and his infuriating (sexy) attitude.
She wants to learn to live without him, but he wants to work things out. And the passion and intimacy she shared with him won't go away just because she wants it to.
Dr. Strange Beard by Penny Reid 
Everyone in Green Valley, Tennessee knows that the six bearded Winston brothers have been imbued with an unfair share of charm and charisma… and are prone to mischief.
Dr. Strange Beard, the fifth book in the Winston Brothers Series, from USA Today bestselling author Penny Reid publishes in July 2018!
Blood Cure by K.A. Linde
The stunning conclusion to the Blood Type series finds the world in chaos and turmoil with one final battle left to determine who will survive—humans or vampires.
She had the world on her shoulders. Now she has nothing.
Reyna Carpenter was twenty-one when she became a live-in blood escort for the ruthless and darkly handsome vampire Beckham Anderson. She thought this was just a small price to pay for feeding her brothers back home.
But nothing went as planned. Not even her tumultuous relationship with Beckham. And now she wonders if anything will ever be the same again.
As she finds herself in the midst of a losing rebellion, she and her trusted friends must flee from a city conquered by the vampire elite. With their plans blown to pieces and everything they knew and loved gone, their future hangs in the balance.
Despite all she has lost, Reyna must rise from the ashes, reclaim the life that was stolen—and complete her mission, once and for all.
Heart of Glass by Nicole Jacquelyn 
Henry Harris was living his dream as a staff sergeant in the Marines. When he's killed in action, his devastated family is in for one more shock: he had a daughter they never knew about.
Morgan Riley has been raising Etta on her own, and that's always been fine by her – until Henry's brother Trevor arrives on her doorstep, willing to do anything to help and make up for his brother's mistakes. Their attraction feels wrong, but Morgan can't seem to turn him away.
Trevor is suddenly in too deep. He has always wanted a family, but Etta and Morgan come with complications. Yet as Etta brings them closer together, Trevor begins to imagine giving Morgan and Etta the life his brother never could. But he wonders if Morgan will ever learn to trust another man with her heart, especially a man whose last name is Harris.
The Good Fight by Danielle Steel 
The daughter and granddaughter of prominent Manhattan lawyers, Meredith McKenzie is destined for the best of everything: top schools, elite social circles, the perfect marriage. Spending her childhood in Germany as her father prosecutes Nazi war criminals at the Nuremberg trials, Meredith soaks up the conflict between good and evil as it plays out in real time. When her family returns to the United States, she begins blazing her own trail, swimming against the tides, spurred on by her freethinking liberal grandfather, determined to become a lawyer despite her traditional, conservative father's objections. She rebels against her parents' expectations for her debutante ball and other conventions. She forges a lifelong friendship with a young German Jewish woman whose family died in the concentration camps. And while her grandfather rises to the Supreme Court, Meredith enlists in the most pressing causes of her time, fighting for civil rights and an end to the Vietnam War.
From the bright morning of JFK's inauguration, through the tumultuous years that follow as America hurtles toward the twin assassinations of Martin Luther King Jr. and Bobby Kennedy, Meredith joins the vanguard of a new generation of women, breaking boundaries socially, politically, and professionally. But when the violence of the era strikes too close to home, her once tightly knit family must survive a devastating loss and rethink their own values and traditions in light of the times.
Encompassing the remarkable people Meredith meets, the historic events she witnesses, and the sacrifices she must make, this is the story of a woman changing her world as she herself is changed by it. Beautifully told, brimming with unforgettable moments and characters, The Good Fight is an inspiring, uplifting novel with resonance for our own time.
Charmed at First Sight by Sharla Lovelace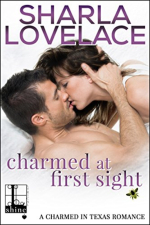 Never one to do things by the book, Micah Roman couldn't just chalk it up to bridal jitters, or even quietly call off her wedding to her long-time fiancé. No, she has to high-tail it out of the church sporting a dress that cost more than her car, and jump on the back of a smoking-hot stranger's motorcycle. Her knight in all-black is headed to a town called Charmed, so that's where she'll go and try to lay low. Except their appearance raises plenty of eyebrows . . . and a sudden, intense attraction she has no business exploring.
Who knew picking up a damsel in distress would lead to lust at first sight? Leo McKane headed to Charmed prepared to deal with some family secrets–including his status as long-lost brother. This runaway bride is an unexpected distraction his set agenda and loner lifestyle doesn't include. She's everywhere he turns, getting under his skin with her quirky, headstrong ways and eyes he can't forget. But when Micah's jilted ex comes looking for her and opens up his shady past, Leo knows he has a choice to make.
They both do.
Run to safer ground again? Or take a leap that their untrusting hearts are wary to take.
Buckled by Pam Godwin 
I protect what's mine.
The ranch, my family, our buried secrets.
Nothing will stop me from reassembling the life that went terribly wrong.
Not the law.
Not our enemies.
Not even Maybe Quinn.
The gorgeous, quarrelsome journalist shouldn't have meddled.
I shouldn't have let her stay.
But she's hiding something in those deceptive blue eyes.
Something deeper than her thirst for a news story.
I make a deal with her to buy time.
To unravel her lies. To play with her. To satisfy my darker appetites.
When she buckles beneath my belt, I'll send her away.
Unless I buckle first.
Walk the Line by J. Kenner
Elena is too young for me, not to mention she's my boss's daughter and my babysitter.
That's beyond complicated. And I'm not even looking for a relationship—but I can't deny the attraction that sizzles between us.
I need to ignore it. A single dad, all I want is to take care of my little girl, do my job, and enjoy my friends. Anything more is asking for complications I can't afford. Asking to be hurt again.
Trouble is, I want her, too. And when our flirty sparks turn to flames, I give in to temptation. Our secret fling is scorching hot, better than I'd even imagined.
But secrets get out, and I could lose my job and my reputation.
And I'm starting to realize she's the one thing I'm not willing to lose.
Broken Edge by C.D. Reiss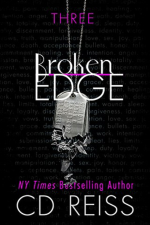 You think you'd go far for love? 
Think again.
———
She really knows how to push a man.
She finds the cracks and she goes right for them. She'll travel across the world just to break me apart, piece by piece, until every last secret is exposed and every weakness revealed.
I swear to God, I love her so much I'll let her do it.
I'll let her do anything.
But when she hurts herself to protect me?
That's a line in the sand.
I Think I Love You by Lauren Layne 
Brit Robbins knows that dating in New York City is hard—she just hoped to have it mastered by age thirty. But after yet another promising suitor says they have no sparks, Brit decides it's time to torch her dating game and try a new plan. And who better to coach Brit through the art of seduction than the guy who first gave her the "let's be friends" card?
Hunter Cross has always figured there's nothing his best friend Brit can do to surprise him. But Brit's request is a surprise he doesn't see coming—and one he's definitely not prepared for. Hunter and Brit have always been careful to keep things perfectly platonic, but the fake dates and faux flirting are starting to feel like the real deal. And soon Hunter realizes he has taught Brit too well. Not only has she become an expert at seduction, the man becoming thoroughly seduced is him.
One in a Million by Lindsey Kelk (Live 7.12)
Annie Higgins has given up on love: she's too busy trying to get her tiny business off the ground. Infuriated by the advertising agency across the hall making fun of her job, Annie accepts their crazy challenge – to make a random stranger Instagram-famous in just thirty days.
And even when they choose Dr Samuel Page PhD, historian and hater of social media, as her target, Annie's determined to win the bet – whether Sam likes it or not.
But getting to know Sam means getting to know more about herself. And before the thirty days are out, Annie has to make a decision about what's really important…
Funny, real and heart-meltingly romantic, Annie and Sam's story is My Fair Lady for the social media age – and the perfect feel-good read.
Dilf Diaries: Oh Baby by Stephanie St. Klaire (Live 7.12) 
He likes to find them hot, and leave them wet…
Women are setting their lawns on fire and sticking cats in trees all so they can dial 911 and get a glimpse of Jack Decker's…hose. When a firefighter looks like he does, it's no wonder panties are melting, and hearts are ablaze all over the city because he is H-O-T…hot! Jack might put out fires like a regular hero, but it doesn't stop him from heating up the sheets and letting them smolder.
In a burning twist of fate, Jack finds himself up all night long for an entirely new reason, a reason that's anything but smoldering. That is until the feisty firecracker next door threatens to ignite a fire he doesn't know how to battle…Oh Baby!
Dad's doing it all…night…long!
Unpredictable by K.A. Berg (Live 7.13)
Quinn and Alex are no strangers to pain and struggle, but thankfully that's all behind them and in the past. Or is it?
What happens when life doesn't go the way they've planned? They vowed to love other through the good times and the bad, but what about through shattered dreams and harsh realities?
Is their love strong enough to endure life as it becomes unpredictable? Or will they push each other too far and lose it all?
Shopping for a CEO's Honeymoon by Julia Kent ( Live 7.15)
He says we never had a proper honeymoon.
So, instead, he's giving me… a prepper honeymoon?
Who knew billionaire preppers were a thing?
I guess I'm about to find out.
—
Julia Kent's New York Times bestselling romantic comedy series continues in Shopping for a CEO's Honeymoon as Andrew and Amanda settle in to married life… and so much more.