Drunk Dial by Penelope Ward 
It seemed like a good idea at the time. Look up Landon Roderick, that boy from childhood whom I'd never been able to forget—even though he so easily forgot about me—and call him.
Then again, anything sounds like a good idea when you've had a little too much wine before bed, right? It was supposed to be just a quick, meaningless, prank call. Instead, I went off on him—unloading thirteen years of pent-up emotions.
I didn't think he'd call me back.
I certainly could never have anticipated the weeks of sexually tense phone conversations that followed as I got to know the man he'd become.
Turned out, Landon had never really forgotten me, either. That special connection we had was still there. I opened up to him, but there were also things about me he didn't know. And he had his own secrets.
Over the countless hours we talked on the phone, I wondered what would happen if we actually saw each other. One night, I did something impulsive again. Only this time, I went to the airport and booked a ticket to California. We were about to find out if one phone call could bring two lost souls together or if my drunk dial really was all just a big mistake.
A complete STANDALONE.
Crazy Love by Jane Harvey- Berrick 
Three stories of love and longing for New Adult readers by bestselling romance author Jane Harvey-Berrick
♥ ♥ ♥
DAZZLED
Miles Stephens is a young actor from London. Out of work, unemployable, and fired from his last job, he unexpectedly gets the chance to star in a big-time Hollywood movie.
The film is a great success, propelling him to worldwide fame – but when the dream doesn't match the reality, he turns to Clare, lifelong friend and girl next door.
Clare knows two important facts: when you break chocolate, the calories fall out; and that she's totally in love with clueless Miles.
PLAYING IN THE RAIN – A NOVELLA
Ava Lawton can't believe her run of bad luck. It's supposed to be an exciting time in her life: fresh out of college, living in a new state, with a new job, and away from her family at last.
But when she's forced to quit her job, everything falls apart quickly. Suddenly, she's alone in a crowd, with no one to turn to.
At her lowest point, a stranger gives her a message that brings her hope.
Now is the time to live life her own way.
Now is the time to choose to be happy.
And maybe it's time to let a beautiful stranger be part of her life.
Can summer love last a lifetime?
Listed in Huffington Post's Best Ugly Cry reads
SUMMER OF SEVENTEEN
It was supposed to be the endless summer of sand, sea, and surf. Supposed to be. But, Nick's life is crashing out of control. His girlfriend and his best friend have declared war, his sister's constant interference in his life is driving him insane, and there are money problems that won't go away. Being seventeen isn't supposed to be this hard.
When cool surfer Marcus arrives in town with a string of women following, Nick sees that there are easier ways to live. But with his life falling to pieces around him, it's hard to know who to trust.
As the scorching heat of summer grows, events begin to unravel, reaching a shattering conclusion—and a summer he'll never forget.
Commitment by K.M. Golland 
Note: Commitment can be read as a stand-alone novel or after Attraction if reading in series order. It is for mature audiences 18+.
Sizzling power couple, Bryce and Alexis — from the Temptation novels — help bring sexy back to their friend's lacklustre thirteen-year marriage.
Natasha Jones loves her life, her husband and their two young sons. She works hard both at home and as an Events Supervisor at City Towers. But when a relationship with her work colleague unexpectedly progresses, Tash begins to question whether or not her marriage has passed its 'Use by' date.
Dean Jones is a numbers man but has no idea that his number could be up where his marriage is concerned. Never one to really speak his mind, he has always opted to just go with the flow in order to keep his wife happy.
Passion, intimacy, and communication have taken a backseat to demanding careers, a mortgage, and family life, and it's not until Tash and Dean stand to lose everything they have built together that the spark between them begins to flicker again.
And boy does it flicker …
and ignite …
and nearly burn the entire neighbourhood down!
Can Tash and Dean keep this newly lit flame alive and save their marriage? Or will temptation make the commitment seem too much to bear?
Havoc by Alexis Noelle 
CHRISSY
As a social worker, I've seen my fair share of broken families, bad relationships, and worlds of regret.
Because of that the last thing, I'll ever do is let down my guard, or open up my heart.
As for men, bring 'em on.
I love a good man in my bed, but I'm not looking for forever or happily ever after.
That's not my style.
Please me, and leave.
These are my rules.
There's no bending or breaking them.
Even when he pulls out all the stops,
I'm not budging.
They're set in stone.
Or should I say, "Rock?"
ROCK
I'm chiseling away at that hard exterior, one pebble at a time.
I don't negotiate, I don't share, and
I sure as hell don't wait my turn.
Despite her smart mouth and fiery ways,
I still want her.
But this "friends with benefits" deal of hers is bullshit.
I don't play that way.
At least, I don't plan to anymore.
I will own every ounce of her.
That body.
That mind.
That heart.
It will all be mine.
Royally Mine Anthology 
Powerful kings. Dirty-talking princes. Insatiable dukes.
They're ready to rule your heart.
Royally Mine is a sexy collection of bad boy romances featuring HOT royal heroes, brought to you by twenty-two New York Times, USA Today, and international bestselling authors. This deliciously naughty bundle of ALL-NEW standalone novellas stars panty-scorching kings, princes, and dukes who are used to being in command. Charge up your e-reader, clear your schedule, and put on your best tiara, because these royal bad boys are ready to conquer your heart while making you blush oh so hard.
Featured authors: Susan Stoker, Annabel Joseph, Katy Regnery, Nikki Sloane, Renee Rose, Molly O'Keefe, Alta Hensley, Nora Flite, Natasha Knight, Sue Lyndon, Jenika Snow, Maggie Ryan, Celeste Jones, Lee Savino, Livia Grant, Alexis Alvarez, Rayanna James, Ava Sinclair, Addison Cain, Jennifer Bene, Becca Jameson, Mikey Lee
Publisher's Note: The stories included in this smoking hot box set are MF and MFM pairings. Some contain kink. All will leave you breathlessly panting for more.
Strike by Cora Brent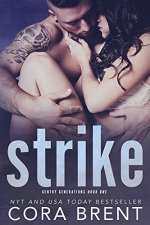 A summer job.
That's all it was supposed to be.
It never crossed my mind that I was about to collide with a man who would obliterate every plan I ever made.
My mother has always warned me that love is like a lightning bolt and it strikes without warning. But I had no intention of getting struck by either lightning or love anytime soon. I'd be too busy finishing my journalism degree and landing a job in a city far more sophisticated than Phoenix.
There was certainly nothing in the cards about getting involved with an ex-ballplayer turned nightclub boss.
He was too old for me, too complicated, too distracting.
On the surface we had almost nothing in common except the draw of an overpowering physical connection.
The seasonal job at a local resort was going to be temporary.
He was going to be temporary.
But insufferably sexy, arrogant Dalton Tremaine has other ideas.
And the harder I fall for him the more I can't find a good reason to resist giving him everything he wants…
*STRIKE is the first book in a brand new sexy spinoff series from NYT and USA Today Bestselling Author Cora Brent. No cliffhanger! May be read as a stand alone.
Hollywood Scandal by Louise Bay 
HE'S A HOLLYWOOD SUPERSTAR. SHE'S LITERALLY THE GIRL NEXT DOOR.
One of Hollywood's A-listers, I have the movie industry in the palm of my hand. But if I'm going to stay at the top, my playboy image needs an overhaul. No more tabloid headlines. No more parties. And absolutely no more one night stands.
Filming for my latest blockbuster takes place on the coast of Maine and I'm determined to stay out of trouble. But trouble finds me when I run into Lana Kelly.
She doesn't recognize me, she's never heard of Matt Easton and my million dollar smile doesn't work on her.
Ego shredded, I know I should keep my distance, but when I realize she's my neighbor I know I'm toast. There's no way I can resist temptation when it's ten yards away.
She has a mouth designed for pleasure and legs that will wrap perfectly around my waist.
She's movie star beautiful and her body is made to be mine.
Getting Lana Kelly into my bed is harder than I'm used to. She's not interested in the glitz and glamour of Hollywood, but I'm determined to convince her the best place in the world is on the red carpet, holding my hand.
I could have any woman in the world, but all I want is the girl next door.
A sexy, standalone romance.
Chasing a Legend by Sarah Robinson 
A topnotch manager and agent, Quinn Kavanagh pictures a life outside of his family's renowned MMA gym. Beneath his sleek exterior, Quinn has a secret passion for sculpting. But after a nearly fatal motorcycle accident, he's struggling just to walk again, let alone get back to the studio—and it doesn't help that the doctor in charge of his physical therapy is his childhood crush. Quinn's always ready for a fight, but the bittersweet sting of unrequited love has him begging for mercy.
Dr. Kiera Finley is determined to make her medical residency a success. Six years ago, she gave in and shared a single passionate night with Quinn. Now she's just hoping the cocky lover from her past doesn't derail her plans for the future. Little by little, though, Kiera gets to know another side of Quinn. She knew he was a family man, devoted to his parents and brothers, but he's also a free spirit trapped in a cage—and only she has the key. To heal both Quinn's body and soul, Kiera's tempted to give him a special kind of medicine.
Fate by Audrey Carlan 
Not many can say they were burned by fate. I'm the exception.
Scalded figuratively, emotionally, and physically… I have the scars running down my arm, ribs, and side to prove it.
The doctors have done what they can to heal me by smoothing the abraded skin using other parts of my body. But they can only do so much. Sometimes, what can't be seen can't be healed.
The fire that night took more than a pound of flesh. It obliterated my talent, beauty, and most importantly, seared the connection I had with the man I loved. Sure, it was me who pushed him away, but I had my reasons. I did what any woman would do in my situation. I gave up everything so that one day he'd find happiness and peace.
Now I've healed a bit on the outside, and on the inside, but I still crave the one I let go. To this day he looks at me with fire in his eyes, a heat so bright in his being he glows with it. I fear the light, the flames that could consume me whole. The problem now is, he's not mine anymore. I just may have waited too long to fight for him, for us, for a future together.
There's only one thing I can do. Let fate decide.
After the Game by Abbi Glines 
The third book in the #1 New York Times bestselling Field Party series—a southern soap opera with football, cute boys, and pick-up trucks—from USA TODAY bestselling author Abbi Glines.
Two years ago, Riley Young fled from Lawton, Alabama. After accusing the oldest Lawton son, Rhett, of rape, everyone called her a liar and she had no option but to leave. Now she's back, but she's not at Lawton High finishing up her senior year. She's at home raising the little girl that no one believed was Rhett's.
Rhett is off at college living the life he was afraid he'd lose with Riley's accusation, so Riley agrees to move back to Lawton so she and her parents could take care of her grandmother, who is suffering from Alzheimer's. But the town still hasn't forgotten their hate for her, and she hasn't forgotten the way they turned on her when she needed them most.
When town golden boy Brady Higgens finds Riley and her daughter, Bryony, stranded on the side of the road in a storm, he pulls over and gives them a ride. Not because he cares about Riley, of course, but because of the kid.
But after the simple car ride, he begins to question everything he thought he knew. Could Brady believe Riley and risk losing everything?
The Duchess Deal by Tessa Dare 
When girl meets Duke, their marriage breaks all the rules…
Since his return from war, the Duke of Ashbury's to-do list has been short and anything but sweet: brooding, glowering, menacing London ne'er-do-wells by night. Now there's a new item on the list. He needs an heir—which means he needs a wife. When Emma Gladstone, a vicar's daughter turned seamstress, appears in his library wearing a wedding gown, he decides on the spot that she'll do.
His terms are simple:
– They will be husband and wife by night only.
– No lights, no kissing. 
– No questions about his battle scars.
– Last, and most importantly… Once she's pregnant with his heir, they need never share a bed again.
But Emma is no pushover. She has a few rules of her own:
– They will have dinner together every evening.
– With conversation.
– And unlimited teasing.
– Last, and most importantly… Once she's seen the man beneath the scars, he can't stop her from falling in love…
The Beauty of Us by Kristen Proby 
New York Times bestselling author Kristen Proby delivers another sizzling novel in her delectable and sexy Fusion series.
Riley Gibson is over the moon at the prospect of having her restaurant, Seduction, on the Best Bites TV network. This could be the big break she's been waiting for. But the idea of having an in-house show on a regular basis is a whole other matter. Their lives would be turned upside down, and convincing Mia, her best friend and head chef of Seduction, that having cameras in her kitchen every day is a good idea is daunting. Still, Riley knows it's an opportunity she can't afford to pass on. And when she meets Trevor Cooper, the show's executive producer, she's stunned by their intense chemistry.
Trevor's sole intention is to persuade Riley to allow Best Bites TV to do a show on her restaurant. But when he walks into Riley's office, he stops dead in his tracks. The professional, aloof woman on the phone is incredibly beautiful and funny. But can he convince her that he's interested in Riley for himself? Or is he using the undeniable pull between them to persuade her to agree to his offer?
You Say It First by Susan Mallery 
Sculptor Nick Mitchell grew up in a family of artists and learned from his volatile father that passion only leads to pain. As he waits on a new commission, he takes a day job as a humble carpenter at a theme wedding venue. The job has its perks—mainly the venue's captivating owner, Pallas Saunders.
Pallas adores Weddings in a Box. But if she can't turn the floundering business around, she'll have no choice but to cave to her domineering mother and work at the family's bank. Then when a desperate bride begs Pallas for something completely out of the box, her irresistible new hire inspires her. Nick knows she doesn't belong behind a desk, and she knows in her heart that he's right—where she really belongs is in his arms.
Don't miss the next book in the Happily Inc. series, Second Chance Girl!
In the Crease by Toni Aleo 
Jensen Monroe is a unicorn. As handsome as any model, as polite as can be, a goalie of unmatched skill, and the best friend anyone could ask for. But he longs for a particular special someone to make his life complete. He's been in love with Wren since he was a teenager, but as his best friend's sister, she's always been off-limits.
Wren Lemiere has prided herself on being a love 'em and leave 'em girl her whole life. She's all about equal opportunity in the battle of the sexes. Why should guys like her brother and his best friends get to be the only ones allowed to play the dating game? One wrong move, however, and she finds herself in violation of her own rules.
In need of a fake husband and baby daddy for her unexpected bundle of joy, Wren finally accepts Jensen is the logical one to ask for help. Except he has a counteroffer…one with so many strings attached, they may just find themselves wrapped up in ties that bind. Forever.
His Mafioso Princess by Terri Anne Browning 
Victoria Vitucci was the only light in my dark world.
She's forbidden, but so am I.
I'm not free to be with her, but I want her more than anything.
My secrets will shatter her.
But I underestimated my little Mafioso Princess.
There is a reason she is the daughter of the most feared Cosa Nostra godfather.
Maybe I will be the one shattered in the end.
Love Another Day by Lexi Blake 
A man born to protect
After a major loss, Brody Carter found a home with the London office of McKay-Taggart. A former soldier, he believes his job is to take the bullets and follow orders. He's happy to take on the job of protecting Dr. Stephanie Gibson while the team uses her clinic in Sierra Leone to bring down an international criminal. What he never expected was that the young doctor would prove to be the woman of his dreams. She's beautiful, smart, and reckless. Over and over he watches her risk her life to save others. One night of pure passion leads him to realize that he can't risk his heart again. When the mission ends, Brody walks away, unwilling to lose another person he loves.
A woman driven to heal
Stephanie's tragic past taught her to live for today. Everything she's done in the last fifteen years has been to make up for her mistakes. Offering medical care in war-torn regions gives her the purpose she needs to carry on. When she meets her gorgeous Aussie protector, she knows she's in too deep, but nothing can stop her from falling head over heels in love. But after one amazing night together, Brody walks away and never looks back. Stephanie is left behind…but not alone.
A secret that will change both their lives
A year later, Stephanie runs afoul of an evil mercenary who vows to kill her for failing to save his friend. She runs to the only people she trusts, Liam and Avery O'Donnell. She hasn't come alone and her secret will bring her former lover across the world to protect her. From Liberia to Dallas, Brody will do whatever it takes to protect Stephanie from the man who wants to kill her, but it might be her own personal demons that could destroy them both.
Mercy by Debra Anastasia 
He taught me to kill. Murder is in my blood now. It runs through my veins and though I hide the monster I see in the mirror with ink, it doesn't keep him from coming out.
My street name is Mercy, but I never show any. Except for her. I watch Becca, though she doesn't know. She saved me a long time ago; the day my father killed my mother. Her bravery turned her into a target.
My father holds a grudge and knife with the same proficiency, and Becca is the focus of his hatred. And I'm the only monster who can save her.
Come Back to Me by Kathy Coopmans (Live 8.23) 
From USA Today Bestselling Author Kathy Coopmans comes a soul crushing story of second chance love.
What does one do when everyone you love dies?
How much is a woman supposed to take before she crumbles?
How much?
Adriana Jensen is the woman to ask.
She's lost too many people to count.
The one death that destroyed her the most
was her husband's.
Only… he didn't die.
What does one do when forced to walk away from his wife?
How much will it take to win her back?
How much?
Blake Jensen, Adriana's estranged husband, is the man to ask.
He has one question to ask himself.
How much will it take for her to come back to me?
Hooked by Karla Sorensen and Whitney Barbetti (Live 8.23)
X and I were probably doomed from the start.
That's what happens when you meet in court-mandated group therapy and then try to steal from him to pay off your blackmailing drug dealer. Former drug dealer, thank you very much. I'm turning over a new leaf and all that.
Which is why I should leave him alone.
Except he tempts me to do things I swore I'd stop doing. It's that whole gruff, grumbly, anti-social thing he has going on. Him, flame. Me, moth. Something about him calls to me, makes the blood hum in my body. And I don't want that feeling to end.
Lucy Connors is straight-up insane.
She looks like a Disney princess and tries my patience in more ways than I thought possible. Besides the fact that I have to save her cute little ass from jail, I can't quite figure out how to leave her alone. Even when she's trying her hand at Breaking and Entering. Especially when it's myhouse she's burglarizing.
Yeah, we were probably doomed from the start.
But that's the thing about being hooked on something so good, and so bad for you—you don't walk away when you should.
Note from the authors:
This book deals with subject matter that is highly improbable, sometimes campy, and definitely illegal. Please don't use it as a guideline for how to live your life, but enjoy nonetheless.
Sexcation by Heidi McLaughlin (Live 8.24)
He's British.
She's American.
They meet on vacation.
And agree to fake name each other.
One is lying about everything.
The other is telling the truth.
They're about to embark on a sexcation.
But what happens when it's over?
Shift by Staci Hart (Live 8.24) 
Bestselling author Staci Hart brings you the second installment of an addictive romantic mythology series where love is the ultimate game, and Aphrodite always wins.
Even the gods cannot betray the will of the stars.
It's been a hundred years since she's warmed my bed, a hundred years spent waiting for her. Now we'll compete again in a game that matters little to me. My prize is far greater than a token to be paid for a favor — I want her.
And for the first time in a very long time, I have the chance to keep her.
Because now the ground has shifted, tilted in my favor, and with her footing unsteady, she will fall.
I will catch her.
This time, I won't let go.
For the Love of Beard by Lani Lynn Vale (Live 8.25)
Tobias knows that women are a lot of trouble, and one in particular is more trouble than most. Yet even with the knowledge that she's a pain in the ass, he doesn't stop himself from doing the one thing he knows that he shouldn't do—fall in love with her.
It's supposed to be simple. Get in, get the girl, and get out.
What Tobias isn't supposed to do is fall for the woman he's supposed to rescue. But he can't help being intrigued–and amused–by the defiance rolling off Audrey every time he so much as speaks to her. This fascination only intensifies with every single word from her delectable mouth.
***
It's been six years since her assault, yet it feels like it happened just yesterday. Audrey's sick and tired of feeling so useless. She's had enough of being scared, she doesn't want to be all alone for the rest of her life. All of that boils down to a woman who's had enough of not doing anything to reclaim her life.
She's at a loss as to how to move on, and every attempt she makes results in failure. Just when she's ready to quit, a sexy biker is there to push her out of her comfort zone.
Under Tobias' patient guidance, Audrey slowly makes her way back to herself. She lands a job that she adores, and she thinks she's finally found her place in this world. Most surprisingly, though, she finds herself falling in love with a man that honestly scares her to death.
Just when she vows to take that final step that'll put her past in her past forever, the life she wants to live is yanked away. Leaving her with nothing to pick up the pieces.