The Impossible Vastness of Us by Samantha Young
"I know how to watch my back. I'm the only one that ever has." 
India Maxwell hasn't just moved across the country—she's plummeted to the bottom rung of the social ladder. It's taken years to cover the mess of her home life with a veneer of popularity. Now she's living in one of Boston's wealthiest neighborhoods with her mom's fiancé and his daughter, Eloise. Thanks to her soon-to-be stepsister's clique of friends, including Eloise's gorgeous, arrogant boyfriend, Finn, India feels like the one thing she hoped never to be seen as again: trash.
But India's not alone in struggling to control the secrets of her past. Eloise and Finn, the school's golden couple, aren't all they seem to be. In fact, everyone's life is infinitely more complex than it first appears. And as India grows closer to Finn and befriends Eloise, threatening the facades that hold them together, what's left are truths that are brutal, beautiful and big enough to change them forever…
From New York Times bestselling author Samantha Young comes a story of friendship, identity and acceptance that will break your heart—and make it whole again.
Darkness Matters by Jay McLean 
It's the same old story, really.
Good versus evil.
Heroes versus villains.
Light versus dark.
For two years, college freshman Noah Morgan lived his life somewhere in the middle, fighting darkness and light, always searching for answers to a single question:
Why, Noah, why?
The same three words keep him up at night, struggling for air while gripping a plastic cylinder containing white pills to match the white label with his name printed in ink as deep and dark as his memories—memories that turned him into a recluse.
A shut-in.
An introvert.
Luckily for him, that's not how the girl next door sees him.
The Duchess by Danielle Steele 
Angélique Latham has grown up at magnificent Belgrave Castle under the loving tutelage of her father, the Duke of Westerfield, after the death of her aristocratic French mother. At eighteen she is her father's closest, most trusted child, schooled in managing their grand estate. But when he dies, her half-brothers brutally turn her out, denying her very existence. Angélique has a keen mind, remarkable beauty, and an envelope of money her father pressed upon her. To survive, she will need all her resources—and one bold stroke of fortune.
Unable to secure employment without references or connections, Angélique desperately makes her way to Paris, where she rescues a young woman fleeing an abusive madam—and suddenly sees a possibility: Open an elegant house of pleasure that will protect its women and serve only the best clients. With her upper-class breeding, her impeccable style, and her father's bequest, Angélique creates Le Boudoir, soon a sensational establishment where powerful men, secret desires, and beautiful, sophisticated women come together. But living on the edge of scandal, can she ever make a life of her own—or regain her rightful place in the world?
From England to Paris to New York, Danielle Steel captures an age of upheaval and the struggles of women in a male-ruled society—and paints a captivating portrait of a woman of unquenchable spirit, who in houses great or humble is every ounce a duchess.
The Legend by Donna Grant 
A LONE STAR LOVER
They live to protect. They live to fight for honor and justice. They live to love the women who have captured their souls. These are the Sons of Texas, from New York Times bestselling author Donna Grant.
In The Legend, Callie Reed doesn't need a man to protect her. An expert sharpshooter and renegade hacker, this Texas-born spitfire's got the skills and the courage to stand up to any danger—no matter how deadly. But when she becomes the target of a shadowy organization known as the Saints, Callie is forced to team up with the one man she can't outshoot: the gorgeous, and infuriating, Lone Star legend named Wyatt Loughman…
A Delta Force Colonel with a rock-hard body and stone-cold heart, Wyatt has been teasing and tormenting Callie since they were playmates on his family's ranch. Of course, he's wildly attracted to the fiery, strong-willed Callie. But he's always hidden his feelings behind a wall of Texas tough and military cool, even as he's burning up with desire. Can Wyatt save Callie's life—without putting her love in the line of fire?
Regret by Christina Lee 
When Brian "Brin" Schubert's condo floods, he takes his co-worker up on the offer to stay on his crappy futon for a while. The last thing he expects is for his friend's roommate to be the one guy he despises the most. The same guy who stomped on his heart senior year of high school. And by the looks of the girl on his arm, the same man who's still deep inside the closet.
Nicholas Dell never predicted that eleven years later, one of his greatest regrets would show up on his doorstep down on his luck. Nick has made some terrible mistakes—story of his life—and he's been paying for them ever since. And if the guilt and shame aren't enough, his first crush had to turn into one of the sexiest men he's ever laid eyes on.
Nick and Brin have weeks to steer clear of each other. Weeks to avoid strangling each other. But when stubbornness leads to skyrocketing sexual tension, hate-sex doesn't seem like such an awful way to work through their frustration. Except hate is a powerful emotion, especially when it's turned inward. And in Nick's case he's been drowning in a sea of self-loathing for so long, he can't see his way out.
As Brin reconnects with Nick, his perception of what really happened in their past begins to change. He's finally ready to forgive him and take a second chance on the one guy who stirs him like no other. But Nick's demons are complicated, heart-wrenching…demanding. So devastating, he might never allow himself true happiness—even with the one man who's always owned his heart.
Seven Stones to Stand or Fall by Diana Gabaldon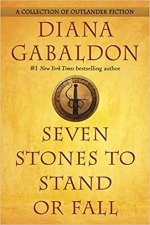 A magnificent collection of Outlander short fiction—including two never-before-published novellas—featuring Jamie Fraser, Lord John Grey, Master Raymond, and many more, from #1 New York Times bestselling author Diana Gabaldon
"The Custom of the Army" begins with Lord John Grey being shocked by an electric eel and ends at the Battle of Quebec. Then comes "The Space Between," where it is revealed that the Comte St. Germain is not dead, Master Raymond appears, and a widowed young wine dealer escorts a would-be novice to a convent in Paris. In "A Plague of Zombies," Lord John unexpectedly becomes military governor of Jamaica when the original governor is gnawed by what probably wasn't a giant rat. "A Leaf on the Wind of All Hallows" is the moving story of Roger MacKenzie's parents during World War II. In "Virgins," Jamie Fraser, aged nineteen, and Ian Murray, aged twenty, become mercenaries in France, no matter that neither has yet bedded a lass or killed a man. But they're trying. . . . "A Fugitive Green" is the story of Lord John's elder brother, Hal, and a seventeen-year-old rare book dealer with a sideline in theft, forgery, and blackmail. And finally, in "Besieged," Lord John learns that his mother is in Havana—and that the British Navy is on their way to lay siege to the city.
Filling in mesmerizing chapters in the lives of characters readers have followed over the course of thousands of pages, Gabaldon's genius is on full display throughout this must-have collection
Where I Belong by Molly O' Keefe
THE GIRL I LOVED IS THE WOMAN I CAN'T HAVE
It was simple: Pay the debt and I stay out of jail. Pay the debt and I stay alive.
But I sacrificed it all for Beth.
I didn't pay what I owed. I'm sure punishment is coming, but I can take it – as long as Beth is safe. Away from her mother and everyone else who would hurt her.
I gave it all up for two days with her. And it was worth it.
She always was.
THE SECRETS WE KEEP ARE WHAT TEARS US APART
We're supposed to be done. Over. Tommy goes his way, I go mine. Cue the heartbreaking music.
I'm supposed to forget him, but I don't think I can. And when the danger closes in on Tommy, we're on the run again. From Bates. From my mother. From our past. And there are no safe places to hide.
Except one. And it's the place that will hurt Tommy the most.
But maybe it's time for me to face my past. My demons.
Maybe it's time for me to save Tommy for once.
Tied by Carian Cole 
He was the myth and the legend of our small town. But no one knew the truth… except me.
Me
My childhood was stolen by a monster. I've forgotten what love feels like. What happiness feels like. What hope feels like. I am numb.
Him
He's possibly as damaged as I am. Maybe even more. Scarred just as much on the inside as the outside. Just like me. He doesn't speak. He doesn't smile. He hides in the woods like an animal. I should be scared of him. But I'm not. He's the only one that has ever made me feel. And I want to make him feel, too.
Everything…
The Princesses by Alexa Riley 
The Princess bundle includes the entire Princess Series with a BRAND NEW BONUS story at the end.
It's crowns galore as we give you all the brooding kings your heart can hold. Climb on your throne and adjust your tiara… we've got cherries to pop and heirs to make.
BONUS STORY
Unexpected Princess
Romy has let the paparazzi make up their own story about him. But the secret he's managed to keep is his love for Star. He's watched her from a distance, loving her since the day he saw her, but never able to make his move.
Star has developed a reputation, even though she never had the fun of earning it. She's spent her life looking for love, and the tabloids have twisted it into something dirty. All she ever wanted was to find her forever, but she's ready to give up.
One morning Star wakes up in the bed of the biggest playboy around, and to her shock there's a ring on her finger. What? How? Who?
Warning: Don't worry… it all works out. It's safe, sane, and over-the-top as these two find their ridiculous happily ever after.
Forgetting You, Forgetting Me by Monica James 
My name is Lucy Tucker, and my life…it was perfect.
I worked the dream job. I had the most incredible family and friends. My home, Whispering Willows, a ranch in Montana, was everything I could ever wish for. My adoring fiancé, Samuel Stone, loved me unconditionally.
I had everything a girl could ever want.
But one fateful event shattered my perfect life. It's unimaginable how simple, ordinary words can change a person's life forever. For me those words were, "There's been an accident."
I thought Sam was my forever, but that forever came to a close the day Saxon Stone, Sam's identical twin brother, came back. Saxon returned to Montana to help save Sam, however, the moment he entered my life, he turned my world upside down. But through chaos I somehow found clarity—clarity of who I was meant to be.
As time progressed, as seasons changed, and as a fire began to burn, I soon realized that Saxon was there for another reason…he was there to help save me.
Writing Mr. Right by T.K. Leigh 
Recommended for mature readers due to strong language and explicit sexual situations.
My name is Molly Brinks, but most people know me as Vivienne Foxx, bestselling author of chance meetings, stolen glances, and the much-needed happily ever after. My addictions include coffee, home improvement television, and the occasional pint of ice cream. The love of my life is an eighty-pound labrador retriever named Pee Wee.
At the age of twenty-nine-plus-one, I am at the top of my game…professionally. My personal life is a completely different story, one best left untold. Success has its sacrifices and I've been more than happy to put my search for Prince Charming on the back burner while I create fictitious tales of the naïve virgin, the broken girl with a torrid past, and the strong-willed student finding their own Mr. Right…
Until one hell of a case of writer's block and a tight deadline set by my publisher forces me outside my cozy downtown Boston apartment in search of inspiration.
Armed with an account on every dating website out there, I devise a plan. Meet some nice, professional men. Go on a few dates. Hope one of them has the spark I need to finish my book. Then walk away.
But plans are meant to be broken.
My name is Molly Brinks, and this is my story about Writing Mr. Right.
Dropout by Carrie Ann Ryan 
A high school reunion is about to get down and dirty and a whole lot more complicated in this new erotic romance from NYT Bestselling Author Carrie Ann Ryan.
Grayson Cleary left town before graduation day and never looked back. Most people back home pegged him as a dropout. Over time, he's worked to make something of his life and leave his past behind, so when his ten-year reunion comes up, he has no intention of attending. When his best friend begs him to go, Grayson finds himself confronted with a past he'd rather forget and the one woman he's always craved.
Kate St. Dalton had everything when she left her hometown. Not only was she Valedictorian with a full scholarship, but she was also engaged to the boy of her dreams. Then, life threw a wrench in her plans, and she had to find a way to live the new life fate handed her. The last thing she needs is the hot boy from high school returning to town as the sexy man of her dreams.
When the two take a chance and use the reunion week to burn up the sheets, they'll have to remember that it's only for a few nights—not for a lifetime. And decide if what they have is just a fling…or something far more than a mere reunion.
Trouble by Avery Flynn 
A high school reunion is about to get down and dirty and a whole lot more complicated in this new romance from USA Today bestselling author Avery Flynn.
Brains and a badass attitude. That's all troublemaker Leah Camacho took with her when she left Catfish Creek. She'd promised herself she'd never go back, but when the invite to her tenth high school reunion arrived along with the chance to show everyone who doubted her what a success she's made of herself, she couldn't resist. However, when she discovers a 15-carat, stolen diamond in her rental car's glove box, there's only one man she can turn to for help—the same sexy, stubborn domineering man who'd smashed her heart all those years ago.
Sheriff Drew Jackson knew a long time ago that Leah Camacho was nothing but trouble and has sworn to never get caught up in her again—no matter how damn sexy she is or how badly he'd failed to forget her. But, when the woman who test drove his heart right into a concrete wall rolls into Catfish Creek with some serious bad guys on her tail, it's up to him to keep her safe—even if that means guarding her hot bod 24/7 without giving into temptation or losing his mind.
Prom Queen by Katee Robert 
A high school reunion is about to get down and dirty and a whole lot more complicated in this new erotic romance from NYT Bestselling Author Katee Robert.
Jake Davis had it all in high school—a scholarship to his college of choice, a promising football career, and the gorgeous prom queen for a girlfriend. And then he lost it all when he was injured right after graduation. Ten years later, he's mostly made his peace with that, and now runs a company that provides women with dates for special events. Imagine his surprise when he discovers that the ex who left him in the dust needs a fake boyfriend for their high school reunion…
Jessica Jackson used to be the mean girl to end all mean girls. But life didn't turn out like she'd thought it would, and now she's twenty-eight, single, and works as an insurance agent to A-listers instead of being the A-lister like she'd always dreamed. She can't go back to her home town and admit just how thoroughly she's failed, so she lets her friends set her up with a fake date for the reunion.
The second Jessica realizes that her fake date is Jake, she tries to call the whole thing off. The problem is the chemistry between them is even hotter now than it was when they were teenagers. Against her better judgment she lets herself get drawn into Jake's arms again—and into his bed. But time doesn't heal all wounds—sometimes, it actually makes them worse—and if Jessica and Jake can't learn to forgive each other, their second chance might not last the weekend.
Honor by Kennedy Layne 
A high school reunion is about to get down and dirty and a whole lot more complicated in this new romantic suspense from USA Today Bestselling Author Kennedy Layne.
Derek Spencer hadn't even bothered to RSVP to his Catfish Creek's high school reunion. He'd been too busy fighting a war in Afghanistan in his capacity as a Marine and wouldn't even be in the States during the event. Unfortunately, one emergency phone call from his mother changed everything.
Tessa Daniels had been voted most likely to do everything back in high school. She somehow didn't think that included acquiring her very own stalker at the relatively young age of twenty-eight. It had stopped being simply annoying after someone broke into her house, invading her privacy. Now, she was actually in fear for her life.
Derek's mother feels terrible that her son has spent almost every waking hour at the hospital, watching over his recovering father. She sets out—and succeeds—in arranging for Derek and Tessa to attend their high school reunion together. Neither one of them expected sparks to fly or memories of long-lost crushes to emerge, but they are not only faced with their newfound passion…they must also confront the person trying to extinguish their chance to rekindle the flames of past desires
Rock Star by Stacey Kennedy 
Veterinarian, Rae Evans expects to attend a dreadful ten-year high school reunion. Instead, she's confronted by a past she's never gotten over. The love of her life, Travis Walker, has returned to Catfish Creek, and the now-famous rock star wants only three things: Her. Naked. And screaming his name.
Fresh off his last world tour, Travis has returned to town to get a dose of reality. With fame casting a superficial cloud over Travis's life, he's scrambling to stay afloat. He needs an anchor, and Rae is that for him. But as he finds himself, he's determined to remind Rae of the heat that once burned between them.
Before they know it, their one hot night is three, and soon, just like ten years ago, Travis holds the strings to Rae's heart. But Rae's not that young girl who watched her high school sweetheart race off to become famous. She's a woman who knows what she wants and realizes when a man needs her. She just has to decide if she should put the past on repeat, or walk away from it forever.
Love Unbounded by Hadley Quinn 
Love has no bounds. Our dreams have endless possibilities.
I've always believed in both but didn't realize I'd get hit with them at the same time. I only have time for one right now, and being swept away by an unexpected romance doesn't fit in my plans. When the offer comes to intern at Harmony Acres, I can't pass it up. It's my dream job—the step I need to achieve my career goals.
But HE is a rush of everything I shouldn't be distracted by. He's gorgeous and smart, and his ambition is a constant challenge. If it's truly about the journey, that obviously doesn't apply to me because…
I don't want to wait for our different roads to agree on the same destination.
Lost Love by Kelly Elliott 
Moving back home to my parents' cattle ranch in Texas was the last thing I thought I'd be doing.
But, here I stand … in front of my high school girlfriend. A beautiful, confident woman has replaced the young girl I once knew and loved. Hell. I'm still in love with her.
Yep. Paxton Monroe was my first love and the one girl in town who now hated my guts. So much so, Paxton swore her revenge on me if it took her until the day she died. The last words she spoke to me were a vow to cut my dick off and shove it down my throat.
The fight between my heart, my head, and last, but certainly not least, my dick starts tonight. Because all I can think about is how I want to be buried so deep inside Paxton she won't remember how I broke her heart, or how I left her when she needed me the most.
But who will win? My heart is too broken to listen to my head. And my dick, yeah it's not listening to anything or anyone. Not until it gets what it wants and what it wants is Paxton Monroe.
Lost Love is book one in the Cowboys and Angels Series
Raw Need by Cherrie Lynn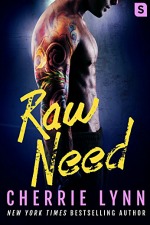 Zane Larson has done everything he set out to do: conquered past demons, saved lives through his music, and toured the world as the frontman for one of the most popular rock bands in the world. This life—and an escape through music—was supposed to be everything he's ever wanted, but after meeting Rowan, Zane's no longer sure…
Soon after her husband's death, Rowan Dugas learned she was pregnant. With grief and uncertainty her only companions, Rowan was only able to find an escape through music; specifically Zane Larson's hypnotic voice. But after meeting the sexy lead singer of her favorite band, Rowan can hardly believe he's interested in her. But Zane also has a painful connection to her unborn child – Zane's brother is responsible for her husband's death.
Torn between the only family she has left, and a life with Zane unlike anything she's dared to dream about, Rowan's decision will change her fate forever. Raw Need from New York Times bestselling author Cherrie Lynn is a heart wrenching, emotionally intense story that will leave readers breathless.
The King by Skye Warren 
My father gambles every night, falling deeper and deeper into debt. When he hits the bottom, he places a new bet: his daughter. I'm his entry bet to the biggest underground poker game.
Every kind of danger circles the velvet-covered table, but only one man makes me tremble.
A trailer park princess.
The son of a criminal king.
We don't belong together, but I'm caught in a twisted game.
His eyes meet mine with dark promise. And when he puts down his cards, I know I'm going to lose more than my body. I'm going to lose everything.
* * * * *
THE KING is the first book in the new Masterpiece duet about risking your heart and finding yourself. It's a spin-off from the USA Today bestselling trilogy but can be read separately.
Dr. Er by Max Monroe
Dr. Erotic.
That's what they've decided to call me, Scott Shepard, the head of St. Luke's Hospital Emergency Department.
Just thinking about it makes me smile.
As the new face of the reality docuseries, The Doctor Is In, I plan to take his power and recognition right to the streets of New York City and into the pants of willing women.
Well, that was my plan.
Until her—feisty, beautiful, and addictively sexy Harlow Paige.
A gossip columnist that just loves writing about yours truly, she's everything I thought I never wanted and then some.
She drives me crazy.
Problem is, she doesn't want to be anything when it comes to me—not friends, not lovers, not even adversaries.
God, I love a good challenge.
Get ready, Harlow. Love is contagious.
Easy Nights by Kristen Proby 
The Boudreaux Series—Sexy. Intriguing. Easy.
No one said change was easy…
Savannah Boudreaux knows what it is to hurt. To bleed. To be afraid that the man she's promised to be true to until "death do us part" might in fact separate them far sooner than anyone had ever anticipated. But Van also knows what it is to survive. To move on. To live life to the fullest. With five brothers and sisters and a loving mother as her constant source of strength during the pain and the healing, Van realizes there is little else she needs.
But some things never change…
Benjamin Preston sat on the sidelines of the Boudreaux family for years, in love with a woman he couldn't have. As the best friend of the Boudreaux brothers since childhood, Ben has seen both tragedies and joys in the family. And as a former MMA fighter and Krav Maga expert, Ben's used to fighting for what he wants—and winning. His hands were tied when Savannah married her college sweetheart not long after graduation, but now two years have passed since Ben found Savannah broken in her own home.
Sometimes what you need most has been right in front of you the whole time…
Van's convinced that happiness isn't in the cards for her, no matter how right it feels to be in Ben's strong arms—and his bed. Ben is determined to win her heart and fight for her trust. He's promised to protect her, to be her friend. But more than anything, he wants to finally make her his, and this is one fight he's not willing to lose.
Luca by Sarah Castille 
The mafia men of New York Times bestselling author Sarah Castille's Ruin & Revenge series are hard, hot, and ruthless. They show no weakness and take no prisoners. But the right woman can soften their stone cold hearts and make them come alive with dark desire.
Luca Rizzoli was nearly destroyed by a brutal betrayal that cost him his family. Now a ruthless crime boss in Las Vegas, he lets nothing touch his frozen heart…until a smoldering encounter with a beautiful stranger ignites his passion. One night isn't enough for a man who takes what he wants—and Luca will do whatever he can to possess his mysterious temptress…
Police detective Gabrielle Fawkes lives for revenge. She lost everything at the hands of an unforgiving ruler of the Vegas underworld. Now she wants to see him six feet under. But when a near-fatal attack leads her into Luca's arms, what was meant to be one night of unbridled passion becomes something forbiddingly more. Luca has his own agenda, but when strong, determined, kick-ass detective Gaby sets her sights on her target, Luca feels compelled to stand by her side and protect her at all costs. However, pursuing danger comes at a high price—and both Gaby and Luca must work together in order to eliminate the dark enterprise that threatens them, in Luca by Sarah Castille.
Girl off the Grid by Jillian Dodd and Kenzie Harp 
NYC fashion blogger, Camille Caldwell, gets offered a dream job by her favorite magazine. They're going to send her on an all-expenses paid eco-trip to Costa Rica. She doesn't know what that means, but she assumes she'll wear fabulous clothes, sip Piña Coladas on the beach, and have her photo taken "out in nature." Really, the hardest part of the assignment will be giving up social media while she's gone.
Going off social media is no big deal for London-based wildlife photographer, Adam Lloyd. The only reason he even has an account is to share his photos with the world. He's thrilled when an international publication wants to hire him, until he finds out it's a fashion magazine. He decides to take the job anyway—after all, it will be great for his portfolio. But the minute he sees Camille, he knows it was a mistake. She has too much luggage, is too high maintenance, and way too pretty.
When they meet, their feelings are mutual—they hate each other. Can these two stop fighting long enough to complete their assignment? Will Camille give up and go home when she discovers there's nowhere to plug in her hair straightener?
Or will they both realize that sometimes you have to go off the grid to find yourself?
*** 20% of our profits during release week (and 10% thereafter) will be donated to the Sea Turtle Conservancy. It is the oldest sea turtle research and conservation group. It was founded in 1959 by Dr. Archie Carr. Their headquarters are in Florida, but they have programs worldwide that work to conserve sea turtle populations through education, research, advocacy, and protection of natural habitats. They also have a research station in Tortuguero, Costa Rica which was one of the places they visited in the book. ***
The Day of the Duchess by Sarah MacLean 
The one woman he will never forget…
Malcolm Bevingstoke, Duke of Haven, has lived the last three years in self-imposed solitude, paying the price for a mistake he can never reverse and a love he lost forever. The dukedom does not wait, however, and Haven requires an heir, which means he must find himself a wife by summer's end. There is only one problem—he already has one.
The one man she will never forgive…
After years in exile, Seraphina, Duchess of Haven, returns to London with a single goal—to reclaim the life she left and find happiness, unencumbered by the man who broke her heart. Haven offers her a deal; Sera can have her freedom, just as soon as she finds her replacement…which requires her to spend the summer in close quarters with the husband she does not want, but somehow cannot resist.
A love that neither can deny…
The duke has a single summer to woo his wife and convince her that, despite their broken past, he can give her forever, making every day
Until it Fades by K.A. Tucker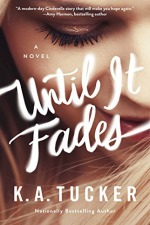 Twenty-four-year-old truck stop waitress and single mother Catherine Wright has simple goals: to give her five-year-old daughter a happy life and to never again be the talk of the town in Balsam, Pennsylvania (population three thousand outside of tourist season).
And then one foggy night, on a lonely road back from another failed date, Catherine saves a man's life. It isn't until after the police have arrived that Catherine realizes exactly who it is she has rescued: Brett Madden, hockey icon and media darling.
Catherine has already had her fifteen minutes of fame and the last thing she wants is to have her past dragged back into the spotlight, only this time on a national stage. So she hides her identity. It works. For a time.
But when she finds the man she saved standing on her doorstep, desperate to thank her, all that changes. There's an immediate connection, and it's more electric than the bond of two people who endured a traumatic event. It's something neither of them expected. Something that Catherine isn't sure she can handle; something she is afraid to trust.
Because how long can an extraordinary man like Brett be interested in an ordinary woman like Catherine…before the spark fades?
Damaged Like Us by Krista and Becca Ritchie 
Don't date your bodyguard.
It was the one rule he had to break.
Maximoff Hale is a force of nature. A ship unwilling to be steered. Headstrong, resilient, and wholly responsible — the twenty-two-year-old alpha billionaire can handle his unconventional life. By noon, lunch can turn into a mob of screaming fans. By two, his face is all over the internet.
Born into one of the most famous families in the country, his celebrity status began at birth.
He is certified American royalty.
When he's assigned a new 24/7 bodyguard, he comes face-to-face with the worst case scenario: being attached to the tattooed, MMA-trained, Yale graduate who's known for "going rogue" in the security team — and who fills 1/3 of Maximoff's sexual fantasies.
Twenty-seven-year-old Farrow Keene has one job: protect Maximoff Hale. Flirting, dating, and hot sex falls far, far out of the boundary of his bodyguard duties and into "termination" territory. But when feelings surface, protecting the sexy-as-sin, stubborn celebrity becomes increasingly complicated.
Together, boundaries blur, and being exposed could mean catastrophic consequences for both.
Make Me Stay by Sidney Halston 
April: Walking away from Matt Moreno was the hardest thing I've ever done. Lying to him was a close second, but for his safety, I had no other choice. I was undercover, working to put some nasty people behind bars. But when Matt nearly recognizes me on Lincoln Road a year later, all those very real feelings come rushing back. Now that my assignment's almost over, will he understand why I lied? Why I had to leave? Most important, can he ever forgive me?
Matt: I was madly in love with June Simpson . . . or, at least, with the woman I thought was June. Then she just disappeared while my family's nightclub went through hell. And after months of searching, when I think I've finally found that sexy, raspy voice and those exquisite blue eyes, she slips away once more. Turns out, "June" is actually Detective April White. She's been playing me the whole time. And she's about to rock my world all over again.
All There is by Violet Duke 
Emma Stevens made a fresh start in the small town of Juniper Hills, but she still lives with the guilt of an impossible choice from her past: saving her sister—but leaving her stepbrother behind—in a fire that destroyed their home. The boy next door may have dragged them to safety, but he also caused the fire that devastated her family. She swore she'd never forgive him, so she's stunned when he shows up on her doorstep.
Jake Rowan has never been able to escape the worst day of his life, when he took the fall for his older brother, who started a tragic fire. Years later, he's carved out a life as a carpenter, but when he runs into Emma again, he's reminded of everything he's lost—and everything he still longs for.
Jake has never forgotten Emma, the dream girl whose life he destroyed. And she's never stopped thinking about her first crush. As they grow closer—and old secrets are unearthed—will they be able to help each other heal, or will their hearts remain broken and burdened by the past?
Small Town Scandal by Daisy Prescott 
Another wingmen meets his match and this time it's scandalous.
Carter Kelso is a man with a plan. And goats.
Ashley Kingston is a woman with a reputation.
Can he earn back her love before their past catches up with them and destroys everything?
On the island, my last name is synonymous with scandal. With a notorious father and a famous brother, I've been on the sidelines of our small town's gossip circle for years. Nothing to see here. Just a man and his goats, happily going through life. Not a care in the world. Too bad it's all lies.
I'm tired of trying not to be in love with Ashley Kingston, our very own island jezebel. Some people think she's a slut. They think they know her. They're wrong. Screw them.
Reputations can be deceiving. I should know.
Small Town Scandal is a second chance romance standalone novel and the fifth book in the Wingmen series. You do not have to read the other novels first.
The Weight of Life by Whitney Barbetti (Live 6.28)
Mila
"Don't let go." Those were my first words to him, as I hung over the side of a London bridge. The words I would soon say again, in a moment that didn't involve bridges, but something much more fragile: my heart.
He held onto me for three weeks, in a time when I needed to be held. Needed to connect to someone who understood how loss tunneled unrepentantly through the fabric of your soul.
Although he said he'd stay, we both knew he wouldn't. I had already survived one loss—I didn't know if I'd survive another.
Ames
She spun into my life like a tornado of smiles and chatter and everything else I'd long avoided, with a persistence that I admired, albeit begrudgingly. She broke down each neat wall I'd constructed without even trying. Her presence alone caused me to remember what it felt like to smile, to look forward to what the day would bring.
But it was only supposed to last three weeks.
"Don't let go," she'd pleaded.
I'd promised her I wouldn't—but I would. I didn't have a choice.
The Catch by K.Bromberg (Live 6.29)
After an unexpected twist of fate, All-Star catcher Easton Wylder is left questioning the loyalty of everyone around him.
Even the woman who shares his bed, Scout Dalton.
But if Easton thought being uprooted to the last place he expected was the only challenge life had to throw at him, he was dead wrong.
With an ailing shoulder and his career in limbo, his decision to make an unexpected change leads him to question everything – Scout's love, family loyalties, and whether he can conquer the one obstacle he's never been able to overcome. The secret he's never shared with anyone.
He may be a man pushed to his limits, but he's hell-bent on proving his worth no matter the cost.
Black by K.L. Grayson (Live 6.29)
Family.
Everyone has one.
Some are close.
Some are dysfunctional.
Some are simply gone.
Nine-year-old Shae Black entered the Witness Protection Program after the murder of her father, mob boss Luca DiMarco. New name. New identity. And a ready-made family that had no idea who she really was.
Fourteen years later, a letter from a ghost thrusts Shae back into the life she was forced to leave behind. As secrets unravel, revealing unexpected truths, Shae sees an opportunity to avenge her father's death by destroying patriarch Sal Ambrosi, the man responsible for her father's murder. Getting to the heart of the family will be difficult, but nothing and no one is going to stop her—not even the heirs to the Ambrosi family empire.
She's prepared for the two brothers, Dante and Rex, to put up a fight, but she isn't at all prepared for the danger they will bring to her life and her heart.
One will love her.
One will hate her.
One will vow to protect her.
One will vow to kill her.
All in the name of family.
Giving You Complete Box Set by Leslie McAdam (Live 6.30)
*SPECIAL RELEASE PRICE OF $2.99! Price goes up to $9.99 after release week! Includes BONUS chapters and SHORT STORIES
A high school crush. Feisty political opposites. A handsome neighbor. An off-limits roommate.
The complete Giving You series is now available in one box set, with BONUS CONTENT! Hot, steamy romance with strong alpha male leads and even stronger women.
Book One: The Sun and the Moon
*** 2015 Watty Winner ***
She follows all the rules.
He's going to teach her how to break them.
After a heartbreaking tragedy, successful attorney Amelia Crowley has numbed herself to the pleasures of life, clinging to a specific set of rules, finding strength in order and organization. When she meets easy going surfer Ryan Fielding, that organized life is turned upside down by a sea of washboard abs and sun-kissed hair.
Sexy and charismatic, Ryan looks for pleasure however he can find it in an effort to silence his own inner demons. Until Amelia crashed into his life the only thing he chased was the next wave. Refusing to break their connection and determined to break through her carefully crafted walls, Ryan sets out to throw out every rule in her book and show Amelia that pleasure can't be planned.
Can Amelia let Ryan take the lead or will she cling to her rules and wipe out their chance at love?
Book Two: The Stars in the Sky
When foul-mouthed, tattooed, vegan Marie Diaz-Austin accepted a summer internship on a ranch north of Santa Barbara to work with underprivileged and special needs kids she was expecting hard work. She wasn't expecting the gorgeous, but conservative rancher, Will Thrash who wants nothing to do with left-wing hippies like her.
While they both may be stubborn when it comes to climate change, they're much less rigid about considering a summer fling. Although they hate each other's politics, they can't deny their immediate and growing attraction to each other. But when the stakes are raised and they're forced to make a choice what will give? Their principles or themselves?
Book Three: All the Waters of the Earth
Romance novelist Lucy Figueroa lives a life of the imagination. While her stories are filled with fictional alpha male heroes, her real life is filled with nothing but Mr. Wrongs. As a sassy, strong, single mom, she doesn't need anyone… except maybe a new book idea. And to forgive herself for the mistakes of the past.
Lucy's sexy new neighbor, Jake Slausen, looks like one of her characters come to life. While he fits the heartthrob part, he doesn't act it, too distracted by his cell phone and his job for any relationship. Damaged by his childhood, he's ignored his true calling and goes through his days on autopilot…until he meets Lucy.
First drawn together by chemistry, then by a fierce need to protect each other even from themselves, will Jake and Lucy learn to accept their pasts or will they convince themselves that happily ever afters only exist in romance novels?
Book Four: The Ground Beneath Our Feet
She's got her feet planted on the ground. He'll teach her to fly.
Jessica, a curvy, driven, neat freak lawyer, is ecstatic when she finally gets her dream job—even though it's taking her away from her hometown. When she meets over-the-top, man-mountain Mikey, a fitness buff and veterinarian with a messy life in all senses of the word, she thinks she just walked into the second-most exciting adventure of her life.
His larger-than-life personality fascinates her, but also shakes the foundations of her quiet, introverted self, knocking her off-kilter. It's a bad idea to let him take her on as a weight-loss client. It's an even worse idea to get involved with him since he's her manwhore roommate…and she's seen him in action.
If they give into their undeniable attraction, is it just a train wreck waiting to happen? Or will their desire fuel a chance at real love?
Real. Sexy. Romance.
The Director and Don Juan by Katy Regnery (Live 6.30)
The Director and Don Juan is the second of four books about the Philadelphia-based Story sisters who are all on the look-out for love.
Heiress Alice Story left her father's company three years ago in a blaze of glory, inviting all of his employees to jump ship and join her, but only one accepted her offer: mail room clerk, Carlos Vega.
While Alice spent the next three years getting her own company off the ground, Carlos became her indispensable right-hand man — executive assistant and office manager, loyal counsel and trusted co-worker.
And all the while, they were quietly falling in love with each other.
When Alice is offered a lucrative business deal in Puerto Rico, island-born Carlos is the perfect person to accompany her on her trip as translator, but as they travel together from Philadelphia to Santo Domingo to Ponce, two unlikely co-workers will discover that during their three years working together, their feelings for each other have grown far deeper than they ever could have guessed.
And though business-minded, proper Alice will try her very best to ignore the longings of her heart, scorching hot, insanely sexy Boricua, Carlos, has no intention of letting her go.
The Long Way Home by Jasinda Wilder (Live 6.30)
I need you, Ava.
I am desperate. For you. For touch. For a kiss. For the scrape of your hand down my stomach. For the slide of your lips across my hipbone. The sweep of your thigh against mine in the dulcet, drowning darkness. For the warm huff of your breath on my skin and the wet suck of your mouth around me and the building pressure of need reaching release…I am mad with need.
Wild with it.
I cannot have you. I have lost you, as I have lost myself.
And so I go in search. Of myself, and thus the man who might return to you, and take you in his arms.
I loathe each of the thousands of miles between us, but I cannot wish them away, for I hope at the end of my journey I shall find you. Or rather, find myself, and thus…you. Myself, and thus us.
I am taking the long way home, Ava.
* * *
Christian,
I'm losing my mind, and I don't know how to stop it. I shouldn't be writing to you, but I am. I'm friendless, loveless, and lifeless. You're out there somewhere, and still you're all I really have. I hate my reliance and dependence on you, emotionally and otherwise, and that reliance is something I'm coming to recognize. I hate that I can't hate you as much as I want to. I hate that I still love you so much.
I hate that there's no clear solution to our conundrum. Even if we could forgive each other, what then?
I hate you, Christian. I really do.
But most of all, I don't.
It's complicated.
Complicatedly (still) yours,
Ava