Beautiful Disaster by Jamie McGuire 
A New York Times and USA TODAY bestseller about a good girl dangerously drawn to the ultimate bad boy.
The new Abby Abernathy is a good girl. She doesn't drink or swear, and she has the appropriate number of cardigans in her wardrobe. Abby believes she has enough distance from the darkness of her past, but when she arrives at college with her best friend, her path to a new beginning is quickly challenged by Eastern University's Walking One-Night Stand.
Travis Maddox, lean, cut, and covered in tattoos, is exactly what Abby wants—and needs—to avoid. He spends his nights winning money in a floating fight ring, and his days as the ultimate college campus charmer. Intrigued by Abby's resistance to his appeal, Travis tricks her into his daily life with a simple bet. If he loses, he must remain abstinent for a month. If Abby loses, she must live in Travis's apartment for the same amount of time. Either way, Travis has no idea that he has met his match.
How to Date a Douchebag: The Studying Hours by Sara Ney (Read my Review)
CRUDE. ARROGANT. AHOLE.
Sebastian 'Oz' Osborne is a walking, talking cliche.
One of the university's most celebrated student athlete—and possibly the biggest douchebag–Oz has a filthy mouth, a fantastic body, and doesn't give a sh*t about what you, or anyone else thinks. He loves to have fun,but loves wining even more.
SMART. CLASSY. CONSERVATIVE.
Jameson Clarke may be the university's most diligent student—but she is no prude. She spends most of her time in the hallowed halls of the library, not because she's a brainiac–but because she's not. School doesn't come easy, and she's determined to finish the year without a D.
D stands for Douchebag.
Oz is a champion wrestler; one of the best. And he didn't fight his way to the top by backing down from a challenge.
He wants to be friends with Jameson.
He wants to spend time with her.
He wants to drive her crazy.
He wants…
Her.
EVERY DOUCHEBAG HAS HIS WEAKNESS.
How to Date a Douchebag: The Failing Hours by Sara Ney (Read my Review)
Zeke Daniels isn't just a douchebag; he's an asshole.
A total and complete jerk, Zeke keeps people at a distance. He has no interest in relationships—most assholes don't.
Dating? Being part of a couple? Nope. Not for him.
He's never given any thought to what he wants in a girlfriend, because he's never had any intention of having one.
Shit, he barely has a relationship with his family, and they're related; his own friends don't even like him.
So why does he keep thinking about Violet DeLuca?
Sweet, quiet Violet—his opposite in every sense of the word.
The light to his dark, even her damn name sounds like rays of sunshine and happiness and shit.
And that pisses him off, too.
How to Date a Douchebag : The Learning Hours by Sara Ney (Read my Review)
He's not a douchebag; but that doesn't stop his friends from turning him into one.
MY FRIENDS WANT ME TO GET LAID.
So much so that they plastered my ugly mug all over campus, in bold printed letters:
"Are you the lucky lady who's going to break our roommate's cherry?
Him: socially awkward man with average-sized penis looking for willing sexual partner. You: must have a pulse. He will reciprakate with oral. Text him at: 555-254-5551
The morons can't even spell. And the texts I've been receiving are what wet dreams are made of. But I'm not like these douchebags, no matter how hard they try to turn me into one.
THIS ISN'T THE KIND OF ATTENTION I WANT.
One text stands out from hundreds. One number I can't bring myself to block. She seems different. Hotter, even in black and white.
However, after seeing her in person, I know she's not the girl for me. But my friends won't let up—they just don't get it. Douchebags or not, there's one thing they'll never understand: GIRLS DON'T WANT ME.
Especially her.
The Hurricane by R.J. Prescott 
Emily McCarthy is living in fear of a dark and dangerous past. A gifted mathematician, she is little more than a hollow, broken shell, trying desperately to make ends meet long enough to finish her degree.
Through an unlikely friendship with the aging, cantankerous owner of an old boxing gym, Em is thrown into the path of the most dangerous man that she has ever met.
Cormac "the Hurricane" O'Connell is cut, tattooed and dangerous. He is a lethal weapon with no safety and everyone is waiting for the mis-fire. He's never been knocked out before, but when he meet Em he falls, HARD. Unlike any other girl he's ever met, she doesn't want anything from him. Just being around her makes him want to be a better person.
They are polar opposites who were never meant to find each other, but some things are just worth the fight.
The Storm by R.J. Prescott (Read my Review)
Marie Kelly is a survivor who doesn't know when to quit. Against all odds, she's living a life she never dreamed she could have. It was enough…until a stubborn fighter makes her want more.
Irish charmer Kieran Doherty has been a fighter at Driscoll's Gym for most of his life. He's been content to let his best friend take the spotlight, now it's his turn to make a name for himself in the world of heavy weight champions. Falling in love is the one thing he vowed never to do, but meeting Marie changed everything.
It's easy to imagine a happy ever after when the sun is shining. But when the storm comes, and all hope seems lost, they both learn that if you want something badly enough, you have to be willing to fight for it.
The Storm is a stand alone companion novel to The Hurricane and The Storm. Heavy language and sexual content means that this book is intended for persons aged 18+.
Raze by Tillie Cole 
Conditioned in captivity to maim, to kill and to slaughter, prisoner 818 becomes an unrivaled and unstoppable fighter in the ring. Violence is all he knows. After years of incarceration in an underground hell, only one thought occupies his mind: revenge… bloody, slow and violent revenge. Revenge on the man who wronged him.
Kisa Volkova is the only daughter of Kirill 'The Silencer' Volkov, head of the infamous 'Red' bosses of New York's Russian Bratva. Her life is protected. In reality, it's a virtual prison. Her father's savage treatment of his rivals and his lucrative and coveted underground gambling ring-The Dungeon-ensures too many enemies lurk at their door. She dreams to be set free. Kisa has known only cruelty and loss in her short life. While working for her church-the only reprieve in her constant surveillance-Kisa stumbles across a tattooed, scarred, but stunningly beautiful homeless man on the streets. Something about him stirs feelings deep within her; familiar yet impossibly forbidden desires. He doesn't talk. Doesn't communicate with anyone.
He's a man beyond saving. But Kisa becomes obsessed with him. Yearns for him. Craves his touch. Needs to possess this mysterious man… … this man they call Raze.
Fighting Silence by Aly Martinez 
Sound is an abstract concept for most people. We spend our lives blocking out the static in order to focus on what we believe is important. But what if, when the clarity fades into silence, it's the obscure background noise that you would give anything to hold on to?
I've always been a fighter. With parents who barely managed to stay out of jail and two little brothers who narrowly avoided foster care, I became skilled at dodging the punches life threw at me. Growing up, I didn't have anything I could call my own, but from the moment I met Eliza Reynolds, she was always mine. I became utterly addicted to her and the escape from reality we provided each other. Throughout the years, she had boyfriends and I had girlfriends, but there wasn't a single night that I didn't hear her voice.
You see, meeting the love of my life at age thirteen was never part of my plan. However, neither was gradually going deaf at the age of twenty-one.
They both happened anyway.
Now, I'm on the ropes during the toughest battles of my life.
Fighting for my career.
Fighting the impending silence.
Fighting for her.
Every night, just before falling asleep, she sighs as a final conscious breath leaves her.
I think that's the sound I'll miss the most.
Fighting Solitude by Aly Martinez 
I was born a fighter. Abandoned by my parents, I spent my life forging my own path—one guided by my fists and paved with pain.
Untouchable in the ring, I destroyed everyone who faced me, but that's where my victories ended. Outside the ropes, I repeatedly failed the few people who loved me. Including my best friend, Liv James—the one person I'd die to protect.
Even though I didn't deserve her, Liv never stopped believing in me. Never gave up. Never let go. After all, she understood what I'd lost, because she'd lost it too.
Liv was everything to me, but she was never truly mine.
That was going to change.
I lost my first love, but I refused to lose my soulmate.
Now, I'm on the ropes during the toughest battles of my life.
Fighting to be the man she deserves.
Fighting the solitude of our pasts.
Fighting for her.
Among the Echoes by Aly Martinez 
My name was Dr. Erica Hill. I was a victim, then a witness, and then I ceased to exist altogether.
I may still be breathing, but stripped of my identity, I have long since stopped living. I am invisible, and my life depends on my ability to stay in the shadows.
But he sees me.
Slate Andrews is the embodiment of everything I have been taught to avoid. He's rich and famous, and one image of him with a woman would earn millions for any paparazzi lucky enough to snap it. He has vowed to protect me with his life, yet he exposes me with his every breath. I should be stronger and walk away. I should disappear. But I'm terrified he would come after me.
I'm on the run, determined not to take him down with me but absolutely unable to let him go.
My name is Riley Peterson…at least for today.
This novel contains material that may be offensive to some readers. Including sexual abuse, graphic language, and adult situations. Intended for readers 18+.
Combative by Jay McLean 
We all play victims to our pasts; to the choices we make and the lives we create.
They define who we are.
And sometimes if we're lucky enough, the past stays where it belongs: in the past.
I'm not one of the lucky ones.
I never have been.
Because now the past is knocking on my door, offering deals I have no choice but to take… deals that will help bring justice—not just for me, but for my brothers.
The problem?
The deal is a ticking time bomb.
One I didn't know existed.
Tick.
Tock.
Take Me On by Katie McGarry 
Champion kickboxer Haley swore she'd never set foot in the ring again after one tragic night. But then the guy she can't stop thinking about accepts a mixed martial arts fight in her honor. Suddenly, Haley has to train West Young. All attitude, West is everything Haley promised herself she'd stay away from. Yet he won't last five seconds in the ring without her help.
West is keeping a big secret from Haley. About who he really is. But helping her—fighting for her—is a shot at redemption. Especially since it's his fault his family is falling apart. He can't change the past, but maybe he can change Haley's future.
Haley and West have agreed to keep their relationship strictly in the ring. But as an unexpected bond forms between them and attraction mocks their best intentions, they'll face their darkest fears and discover love is worth fighting for.
The Song of David by Amy Harmon 
** This book is a STANDALONE novel featuring characters that were introduced in The Law of Moses. It is not a sequel, but it is a spin-off, and it is recommended that The Law of Moses be read first.**
I won my first fight when I was eleven years old, and I've been throwing punches ever since. Fighting is the purest, truest, most elemental thing there is. Some people describe heaven as a sea of unending white. Where choirs sing and loved ones await. But for me, heaven was something else. It sounded like the bell at the beginning of a round, it tasted like adrenaline, it burned like sweat in my eyes and fire in my belly. It looked like the blur of screaming crowds and an opponent who wanted my blood.
For me, heaven was the octagon.
Until I met Millie, and heaven became something different. I became something different. I knew I loved her when I watched her stand perfectly still in the middle of a crowded room, people swarming, buzzing, slipping around her, her straight dancer's posture unyielding, her chin high, her hands loose at her sides. No one seemed to see her at all, except for the few who squeezed past her, tossing exasperated looks at her unsmiling face. When they realized she wasn't normal, they hurried away. Why was it that no one saw her, yet she was the first thing I saw?
If heaven was the octagon, then she was my angel at the center of it all, the girl with the power to take me down and lift me up again. The girl I wanted to fight for, the girl I wanted to claim. The girl who taught me that sometimes the biggest heroes go unsung and the most important battles are the ones we don't think we can win.
Seducing Cinderella by Gina Maxwell 
Mixed martial arts fighter Reid Andrews's chance to reclaim his title as light heavyweight champ is shattered when he's injured only months before the rematch. To make sure he's healed in time, his trainer sends him to recuperate under a professional's care–Reid's best friend's little sister, all grown up.
Disorganized and bookish Lucie Miller needs some professional help of her own. She'd do anything to catch the eye of a doctor she's crushed on for years, so when Reid offers seduction lessons in exchange for 24/7 conditioning for the biggest fight of his career, Lucie jumps at the chance.
Soon Reid finds himself in the fight of his life…winning Lucie's heart before she gives it to someone else.
Real by Katy Evans 
The New York Times and USA TODAY bestseller, the first in a scorching series about a beautiful young sports rehab specialist who can't fight her attraction to a dangerously sexy underground fighter.
Remington Tate has a bad-boy rep in and out of the ring, a granite-hard body, and a raw, animal power that sends his female fans into a frenzy. But from the moment their eyes lock, the only woman he wants is Brooke Dumas. His desire is pure, all-consuming, and REAL.
Hired to keep his perfect body working like a machine, Brooke finally has the lucrative sports therapy job she's been dreaming of. But as she tours the dangerous underground fighting circuit with Remy and his team, Brooke's own body becomes alive with the most primal of hungers. If what happens between Brooke and Remy is ever as light as a flirtation, it quickly becomes an erotic obsession for them both, and promises so much more.
But their white-hot lust has a dark side—and when Remy's deepest secret comes to light and Brooke's familial duties demand action, will the pair be able to hang on, or will everything that once seemed so real suddenly fade away like an illusion?
Mine by Katy Evans 
He's mine, and I'm his. Our love is all-consuming, powerful,
imperfect, and real…
In the international bestseller REAL, the unstoppable bad boy of the Underground fighting circuit finally met his match. Hired to keep him in prime condition, Brooke Dumas unleashed a primal desire in Remington "Riptide" Tate as vital as the air he breathes . . . and now he can't live without her.
Brooke never imagined she would end up with the man who is every woman's dream, but not all dreams end happily ever after, and just when they need each other the most, she is torn away from his side. Now with distance and darkness between them, the only thing left is to fight for the love of the man she calls MINE.
Remy by Katy Evans 
New York Times bestselling author Katy Evans expands upon the intense love story begun in Real–this time from Remington "Riptide" Tate's point of view.
Underground fighter Remington Tate is a mystery, even to himself. His mind is dark and light, complex and enlightening. At times his actions and moods are carefully measured, and at others, they spin out of control.Through it all, there's been one constant: wanting, needing, loving, and protecting Brooke Dumas. This is his story; from the first moment he laid eyes on her and knew, without a doubt, she would be the realest thing he's ever had to fight for.
Legend by Katy Evans 
Can love really conquer all?—Book Six in Katy Evans's breakout New York Timesbestselling series that began with REAL.
Maverick "The Avenger" Cage wants to rise to the top and become a legend in the ring. Though he keeps his identity well guarded, he's known on the fighting circuit as the new kid with a chip on his shoulder and a tattoo on his back that marks him as trouble. He's got a personal score to settle with the Underground's one and only Remington "Riptide" Tate.
As Mav trains, he meets a young girl—the only other new person in the town—and sparks fly. When things get heated between them, he finds out she's none other than Reese Dumas, the cousin of Remington Tate's wife. A girl who's supposed to root against him and a girl he's supposed to stay away from.
But Mav fights for the woman in his heart and the monsters in his blood. The world's eyes are on them, and the victor will go down in history as the ultimate fighting champion—the ultimate LEGEND.
Outmatched by Kristen Callihan & Samantha Young (Read my Review)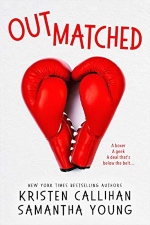 What happens when a boxer finds chemistry with a geek?
Parker Brown can't believe she needs to hire a fake boyfriend. When she landed her dream job in renewable energy, she thought she'd be entering a world at the forefront of progressive thinking. But the head boss prefers to promote employees who are "settled." Thankfully, she's found the perfect candidate, a fellow intellectual looking for some quick cash. What Parker gets is his protective big brother–Rhys Morgan. The tall, muscled ex-boxer with a foul mouth shows up just as her boss does, and now she's stuck with the manipulative jerk.
Responsibility weighs heavily on Rhys. Now permanently out of the ring, he's trying to hold together his late father's gym and keep his younger brother, Dean, on the straight and narrow. To save Dean from himself, Rhys takes his place, ready to give this society girl a piece of his mind. Instead, he finds an opportunity. Even though they can hardly stand each other, posing as Parker's boyfriend is a win-win deal. She gets to keep her job, and he'll charm her star-struck boss into sponsoring his gym.
Problem is, they can barely keep their hands off each other. And what started as an easy deal isn't so easy anymore. Because what future can a rough ex-boxer, afraid to open his heart, and a polished society geek, who has sworn off real relationships, possibly have?
They say opposites attract. These opposites are about to combust on impact.