King of Hearts by L.H. Cosway
Welcome to the City, London's most prestigious square mile, where finance reigns and Oliver King is a rising prince.
I used to rule the world.
There might be wolves on Wall Street, but there were crocodiles in Canary Wharf. Some of us craved money. Some of us craved power.
I liked money, and power had its advantages, but what I really wanted was to excel, to surpass the men who came before me. I never cared much for love and romance until I met Alexis.
I could feel it the very moment she walked into the interview, with her outspoken charm and vivacious personality. She cast all the others in shadow, made me laugh when life held no humour. Our friendship should have remained professional, but it wasn't long before the lines started to blur.
You know what they say about the best laid plans of mice and men? Well, I never foresaw where my plans would lead, and only in my darkest hour did I finally see the light…
You can have all the money and prestige in the world and still be the poorest man alive. And love, well, I hate to use a tired old cliché, but love can be the thing that truly sets you free.
***King of Hearts is standalone romance that tells the story of Oliver King, first encountered in Hearts of Fire. This is the third book in L.H. Cosway's Hearts series.***
Practice Makes Perfect by Julie James
WHEN IT COMES TO THE LAWS OF ATTRACTION…
Payton Kendall and J.D. Jameson are lawyers who know the meaning of objection. A feminist to the bone, Payton has fought hard to succeed in a profession dominated by men. Born wealthy, privileged, and cocky, J.D. has fought hard to ignore her. Face to face, they're perfectly civil. They have to be. For eight years they've kept a safe distance and tolerated each other as co-workers for one reason only: to make partner at the firm.
…THERE ARE NO RULES.
But all bets are off when they're asked to join forces on a major case. At first apprehensive, they begin to appreciate each other's dedication to the law—and the sparks between them quickly turn into attraction. But the increasingly hot connection doesn't last long when they discover that only one of them will be named partner. Now it's an all out war. And the battle between the sexes is bound to make these lawyers hot under the collar…
Fight with Me by Kristen Proby
Jules Montgomery is too busy and content with her life to worry about a man, especially one Nate McKenna. If growing up with four brothers has taught her anything, she knows to stay away from sexy men with tattoos and motorcycles. That goes double if he's your boss. During the one incredible night they shared, he violated the no fraternization policy…among other things, and it won't happen again. Jules won't risk her career for mind-blowing sex, no matter how much her body and her damn heart keep arguing with her.
Nate McKenna could give a shit about the no fraternizing policy. He wants Jules and he'll have her. The rules could bend around them, or be damned. He's not a man to be taken lightly, and Jules Montgomery is about to find out just how he responds to being pushed aside after the best night of sex he's ever had. She can fight all she wants, but he'll have her in his bed in the end.
FIGHT WITH ME is the second novel in the With Me In Seattle Series.
Irresistibly Yours by Lauren Layne
Hotshot sports editor Cole Sharpe has been freelancing for Oxford for years, so when he hears about a staff position opening up, he figures he's got the inside track. Then his boss drops a bombshell: Cole has competition. Female competition, in the form of a fresh-faced tomboy who can hang with the dudes—and write circles around them, too. Cole usually likes his women flirty and curvy, but he takes a special interest in his skinny, sassy rival, if only to keep an eye on her. And soon, he can't take his eyes off her.
Penelope Pope knows all too well that she comes off as just one of the guys. Since she's learned that wanting more usually leads to disappointment, Penelope's resigned to sitting on the sidelines when it comes to love. So why does Cole make her want to get back in the game? The man is as arrogant as he is handsome. He probably sees her as nothing more than a barrier to his dream job. But when an unexpected kiss turns into a night of irresistible passion, Penelope has to figure out whether they're just fooling around—or starting something real.
Even the Score by Beth Ehemann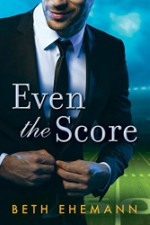 Single dad Andy Shaw loves his job as a sports agent, with one exception: it doesn't leave him much time for his kids. No parent likes being sidelined, so Andy decides to hire someone to share the workload. But when one of the hottest agents in the industry applies, Andy knows that this deal is definitely trouble.
Danicka Douglas works her butt off, but being an attractive woman in a testosterone-heavy industry isn't exactly a cakewalk. She guards her professional reputation fiercely, which means no crushing on her gorgeous boss. But the more they ignore that sexy little spark, the more it sizzles…
Just when it looks like romance might be in the game plan, Dani is threatened by a stalker with dark intentions. To keep her safe, Andy must cross the line between professional and very personal…because this time, he's playing for keeps.
The Marriage Mistake by Jennifer Probst
Carina Conte has had a crush on her brother Michael's best friend, Max Gray, since she was a teenager back home in Italy. Now she's earned her MBA and come to work at Michael's new venture, America's fastest-growing bakery empire. But some things never change: her overprotective family still treats her like a child. With three drop-dead gorgeous siblings, she's still the ugly duckling of the bunch. And Max, the company's new CEO, still barely notices her.
Max knows Carina Conte is strictly off-limits, for the sake of his job and his friendship with Michael. But hot-blooded lust wins out at a conference when the two share a scorching one-night stand—and are busted by her mother! Now, forced by old-world Italian tradition into a marriage he's not ready for, Max is miserable—and Carina is furious. Her new husband is about to realize that hell hath no fury like a woman transformed. . . .
Rock Hard by Nalini Singh
Wealthy businessman Gabriel Bishop rules the boardroom with the same determination and ruthlessness that made him a rock star on the rugby field. He knows what he wants, and he'll go after it no-holds-barred.
And what he wants is Charlotte Baird.
Charlotte knows she's a mouse. Emotionally scarred and painfully shy, she just wants to do her job and remain as invisible as possible. But the new CEO—a brilliant, broad-shouldered T-Rex of a man who growls and storms through the office, leaving carnage in his wake—clearly has other plans. Plans that may be equal parts business and bedroom.
If Charlotte intends to survive this battle of wits and hearts, the mouse will have to learn to wrangle the T-Rex. Game on.
Tangled by Emma Chase
Drew Evans is handsome and arrogant, he makes multimillion dollar business deals and seduces New York's most beautiful women with just a smile. So why has he been shuttered in his apartment for seven days, miserable and depressed? He'll tell you he has the flu. But we all know that's not really true.
Katherine Brooks is brilliant, beautiful and ambitious. When Kate is hired as the new associate at Drew's father's investment banking firm, every aspect of the dashing playboy's life is thrown into a tailspin. The professional competition she brings is unnerving, his attraction to her is distracting, his failure to entice her into his bed is exasperating.
Tangled is not your mother's romance novel. It is an outrageous, passionate, witty narrative about a man who knows a lot about women…just not as much as he thinks. As he tells his story, Drew learns the one thing he never wanted in life, is the only thing he can't live without.
Bossman by Vi Keeland
The first time I met Chase Parker, I didn't exactly make a good impression.
I was hiding in the bathroom hallway of a restaurant, leaving a message for my best friend to save me from my awful date.
He overheard and told me I was a bitch, then proceeded to offer me some dating advice.
So I told him to mind his own damn business―his own tall, gorgeous, full-of-himself damn business―and went back to my miserable date.
When he walked by my table, he smirked, and I watched his arrogant, sexy ass walk back to his date.
I couldn't help but sneak hidden glances at the condescending jerk on the other side of the room. Of course, he caught me on more than one occasion, and winked.
When the gorgeous stranger and his equally hot date suddenly appeared at our table, I thought he was going to rat me out.
But instead, he pretended we knew each other and joined us―telling elaborate, embarrassing stories about our fake childhood.
My date suddenly went from boring to bizarrely exciting.
When it was over and we parted ways, I thought about him more than I would ever admit, even though I knew I'd never see him again.
I mean, what were the chances I'd run into him again in a city with eight million people?Then again…
What were the chances a month later he'd wind up being my new sexy boss?
The Hating Game by Sally Thorne (Read my Review)
Nemesis (n.) 1) An opponent or rival whom a person cannot best or overcome.
                       2) A person's undoing
                       3) Joshua Templeman
Lucy Hutton and Joshua Templeman hate each other. Not dislike. Not begrudgingly tolerate. Hate. And they have no problem displaying their feelings through a series of ritualistic passive aggressive maneuvers as they sit across from each other, executive assistants to co-CEOs of a publishing company. Lucy can't understand Joshua's joyless, uptight, meticulous approach to his job. Joshua is clearly baffled by Lucy's overly bright clothes, quirkiness, and Pollyanna attitude.
Now up for the same promotion, their battle of wills has come to a head and Lucy refuses to back down when their latest game could cost her her dream job…But the tension between Lucy and Joshua has also reached its boiling point, and Lucy is discovering that maybe she doesn't hate Joshua. And maybe, he doesn't hate her either. Or maybe this is just another game.
Egomaniac by Vi Keeland (Read my Review)
The night I met Drew Jagger, he'd just broken into my new Park Avenue office.
I dialed 9-1-1 before proceeding to attack him with my fancy new Krav Maga skills.
He quickly restrained me, then chuckled, finding my attempted assault amusing.
Of course, my intruder had to be arrogant.
Only, turned out, he wasn't an intruder at all.
Drew was the rightful occupant of my new office. He'd been on vacation while his posh space was renovated.
Which was how a scammer got away with leasing me office space that wasn't really available for rent.
I was swindled out of ten grand.
The next day, after hours at the police station, Drew took pity on me and made me an offer I couldn't refuse. In exchange for answering his phones while his secretary was out, he'd let me stay until I found a new place.
I probably should have acted grateful and kept my mouth shut when I overheard the advice he was spewing to his clients. But I couldn't help giving him a piece of my mind.
I never expected my body to react every time we argued. Especially when that was all we seemed to be able to do.
The two of us were complete opposites. Drew was a bitter, angry, gorgeous-as-all-hell, destroyer of relationships. And my job was to help people save their marriages.
The only thing the two of us had in common was the space we were sharing.
And an attraction that was getting harder to deny by the day.
Hero by Samantha Young
Alexa Holland's father was her hero—until her shocking discovery that her mother and she weren't his only family. Ever since, Alexa has worked to turn her life in a different direction and forge her own identity outside of his terrible secrets. But when she meets a man who's as damaged by her father's mistakes as she is, Alexa must help him.
Caine Carraway wants nothing to do with Alexa's efforts at redemption, but it's not so easy to push her away. Determined to make her hate him, he brings her to the edge of her patience and waits for her to walk away. But his actions only draw them together and, despite the odds, they begin an intense and explosive affair.
Only Caine knows he can never be the white knight that Alexa has always longed for. And when they're on the precipice of danger, he finds he'll do anything to protect either one of them from being hurt again….
Reasonable Doubt by Whitney G.
My cock has an appetite.
A huge and very particular appetite: Blonde, curvy, and preferably not a fucking liar…(Although, that's a story for another day.)
As a high profile lawyer, I don't have time to waste on relationships, so I fulfill my needs by anonymously chatting and sleeping with women I meet online.
My rules are simple: One dinner. One night. No repeats.
This is only casual sex. Nothing more. Nothing less.
At least it was , until "Alyssa"…
She was supposed to be a 27 year old lawyer, a book hoarder, and completely unattractive. She was supposed to be someone I shared law advice with late at night, someone I could trust with details of my weekly escapades.
But then she came into my firm for an interview–a college-intern interview, and everything fucking changed…
**Book 1 in a three part Erotic Romance Serial.**
The Proposition by Katie Ashley
With her thirtieth birthday looming, Emma Harrison finds her biological clock clanging and the elusive knight in shining armor yet to appear. She's running out of options, especially after her gay best friend backs out from being her sperm donor. Of course, there's always a sperm bank, but Emma fears a donor mix-up might impregnate her with the spawn of Satan.
Resident company womanizer, Aidan Fitzgerald, is used to always getting what he wants, especially in the bedroom. When Emma spurns his advances at the company Christmas party, he's determined to have her no matter what it takes. After Aidan learns of Emma's predicament, he is quick to offer a proposition that will benefit them both. He will father Emma's child, but she must conceive it with him naturally. Not one for hook-ups or casual sex, Emma is reluctant to take him up on his offer, but his charm, coupled with her intense desire for motherhood, wins out.
Soon their baby-making sessions become more than just physical. Aidan can't seem to walk away from her while Emma begins to wonder if Aidan could be the one. But can Aidan leave his past behind to become the man Emma needs him to be?
Beautiful Secret by Christina Lauren
When Ruby Miller's boss announces he's sending her on an extended business trip to New York City, she's shocked. As one of the best and brightest young engineers in London, she knows she's professionally up to the task. The part that's throwing her is where she'll be spending a month up close and personal working alongside—and staying in a hotel with—Niall Stella, her firm's top urban planning executive and The Hottest Man Alive. Despite her ongoing crush, Ruby is certain Niall barely knows she's alive…until their flirty overnight flight makes him sit up and take notice.
Not one for letting loose and breaking rules, recently divorced Niall would describe himself as hopeless when it comes to women. But even he knows outgoing California-girl Ruby is a breath of fresh air. Once she makes it her mission to help the sexy Brit loosen his tie, there's no turning back. Thousands of miles from London, it's easy for the lovers to play pretend. But when the trip is over, will the relationship they've built up fall down?
Neanderthal Seeks Human by Penny Reid
There are three things you need to know about Janie Morris: 1) She is incapable of engaging in a conversation without volunteering TMTI (Too Much Trivial Information), especially when she is unnerved, 2) No one unnerves her more than Quinn Sullivan, and 3) She doesn't know how to knit.
After losing her boyfriend, apartment, and job in the same day, Janie Morris can't help wondering what new torment fate has in store. To her utter mortification, Quinn Sullivan- aka Sir McHotpants- witnesses it all then keeps turning up like a pair of shoes you lust after but can't afford. The last thing she expects is for Quinn- the focus of her slightly, albeit harmless, stalkerish tendencies- to make her an offer she can't refuse.
The Allure of Julian Lefray by R.S. Grey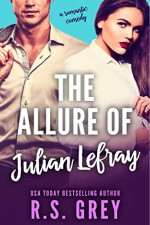 From: JosephineKeller@LLDesigns.com
To: LilyNBlack@gmail.com
Subject: Justin Timberlake Nudes!
Lily, you predictable perv. I knew you'd open this email faster if I tempted you with a glimpse of JT's "PP". Well, put your pants back on and grab some bubbly because I have much better news to share.
I GOT A JOB!
As of tomorrow, I'll be the new executive assistant at Lorena Lefray Designs. I am SO excited, but there's one itty bitty problem: I won't be Lorena's assistant. I'll be working for her older brother, Julian.
I know what you're thinking- "But Jo, what's the problem?"
Google him. Now. He's the man in the fitted navy suit whose face reminds you that there's hope yet for this cruel, ugly world. Keep scrolling…Do you see those dimples? Yup. That's the Julian Lefray I will be reporting to tomorrow morning.
Lord, help us all…
XO,
Jo
Hoshot Doc by R.S. Grey (Read my Review) 
Dr. Russell has a bad reputation around our hospital. The scrub techs say he's cold-blooded, the nurses say he's too cocky for his own good, and the residents say he's the best surgeon in the world—really, just a swell guy!—on the off chance he's within earshot.
I try to avoid him and his temper at all costs. It's just as easy to admire his sexy, grip-it-while-he's-ravishing-you hair and chiseled jaw from a healthy distance, preferably from the other end of the hallway…half-hidden behind a plant.
Unfortunately, my plan crumbles when my trusty ol' boss decides to swap his white coat for a Hawaiian shirt. His retirement leaves me with two terrible options: switch specialties and spend months retraining, or take an open position as Dr. Russell's surgical assistant.
That means I have to stand near him in the OR for hours on end and anticipate his every need without letting his biting words and bad attitude intimidate me. Oh, and as if that's not difficult enough, my silly crush on him—the one I've tried to stomp on until it disappears—might just be reciprocated.
It's fine.
I'm fine.
I take my job seriously. There will be no smoldering bedroom eyes across the operating table, no angry almost-kisses in the supply closet. (Well, no more of those.)
What's the phrase? An apple a day keeps the doctor away?
Maybe I should go for a whole damn bushel.