The Hook Up by Kristen Callihan
The rules: no kissing on the mouth, no staying the night, no telling anyone, and above all… No falling in love
Anna Jones just wants to finish college and figure out her life. Falling for star quarterback Drew Baylor is certainly not on her to do list. Confident and charming, he lives in the limelight and is way too gorgeous for his own good. If only she could ignore his heated stares and stop thinking about doing hot and dirty things with him. Easy, right?
Too bad he's committed to making her break every rule…
Football has been good to Drew. It's given him recognition, two National Championships, and the Heisman. But what he really craves is sexy yet prickly Anna Jones. Her cutting humor and blatant disregard for his fame turns him on like nothing else. But there's one problem: she's shut him down. Completely.
That is until a chance encounter leads to the hottest sex of their lives, along with the possibility of something great. Unfortunately, Anna wants it to remain a hook up. Now it's up to Drew to tempt her with more: more sex, more satisfaction, more time with him. Until she's truly hooked. It's a good thing Drew knows all about winning.
All's fair in love and football…Game on
The Friend Zone by Kristen Callihan 
Gray doesn't make friends with women. He has sex with them. Until Ivy.
The last thing star tight-end Gray Grayson wants to do is drive his agent's daughter's bubblegum pink car. But he needs the wheels and she's studying abroad. Something he explains when she sends him an irate text to let him know exactly how much pain she'll put him in if he crashes her beloved ride. Before he knows it, Ivy Mackenzie has become his best texting bud. But then Ivy comes home and everything goes haywire. Because the only thing Gray can think of is being with Ivy.
Ivy doesn't have sex with friends. Especially not with a certain football player. No matter how hot he makes her…
Gray drives Ivy crazy. He's irreverent, sex on a stick, and completely off limits. Because, Ivy has one golden rule: never get involved with one of her father's clients. A rule that's proving harder to keep now that Gray is doing his best to seduce her. Her best friend is fast becoming the most irresistible guy she's ever met.
Which means Gray is going to have to use all his skills to win Ivy's heart. Game on.
The Hot Shot by Kristen Callihan (Read my Review)
First we were friends. Then we were roommates. Now I want more…
What can I say about Chess Copper? The woman is capable of bringing me to my knees. I know this about five minutes after getting naked for her.
No one is more surprised than me. The prickly photographer my team hired to shoot our annual charity calendar isn't my usual type. She's defense to my offense, a challenge at every turn. But when I'm with her, all the regrets and darkness goes away. She makes life fun.
I want to know Chess, be close to her. Which is a bad idea.
Chess is looking for a relationship. I've never given a woman more than one night. But when fate leaves Chess without a home, I step up and offer her mine. We're roommates now. Friends without benefits. But it's getting harder to keep our hands off each other. And the longer we live together the more I realize she's becoming my everything.
Trick is… Now that I've made her believe I'm a bad bet, how do I convince her to give this player a true shot at forever?
The Wall of Winnipeg and Me by Mariana Zapata 
Vanessa Mazur knows she's doing the right thing. She shouldn't feel bad for quitting. Being an assistant/housekeeper/fairy godmother to the top defensive end in the National Football Organization was always supposed to be temporary. She has plans and none of them include washing extra-large underwear longer than necessary.
But when Aiden Graves shows up at her door wanting her to come back, she's beyond shocked.
For two years, the man known as The Wall of Winnipeg couldn't find it in him to tell her good morning or congratulate her on her birthday. Now? He's asking for the unthinkable.
What do you say to the man who is used to getting everything he wants?
Sacked by Jen Frederick 
What he wants he gets…

Knox Masters is a quarterback's worst nightmare. Warrior. Champion. And…virgin. Knox knows what he wants–and he gets it. All American Football player? Check. NFL pros scouting him? Check. Now, he's set his sight on two things. The national title. And Ellie Campbell. Sure, she's the sister of his fellow teammate, but that's not going to stop him. Especially not when he's convinced Ellie is the one.

…but he's never met her before.
But Ellie isn't as sure. She's trying to start a new life and she's not interested in a relationship…with anyone. Beside it's not just her cardinal rule of never dating her brother's teammates that keeps her away, but Ellie has a dark secret that would jeopardize everything Knox is pursuing.
Knox has no intention of losing. Ellie has no intention of giving in.
The Coincidence of Callie and and Kayden by Jessica Sorensen 
I remember everything about that day, like the images have been burned into my brain by a branding iron. But I wish they would blow away in the wind.

Callie has grown up keeping her feelings locked away from the outside world, and as her painful past threatens to consume her life, most days it's a struggle just to breathe.
For as long as Kayden can remember, suffering in silence has been the only way to survive, until one night when Callie and Kayden's worlds collide.
After that moment, Kayden can't stop thinking about Callie and when they end up at the same college, he does everything in his power to convince her that it isn't coincidence, it's fate.
One Week Girlfriend by Monica Murphy 
Temporary. That's the word I'd use to describe my life right now. I'm temporarily working double shifts – at least until I can break free. I'm temporarily raising my little brother – since apparently our actual mother doesn't give a crap about either of us. And I always end up as nothing but the temporary girlfriend – the flavour of the week for every guy who's heard the rumour that I give it up so easily.
At least Drew Callahan, college football legend and local golden boy, is upfront about it. He needs someone to play the part of his girlfriend for one week. In exchange for cash. As if that's not weird enough, ever since he brought me into his world, nothing really makes sense. Everyone hates me. Everyone wants something from him. And yet the only thing Drew seems to want is…me.
I don't know what to believe anymore. Drew is sweet, sexy, and hiding way more secrets than I am. All I know is, I want to be there for him – permanently.
Play With Me by Kristen Proby 
Will Montgomery is a successful professional football player and seemingly has it all. He's not used to being told no, and certainly doesn't take no for an answer. So when he turns his charms on his sister's sexy rocker-chick friend Meg, he's not only turned down, but met with open hostility, piquing his curiosity and libido. He's determined to show her that he's not the arrogant jock she thinks he is, and to get her into his bed.
Megan McBride is not impressed with Will Montgomery, his fat contract, fancy car, or his arrogant public persona. She doesn't have time for a relationship, and if she's learned anything in life, it's that loving means losing, so she guards her heart ferociously. But she can't deny the overwhelming attraction to the sexy, tattooed athlete, and when Will starts breaking down her defenses and grabs hold of her heart, will she be able to admit her feelings for him, or will her troubled past cause her to lose the first man she's ever truly loved?
Play With Me is the third book in the With Me In Seattle Series
Ruin by Rachel Van Dyken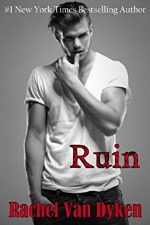 I'm not your typical girl. I've been running away from the memories that haunt me for so long that depression has become my only comfort. I was content in the darkness…until Wes Michels offered to be my light.
I didn't know that time wasn't my ally — that every second that ticked past was one step closer to the end of something that was beginning to mean the end of myself. He tried to warn me. He promised me all he was able to offer–each moment as it came–but it would never be enough.
Sometimes when you think it's the end, it's only the beginning. Wes thought he could save me, but in giving me everything, he ruined me. Because after one kiss, one touch, I couldn't–I wouldn't ever be the same.
And from that moment on, his heartbeat became my own
Kissing Madeline by Lex Martin 
What's the worst thing about wanting a sexy NFL football player? Everyone else wants him, too.
After catching my boyfriend getting deep-throated by a skanky cage girl, I've learned my lesson – never date a professional athlete. Never. Besides, I have more important things to worry about, like not blowing my shot to make it as a broadcast reporter. I won't let anything get in my way, not even the new "it boy" of the NFL and my hot-as-hell neighbor.
What's the worst thing about getting death glares from his new neighbor? It doesn't make him want her any less.
I've worked my ass off to make it to the pros. The last thing I need is the complication of a relationship, especially since my last one was a total train wreck. But I can't stop thinking about the feisty girl next door with the smart mouth. And I'd love nothing more than to show her what to do with that mouth.
Friends with benefits might be the best idea he's ever had. Or the worst.
Beautiful Broken Rules by Kimberly Lauren 
The most valuable lesson Emerson Moore ever learned was from her parents: Never get too attached to someone else. That's why this hard-partying college student plays by her own code of bedroom conduct, refusing to stay with the same guy for too long. She gets all the pleasure of having a good time without the messiness of a relationship.. So what if frat house–hopping has earned her a certain reputation around campus? At least no one gets hurt this way—especially her.
When ridiculously gorgeous Jaxon Riley moves in next door, Emerson's not sure how long her vow against emotional intimacy can last. Jaxon's tattoo, muscles, and sexy voice make him tempting, but he also seems to really understand her…until his jealous ex-girlfriend and Emerson's life-changing discovery about her parents get thrown into the mix. After everything she's been through, can Emerson handle a real relationship? Or will breaking her rules just lead to a broken heart?
Thin Love by Eden Butler 
Love isn't supposed to be an addiction. It isn't supposed to leave you bleeding.
Kona pushed, Keira pulled, and in their wake, they left behind destruction.
She sacrificed everything for him.
It wasn't enough.
But the wounds of the past can never be completely forgotten and still the flame remains, slumbers between the pleasure of yesterday and the thought of what might have been.
Now, sixteen years later, Keira returns home to bury the mother who betrayed her, just as Kona tries to hold onto what remains of his NFL career with the New Orleans Steamers. Across the crowded bustle of a busy French Market, their paths collide, conjuring forgotten memories of a consuming touch, skin on skin, and the still smoldering fire that begs to be rekindled.
When Kona realizes the trifecta of betrayal–his, Keira's and those lies told to keep them apart–his life is irrevocably changed and he once again takes Keira down with him into the fire that threatens to ignite them both.
The Play by Karina Halle 
Kayla Moore has always been comfortable with her feisty, maneating reputation. At least it was fine until she hit her thirties and saw her best friends Stephanie and Nicola settle down with Linden and Bram McGregor, leaving Kayla to be the odd one out. Tired of being the third wheel with nothing but one-night stands and dead-end dates in San Francisco, Kayla decides to take a vow of celibacy and put men on the backburner.
That is until she lays her eyes on Linden and Bram's cousin, hot Scot Lachlan McGregor. Lachlan is her sexual fantasy come to life – tall, tatted, and built like a Mack truck. With a steely gaze and successful rugby career back in Edinburgh, he's the kind of man that makes her want to throw her vow right out the window. But Lachlan's quiet and intense demeanor makes him a hard man to get to know, let alone get close to.
It isn't until the two of them are thrown together one long, unforgettable night that Kayla realizes there is so much more to this brooding macho man than what meets the eye. But even with sparks flying between the two, Lachlan can't stay in America forever. Now, Kayla has to decide whether to uproot her whole life and chance it all on someone she barely knows or risk getting burned once again.
Sometimes love is a game that just needs to be played.
The Player and the Pixie by Penny Reid and L.H. Cosway 
How can someone so smokin' hot be so bad in bed? I mean, Sean Cassidy is absolute rubbish. RUBBISH. He is the epitome of walking, talking false advertising and I want a refund! Plus he's an arsehole. So… what is wrong with me that I can't stop thinking about him?
THE PIXIE
Lucy Fitzpatrick doesn't like rugby.
As the little sister of Ireland's most infamous rugby player, Lucy can't seem to escape the championship-sized shadow cast by her big brother, or her mother's frequent attempts to micromanage her future. Her rainbow hair is as free-spirited as her quest for inner peace, yet overbearing expectations keep bringing her down. And when she's down, her compulsive little problem lands her in seriously big trouble.
THE PLAYER
Sean Cassidy is a cold-hearted brute… or so he's been told. Frequently. By everyone.
His blonde locks, baby blues, and rock hard bod make ladies the world over drool with desire. As the rugby world's second most infamous player, he should be basking in his success. But Sean has never been content settling for second place, and his frequent confrontations with Lucy's big brother leave him cold. And when he's cold, his compulsive little problem lands him in the lap of Lucy Fitzpatrick.
THE PLAN
Sean has a problem only Lucy can solve. Lucy has a problem only Sean can fix. The solution seems obvious: you scratch my back, and I'll bail you out of jail. But when their business arrangement unexpectedly leaves Sean scorching hot and Lucy on the precipice of inner peace, can they convince the world—and Lucy's big brother in particular—that this is the real deal?
Either way, both the Player and the Pixie are about to teach each other some pretty monumental lessons about family, life, but most importantly, love.
The Pixie and the Player is a full-length, romantic comedy novel, can be read as a standalone, and is the second book in the Rugby Series.
Paper Princess by Erin Watt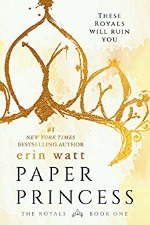 From strip clubs and truck stops to southern coast mansions and prep schools, one girl tries to stay true to herself.
These Royals will ruin you…
Ella Harper is a survivor—a pragmatic optimist. She's spent her whole life moving from town to town with her flighty mother, struggling to make ends meet and believing that someday she'll climb out of the gutter. After her mother's death, Ella is truly alone.
Until Callum Royal appears, plucking Ella out of poverty and tossing her into his posh mansion among his five sons who all hate her. Each Royal boy is more magnetic than the last, but none as captivating as Reed Royal, the boy who is determined to send her back to the slums she came from.
Reed doesn't want her. He says she doesn't belong with the Royals.
He might be right.
Wealth. Excess. Deception. It's like nothing Ella has ever experienced, and if she's going to survive her time in the Royal palace, she'll need to learn to issue her own Royal decrees.
All Lined Up by Cora Carmack 
In Texas, two things are cherished above all else—football and gossip. My life has always been ruled by both.
Dallas Cole loathes football. That's what happens when you spend your whole childhood coming in second to a sport. College is her time to step out of the bleachers, and put the playing field (and the players) in her past.
But life doesn't always go as planned. As if going to the same college as her football star ex wasn't bad enough, her father, a Texas high school coaching phenom, has decided to make the jump to college ball… as the new head coach at Rusk University. Dallas finds herself in the shadows of her father and football all over again.
Carson McClain is determined to go from second-string quarterback to the starting line-up. He needs the scholarship and the future that football provides. But when a beautiful redhead literally falls into his life, his focus is more than tested. It's obliterated.
Dallas doesn't know Carson is on the team. Carson doesn't know that Dallas is his new coach's daughter.
And neither of them know how to walk away from the attraction they feel.
The Hard Count by Ginger Scott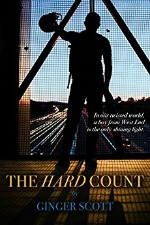 Nico Medina's world is eleven miles away from mine. During the day, it's a place where doors are open—where homes are lived in, and neighbors love. But when the sun sets, it becomes a place where young boys are afraid, where eyes watch from idling cars that hide in the shadows and wicked smoke flows from pipes.
West End is the kind of place that people survive. It buries them—one at a time, one way or another. And when Nico was a little boy, his mom always told him to run.
I'm Reagan Prescott—coach's daughter, sister to the prodigal son, daughter in the perfect family.
Life on top.
Lies.
My world is the ugly one. Private school politics and one of the best high school football programs in the country can break even the toughest souls. Our darkness plays out in whispers and rumors, and money and status trump all. I would know—I've watched it kill my family slowly, strangling us for years.
In our twisted world, a boy from West End is the only shining light.
Quarterback.
Hero.
Heart.
Good.
I hated him before I needed him.
I fell for him fast.
I loved him when it was almost too late.
When two ugly worlds collide, even the strongest fall. But my world…it hasn't met the boy from West End.
Sweet Soul by Tillie Cole 
One shy lost soul.
One silent lonely heart.
One love to save them both.
Life has never been easy for twenty-year-old Levi Carillo. The youngest of the Carillo boys, Levi is nothing like his older brothers. He isn't dark in looks or intimidating to everyone he meets. In fact, he's quite the opposite. Haunted by a crippling shyness and the tragic events of his past, Levi spends his days with his head buried in his books, or training hard for his college football team. Too timid to talk to girls, Levi stays as far away as possible and completely on his own… until he saves the life of a troubled pretty blonde, a troubled pretty blonde that might just be the exception to his rule.
Elsie Hall is homeless. Or at least that's all anyone ever sees. Every day is a fight for survival on the cold streets of Seattle, everyday a struggle to find food and keep warm. Alone in life—a life that's dangerous and cruel—her will to keep going is an ever-losing battle. In her world of silence, Elsie has given up hope that her life will contain anything but constant heartache and pain… until the beautiful boy she has severely wronged comes to her rescue at precisely the right time.
The End Game by Kate McCarthy 
"Professional athletes are pillars of their respective communities. They are heroes in the eyes of boys and girls and are expected to conduct themselves in a manner that positively represents their community."
The public loves a good scandal. Seeing someone fall from the pinnacle of success makes a great headline. No one knows that better than I do. What started out as a promising career in college football, spiralled into scandal and shame.
But being a hero is easier said then done. Especially when there are those who expected to see the great Brody Madden fail. I craved nothing except being the best—willing to do anything to prove them wrong. But I went too far, and I tried too hard, and it broke me.
"At the time of going to print, Jordan Elliott was unavailable for comment."
I met Brody Madden in my senior year of college. An Australian native on an international scholarship, I was the female soccer sensation with stars in her eyes and no room for a hotshot wide receiver with a chip on his shoulder.
But a heart bursting with ambition and a driving fire to succeed isn't made of stone. I became his strength, his obsession, and the greatest love of his life. Only I wasn't there when he needed me most.
This is a story about love and a game that takes everything. Where the path to glory is paved with sacrifice. Where pressure makes you, or breaks you, and triumph is born in the ashes of failure. Where two people's end game will change everything.
The Rivalry by Nikki Sloane (Read my Review)
This tight end is at the top of his game.
He's good with his hands, even better with his sexy mouth, and the best at making me forget my own name. His—ahem—stats are perfect.
But I can't fall for him.
He might be everything I want, all rolled into a glorious package of gridiron god, but there's one teeny-tiny problem. The vile, loathsome team I've spent my entire life hating—my beloved school's arch-rival?
This guy is their star player.
Hail Mary by Nicola Rendell (Read my Review)
At a boxing gym in Chicago, Mary Monahan accidentally knocks out the most handsome man she's ever met. After she wakes him up with a few slaps and some smelling salts, the very first thing he does is ask her out for ribs and beer. His name is Jimmy. He looks like a Gillette model. And he's just too hunky to resist.
Jimmy "The Falcon" Falconi is mystified that Mary has absolutely no idea who he is. Mystified and refreshed. He is, after all, not your everyday NFL quarterback. He shops at Costco, has a soft spot for Pinterest, and is in the midst of an epic losing streak.
Jimmy falls for Mary fast and hard, the way he does everything—balls out and like it's fourth and long. And he realizes he's finally met his match. That stamina he's so proud of? Doesn't stand a chance against her Kegels.
But what they don't know is she's also his new physical therapist, recently hired by the Bears to work on his rotator cuff…and groin injury. If she can't help him, he'll be traded faster than they can say "offensive penetration."
In spite of the thousands of internet memes featuring Jimmy's face with captions like: "HEY GIRL, WANT TO TOUCH MY BALLS?" Mary finds herself falling for him and his unrelenting desire to make her his.
Until a toddler shows up at Jimmy's door.
And throws their lives into total chaos.
#Nerd by Cambria Hebert 
Two people from completely different worlds are about to be thrown together…
In more ways than one.
She wants to keep her scholarship. He wants to stay on the team. An awkward alliance doesn't even begin to cover Rimmel and Romeo's relationship.
But that's about to change.
It starts with a dare. An initiation. A challenge.
Quickly, it turns into more. But when you're a victim of your status, there is no room for anything real. The rules are clear and simple.
Stick to your circle.
And never fall in love with anyone on the outside.
*All the Hashtag Series is football based and great 
Playing to Win by Jaci Burton 
Someone's going to have to let down their guard… Football star Cole Riley is notorious for doing as he pleases – on the field and off. But if he doesn't clean up his act, his career is over – so Cole reluctantly agrees to work with image makeover consultant Savannah Brooks. He's not used to being told what to do, especially by some (admittedly hot) southern belle. As for Savannah, she's not convinced she can transform this cocky (and aggressively sexy) force of nature. But she's determined to give it her best shot.
When the sparks start to fly, Savannah lays down the ground rules: no personal complications. But for two people determined to have it all, a hands-off policy can only last so long before one of them yields.
The Baller by Vi Keeland 
The first time I met Brody Easton was in the men's locker room.
It was my first interview as a professional sportscaster.
The famed quarterback decided to bare all.
And by all, I don't mean he told me any of his secrets.
No. The arrogant ass decided to drop his towel, just as I asked the first question. On camera.
The Super Bowl MVP quickly adopted a new hobby–screwing with me.
When I pushed back, he shifted from wanting to screw with me, to wanting to screw me.
But I don't date players.
And it's not because I'm one of the few women working in the world of professional football.
I'd date an athlete.
It's the other kind of player I don't date.
You know the type. Good looking, strong, cocky, always looking to get laid.Brody Easton was the ultimate player.
Every woman wanted to be the one to change him.
But the truth was, all he needed was a girl worth changing for.
Turned out, I was that girl.
Simple right?
Let's face it. It never is.
There's a story between once upon a time and happily ever after…
And this one is ours.
Most Likely to Score by Lauren Blakely (Read my Review)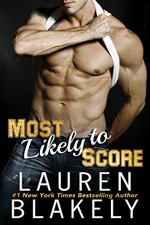 As the team's publicist, I need a football player to be the face of our charity calendar, and Jones Beckett needs a savvy PR woman to manage his new sponsorship deal. A simple give and take, and I'm sure I'll have no problem following my iron-clad rule — don't date a player. And never ever fall for one. No matter how charming, big-hearted and devilishly clever the man is.
But you know what they say about best laid plans…
Once I start spending my off-season days and nights with Jones, I'm following a whole new playbook, one that has me falling hard for the incorrigible flirt — heart, body and mind. That's against the rules, and now what seemed like a bright idea has turned into a dangerously forbidden one.
***
It was supposed to be an I-scratch-her-back-she-scratched-mine kind of arrangement. And man, did Jillian ever drag her nails down my back on one hell of a hot night. Okay fine, it was several hot nights on the road.Now we're back in town and it's time to set the play clock back to when we were simply player and publicist. Given the way the last few years have gone, I can't risk this deal. Trouble is, I want more than than just another night with her. What's a guy to do when he's always been most likely to score, but the woman he's falling for is off limits? 
The first time you meet someone, you make eye contact. You smile, say hello. Should be simple, if you're anyone but me. The first time I met Dylan Reed, I found myself making eye contact with a different part of his body. You see, I'm very good at being shy, not to mention extremely well-versed in rambling nonsense and, unfortunately, rather highly skilled at making a fool of myself in front of a guy I'm attracted to.
At the time, I knew nothing about him and thought none of what I said would matter since I'd never speak to him again. Turns out, I was very wrong. He was the star wide receiver of the football team, one of the few players expected to make it into the NFL, and I ended up seeing him all over campus.
I might have also propositioned him, run away from him, attacked him with a cooking utensil…and…uh, maybe I shouldn't tell you all of it. It's pretty normal stuff, things you'd expect…from me. Eventually, the time came when I couldn't hide anymore—not that he'd have let me even if I tried.
Before now, he never knew I was secretly watching him. Now that we see each other every day, he knows when I have a hard time looking away. It doesn't help that I'm not the most subtle person in the world either.
He smiles at me and tells me he finds me fascinating because of my quirks. I can't even tell him that I think my heart beats differently whenever he's around.
He thinks we're going to be best friends. I think I have a big thing for him, and the more I get to know him, the more I don't care that I'm not allowed to be his friend, let alone fall for him.
The thing is, that's exactly what I'm doing—what we're doing, I think.
Falling.
Hard.