Until June by Aurora Rose Reynolds 
June Mayson and Evan Barrister's whirlwind courtship resulted in a secret marriage right before he left for boot camp. Evan knows deep in his gut that June is too good for him, but after getting a taste of the beautiful life they can have together, he's unwilling to let her go. June promises to wait for him, knowing neither time or distance will ever change her feelings for Evan—that is until she's served with divorce papers while he's overseas and she's forced to let him go.
Her marriage and divorce a well-kept secret, the last person June expects to run into when she moves back to her hometown is Evan. Angry over the past, she does everything within her power to ignore the pull she feels whenever he is near. But how can she ignore the pain she sees every time their eyes meet? How can she fight the need to soothe him even if she knows she's liable to get hurt once again?
Is it possible for June and Evan to find their way back to each other again? Or will they be stopped by an outside force before they ever have a shot?
Devil You Know by L.A. Fiore (Read my Review)
Damian Tate. One look into his sad green eyes and I was hooked. I wanted to be the one to make him laugh, to make him smile. I hadn't expected him to be the one to make me blush, to make me hot…to make me fall in love. He was my first kiss, my first love, my first everything. I wanted forever with him, but life got in the way.
He enlisted, I went to college, and for years we were never in the same place long enough to pick up where we left off.
Thirteen years after he left, tragedy brings him home. The stoic boy I fell in love with grew into a quiet, dangerous and wildly sexy man. He still tugs on all the right strings for me, but he seems determined to keep me at arm's-length.
However, when trouble comes knocking at my door, he is the one to put himself between that trouble and me.
Spending time with him might drive me insane, or it might be our second chance at first love.
Due to strong language and sexual content, this book is not intended for readers under the age of 18.
Riveted by Jay Crownover (Read my Review) 
Everyone else in Dixie Carmichael's life has made falling in love look easy, and now she is ready for her own chance at some of that happily ever after. Which means she's done pining for the moody, silent former soldier who works with her at the bar that's become her home away from home. Nope. No more chasing the hot as heck thundercloud of a man and no more waiting for Mr. Right to find her; she's going hunting for him…even if she knows her heart is stuck on its stupid infatuation with Dash Churchill.
Denver has always been just a pit stop for Church on his way back to rural Mississippi. It was supposed to be simple, uneventful, but nothing could have prepared him for the bubbly, bouncy redhead with doe eyes and endless curves. Now he knows it's time to get out of Denver, fast. For a man used to living in the shadows, the idea of spending his days in the sun is nothing short of terrifying.
When Dixie and Church find themselves caught up in a homecoming overshadowed with lies and danger, Dixie realizes that while falling in love is easy, loving takes a whole lot more work…especially when Mr. Right thinks he's all wrong for you.
An Act of Courage by K.C. Lynn (Read my Review) 
She's the light from his past.
He's the one her heart has always longed for.
Trained by the best, Christopher Walker has fought hard for his country and even harder to forget the only girl he's ever loved. He spent countless nights submerged in death and destruction only to find himself clinging to the memories of her when the darkness crept in.
When her life is threatened, Christopher will stop at nothing to protect her. Even if it means having to confront his past.
Alissa Malone never thought she would find herself face-to-face again with the only boy she's ever loved. But she soon realizes Christopher is not the same man he once was.
His touch is still electrifying—his voice still earth shattering. But there's a darkness about him that wasn't there before. A pain he harbors so deep that she can feel it all the way to her soul.
One fateful moment destroyed his very existence, and only one person will be able to make him realize that what he considers an act of dishonor was truly an act of courage.
***
This is Book Four in the Acts Of Honor series, the spin-off series to Men Of Honor. It is not necessary to read all the other books in the series. However, I do highly recommend that you at least read Resisting Temptation, the third book in the Men of Honor series since this is where these Characters story began.
Fisher's Light by Tara Sivec 
Fisher,
I guess this is it, huh? After fourteen years together, starting a life of our own on this island, five deployments and countless letters I've written you through it all, I finally go out to the mailbox and see something I've always dreamed of: an envelope with your handwriting on it. For one moment, I actually thought you'd changed your mind, that all the awful things you said to me were just your way of coping after everything you'd been through. I was still here, Fisher. I was still here, holding my breath, waiting for you to come back even though you told me you never would. You always said you'd find your way back to me. Out of all the lies you've told me, this one hurts the most. Enclosed you will find the signed divorce papers, as requested.
I hope you find what you're looking for. I'm sorry it wasn't me.
Lucy
To get the ending they want, Lucy and Fisher will have to go back to the beginning. Through the good and the bad, they'll be reminded of why they always made their way back to each other, and why this time, one way or another, it will be the last time.
Beyond What Is Given by Rebecca Yarros 
Be careful what you wish for…
Lt. Grayson Masters is focused on graduating the Apache helicopter course, and the last thing he needs is his gorgeous new roommate Samantha Fitzgerald distracting him. While her smart mouth and free spirit are irresistibly irritating, he can't deny their off-the-charts chemistry, no matter how hard he tries.
Having just been expelled from college, Sam has no business digging for Grayson's secrets while she's hiding her own, but that doesn't stop her from trying to tear down his walls. Each barrier she busts through drops one of her own, though, and she's not prepared for the truth: another woman laid claim to Grayson's heart long ago.
Falling in love is something neither Grayson nor Sam can afford, and when that line is crossed and secrets are exposed, they'll learn that sometimes it's the answered prayers that will put you through hell.
The Bronze Horseman by Paullina Simons 
The golden skies, the translucent twilight, the white nights, all hold the promise of youth, of love, of eternal renewal. The war has not yet touched this city of fallen grandeur, or the lives of two sisters, Tatiana and Dasha Metanova, who share a single room in a cramped apartment with their brother and parents. Their world is turned upside down when Hitler's armies attack Russia and begin their unstoppable blitz to Leningrad.
Yet there is light in the darkness. Tatiana meets Alexander, a brave young officer in the Red Army. Strong and self-confident, yet guarding a mysterious and troubled past, he is drawn to Tatiana—and she to him. Starvation, desperation, and fear soon grip their city during the terrible winter of the merciless German siege. Tatiana and Alexander's impossible love threatens to tear the Metanova family apart and expose the dangerous secret Alexander so carefully protects—a secret as devastating as the war itself—as the lovers are swept up in the brutal tides that will change the world and their lives forever.
Mystery Man by Kristen Ashley 
Night time is the right time…
Gwendolyn Kidd has met the man of her dreams. He's hot, he's sexy, and what started as a no-names-exchanged night of passion has blossomed into a year and a half-long pleasure fest. Sure, it's a little strange that he only appears in her bed at night, but Gwen is so sure he's the one, she just can't turn him away…
Hawk Delgado knows more about Gwen than she could ever imagine. She's gorgeous, headstrong, and skittish about relationships. But Hawk is facing his own demons, demons that keep him from connecting with anyone. Yet when Gwen is drawn into Denver's lethal underground scene, Hawk's protective nature comes out full force. The problem is, when Gwen gets a dose of Hawk's Alpha attitude in the daylight, she's not so sure he's the one anymore….
Fighting Redemption by Kate McCarthy 
Ryan Kendall is broken. He understands pain. He knows the hand of violence and the ache of loss. He knows what it means to fail those who need you. Being broken doesn't stop him wanting the one thing he can't have; Finlay Tanner. Her smile is sweet and her future bright. She's the girl he grew up with, the girl he loves, the girl he protects from the world, and from himself.
At nineteen, Ryan leaves to join the Australian Army. After years of training he becomes an elite SAS soldier and deploys to the Afghanistan war. His patrol undertakes the most dangerous missions a soldier can face. But no matter how far he runs, or how hard he fights, his need for Finlay won't let go.
Returning home after six years, one look is all it takes to know he can't live without her. But sometimes love isn't enough to heal what hurts. Sometimes people like him can't be fixed, and sometimes people like Finlay deserve more than what's left.
This is a story about war and the cost of sacrifice. Where bonds are formed, and friendships found. Where those who are strong, fall hard. Where love is let go, heartache is born, and heroes are made. Where one man learns that the hardest fight of all, is the fight to save himself.
This book is recommended for 18+ due to adult language and themes.
Please note: K McCarthy is an Australian author and Australian spelling, language and slang has been used in this book.
Wounded by Jasinda Wilder 
War has taken everything from me. My family. My home. My innocence. In a country blasted by war and wracked by economic hardship, a young orphan girl like me has very few options when it comes to survival. Thus, I do what I must to live, to eat, and I try very hard to not consider the cost to my soul. My heart is empty, and my existence brutal.
The one impossibility in my life is love.
And then I meet HIM.
~ * ~ * ~
War is hell. It takes a chunk out of a man's very soul to do the kinds of things war demands of you. You live with fear, you live with guilt, and you live with nightmares. If you haven't been through it, there's no understanding it. War leaves no room for love, no room for tenderness or softness. You gotta be hard, closed off, and ready to fight every moment of every day. Lose focus for a split second, and you're dead.
Now the only thing that can save me is HER.
Worth the Fall by Claudia Connor 
They meet on a beach. . . . Abby Davis isn't wearing a skimpy bikini or sipping umbrella drinks, not when she's busy chasing around four little ones. And Matt McKinney isn't looking for fun—he's a Navy SEAL, a grown man with a long list of missions . . . and fallen brothers.
They only have a week. . . . Abby has brought her children to this beach to start over, to give them the enjoyable memories they deserve. Matt's been sidelined by a combat injury, and haunted by the best friend he lost and the promise he made: to remain a SEAL—focused and dedicated. This leaves no time for what he's always wanted: a family.
But a week is all it takes. . . . Matt opens her heart while Abby soothes his soul. And though they plan to say good-bye when the week is over, something magical happens on that beach, something neither can forget. Something utterly, completely worth falling for.
Hard as it Gets by Laura Kaye 
Tall, dark, and lethal…
Trouble just walked into Nicholas Rixey's tattoo parlor. Becca Merritt is warm, sexy, wholesome–pure temptation to a very jaded Nick. He's left his military life behind to become co-owner of Hard Ink Tattoo, but Becca is his ex-commander's daughter. Loyalty won't let him turn her away. Lust has plenty to do with it too.
With her brother presumed kidnapped, Becca needs Nick. She just wasn't expecting to want him so much. As their investigation turns into all-out war with an organized crime ring, only Nick can protect her. And only Becca can heal the scars no one else sees.
Desire is the easy part. Love is as hard as it gets. Good thing Nick is always up for a challenge…
*I recommend all the series as most of the heroes have been in the military
Books in series:
#1 Hard As It Gets
#2 Hard As You Can
#2.5 Hard to Hold On To
#3 Hard to Come By
#3.5 Hard to Be Good
#4 Hard to Let Go
#4.5 Hard As Steel
#5 Hard Ever After
#5.5 Hard to Serve
Fate hasn't always been friends with Isabelle West. In fact, fate has been a downright bitch.
Isabelle has learned the hard way how hard life can be when fate isn't by your side. It can hand you dreams on silver platters, but it can snatch them right back and hand you nightmares. One thing Isabelle knew for sure fate was consistent with was taking away everything she ever loved.
For the last two years Isabelle has been slowly clearing the clouds of her past. Happiness is finally on the horizon. She has a thriving business, great friends, and her life back. All she has to do is jump over the last hurdle…her ex-husband.
When problems start causing her to fear her new life, and memories that are better left forgotten start rushing to the surface the last thing she needs is a ghost from her past to come knocking on her door.
Axel never thought he would look into the eyes of Isabelle West again, and he wasn't sure he wanted to now. He's carried his anger for so long he isn't sure he can just turn it off, but when he is faced with protecting her and an unexpected desire to have her again, life gets a little more complicated.
How will Axel and Isabelle deal when all their cards are put on the table and everything they thought was true blows up in their faces?
Reading Order for the Corps Security Series – All books have been released:
Axel
Cage
Beck
Uncaged
Cooper
Locke
*book 1 in the Corps Security series. Can be read as a standalone but each book interconnects. HEA*
**Warning**
This book is intended for a mature reading audience and isn't suitable for younger readers.
The Darkest Hour by Maya Banks 
It's been one year since ex-Navy SEAL Ethan Kelly last saw his wife Rachel alive.  Overwhelmed by grief and guilt over his failures as a husband, Ethan shuts himself off from everything and everyone.
His brothers have tried to bring Ethan into the KGI fold, tried to break through the barriers he's built around himself, but Ethan refuses to respond…until he receives an anonymous phone call claiming Rachel is alive.
To save her, Ethan will have to dodge bullets, cross a jungle, and risk falling captive to a deadly drug cartel that threatens his own demise. And even if he succeeds, he'll have to force Rachel to recover memories she can't and doesn't want to relive—the minute by minute terror of her darkest hour—for their love, and their lives, may depend on it.
The Vixen and the Vet by Katy Regnery 
In this modern-retelling of "Beauty and the Beast," Savannah Carmichael, betrayed by an unreliable source, returns to her hometown of Danvers, Virginia with her once-promising journalism career in ruins. Given the opportunity to get back in the game by writing a patriotic human interest piece, Savannah turns her attention to the town hermit, Asher Lee, a wounded veteran who returned to Danvers eight years ago, and hasn't been seen since.
After an IED explosion in Afghanistan took Asher's hand and disfigured half of his face, he's lived a quiet life on the outskirts of Danvers where the locals respect his privacy…that is, until Savannah Carmichael comes calling in a borrowed sundress with a plate of homemade brownies. When Asher agrees to be interviewed by Savannah, he starts feeling things for the beautiful reporter that he hasn't felt in years.
Misfits in small-town Danvers, Savannah and Asher create a bond right away, touching each other's hearts in ways neither thought possible. When a terrible mistake threatens to drive them apart, they'll have to decide if the love they found in one another's arms is strong enough to fight for their hard-won happily ever after.
** Contemporary Romance. Due to profanity, realistically depicted scenes of war and very strong sexual content, this book is not intended for readers under the age of 18.**
All novels in the ~a modern fairytale~ collection are written as fundraisers.
Fighting Temptation by K.C. Lynn 
Two unlikely friends—the innocent, good girl and the notorious bad boy. One fateful night brought them together, and they formed a bond—one so strong it was unbreakable—until one night they gave into temptation.
Fast forward five years and Jaxson is back to fix the mistakes he's made with the only girl who's ever mattered to him. Only someone isn't happy with his return, someone who thinks Julia is theirs and they will stop at nothing to make sure it stays that way—forever.
Jaxson will not only fight to protect Julia, but will also battle the new and existing demons that haunt his soul from death, corruption, destruction and war.
***
This is Book One in the Men Of Honor series. It can be read as a standalone and has a HEA. It's New Adult Romance and is told from both character's POV. Due to strong sexual content, coarse language and mature subject matter this book is not suitable for anyone under the age of 18.
Please note this is a revised edition with an added bonus scene at the end of the book. The story is the exact same but the writing and editing has been updated.
*I recommend all the series as most heroes are ex-military 
Fate by Elizabeth Reyes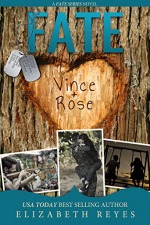 Fate is a Moreno Brothers spinoff series
When Rose tagged along with her big sister to a baby shower the last thing she expected was to meet a guy. But this wasn't just any guy. This was the exciting, sexy as sin, way out of her league black sheep of his family–Vincent Moreno. Even more surprising, this heart-stopping bad boy seemed interested in her.
Fate always had a way of interfering in Vince's best-laid plans. His forced attendance to his annoyingly perfect cousin's baby shower was no different. He was sure to be bored out of his skull, but instead, he met sweet little Rosie Zendejas.
What begins as a unlikely friendship between two very different teens turns into one of the most intense and passionate relationships that neither ever saw coming. But just like it had so many times in Vince's troubled past, Fate steps in once again, threatening to take away the one thing he can't seem to even breathe without now–Rose.
Mature YA – New Adult
Willing Captive by Belle Aurora 
Delilah "Lily" Flynn is used to her drab existence. Lily's been living it for twenty two years.
Her boring life is suddenly turned on its head when she's rudely kidnapped from her bedroom.
Or so she thinks.
Nox Taylor is far too high up in his field to be assigned a babysitting job.
There's nothing more he wants than to complete his mission so he can be rid of the smartass tomboy, Lily.
Day after day, Nox watches Lily and her strange ways. She's unlike any woman he's ever met.
Getting close to the girl is purely for her own protection…right?
Lily never imagined she'd make her first real friends in captivity.
What lengths would she go through to keep them?
**This is a stand alone novel and is unrelated to Friend-Zoned**
Where One Goes by B.N. Toler 
What happens when the very thing ruining your life ends up saving it?
I was never one to believe in spirits—until six years ago, when a bone-chilling accident changed my life…forever.
My name is Charlotte, but most people call me Char…and I have a special gift.
I talk to the dead.
Make no mistake, I can't summon them. I'm only able to see and speak to the spirits that linger when they're unable to crossover. They're somehow weighted to the world with unfinished affairs. And for the last six years, I've relentlessly used my gift to help their lost souls.
But it's come at a price. My life is dark. Feeling despondent, I've begun to give up. And in helping the dead, I've realized I haven't allowed myself to live. With no money, no place to go, and most importantly… no hope, I've decided there is only one option—to end it all.
But fate is a funny thing. One minute, I'm about to leap to my death, and the next, I'm saved by Ike McDermott. The strong, striking soldier stopped me from putting an end to my despair. He's the kind of man that smiles and brightens an entire room.
Sweet and gentle.
He is my savior.
And he's dead.
We've made an agreement. He'll help me find a place to stay and a new job if I'll help him with his unfinished business so that he may crossover.
Ike's unfinished matter involves his twin brother, George. George has been falling apart since Ike's death and Ike has not been able to compel himself to crossover in peace until he knows George will be okay.
When I agreed to help, little did I know that I'd fall in love with the charming folks of Bath County, and…Ike and George McDermott.
Now, as both brothers own equal parts of my heart, I am faced with a cruel and unfair predicament. In saving George, I must let go of Ike.
But how does one let go of half of their heart?
After We Fall by Melanie Harlow 
Jack Valentini isn't my type.
Sexy, brooding cowboys are fine in the movies, but in real life, I prefer a suit and tie. Proper manners. A close shave.
Jack might be gorgeous, but he's also scruffy, rugged, and rude. He wants nothing to do with a "rich city girl" like me, and he isn't afraid to say so.
But I've got a PR job to do for his family's farm, so he's stuck with me and I'm stuck with him. His glares. His moods. His tight jeans. His muscles.
His huge, hard muscles.
Pretty soon there's a whole different kind of tension between us, the kind that has me misbehaving in barns, trees, and pickup trucks. I've never done anything so out of character—but it feels too good to stop.
And the more I learn about the grieving ex-Army sergeant, the better I understand him. Losing his wife left him broken and bitter and blaming himself. He doesn't think he deserves a second chance at happiness.
But he's wrong.
I don't need to be his first love. If only he'd let me be his last.
Making Faces by Amy Harmon 
Ambrose Young was beautiful. The kind of beautiful that graced the covers of romance novels, and Fern Taylor would know. She'd been reading them since she was thirteen. But maybe because he was so beautiful he was never someone Fern thought she could have…until he wasn't beautiful anymore.
Making Faces is the story of a small town where five young men go off to war, and only one comes back. It is the story of loss. Collective loss, individual loss, loss of beauty, loss of life, loss of identity. It is the tale of one girl's love for a broken boy, and a wounded warrior's love for an unremarkable girl. This is a story of friendship that overcomes heartache, heroism that defies the common definitions, and a modern tale of Beauty and the Beast, where we discover that there is a little beauty and a little beast in all of us.
Consolation by Corinne Michaels 
Liam wasn't supposed to be my happily ever after.
He wasn't even on my radar.
He was my husband's best friend—forbidden.
But my husband is dead and I'm alone. I ache for him and I reach for Liam.
One night with Liam changed everything. Now I have to decide if I truly love him or if he's just the consolation prize.
Worth Fighting For by Laura Kaye (Read my Review) 
Getting in deep has never felt this good…
Commercial diver Tara Hunter nearly lost everything in an accident that saw her medically discharged from the navy. With the help of the Warrior Fight Club, she's fought hard to overcome her fears and get back in the water where she's always felt most at home. At work, she's tough, serious, and doesn't tolerate distractions. Which is why finding her gorgeous one-night stand on her new dive team is such a problem.
Former navy deep-sea diver Jesse Anderson just can't seem to stop making mistakes—the latest being the hot-as-hell night he'd spent with his new partner. This job is his second chance, and Jesse knows he shouldn't mix business with pleasure. But spending every day with Tara's smart mouth and sexy curves makes her so damn hard to resist.
Joining Tara's wounded warrior MMA training program seems like the perfect way for Jesse to blow off steam—except now they're getting in deep and taking each other down day and night. And even though it breaks all the rules, their inescapable attraction might just be the only thing truly worth fighting for.
Great and Precious Things by Rebecca Yarros (Read my Review) 
How do you define yourself when others have already decided who you are?
Six years ago, when Camden Daniels came back from war without his younger brother, no one in the small town of Alba, Colorado, would forgive him—especially his father. He left, swearing never to return.
But a desperate message from his father brings it all back. The betrayal. The pain. And the need to go home again.
But home is where the one person he still loves is waiting. Willow. The one woman he can never have. Because there are secrets buried in Alba that are best left in the dark.
If only he could tell his heart to stay locked away when she whispers she's always loved him, and always will…
Great and Precious Things is a heart-wrenching story about family, betrayal, and ultimately how far we're willing to go on behalf of those who need us most.