Ramsay by Mia Sheridan 
Lydia De Havilland is shocked when Brogan Ramsay suddenly reappears in her life. Several years before, Brogan was the son of her family's gardener, and the boy she hurt and betrayed. But Brogan is no longer the quiet, sensitive boy she remembers. Now he's a man—gorgeous, powerful . . . and seeking vengeance.
Brogan Ramsay can't let go of the memory of Lydia tricking him cruelly, leaving his heart shattered and his family penniless. And now he's back to destroy her family the way his was destroyed. There's only one problem . . . the girl who wounded him so badly years ago is now a woman who still has the power to render him breathless.
Ramsay is the story of betrayal and wrath, of the strength of regret and the power of forgiveness. It is the story of the thin veil between love and hate, and how more often than not, when we seek to inflict pain on others, the heart we wound is our own.
THIS IS A STAND-ALONE SIGN OF LOVE NOVEL, INSPIRED BY ARIES. New Adult Contemporary Romance: Due to strong language and sexual content, this book is not intended for readers under the age of 18.
Fighting Irish by Katy Regnery 
Rory Haven and Brittany Manion knew one another as children…
…but it's been a long time since their childhood summers at Summerhaven.
The Havens weren't the children who attended exclusive Summerhaven Camp in Center Sandwich, New Hampshire. They were the children of the owners, expected to "pull their weight" and absolutely forbidden to fraternize with the paying guests. But that didn't keep Rory from having a quiet, unrequited crush on gorgeous, popular, insanely-rich, Brittany Manion for three tortuous summers.
When all-grown-up, recently-engaged Brittany books the off-season summer camp for her upcoming spring wedding, she immediately recognizes Rory as the scorching-hot boy who wouldn't give her the time of day. Meanwhile, Rory, who senses that Brittany's nuptials are less about Mr. Right and more about Mr. Right Now, launches the fight of his life to win the heart of the girl he's always wanted.
Smiling Irish by Katy Regnery (Read my Review)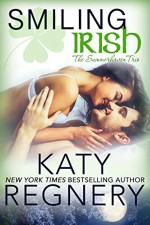 From the New York Times bestselling author of The Blueberry Lane series comes a new trio of romances featuring the Haven triplets!
Tierney Haven and Burr O'Leary come from completely different worlds…
…but there's a reason they say "opposites attract."
Bookish Tierney Haven has always preferred places to people, and she especially loves the peace and quiet of Moonstone Manor, an estate museum located in the White Mountains of New Hampshire, where she is head docent, chief historian and live-in caretaker. The very last thing she expects to find on her doorstep in the middle of the night is bruised and bloodied stranger, Burr O'Leary, in desperate need of her help.
Against her better judgement and at the risk of her brothers' wrath, Tierney offers Burr sanctuary at Moonstone Manor, and nurses him back to health, surprised to discover that the dashing, enigmatic stranger loves the history and peace of Moonstone as much as she. But Burr has a dark history, and those who hurt him will stop at nothing to eliminate him…placing Tierney in grave danger until he is well enough to find them first.
Loving Irish by Katy Regnery (Read my Review)
From the New York Times bestselling author of The Blueberry Lane series comes a new trio of romances featuring the Haven triplets!
Ian Haven and Halcyon Gilbert haven't seen each other since Hallie's 17th birthday…
…the same day Hallie pledged she would never, ever speak to Ian again as long as she lived.
Hallie Gilbert has had an especially awful year. When her husband of five years left her, Hallie's 4-year-old daughter, Jenny, essentially stopped speaking. Add to this, she had to sell her Boston apartment to pay her husband's exorbitant credit card bills. What Hallie needs is an uncomplicated autumn at Colby Cottage, her family's summer home in Sandwich, NH, where she and Jenny can re-group and figure out what happens next.
But Colby Cottage, located adjacent to the Summerhaven Camp, has not been well-maintained and Hallie finds it in such disrepair, it's almost unlivable. When nearby camp owner, Rory Haven, arranges for his brother, Ian, to handle renovations for Hallie, her plans for an uncomplicated autumn suddenly get a lot more challenging.
The Hurricane by R.J. Prescott
A love that's worth keeping is worth fighting for . . .
Emily McCarthy is living in fear of a dark and dangerous past. A gifted mathematician, she is little more than a hollow, broken shell, trying desperately to make ends meet long enough to finish her degree.
Through an unlikely friendship with the aging, cantankerous owner of an old boxing gym, Em is thrown into the path of the most dangerous man that she has ever met.
Cormac "the Hurricane" O'Connell is cut, tattooed and dangerous. He is a lethal weapon with no safety and everyone is waiting for the mis-fire. He's never been knocked out before, but when he meet Em he falls, HARD. Unlike any other girl he's ever met, she doesn't want anything from him. Just being around her makes him want to be a better person.
They are polar opposites who were never meant to find each other, but some things are just worth the fight.
The Storm by R.J. Prescott (Read my Review) 
Marie Kelly is a survivor who doesn't know when to quit. Against all odds, she's living a life she never dreamed she could have. It was enough…until a stubborn fighter makes her want more.
Irish charmer Kieran Doherty has been a fighter at Driscoll's Gym for most of his life. He's been content to let his best friend take the spotlight, now it's his turn to make a name for himself in the world of heavy weight champions. Falling in love is the one thing he vowed never to do, but meeting Marie changed everything.
It's easy to imagine a happy ever after when the sun is shining. But when the storm comes, and all hope seems lost, they both learn that if you want something badly enough, you have to be willing to fight for it.
The Storm is a stand alone companion novel to The Hurricane and The Storm. Heavy language and sexual content means that this book is intended for persons aged 18+.
Roomies by Christina Lauren (Read my Review)
Marriages of convenience are so…inconvenient. 
For months Holland Bakker has invented excuses to descend into the subway station near her apartment, drawn to the captivating music performed by her street musician crush. Lacking the nerve to actually talk to the gorgeous stranger, fate steps in one night in the form of a drunken attacker. Calvin Mcloughlin rescues her, but quickly disappears when the police start asking questions.
Using the only resource she has to pay the brilliant musician back, Holland gets Calvin an audition with her uncle, Broadway's hottest musical director. When the tryout goes better than even Holland could have imagined, Calvin is set for a great entry into Broadway—until his reason for disappearing earlier becomes clear: he's in the country illegally, his student visa having expired years ago.
Seeing that her uncle needs Calvin as much as Calvin needs him, a wild idea takes hold of her. Impulsively, she marries the Irishman, her infatuation a secret only to him. As their relationship evolves and Calvin becomes the darling of Broadway—in the middle of the theatrics and the acting-not-acting—will Holland and Calvin to realize that they both stopped pretending a long time ago?
Hello Stranger by Lisa Kleypas (Read my Review)
A woman who defies her time
Dr. Garrett Gibson, the only female physician in England, is as daring and independent as any man-why not take her pleasures like one? Yet she has never been tempted to embark on an affair, until now. Ethan Ransom, a former detective for Scotland Yard, is as gallant as he is secretive, a rumored assassin whose true loyalties are a mystery. For one exhilarating night, they give in to their potent attraction before becoming strangers again.
A man who breaks every rule
As a Ravenel by-blow spurned by his father, Ethan has little interest in polite society, yet he is captivated by the bold and beautiful Garrett. Despite their vow to resist each other after that sublime night, she is soon drawn into his most dangerous assignment yet. When the mission goes wrong, it will take all of Garrett's skill and courage to save him. As they face the menace of a treacherous government plot, Ethan is willing to take any risk for the love of the most extraordinary woman he's ever known.
Darkfever by Karen Marie Moning 
MacKayla Lane's life is good. She has great friends, a decent job, and a car that breaks down only every other week or so. In other words, she's your perfectly ordinary twenty-first-century woman. Or so she thinks . . . until something extraordinary happens.
When her sister is murdered, leaving a single clue to her death—a cryptic message on Mac's cell phone—Mac journeys to Ireland in search of answers. The quest to find her sister's killer draws her into a shadowy realm where nothing is as it seems, where good and evil wear the same treacherously seductive mask. She is soon faced with an even greater challenge: staying alive long enough to learn how to handle a power she had no idea she possessed–a gift that allows her to see beyond the world of man, into the dangerous realm of the Fae. . . .
As Mac delves deeper into the mystery of her sister's death, her every move is shadowed by the dark, mysterious Jericho, a man with no past and only mockery for a future. As she begins to close in on the truth, the ruthless Vlane—an alpha Fae who makes sex an addiction for human women–closes in on her. And as the boundary between worlds begins to crumble, Mac's true mission becomes clear: find the elusive Sinsar Dubh before someone else claims the all-powerful Dark Book—because whoever gets to it first holds nothing less than complete control of the very fabric of both worlds in their hands. . . .
The Ghallaghers of Ardmore's Trilogy by Nora Roberts
Aidan, Shawn, and Darcy run the family pub in a pretty seaside village where the magic of Ireland weaves a spell of passion and discovery in this collection that includes all three novels in #1 New York Times bestselling author Nora Roberts' Gallaghers of Ardmore trilogy.
JEWELS OF THE SUN
Aidan Gallagher possesses an uncommon understanding of his country's haunting myths. Although he's devoted to managing the family pub, a hint of wildness still glints in his eyes—and in American Jude Murray, he sees a woman who can both soothe his heart and stir his blood…
TEARS OF THE MOON

Dreamer Shawn Gallagher and the clear-minded Brenna O'Toole have known each other all their lives. But now they'll have to look at each other with different eyes and accept each other with selfless hearts to earn the gift of love…
 
HEART OF THE SEA

All of her life, Darcy Gallagher has wanted more, and made no secret of her hope to find a rich man. But now that she's met Trevor Magee, it's a matter of hearts that must be won—his as well as hers…
The Hooker and the Hermit by Penny Reid and L.H. Cosway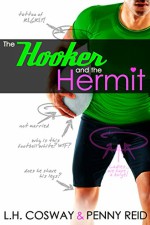 New York's Finest
Blogging as *The Socialmedialite*
April 22
LADIES AND GENTS! I have an announcement!
You know that guy I featured on my blog a few months ago? The really, really hot Irish rugby player who plays the position of 'hooker' in the RLI (Rugby League International)? The one with the anger management issues, the body of a gladiator and the face of a movie star? The one with the questionable fashion choices leading me to ask whether he was the lovechild of a leprechaun and a hobbit? Ronan Fitzpatrick? Yeah, that guy. Well, I have a confession to make…
THE HERMIT
Annie Catrel, social media expert extraordinaire at Davidson & Croft Media and clandestine celebrity blogger, can make anyone shine in the court of public opinion. She is the Socialmedialite, anonymous creator of New York's Finest and the internet's darling. Virtual reality is Annie's forte, but actual reality? Not so much.
THE HOOKER
Ronan Fitzpatrick, aka the best hooker the world of rugby has seen in decades, despises the media—social or otherwise. The press has spun a web of lies depicting him as rugby's wild and reckless bad boy. Suspended from his team, Ronan has come to Manhattan to escape the drama, lay low, fly under the radar. Only, Ronan isn't easy to overlook, and he can't escape the notice of the Socialmedialite…
THE PLAN
When Ronan is sent to Davidson & Croft Media to reshape his public image, he never expects to cross paths with shy but beautiful Annie, nor does he expect his fierce attraction to her. He couldn't be happier when her boss suggests pairing them together.
What lengths will Annie take to keep her virtual identity concealed? And what happens when the hooker discovers who the hermit really is?
The Hooker and the Hermit is a collaboration between authors L.H. Cosway and Penny Reid, is a full length 110k word novel, and is a standalone.
The Player and the Pixie by Penny Reid and L.H. Cosway 
How can someone so smokin' hot be so bad in bed? I mean, Sean Cassidy is absolute rubbish. RUBBISH. He is the epitome of walking, talking false advertising and I want a refund! Plus he's an arsehole. So… what is wrong with me that I can't stop thinking about him?
THE PIXIE
Lucy Fitzpatrick doesn't like rugby.
As the little sister of Ireland's most infamous rugby player, Lucy can't seem to escape the championship-sized shadow cast by her big brother, or her mother's frequent attempts to micromanage her future. Her rainbow hair is as free-spirited as her quest for inner peace, yet overbearing expectations keep bringing her down. And when she's down, her compulsive little problem lands her in seriously big trouble.
THE PLAYER
Sean Cassidy is a cold-hearted brute… or so he's been told. Frequently. By everyone.
His blonde locks, baby blues, and rock hard bod make ladies the world over drool with desire. As the rugby world's second most infamous player, he should be basking in his success. But Sean has never been content settling for second place, and his frequent confrontations with Lucy's big brother leave him cold. And when he's cold, his compulsive little problem lands him in the lap of Lucy Fitzpatrick.
THE PLAN
Sean has a problem only Lucy can solve. Lucy has a problem only Sean can fix. The solution seems obvious: you scratch my back, and I'll bail you out of jail. But when their business arrangement unexpectedly leaves Sean scorching hot and Lucy on the precipice of inner peace, can they convince the world—and Lucy's big brother in particular—that this is the real deal?
Either way, both the Player and the Pixie are about to teach each other some pretty monumental lessons about family, life, but most importantly, love.
The Pixie and the Player is a full-length, romantic comedy novel, can be read as a standalone, and is the second book in the Rugby Series.
The Cad and the Co- Ed by Penny Reid and L.H. Cosway 
Keeping a secret this big is going to take lots of balls. Specifically, rugby balls.
THE CAD
Bryan Leech is a cad.
Or, he *was* a cad.
No one is quite certain.
Once the quintessential playboy, Bryan claims he's done with wild parties and weekend benders. No more one night stands leading to mornings he can't remember; no more binges and blackouts; no more exploits plastered all over the tabloids and rag sheets. According to Bryan, he's cleaning up his act.
The only problem is, no one believes him.
THE CO-ED
Eilish Cassidy never thought she'd be a mother at nineteen or still in college at twenty-four. Cut off from every member of her family except her favorite cousin, she's finally managed put her life back together. Stronger and wiser, Eilish enters her last semester of university determined to stand on her own. Now she just needs to find an internship.
The only problem is, her best option—by far—places her directly in the path of her son's father, and he doesn't remember her at all.
THE PLAN
Bryan is determined to prove he's changed. Eager to settle down with the right woman, he's got his sights set on the gorgeous redhead who seems terribly familiar.
Eilish is determined to hide her secret. She'll do anything to keep her child safe, even if that means ignoring her own wishes and desires.
But what happens when Bryan starts to remember? And what will it take for Bryan to convince the girl he forgot that she's unforgettable?
A Crack in Everything by  L.H. Cosway (Read my Review) 
Life used to be simple.
I was a city girl with humble dreams. Then Dylan O'Dea broke into my flat, held me against the wall and told me to stay quiet.
It was like in the movies, where the universe zeros in on a single scene. I looked into his eyes and knew he was going to change me.
For Dylan, the sky was always falling. He showed me how our world is a contradiction of beauty and ugliness. How we choose to ignore the awful and gloss over it with the palatable. How you need just a tiny drop of something unsavoury to create every great scent.
Pretty deep for a pair of teenagers living in a block of council flats in inner city Dublin, right? Probably. But we weren't typical. We both had our obsessions. Mine was growing things, Dylan's was scent. He taught me how to use my nose, and I introduced him to the magic of flowers.
I had no idea that one day he'd build an empire from what we started together. But before that, there was love and happiness, tragedy and epic heartbreak…
My name is Evelyn Flynn and I'm going to tell you about the crack in everything.
***A Crack in Everything is Book #1 in L.H. Cosway's Cracks duet.***
How the Light Gets In by L.H. Cosway (Read my Review)
He came back to me 16 minutes and 59 seconds into Beethoven's Symphony no. 7.
We parted amid tragedy, so it seemed poetic. Dylan O'Dea, my childhood sweetheart, had once meant everything to me. Now we were strangers, and honestly, after eleven years I never thought I'd see him again.
I lived in the world of the average, of getting paid by the hour and budgeting to make ends meet. But Dylan, he lived in the world of wealth and success. He'd achieved the great things I always suspected he would. The dissatisfaction he'd felt as a teenager had obviously been an excellent motivator.
He started a business from scratch, pioneered a brand, and created perfumes adored by women across the globe. I was just one of the people who'd been there before. Now he was living his best life in the after.
And me, well, I'd been in a dark place for a while. Slowly but surely, I was letting the light back in, but there was something missing. I was an unfinished sentence with an ellipsis at the end. And maybe, if I was brave enough to take the chance, Dylan could be my happy ending.
***How the Light Gets In is Book #2 and the concluding instalment in L.H. Cosway's Cracks duet.***
The Hearts series by L.H. Cosway 
Get all the  books in L.H. Cosway's Hearts series! From quirky heroines to heartthrob heroes and exhilarating plot lines, The Hearts Series is a collection of interconnected standalone novels that will have you glued to the pages.